Cray Wanderers F.C. is looking forward to welcoming a very special guest to Sunday's game: former player George Taylor, who celebrated his 100th birthday in January.
George may well be the only surviving Cray player who turned out for the Wands before the Second World War. He was a goalkeeper and, by all accounts, a very good one. He certainly would have seen plenty of action as the team was really struggling when George was between the sticks.
It was in 1938 that 18 year-old George Taylor made his appearances for Cray. This was a traumatic period in the club's history, as a couple of years earlier, the Wands had had to leave the Fordcroft ground in St Mary Cray, where they had played for nearly 40 years. The ground later became the site of the Tip Top Bakery (later Allied Bakeries) on Cray Avenue, which I understand is soon to be re-developed.
Cray were forced to move to the Twysden's Ground in Foots Cray, close to the site of the Coca-Cola bottling plant in Cray Road. It was a big blow to the club, as crowds dwindled and the team slid to the bottom of the highly-competitive Kent League. The Wands' results included a 10-0 defeat at Folkestone and losses of 8-1 to Gillingham Reserves and 8-3 at Ashford.
As the season wound to a close, Cray had to play their last 11 league games in a 24-day period. George was drafted in for a visit to Aylesford Paper Mills, now known as K Sports, on Saturday April 16th (lost 3-1). The Wands had also played on the previous Thursday and Friday nights!
He made his home debut a couple of days later at home to Sheppey United. In what must have been a highly satisfying evening, Cray won 1-0. It was only their fourth league win of the season and the first clean sheet since New Year's Day. George kept his place for the rest of the season, making nine appearances in all. The Wands managed to win another game (5-1 v Dartford Reserves) and got a creditable 2-2 draw at Park View Road against Bexleyheath and Welling. In two matches with championship chasers Northfleet United, Cray managed to keep the scoreline reasonably respectable: 0-4 at Stonebridge Road and 1-3 at Twysden's.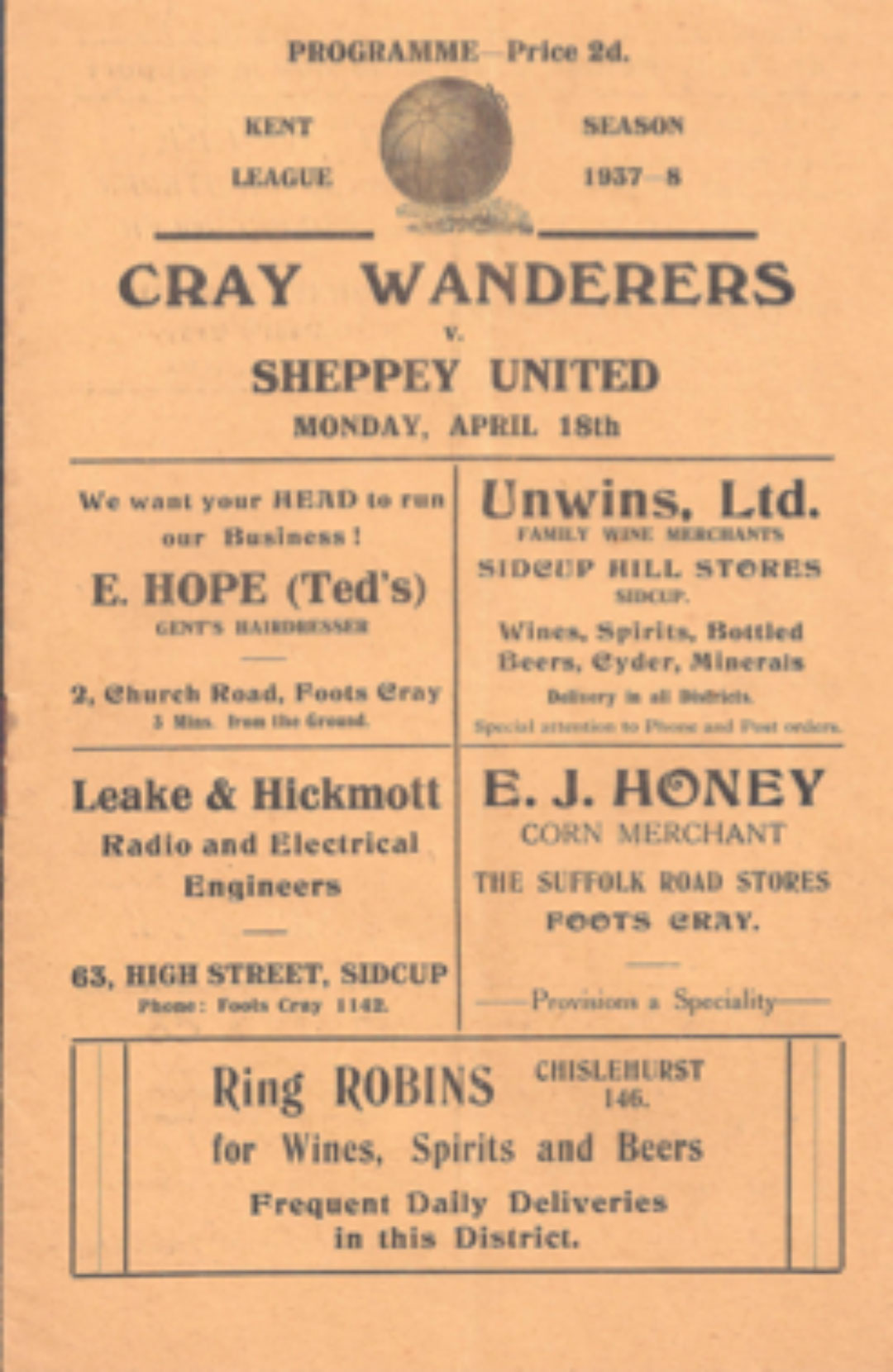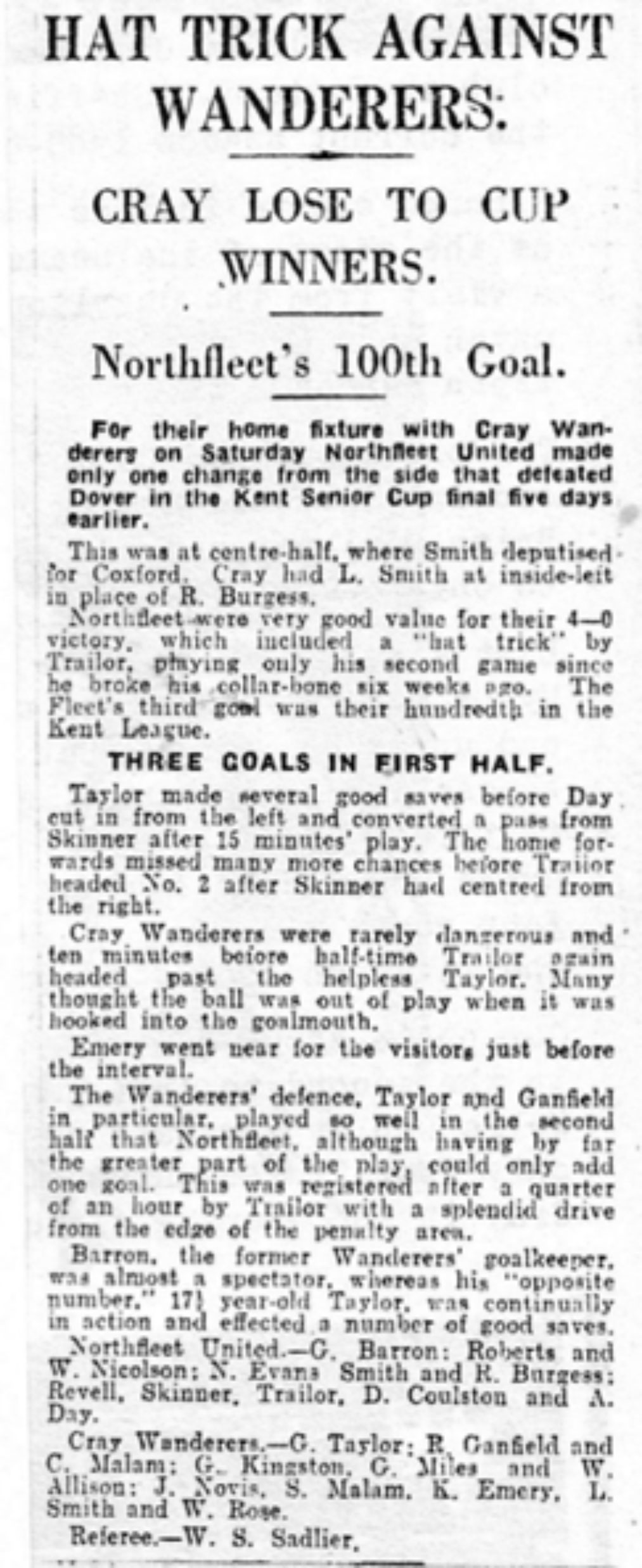 Kindly supplied by Jerry Dowlen, this is the Kentish Times match report from the game at Northfleet. As you can see, George, who was actually 18 at the time, had a very good game. In the Northfleet team are two players who went on great things. Bill Nicholson played over 300 times for Tottenham and once for England (scoring with his first touch). He was Spurs' manager for 16 years, leading them to the F.A. Cup and League "double" in 1960-61. Ron Burgess also made 300 appearances for Spur s and was captain of the Welsh national team. Goalkeeper George Barron had joined Northfleet from Cray Wanderers and played for the Spurs first-team in war-time matches before moving to Bromley F.C. after the hostilities. His son, Paul, played in goal for Arsenal, Crystal Palace and QPR.
The games with Northfleet were significant as the 'Fleet were the "Nursery side" for Tottenham Hotspur. I suppose the modern equivalent would be a Premier League club's Academy. Young Spurs players gained experience of men's football at Northfleet and many of them later moved on to have long careers at White Hart Lane. Arsenal had a similar arrangement with Margate, who were also in the Kent League at that time.
Cray finished bottom of the Kent League for the second season running, but George could point to the fact that they had picked up nearly half their tally of points in the games he played! The committee decided voluntarily to take a step down to the less demanding Kent Amateur League for the 1938-39 season.
By coincidence, the first game in the new league was at home to Northfleet Amateurs, who were Northfleet's reserve team and also played under Tottenham's umbrella. George was in goal for what was a complete disaster for Cray, as they lost 10-0. In goal for Northfleet was 16 year-old named Ted Ditchburn, who went on to play over 400 times for Spurs and won six caps for England. I imagine he didn't have much to do against the Wands! That game was George's last for Cray
Wanderers, but this wasn't because he was dropped.
Sally Schepke is a churchwarden at All Saints Church, Foots Cray, where George is a member. She takes up the story,
"It was all arranged that he would transfer and play for Northfleet. Unfortunately he broke his leg and the war broke out so this never happened."
It seems that the Northfleet / Tottenham staff, having seen George play three times against them, were sufficiently impressed to sign him up. But, for the sad reasons that Sally explains, it never came to pass.
I don't what happened to George's playing career after this setback; perhaps we can ask him. It would only be natural for him to wonder, "What might have been?" I'm sure he was aware that his namesake, George Barron, also a goalkeeper, had moved from Cray to Northfleet in 1936. He was called up to White Hart Lane in 1938, Ditchburn taking his place in the Northfleet United team.
Sally told us that George, who still lives independently in Swanley, "would love to kick a football one more time." We are delighted to give him the opportunity to do just that – the least we could do for a Wanderer who has reached his century!
PETE GORINGE