Cray Wanderers Squad Update – Freddie Carter & Nathan Boamah
A note for supporters of a couple of recent additions to the Cray Wanderers squad.
Centre-half Freddie Carter has signed for the Wands on a season long work experience loan from Gillingham. Freddie joined the Gills U18s setup in March 2021 after signing from Eastbourne Borough but has yet to make a first team appearance for Gillingham. Freddie made three appearances for Faversham Town earlier this season and made his debut for the Wands on Saturday at Hornchuch and had a very composed and fine debut against the league leaders.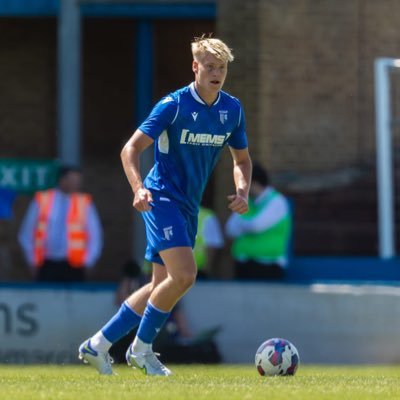 Freddie Carter – Pic:  Gillingham FC
Also making a return to the Wands is goalkeeper Nathan Boamah who re-joins Cray from Sutton Common Rovers. You may recall Nathan was called up from the U18s last season in an injury crisis amongst the goalkeepers and played the last 3 games of the season and made some outstanding saves in the 3-3 draw at Enfield Town and the East Thurrock and Bishop Stortford games. Nathan's prowess in goal went viral on social media and was much sought after and signed for Sutton Common Rovers in the summer.
Although he was an unused substitute for the first few games he never made an appearance for the Isthmian South-Central side. Nathan has now returned as part of our goalkeeping crew.
We welcome Freddie and Nathan to the Wands and hope they enjoy their time with us.