Cray Wanderers v Wingate & Finchley – Isthmian Premier – Saturday 5th November – Match Report 
Cray Wanderers                   0
Wingate & Finchley             1
Vasiliou 78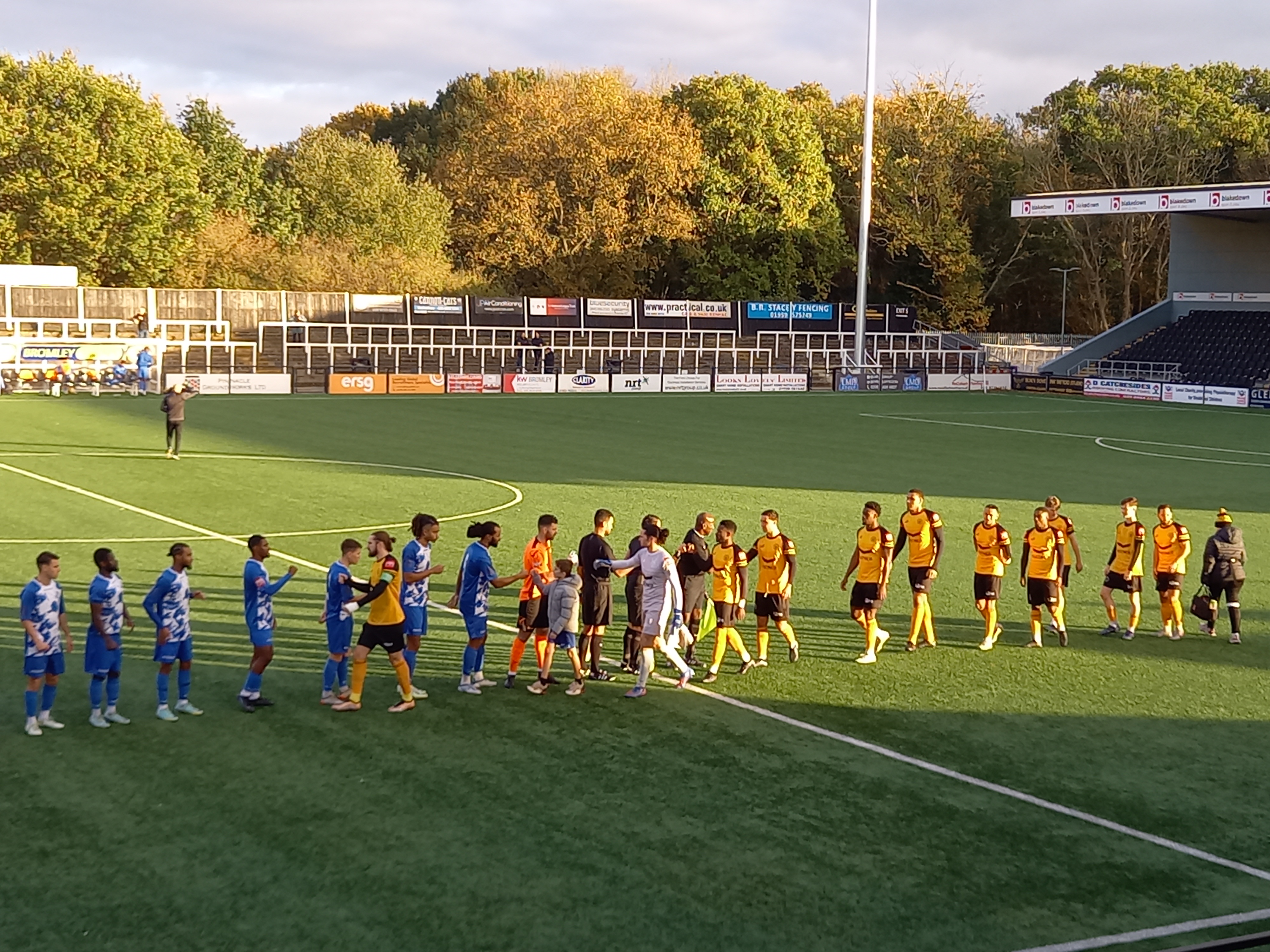 Cray Wanderers six game unbeaten league run came to an end as Wingate & Finchley picked up the three points with a goal from substitute Antonis Vasiliou twelve minutes from time to decide a rather scrappy encounter at Hayes Lane against a Wands who suffered a frustrating afternoon.
After a fairly frantic first half where both sides came close to scoring the game became a bit more disjointed after the break.  The winning goal was hardly a thing of beauty itself and came when a free kick from Ben Siggers played into the box courtesy of a couple of deflections the ball came to Vasiliou who had been on the pitch less than sixty seconds to slot home from close range.  To make things worse for Cray, the Wands were reduced to ten men eight minutes from time when Kellen Fisher was sent off for a foul on Siggers.  Despite concerted late pressure Cray couldn't get a goal to draw level and drop one place to 9th in the Isthmian Premier league table
Cray had been on a good run in the league of three wins and three draws and from the side which drew at Lewes last Saturday there were two changes with Sam Wood and Anthony Cook coming in for Harrison Sodje and Mitch Chapman.  David Ijaha who had missed a couple of matches was on the bench.
Wingate & Finchley came into the match 18th on 12 points and from the side beaten late in the game at home to Margate last Saturday into the team came Ben Siggers, Emmanuel Yeboah and former Wand, Tom Stagg for Daniel Emovon, Alkeo Bani and Antonis Vasiliou. 
On a bright but chilly afternoon the match began a little slowly with the visitors perhaps the sharper early on and a free kick out on the left from Sam Cornish aimed for the far post was put behind for a corner.  From the cross from Siggers the ball was flicked to the far post towards Camron Gbabebo and knocked behind for another corner which had to be cleared away by the Wands defence.
Cray though went straight up the other end and Shaun Rowley's ball forward found Sam Wood down the left and from 25 yards his half volley was saved on the line at the second attempt by Ben Goode.  Then Sam Cornish for Wingate & Finchley saw a volley at the right post go wide.
For Cray, from a corner down the right from Wood into the area was headed over at the left post by Tom Derry.
Wingate & Finchley had a good chance to take the lead when after a good spell of possession the ball came to Dernell Wynter who set up Siggers for a cross which was steered wide of the left post by Tyrique Clarke from almost the penalty spot.
For Cray, Kellen Fisher had a superb first half and his ball across from the right was pushed away by Goode while at the other end Cornish set up Stagg for a shot which was deflected by Sinn'kaye Christie through to Rowley.  Then from a throw in the ball came to Cornish whose header from the edge was claimed by Rowley.
Cray's best opening of the half came when Wood played a terrific ball from the left out to Nyren Clunis down the right who cut into the area and his shot was well saved by the legs of Goode.
The North London side continued to look a threat going forward and from set pieces and another free kick down the left saw another Cornish cross into the area met by the head of Yannis Ambroisne which was held by Rowley.
Cray began to dominate possession before half time without making a breakthrough and after Christie needed treatment for a knock there were half chances with Anthony Cook's free kick being flicked goalwards by Sam Skeffington but Goode was able to claim.  Then after a good move Dan Bassett found Cook down the left and his ball across found Fisher from just outside the area and his shot was saved by Goode.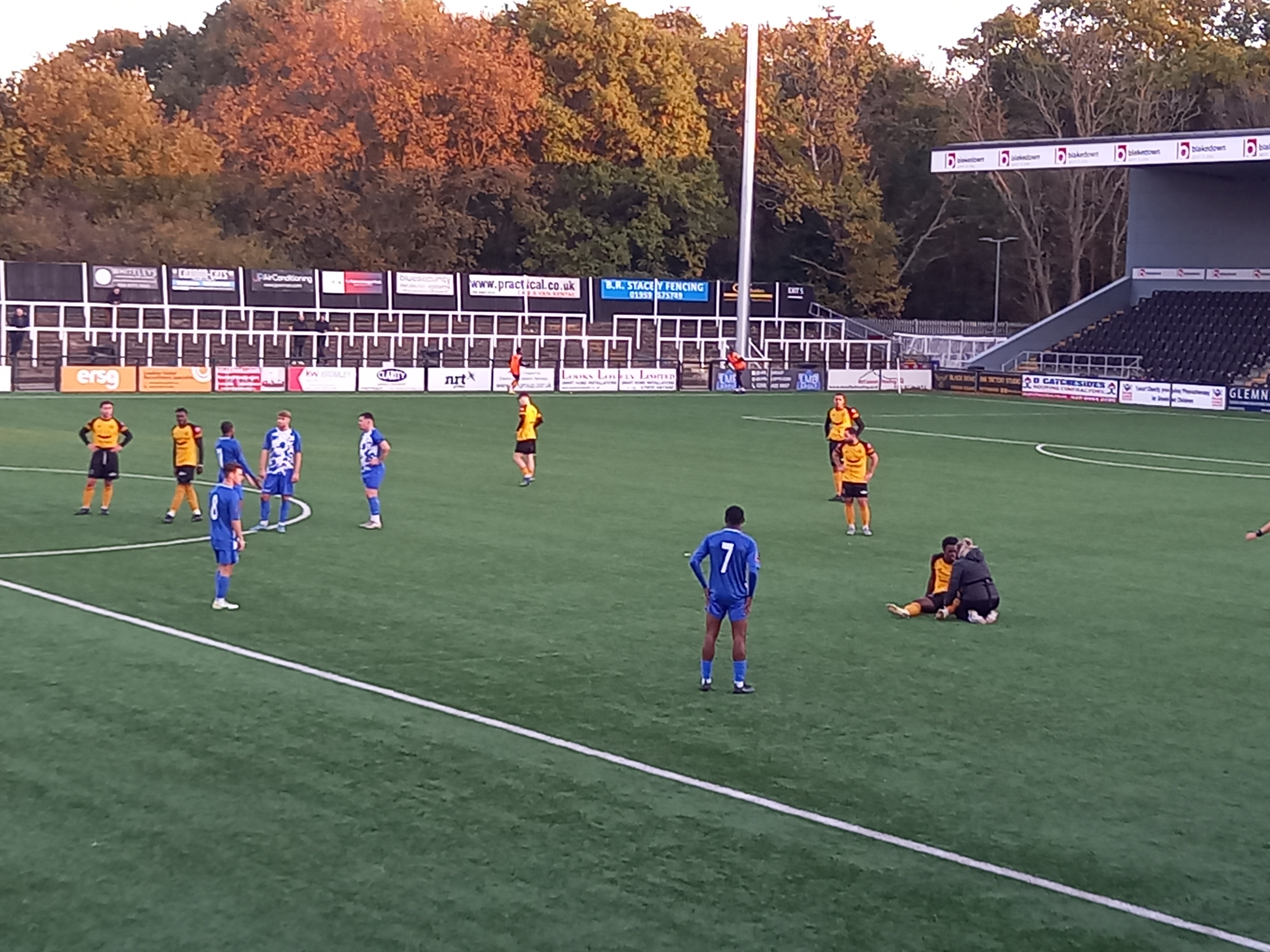 HT:  0-0
The second half began with Wynter having an effort blocked for Wingate & Finchley while for Cray, Jalen Jones found Fisher who from 20 yards hit a shot which lacked power and was a comfortable save for Goode.
Cray came the closest yet to a breakthrough when Bassett got behind the defence down the left and seemed destined to score but for another good stop with his feet by Goode.
From here the game went through a scrappy phase with the Wands shading possession but not really able to make it count. Ben Krauhaus and Bassett combined to set up Fisher who shot well over and then put over a good cross to the far post put behind by Gbadebo for a corner.  David Ijaha and Yahaya Bamba were brought on for Krauhaus and Clunis for the last half hour.
From a free kick down the left, Cook's ball to the far post was inviting but no-one was able to follow up and the ball went wide much to ehis audible frustration.  Similarly a few minutes later Bassett again down the left put a ball across which went across goal.
The game looked to be drifting into the last quarter of an hour when Vasiliou came on in the 77th minute for Wingate & Finchley.  Shortly after the award of a free kick 25 yards out, Siggers ball into the box with two Wands defenders looking like clearing the ball diverted the ball across the box and Vasiliou reacted quickest to turn the ball into the net from about four yards for an instant impact.
Cray almost levelled with Bamba down the left who saw his effort blocked and put behind by Goode who was becoming a hard obstacle to beat during the afternoon.  
In the 82nd minute, Cray's chances of getting back into it were dashed when Fisher was sent off for a challenge on Siggers which was deemed to be over the top and shown a red card. I'm not really sure there was a need for so many Wingate & Finchley players to get involved with pushing and shoving especially when the referee had a good view of the incident.  
Cray applied late pressure and Michael Ademiluyi came on for the last few minutes and added pace going forward and the Wands came close to an equaliser in the fourth minute of injury time when Dan Bassett's effort was pushed out well by Goode and following up Bamba was deemed to have fouled the keeper.
In the end, Wingate & Finchley held out for their second away win of the season and stay 18th on 15 points and worked hard for the victory.
Cray were never really at their best or to the levels shown against Enfield Town and Aveley in recent home games and the match on the whole felt rather flat and rather lacklustre.  There were some good performances, Fisher despite the sending off was exceptional especially in the first half and Wood showed his experience and quality while Skeffington in midfield did little wrong.  The two centre halves again did little wrong and maybe on another day but for another excellent goalkeeping performance may have scored goals but wasn't to be and one of those games where you swiftly move on and consign to the dustbin and forget about very quickly.
The Wands drop down one place to 9th but a couple of positive results in the next couple of games will lift spirits once again.  Cray now go on to five straight away games in league and cups starting at 8th placed Horsham on Tuesday night and looking to get back on track.
Cray Wanderers: Shaun Rowley, Kellen Fisher, Jalen Jones, Sinn'kaye Christie, Sam Wood, Sam Skeffington, Ben Krauhaus (David Ijaha, 61), Anthony Cook, Nyren Clunis (Yahaya Bamba, 62), Dan Bassett, Tom Derry (Michael Ademiluyi, 85):  Sub:  Cerny Ando
Sent Off: Fisher 82
Booked: Jones
Wingate & Finchley: Ben Goode, Camron Gbadebo, Ben Siggers, Emmanuel Yeboah, Yannis Ambroisne, Ryan Sellers, Tyrique Clarke (Michael Olarewaju, 90+1), Sam Cornish, Dylan Kearney, Tom Stagg (Elliott Long, 71), Wynter (Antonis Vasiliou, 77):  Subs: Ben De Lacey Turner, Loic Hernandez
Booked: Cornish, Sellers, Vasiliou
Referee: Jack Oxenham
Assistants: Jordan Crichlow, Cliff Angol
Att: 174