Cray Wanderers vs Folkestone Invicta – The Pre-game thoughts of Danny Kedwell
Cray Wanderers look to get back to winning ways in the Isthmian Premier this evening with the visit of 5th placed Folkestone Invicta to Hayes Lane.  Here Danny Kedwell looks back on Saturday's game at Kingstonian, the late drama of the Bedfont Sports match and a look ahead to the challenge of Folkestone.
 Let's start with a look back to Saturday's trip to Kingstonian and a 2-1 defeat. I have to say I thought it was a very good game between two very decent sides and we just got beat on a class piece of finishing from Elliott Buchanan but overall we played well. What was your take on the game?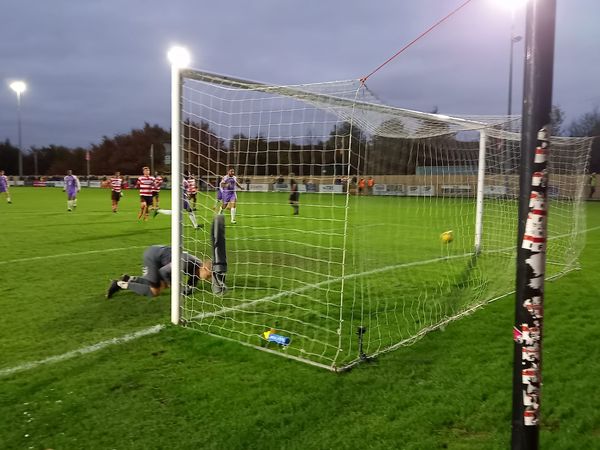 Much the same I am proud of the boys, I think for the first time this year I felt I have the squad I wanted with perhaps a couple of little bits here and there to come in and we are very close to getting it right and the wins will start coming.
I felt we had the better chances against Kingstonian, Adam Coombes header in the first half, Chris Dickson's bicycle kick, we went through a couple of times on one on ones and I still think Dicko where he knocked it wide should have been a penalty. So the boys are feeling a little hard done by. Their first goal came from a lofted ball over the top and Ajakaiye went through one on one and won the penalty but that was really all they had in the first half. I think they got lucky with their second goal as three times before that we should have dealt with it better. Firstly, the throw-in was poor and went the wrong side of Coombesy, the touch was awful and then Freddy needed to make a tackle and Jack came out too far and realised too late and Buchanan lobbed the ball into the net. Those sorts of things need to be stamped out for us to start winning games because unfortunately that has been us this season and a lot of luck has gone against us and for the other teams.
On Saturday though it was a completely different performance and I believe in these boys. Listen, it is still early days and still a lot of games to go and I believe in them and I think we will start climbing this league. I said keep playing like that and we will end up with more wins than losses come the end of the season. The boys were hurt afterwards but I asked of them to work hard for the club, the supporters, for me, the staff and for themselves and they did that on Saturday and came away thinking, full play to you, you gave it a real go and if we keep going we won't be where we are come the end of the season and a lot of other managers have been telling me that.
Talking about class finishing, taking it back to the game with Bedfont Sports on 13th November, an incredible goal at the finish from Adam Coombes. I had very much settled on penalties but then he pops up with a goal like that.
 Yes and that is the quality we have in this squad. I've been telling them for months and months since the season started. If you work hard the qualities in the team will come out in the end and that is all we can do as there is so much quality in the group.  They need to start believing in themselves and the quality will show through and that was proved against Bedfont with Adam's winning goal.  I thought on Saturday Adam might have done better with the first half header which was straight at the keeper and we had one or two where we have gone through and snatched at the chances or needed a better pass at the end and that is all we are missing now. The thing I was most happy about was the work rate and organisation. The first ten minutes Kingstonian came at us really quick and within ten minutes we sussed out how they were playing and managed to stop that. I think in the previous months we haven't been doing that, snuffing out where their danger is and what they are going to do and on Saturday were able to deal with it. That is what you have to do. When you cross that white line things are out of your hands on the sidelines. All you can do is help and they managed to read the game for themselves and did it magnificently and I am really proud of them for doing that.
 Let's look ahead to Folkestone Invicta. Obviously you are one of the new managers in the Isthmian Premier this season but across from you on the Invicta bench is Neil Cugley, the most experienced manager in the league having been there since the late 90's. Folkestone are a good side aren't they and always there or thereabouts near the top.
 Folkestone are a very good team and as you say Neil has been there a long time, so long I remember playing against him. I keep saying it, building a team takes time and Neil has had the time, he knows the club inside out, the people within the club, he knows the league very well and his teams will always be fighting hard. We have a very tough couple of months really and some hard games coming up and this is where we need to start seeing where we really are against these teams. Against Kingstonian I didn't think we deserved to lose and then we go on to another tough game tonight. I know all about Folkestone, I've watched them over the last couple of months. They are a very good and tough side and it should be a cracking game and a decent test for us.