Isthmian Premier Division – Saturday 14th December, 2019
Bognor Regis Town                                     7
Ashton Leigh 21, Carlse o. g. 29, Smith 32, 88,
Tuck 50, 76, Tommy Leigh 74
 Cray Wanderers                                            2
Taylor 71, 83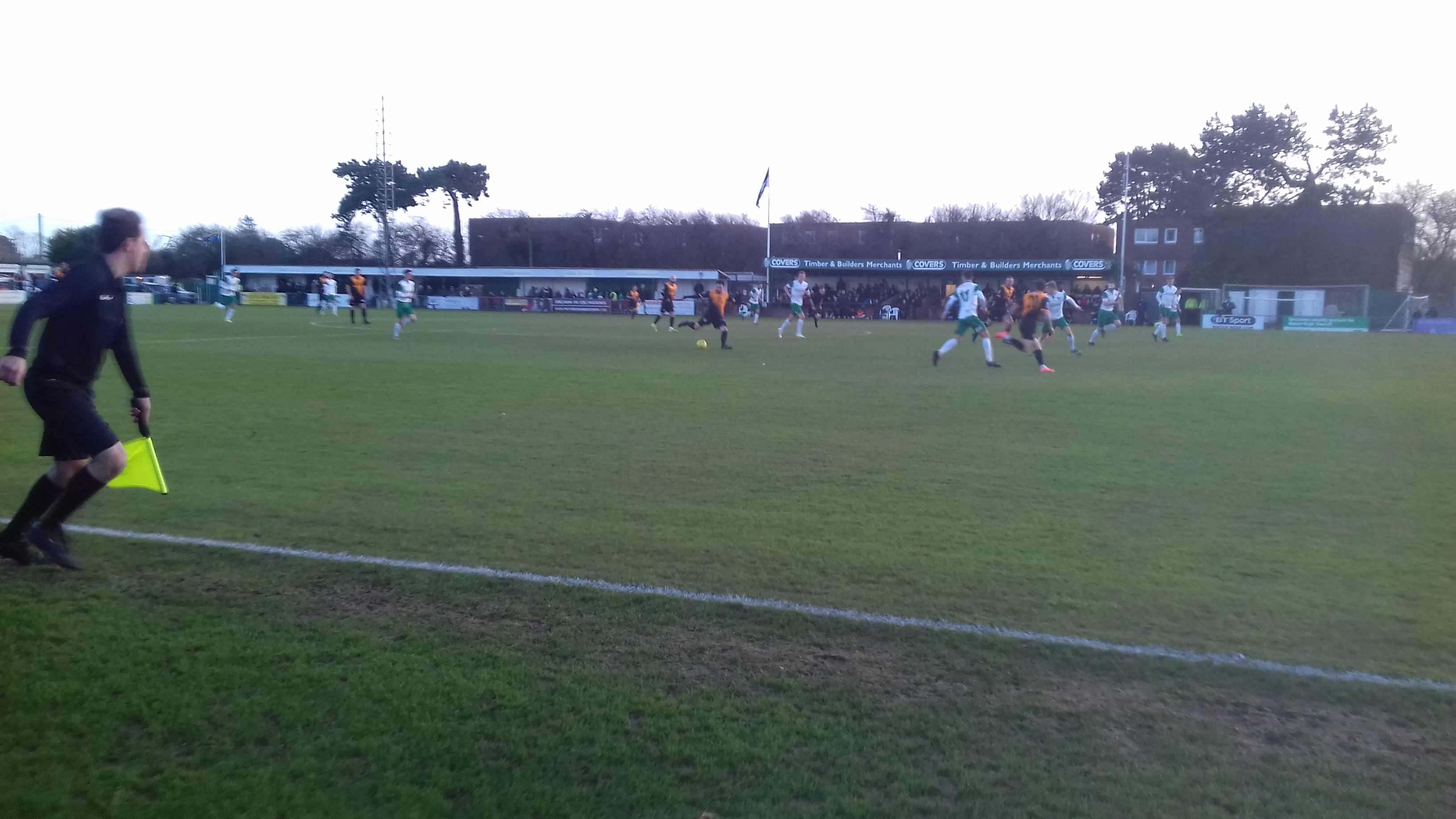 Cray Wanderers hopes to move back into the playoff places took a hit as Bognor Regis produced a powerful performance to beat a rather depleted Wands and showed no mercy to score seven goals on a chilly December afternoon to boost their playoff credentials..
The home side had begun well but Joe Taylor almost put Cray in front in the 10th minute before Bognor Regis took a grip on the first half with three goals without reply through Ashton Leigh, a Tom Carlse own goal and leading scorer Dan Smith to give Cray a difficult task to even get a point from the game.   The second half saw Doug Tuck put Bognor Regis 4-0 up five minutes after the break before Joe Taylor pulled a goal back in the 71st minute.  However any hopes of a Wands comeback were dashed as Tommy Leigh netted and Tuck got his second goal of the game in the 74th and 76th minutes.  Taylor added a second for Cray seven minutes from time, his 24th of the season before Smith completed the scoring for the Rocks two minutes from the end.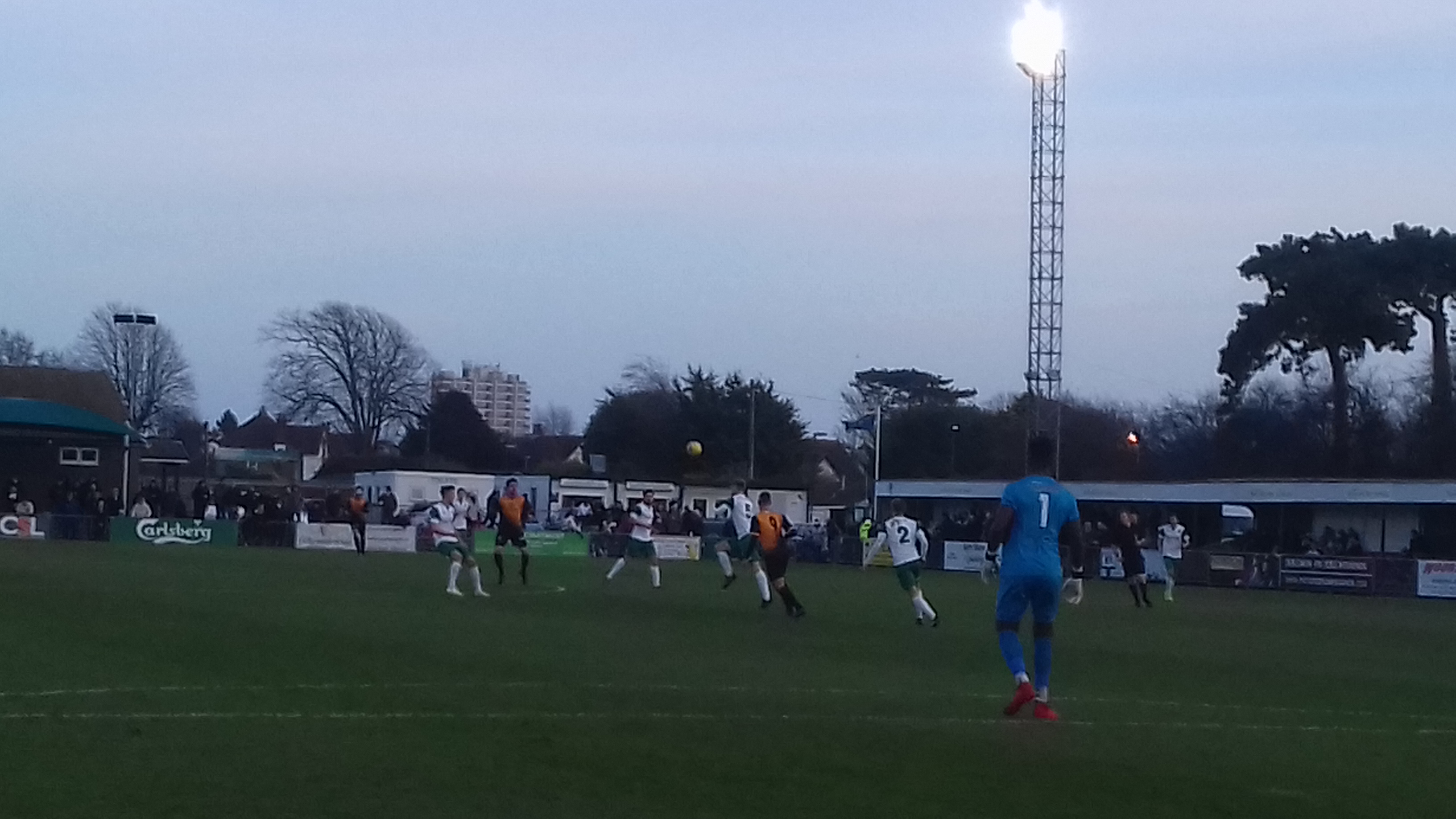 Cray were looking to maintain the momentum of last Saturday's win against Potters Bar Town but through injuries to Ben Mundele, Barney Williams and Jerome Federico on the bench as well as Bradley Pritchard being unavailable there was a rather patched up look to Tony Russell's side.  In to the team came Charlie Allen, Geofrey Okonkwo and Joel Rollinson.
This had the look of a tough trip for Cray even with a full strength side and it was evident in the early minutes that Bognor Regis had the bit between their teeth and began the game well. The first half chance came when from a right wing corner, Tommy Leigh's cross was headed wide of the left post by James Crane.   Then, a inswinging cross from the left by Doug Tuck was cleared out to Ashton Leigh who hit his shot over the top.
However despite the home side pressure, Cray had the best early opportunity when on ten minutes, the ball was won in midfield and Rollinson played a ball through to Taylor who strode on but pulled his shot just wide of the left post with keeper Amadou Tangara beaten.  A goal then might have put some seeds of doubt into Bognor but instead went back on the attack.
Firstly, Smith down the left played a ball across towards Crane in the box but was cleared away by the Cray defence.  Then, the Leigh brothers combined to set up Joshua Flint who flashed a shot just wide of goal.
Then Cray were indebted to Lewis Carey for a couple of fine saves, firstly to deny Smith from Ashton Leigh's pass with Carey saving well with his legs.  Then a couple of minutes later, Tommy Leigh down the right played the ball across to Flint who was foiled by a brave blocked save by Carey.
The feeling was that a goal was coming and arrived in the 21st minute when Flint and Smith linked up well and Flint's ball across was blocked out to Crane down the right whose ball across was turned in by Ashton Leigh from close range.
Cray had a better spell after this with a bit more possession but couldn't quite create that opening to trouble Tangara with the nearest coming when Tom Carlse down the left set up Allen whose first time shot was blocked.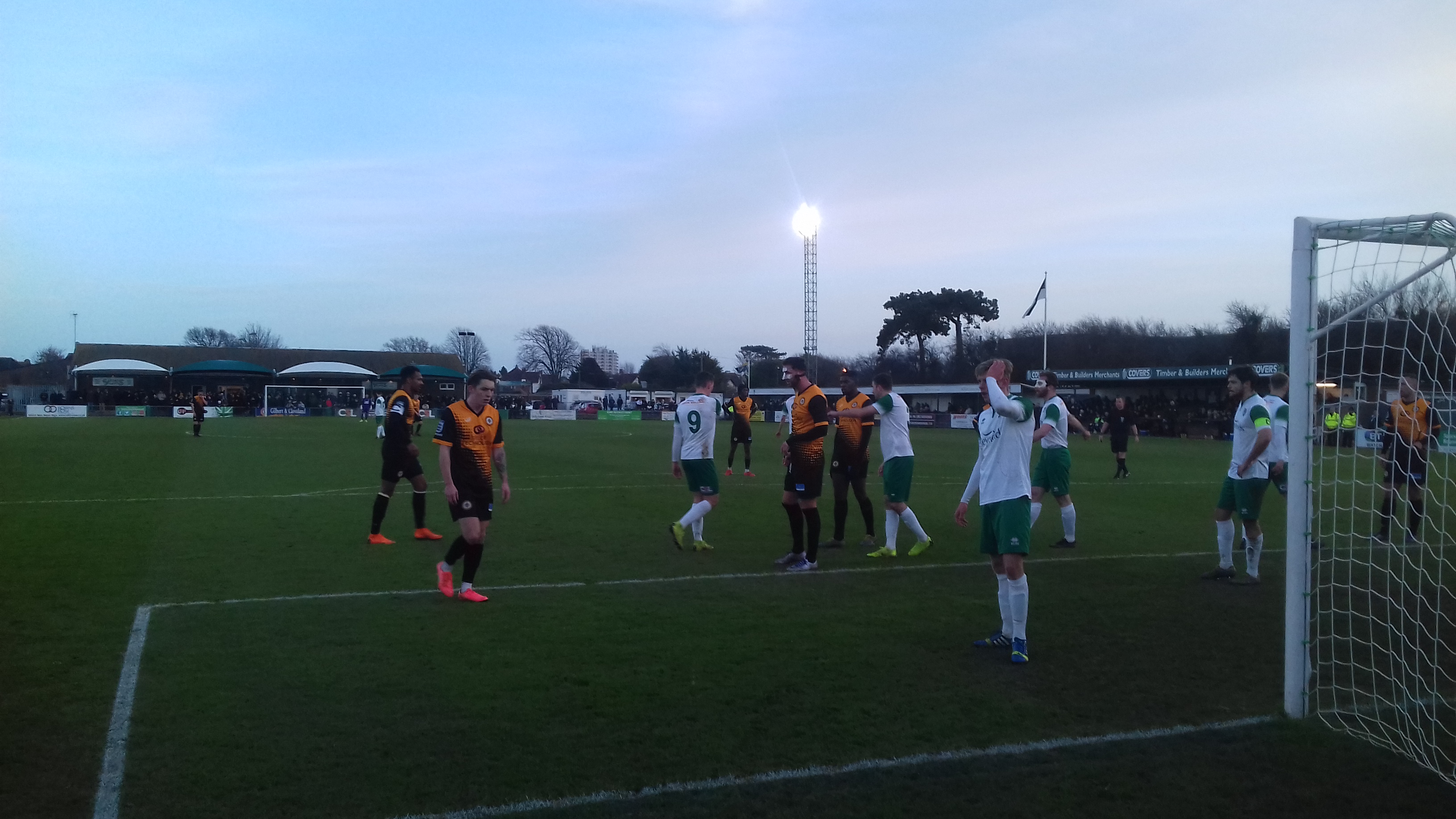 In the 29th minute, Bognor Regis went two nil up with a swift breakaway following a Cray attack when the ball was worked down the left and Smith found Tuck whose ball across was diverted into his own net by Carlse before Flint could get on the end of the cross.
Three minutes later and Cray had a mountain to climb as Bognor notched a third goal when Flint's ball across from the right found Smith in space whose effort was almost saved by Carey but couldn't stop the ball from hitting the back of the net.
As half time approached, Bognor almost grabbed a fourth goal when Joe Cook strode forward and from 25 yards floated a shot which only just cleared the crossbar.  Then Tommy Leigh's free kick was deflected behind for a corner.
Cray were looking to get a foothold in the game and before half time Rollinson who had a very good game picked up a loose ball in midfield and made a run towards goal and his shot from the edge of the area was saved by Tangara.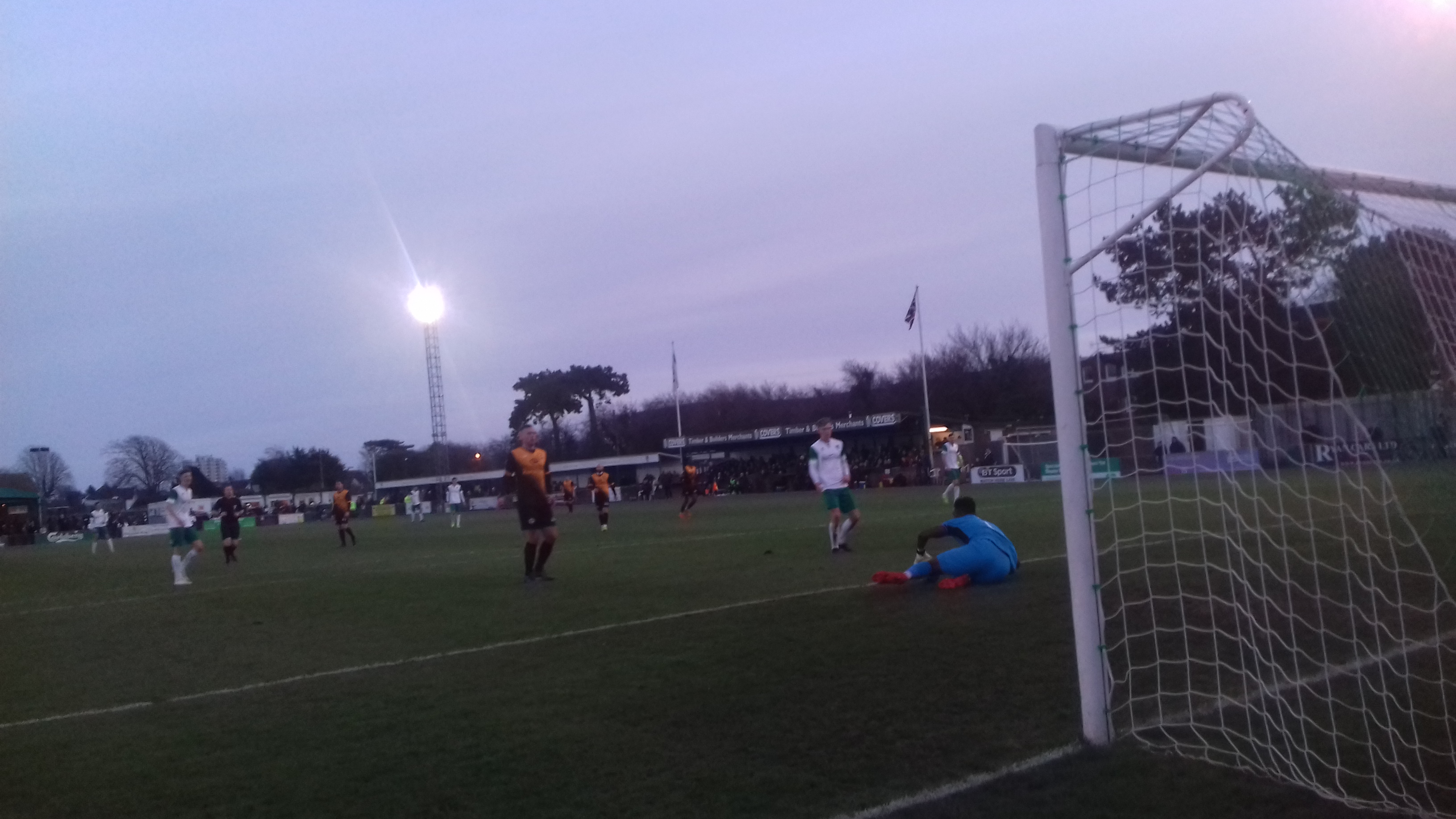 HT:       3-0
The first half seemed to breeze along quickly to go with the cold chill but the second half saw Cray come out looking to get into it and Joe Taylor down the right played a ball across to Andre Coker down the left but his attempted cross-shot was overhit and went over the bar.
In the 50th minute, Bognor Regis scored a fourth goal when down the right, Flint fired a shot towards goal which was pushed out by Carey but Tuck was on hand to steer the rebound into the net and virtually seal the game for the Rocks.
Cray though never at any time let their heads drop and kept on going and were more competitive in the second half and Mitchell Nelson was shown a yellow card for a foul on Harvey Whyte.  Cray threatened when Taylor found Coker whose low drive was pushed out by Tangara and Taylor looking to pounce on a ball he was entitled to go for unfortunately clattered into the keeper and a foul and a rather harsh yellow card was shown.
The game had an end to end look for the last half hour and for Bognor Tuck set up Smith for a shot which was held by Carey.  At the other end, Rollinson shot wide of goal.  Then a Carlse cross from the left into the area was met by Charlie Allen but his header under pressure from Keaton Wood went wide.  This was followed by Karl Dent setting up Taylor whose skidding shot was held by Tangara.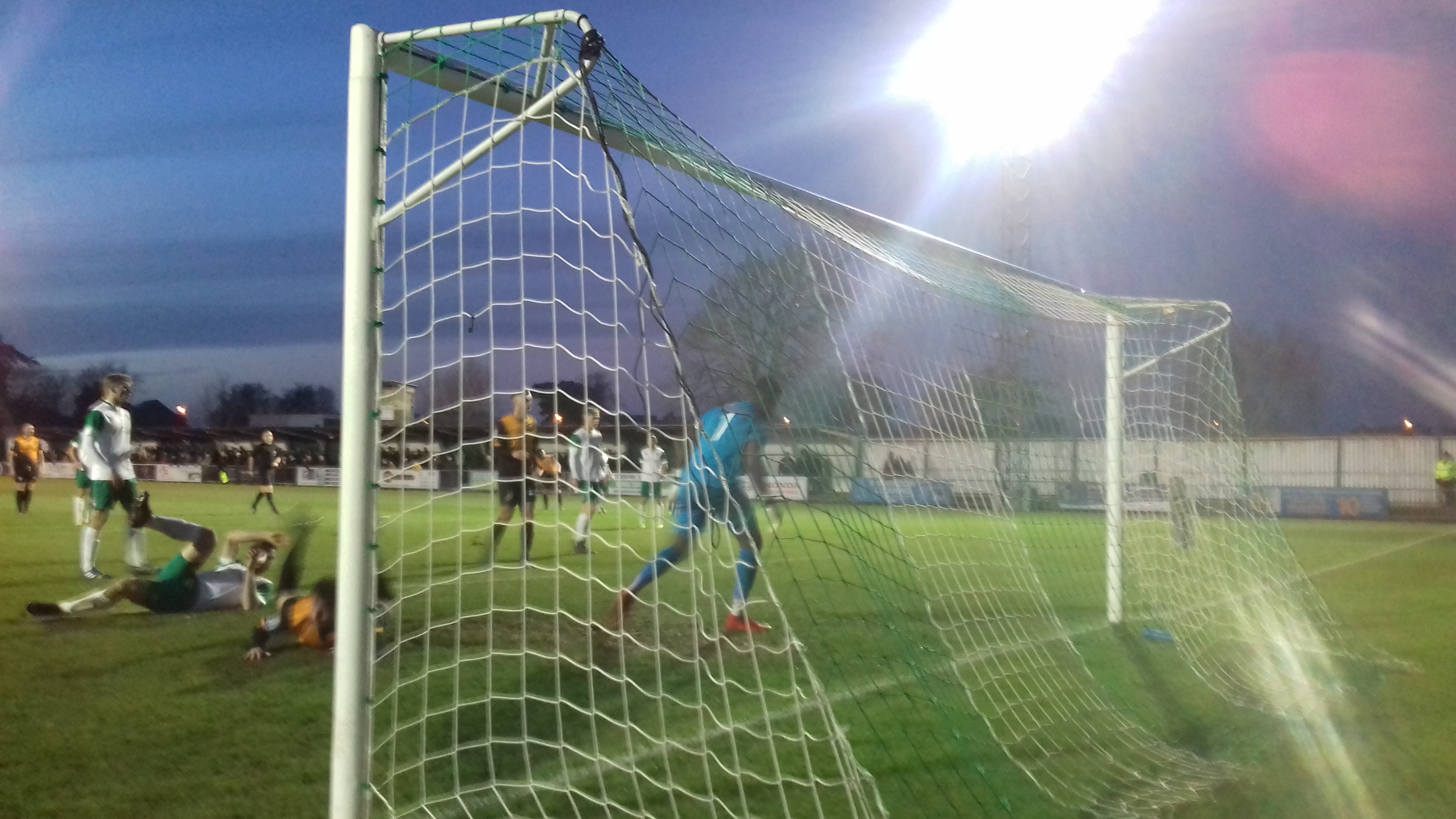 In the 71st minute, Cray pulled a goal back which they deserved for their second half display when hesitation at the back from Tangara and Ross Edwards saw Taylor nip in and steal the ball and placed the ball unerringly into the bottom right corner to make it 4-1.
Any chances of a fight back were extinguished three minutes later when Bognor Regis scored a fifth goal when Ashton Leigh found Tommy Leigh whose shot was blocked on the line by Jay Leader but reacting quickly, Tommy Leigh pounced to turn the ball into the net.
Two minutes later and Bognor Regis made it 6-1 when the ball was won in midfield and Tuck burst through from Smith's pass to score his second of the afternoon with a tidy finish.
Cray though will always keep on going and pulled a second goal back with seven minutes left to play when Dent played a neat ball through to Taylor who coolly lofted the ball over the advancing Tangara to make it 6-2 and make it 24 goals for the season.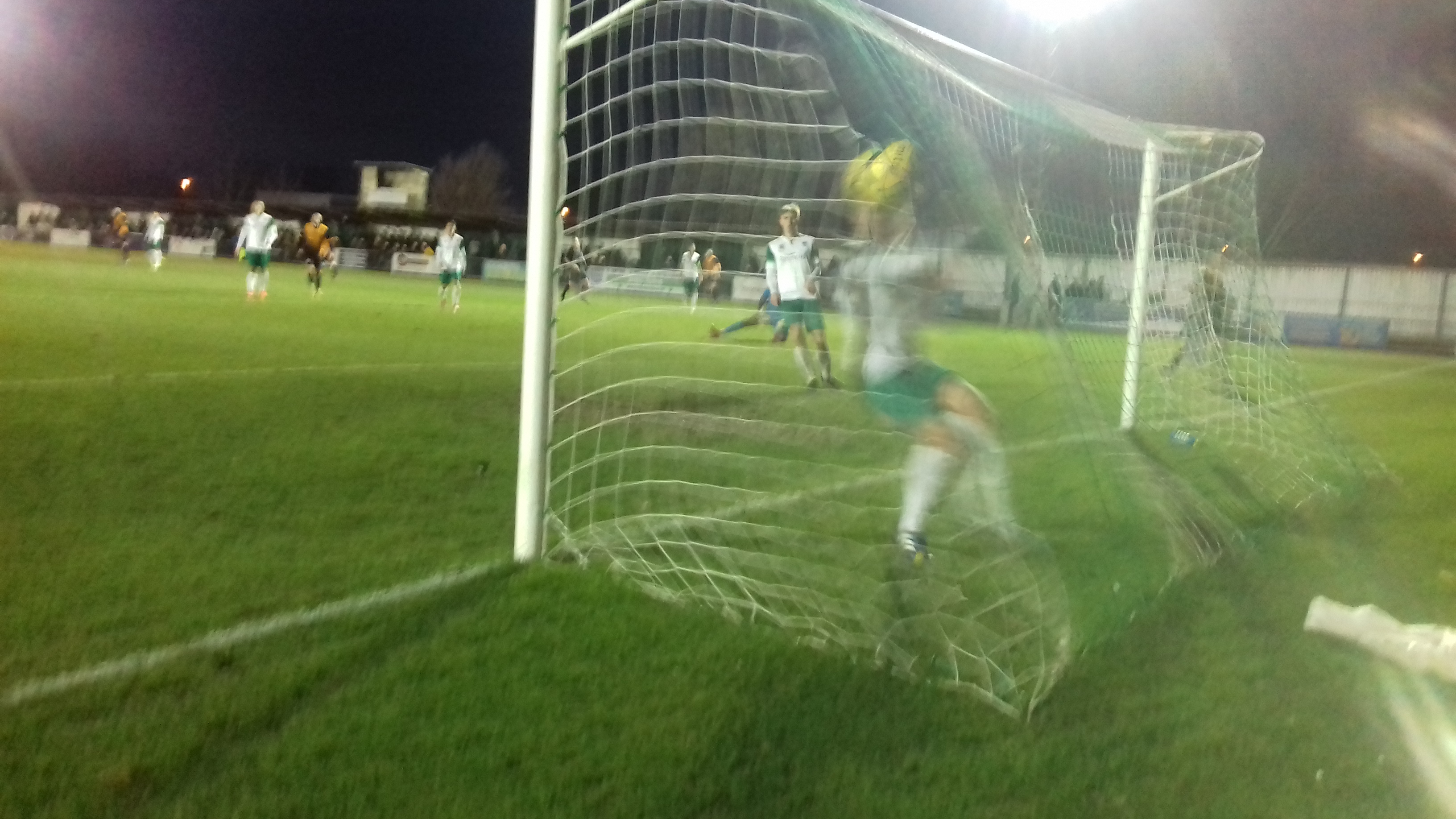 Once again though, Bognor stepped up to grab another goal and two minutes from time Smith scored his second and the home side's seventh when he converted Ashton Leigh's right wing cross to the far post.
The last chance of the game fell to Cray when Taylor unselfishly with a hat-trick looming played the ball across to Rollinson who placed his shot just wide but in the end probably a relief to hear the final whistle and just look to bounce back for the next game.
Cray kept going on till the end but no-one could really argue that Bognor Regis were the better side on the day and took their chances well and look definite playoff contenders.  Cray will hope to bounce back next Saturday at Worthing in the Isthmian League Cup but will hope to have their injuries which have been a handicap for the Wands this season can ease as we near the holiday period with Mundele, Williams and Phipp hopefully to return.  All teams from time to time will have afternoon's and scorelines like this but in recent years this hasn't been the case and surely the Wands are good enough to recover quickly and return to winning ways.
Cray Wanderers:  Lewis Carey, Geofrey Okonkwo, Tom Carlse, Jay Leader, Mitchell Nelson (Capt.), Lee Lewis, Charlie Allen, Karl Dent, Andre Coker (Tom Murphy, 57), Joel Rollinson, Joe Taylor:  Subs:  Jerome Federico, Archie Daniels, Joe Vines, Grant Hall
Booked:          Nelson, Taylor, Rollinson, Leader
Bognor Regis:  Amadou Tangara, Joe Dandy, James Crane, Douglas Tuck, Joe Cook, Keaton Wood (Ross Edwards, 68), Harvey Whyte (Capt.) (Ben Mendoza, 69), Tommy Leigh (Aaron Hopkinson, 79), Dan Smith, Joshua Flint, Ashton Leigh: Subs: Tommy Scutt, Eddie Wakley
Booked:          Flint, Whyte
Referee:          Alastair Higgs
Assistants:     Nathan Cook, Timothy Godfray
Attendance – 527