Cray Wanderers are delighted to announce that the club can confirm Neil Smith as first team manager for the 2022-23 season. This is a first for the club to have a full time manager at the helm.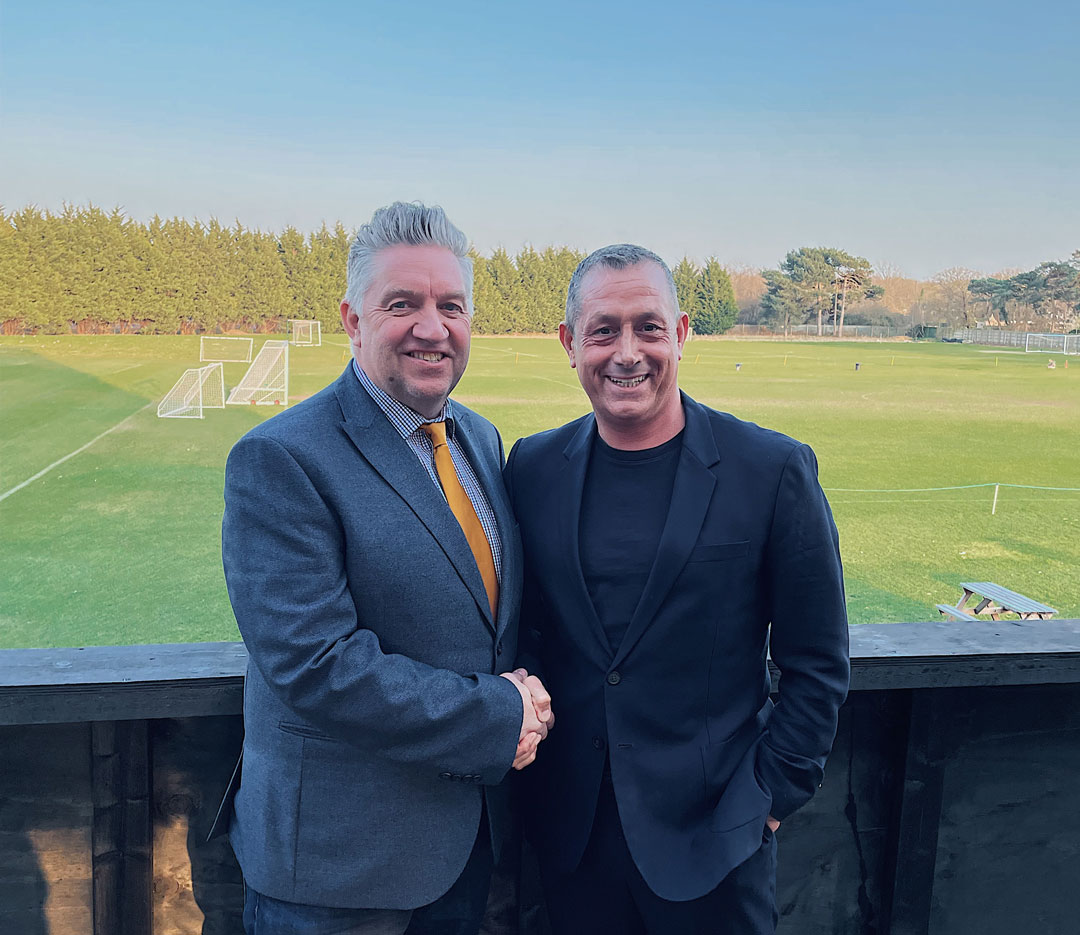 Neil's remit is to rebuild the squad and prepare the club for the start of the season as well as recruiting and building for our Academy which will be starting in September, the first Academy for a few years and will be the first operating on a site that Cray Wanderers owns.
We are delighted to have someone as experienced as Neil as manager who achieved great things at Bromley FC and will hope to replicate that success with Cray Wanderers.
Please see here an interview with Neil which took place on Saturday 7th May at Flamingo Park after the club agreed terms and the start of a new chapter for London's Oldest football club.  Here Neil looks back to the final six games of last season, the challenge ahead and a bright future for Cray Wanderers on and off the field.
Thank you Neil for committing to Cray Wanderers for the next couple of seasons and on behalf of the club and supporters for helping the Wands to avoid relegation in what was a difficult 2021-22 season.  Coming into the club on March 22nd  with six games left, three of which were against playoff sides and two against fellow strugglers, you didn't have much time to make an immediate impact. How did you manage to adapt so quickly?
It was a difficult time, I got the phone call after the club decided to make the managerial change and I was going to come in to help Gary and the owners as they have been brilliant to me and I knew them. I came in on Wednesday 23rd March and within 24 hours had to find a team for the Kingstonian match on the Saturday. I lost Cameron Brodie who broke his foot, Jacob Munting had left, keeper Joe Wright got injured so it was a big ask to find a few players to fill these voids and not a lot of time to train on the Thursday for the Kingstonian game so it was a big turnaround in a short space of time. 
I just asked the players to give their all for the last six games and I think it culminated in the 4-1 win vs East Thurrock United which was exactly what we wanted. The players put in a great shift and just got us over the line before the Bishop's Stortford game. 
I've been very impressed with the club from the minute I walked in and not just the guys in the boardroom but also the supporters and the players who gave everything for me in those six games.
I felt the turning point was the 3-3 draw at Enfield Town on Good Friday. That showed what the team was capable of against a side who had been near the top all season and you wouldn't have noticed who was the side going for promotion and who was going down.
I think if you went through all the games, we shouldn't have lost to Kingstonian and Leatherhead, were unlucky not to beat Enfield and the only game where we shouldn't have got anything out of was the Bishop's Stortford match where by then the players had given everything they had up to then.  You were right, we played very well against Enfield who were a top team in the division and it was a great result.
 Let's look to the future and the club is looking to build not just a stadium but the foundations for future prosperity by establishing an Academy to provide future stars and develop their education at the same time. Is this something that inspires you to become involved with?
Yes, definitely. I said to the guys when I came here I don't just want to be a manager, I want to try to build the club from the bottom up.  We are here talking at Flamingo Park watching teams from the youth section playing on the pitches, boys and girls. This was something I wanted to do while I was at Bromley and we succeeded and this is exactly what I want to do now at Cray.  I want to build the club in the community, I want the  supporters to be proud of coming along and seeing the players give their all every week and hopefully with that building process we have some fun and enjoy winning games.
You have with you a very solid back up match day backup team to help you, Tim O'Shea, Paul Smith, Paddy Gray.
I have Tim O'Shea as Assistant Manager who I was at Tottenham with when he was a pro and met again when we were at Gillingham together. We then both went into coaching at Grays Athletic, Croydon and Lewes so we know each other well. We are two A' licence coaches keen to keep learning as well. Paddy is our kitman, I brought him along as he did a great job for me at Bromley, Paul Smith as physio and added to that maybe another coach as well.  I'm a great believer that the team has to be right off the pitch as well as on it.
Looking ahead to pre-season with training beginning in around six weeks time. Are you looking forward to getting things underway with the pre-season buildup?
I am, I'm speaking to a few players at the moment. I know it is tough as some are still playing matches, going on holiday or saying I'll ring when I get back. You put a lot of effort into it at the moment but they are obviously talking to other people. The one thing I did at Bromley when I was there was to get as many of the players you want that are already at the club sorted because you don't want to be negotiating against your own players with someone else. We will speak to as many players as we can and get the right people, not just the right player to the club.
For those supporters who may not be aware or watched your teams play in the past, is there a Neil Smith blueprint to the way you play the game?
I would say fully committed, you have seen us in the 4-1 win vs East Thurrock and 3-3 draw at Enfield Town. I want us to be hard to break down, I know it sounds ridiculous after a 3-3 draw but we will get better at that. I do like to play attacking football, wingers that run at people, I like pace in the team because if people are going to pay to see my team I want them to get enjoyment out of it. I like exciting players and have had them before and gone on to play for pro clubs like Rico Hackett-Fairchild, Louis Dennis, Liam Vincent, but I do like attacking players.
I also want there to be a pathway from the youth team and hopefully our new academy to the first team.  Cray Wanderers need to produce their own players, it is something I have done before and supporters appreciate home grown players like Sam Wood.
One thing we must never do is underestimate the quality and ability of the Isthmian Premier. There are a lot of good teams, we played three of the top sides, Hornchurch, Enfield Town and Bishop's Stortford in the last couple of weeks of the season and neither of them went up. It is a tough league isn't it.
It is a tough league, you are constantly trying to out-strength teams. I looked at Hornchurch, I know Mark Stimson very well and the type of players he had there, all physically strong. Enfield had Jake Cass up front, and he was the difference between us winning and drawing, they had someone up front who was physical, put himself about.  There are teams like Kingstonian who are always there or thereabouts. It is hard, it is relentless, often you finish one game and you are straight into another one. We will be as ready as we can but I don't want it to be another season like last season. We had a huge turnover of players. I like to have a settled squad with a team spirit and you cannot get a team spirit if you have 60+ players in a season. I understand in this league you may lose players for certain reasons but want to keep that number down to a minimum if we can.
Finally with you signing a two year deal with the Wands, this hopefully will mean you will be first team manager when the stadium at Flamingo Park is ready to go.  Is this something also that inspires you for the future?
Definitely, I've spoken to David Francis, Jason Miller, Gary Hillman, Michael Paye and the future is the thing I've signed for. I've signed for the future of the club because the potential and the project is so exciting. Growing a club, moving into a new stadium and home it really excites me, hopefully creating a new fan base and supporters coming through the doors, playing attacking football. Starting from scratch, we have a base to start from, I want it to grow and when I leave, whenever that may be, Cray Wanderers will be in a better position than when I arrived.