Bristol Manor Farm v Cray Wanderers
The post-match thoughts of Tony Russell
After a night of drama, excitement and emotion on Tuesday down at Bristol Manor Farm, Cray Wanderers are through to the 4th Qualifying Round of the FA Cup for only the second time. This also on Tony Russell's 250th game in charge of the club. Here Tony reflects on the evening and the drama that ensued at half time.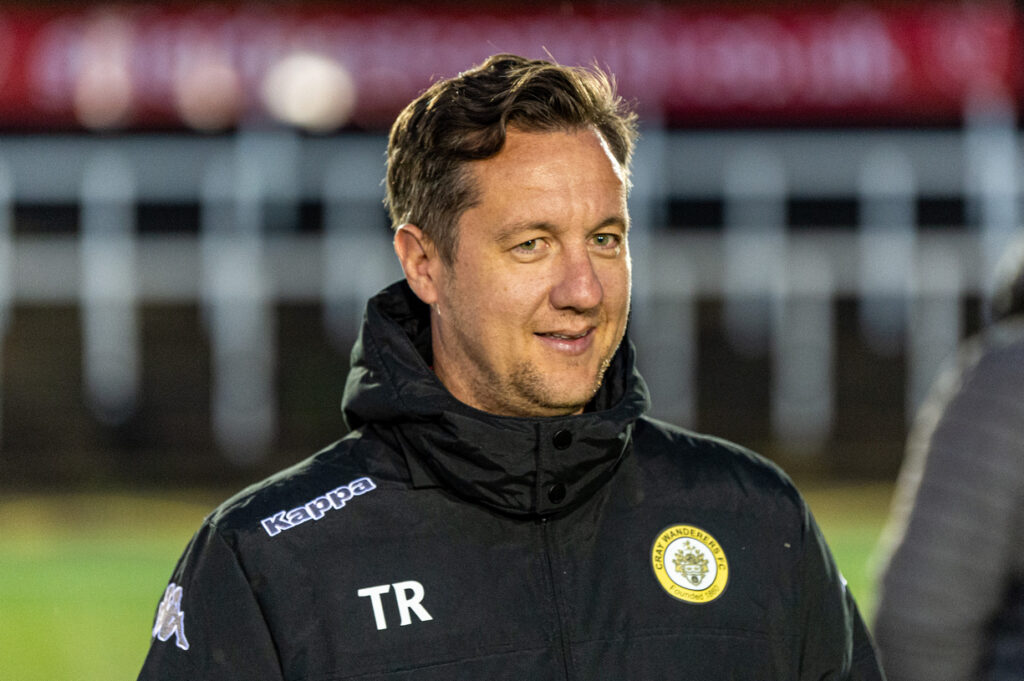 Pics: Jon Hilliger – www.HilligerPix.com
Congratulations Tony on making 250 games in charge of our great club. A terrific achievement and also a landmark to achieve on the night we reached the 4th Qualifying Round of the FA Cup, only the second manager after Ian Jenkins to do so.  Tell us your thoughts on the game as at half time your emotions must have been four fold. We were playing well, just scored a third goal through Freddie Parker on the stroke of half time but then saw Ben Mundele sent off and Rhys Murrell-Williamson suffered a frightening episode which led to hospital treatment. What was going through your head while all this was going on?
We started the game very well and came out of the traps and got on the front foot controlling the game. Phippy has hit one from 40 yards and seen the keeper off his line backpeddling and came back off the post, hit the goalie on the back of his heels and back on to the post and I looked at Vinesey and said I hope it is not one of them nights. We remained on top, scored a great first goal from Ben Mundele, after great build up play and a one-two and puts it in the corner and all is going to plan. Freddie Parker then continues his fine form taking his tally to seven in eight games, terrific free kick and we are two nil up.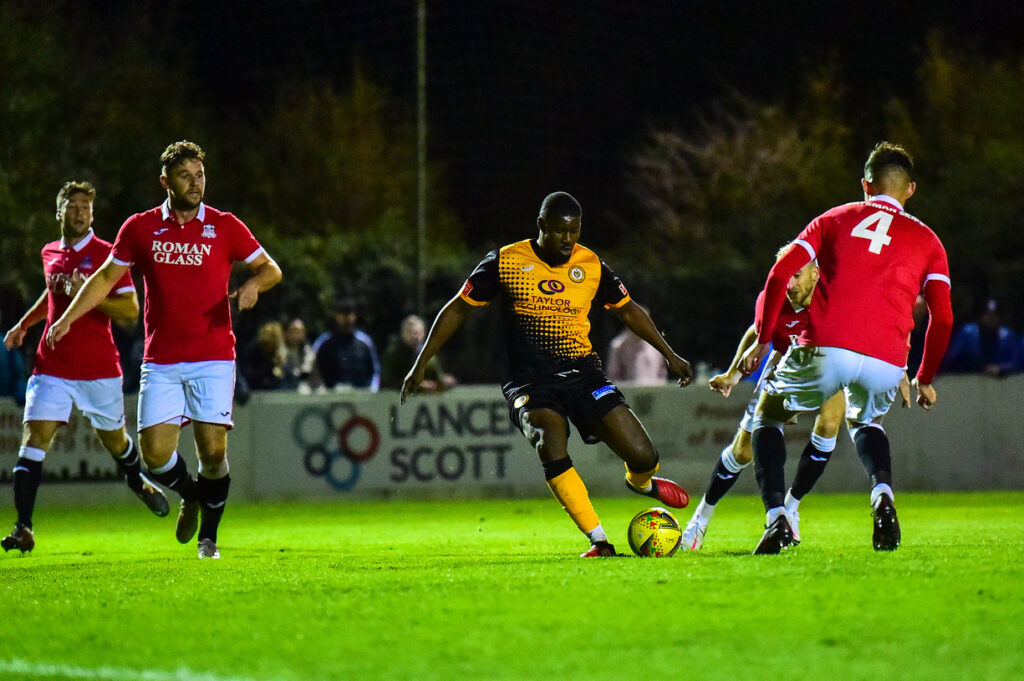 In complete control now and then Rhys Murrell-Williamson cuts inside with just the keeper to beat and bends it in the corner and the keeper makes a world class save to tip it round the post. Then Freddie has another free kick which the keeper saves, parries the ball and from a yard out and usually the one person you want coming in on the rebound is Joe Taylor but with a combination of poor finishing and good goalkeeping saves from a yard out.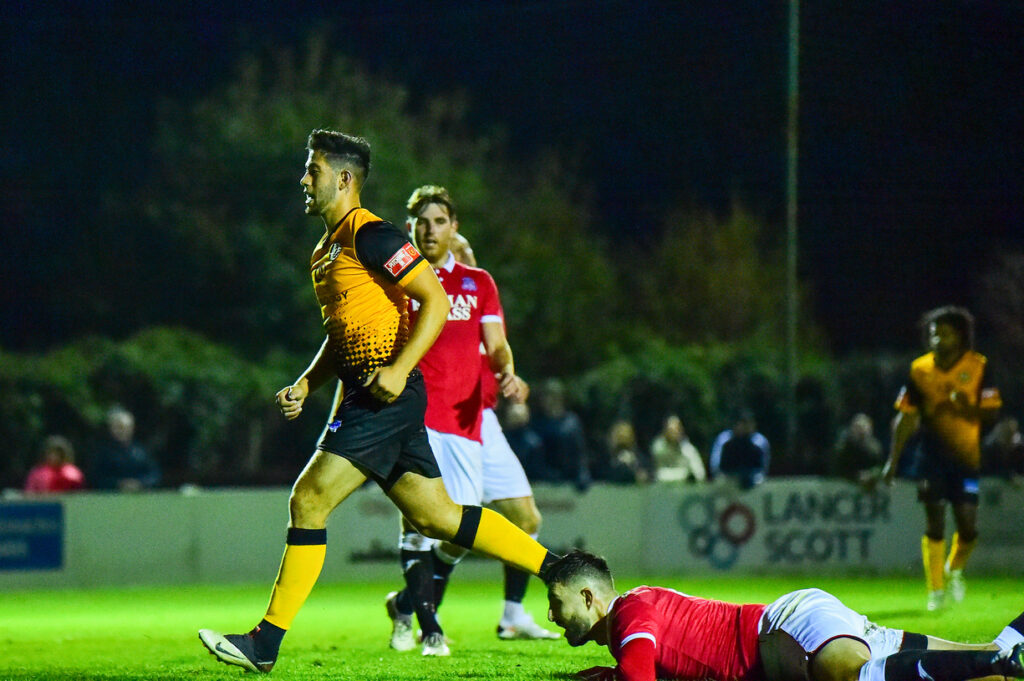 Out of nothing though, we've dealt with a long clearance, it's come to Lewis Carey and he's gone to pass to Ben, underhit the pass and intercepted and the young no 7 has done well because he has still got a lot to do so credit to him, he's gone past Mitchell Nelson and put into the corner. So from a point where it looked like we could score when we wanted it was suddenly game on and suddenly you could hear the crowd get into it.
We react to that really well and Rhys does brilliantly, goes past their left back, the defender gets dragged out, cuts to the bye line, pulls the ball back for Freddie who side foots the ball into the net. You're 3-1 up, bang on half time back in control.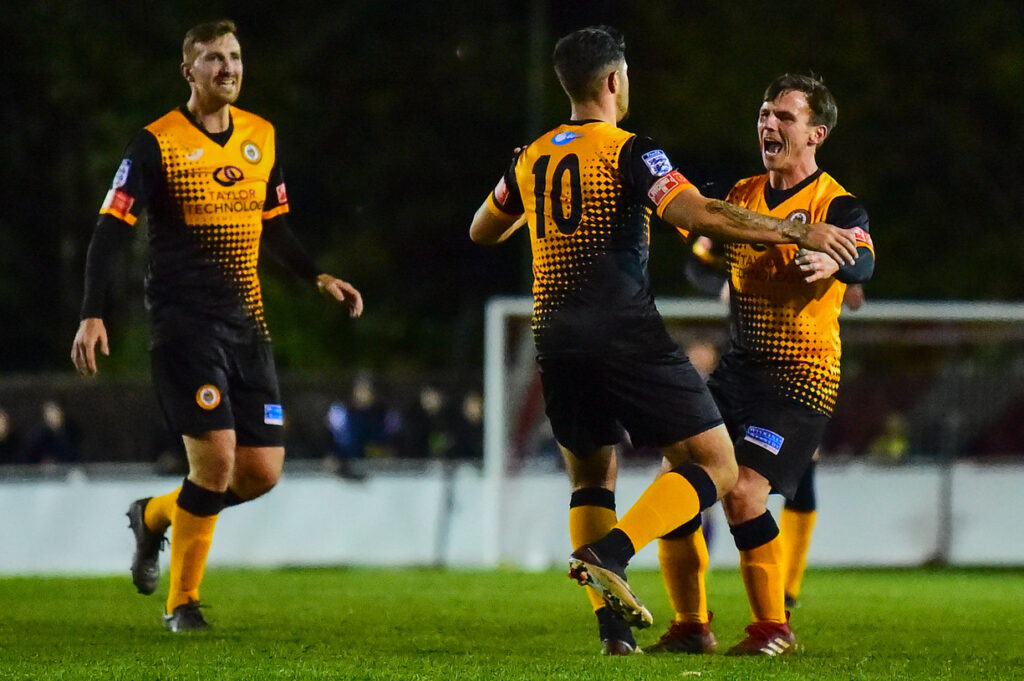 At this time though I couldn't see what was going on as there was a melee in the penalty area and down the far end to us. Rhys has come running up the touchline with his shirt off and running to me shouting, "I don't what is going on, my body, I keep itching" and bumps all over his body and his face was beginning to change and was having a bit of a panic attack so we got Ally to look at him and was trying to calm him down. Whilst we are doing that the referee walks up to Ben, their goalkeeper head butted Freddie and then he has had a red card. Ben and Lewis Carey were the only two people that were nowhere near the incident. Ben was just being lazy talking to us in his right back position while Lew is in goal and they are celebrating the goal. Ben was on the halfway line and when the head butt happened, Ben turned to us and said Freddie has just been headbutted. So Ben has started walking from the halfway line towards their goal but by the time he has got there the ref is chatting to the linesman to try and find out if he's seen anything. All of a sudden the ref has shown a red to the keeper and then a second yellow to Ben as he had been booked earlier to the absolute shock to everyone. Ben and Lew were the only people not near it and she is saying he went head to head with the goalkeeper.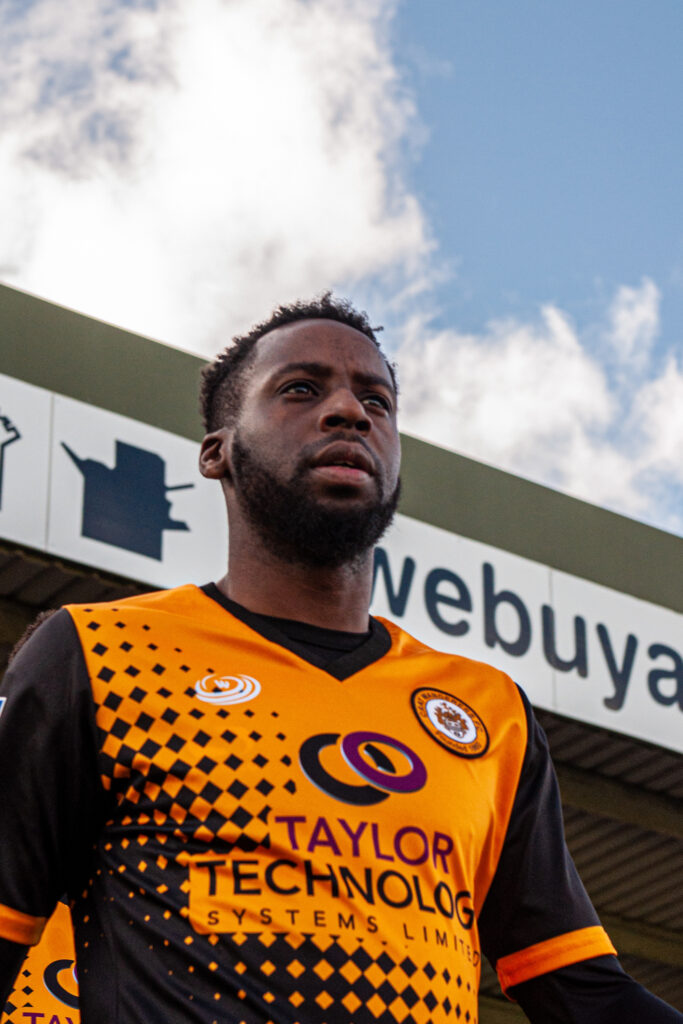 So, we've gone 3-1 up and Ally has shouted to me this is not good and Rhys is on the floor and we need to get an ambulance. So Ally has called an ambulance, I've called the ref over to say can you look at our player and she said I will just blow the whistle now as half time. She blew the whistle and I went to speak to the referee to try and understand what has happened with Ben as really shocked. She didn't want to talk to me outside so I walked into the dressing room, spoke to Ben and I said did you do anything at all and he said you saw me standing with you and was visibly and physically upset, practically in tears.
I've popped in to see the referee and said we are baffled as to what you have given a second yellow card for. She said for inciting an argument with the goalkeeper which he got headbutted for. That Freddie is white, Ben is black and not sure how you can confuse the two. She said, she has seen it and I will look at the video to see if I have made a mistake. The footage of the incident has been seen by the referee and this has been referred to the FA to look at in a case of mistaken identity so just have to wait. It seems evident to me but you just never know with the FA what they come back with, you get a mixed bag sometimes. Unfortunately we are not likely to know the outcome of the appeal until 5pm on Tuesday.
I've now gone into the dressing room and all the boys are literally all around Rhys and his face has completely changed, eyes are swollen up. I was just about to do the team talk and Rhys starting shouting "help!" because he can't breathe. So Rhys cannot breathe, so his nose is all blocked up and his tongue has started to swell up and asking "I can't breathe Tony" and all the boys are now freaking out. So Ally is outside talking to the ambulance on the phone and I'm having to calm Rhys down as he is having a panic attack and telling him to calm down, he is going to be fine, you've had your peratine tablet and you've had a reaction to something, just relax and don't get worked up the ambulance is on its way. So the boys are all sitting in there visibly shocked, so I made the decision I was going to send the players out without no info or saying anything to them. I wanted to give Rhys space and we had a lot of bodies in a tight dressing room and he's freaking out. So I sent the players out, I stayed with Rhys and Ally has come in to say the ambulance is literally a minute away, so start making your way out. So we went out on the pitch and obviously the boys are a little bit shocked and concerned to see Rhys that way. So we've gone from being 3-1 up, with the other team being down to ten men and us going on to win the game comfortably as we want it to having a player sent off, when no-one had a clue as to why and my group of players had to watch their mate shouting that he can't breathe. I remember Mitch had his hands on his head looking at Rhys and didn't know what to do so that was a key reason to get the boys out on the pitch.
As the second half is going on, the boys keep shouting to the bench "any news from Rhys" so we are just shouting to them just get on with the game. Then Bristol score and the crowd are up and now all of a sudden the game is turning into an absolute nightmare because we've got a group of players that are in a little bit of shock. Credit to Bristol Manor Farm they are doing everything for their fans, the noise levels have risen and then within ten minutes it is 3-3 and we are scrambling and thinking we are going to go out here. We couldn't change it from the bench, it is 3-3, VInesey just looked at me and said what can we do and I said "I don't know". It is very rarely you see me standing on the touchline and not sitting on the ice box and started to get vocal and pumping messages out, "come on, relax, fight back" and we rode it out for about ten minutes and then we started to come back at them and punch back towards their goal and for the last 10-15 minutes their sub keeper Luc Rees, on loan from Forest Green Rovers has made two or three really good saves. Their original keeper Ben John that was his first game back from a ban when he came out of goal and kicked a young player in the face where an ambulance had to be called as unconscious. So we have two players sent off, one who shouldn't be near a football pitch going around kneeing people in the head and head butting people and Ben who hasn't an aggressive bone in his body sitting in the dressing room like him when he's done nothing wrong.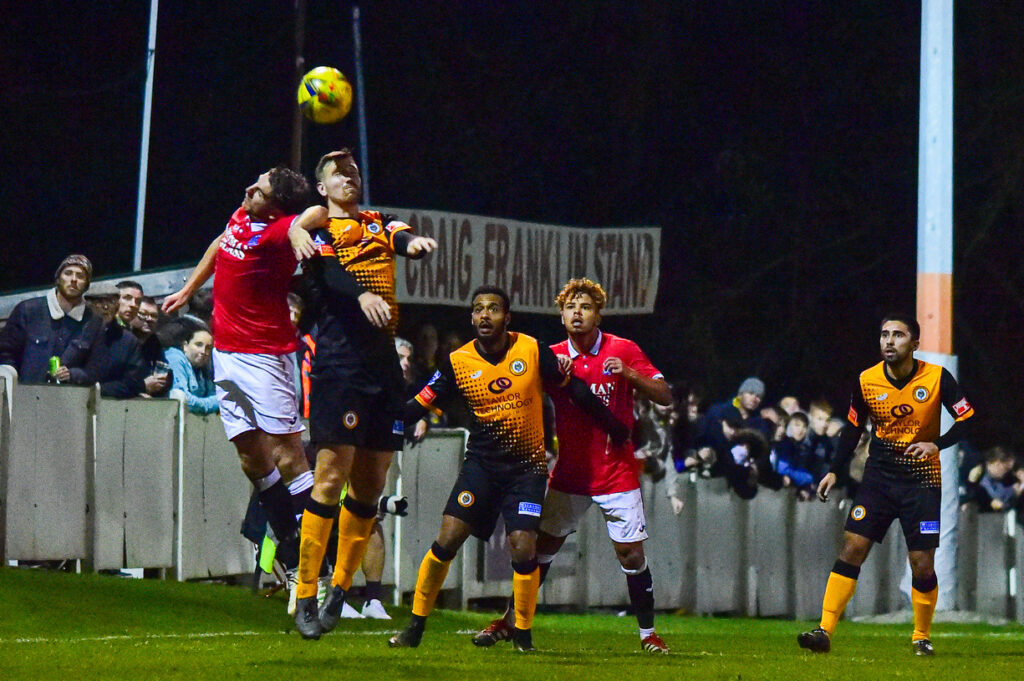 Credit to both sets of players, Bristol Manor Farm could easily have folded especially in the first half when we were coming at them from all angles. They fought back and I remember the third goal, their bench running on the pitch, their fans are in our ear, I looked at our players and they seemed dejected and would have been easy for us to fold and end up losing 5-3. We didn't though, we stood up and not only did we stop them coming at us any more we pushed them on the back foot and counterpunched them.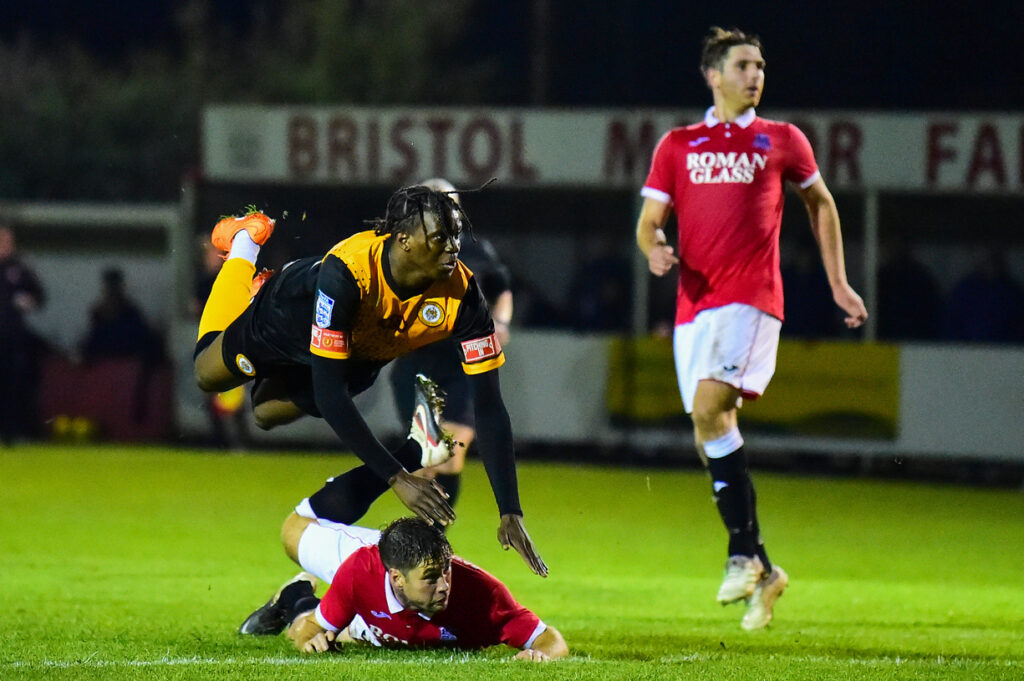 It's gone to penalties and the players have asked about Rhys straight away and told them let's just get this done, and then worry about Rhys. The way we did it, we lined them all up in a line in front of me and I've seen many shoot-outs in the past where players quite clearly didn't want to take a penalty. So I lined them up and said anyone who wants to take a penalty and believes they can score to step forward now. Every single player stepped forward and as a reaction to that it just stirred everyone and were fired up. Everyone stepped forward and Tom Carlse shouted out "love that, love that" and everyone was saying let's get this done. So I didn't put any order of takers, and we knew we had a better keeper than them, one of the best at our level of football, he will definitely save at least one. It's up to us now if we score all ours we go through. So I said go to the halfway line, sort your order out and I have to admit I sat on the cool box and I'd never been so relaxed. I knew we were going to win that shootout even when Freddie missed the first one, I didn't flinch from that view. That's why, you know me, you rarely see me over celebrate at the end of a game but this time I ran across the pitch and jumped with the players as I knew how big it was, that second half after what we had to deal with at half time and had to come through that is why it was one of the best feelings probably in all the time I've been doing football just to come through it and come off the pitch with the euphoria.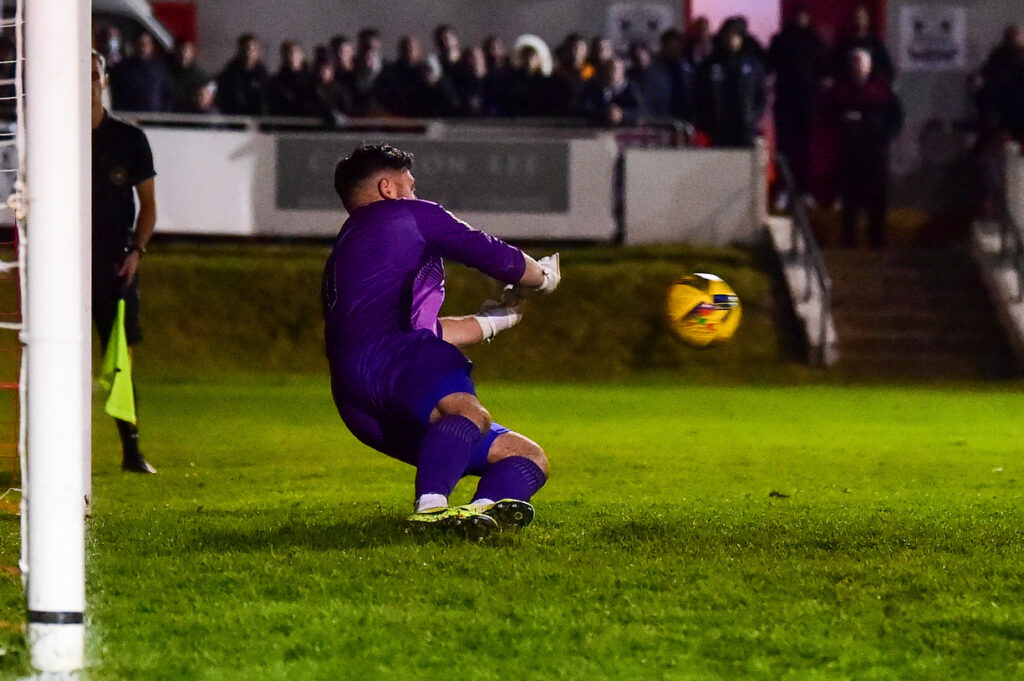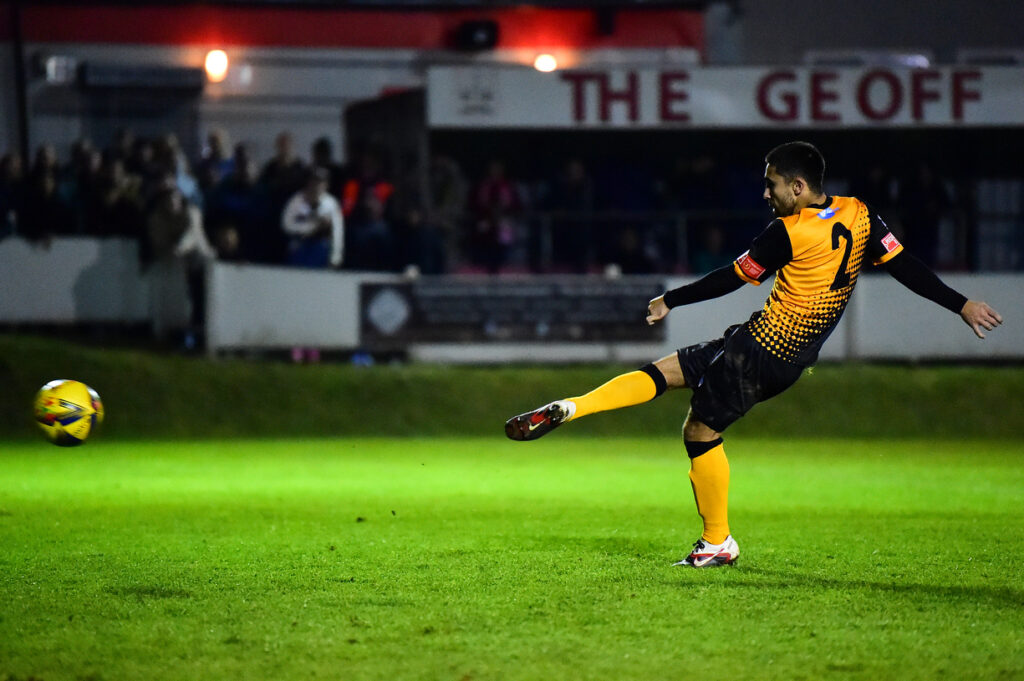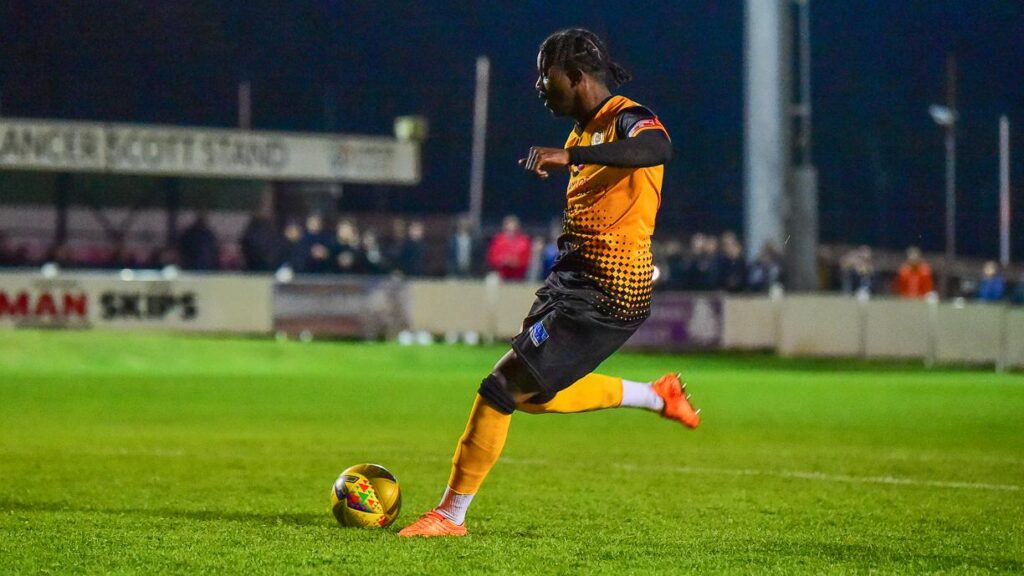 Ally told us Rhys was still in hospital after the game and could be hours so I spoke to the players and made the conscious decision, we are not leaving Bristol without Rhys. So we basically got on the coach, it took us to Bristol Hospital and we sat outside and had to wait a while but Rhys and Ally got on the coach and although not 100% right wanted to get on and got a huge reception. It was a happy but long journey home and I got home about 3.40 am. I left my house at 12pm that day and ended up getting in at 3:40am just exhausted. As I said to Dave Francis on the way home, if we'd had gone there and the referee hadn't done that and we had just gone out and won 6 or 7-1 we wouldn't be talking about the game but because of the way it happened I will always remember this match for evermore. So full marks to Bristol Manor Farm but if I'm honest I felt we did more than enough to win that game. We've hit the post twice, the keepers have made good saves and probably the most dramatic match I've ever been involved in and the drama made it the contest it became and after we got dragged into the fire for 15-20 minutes it looked like we were in trouble, testament to the players, that is why I was so proud of them to see them clear their heads and counterpunch and us going on the front foot. What I always say is you can get talented players, that is not hard as a manager but to build a team up you don't know you've really got a team until you get dragged into deep waters like that. There is nothing you can do, shout and encourage all you want but it is down to them, those boys who are going to get it done. The way they dealt with the situation was brilliant.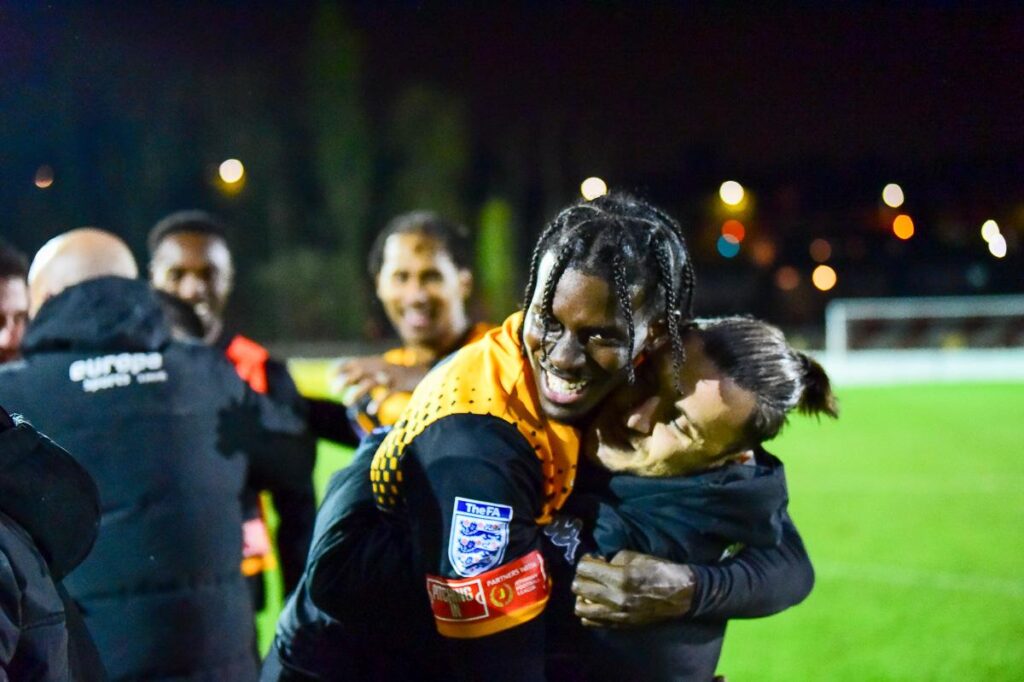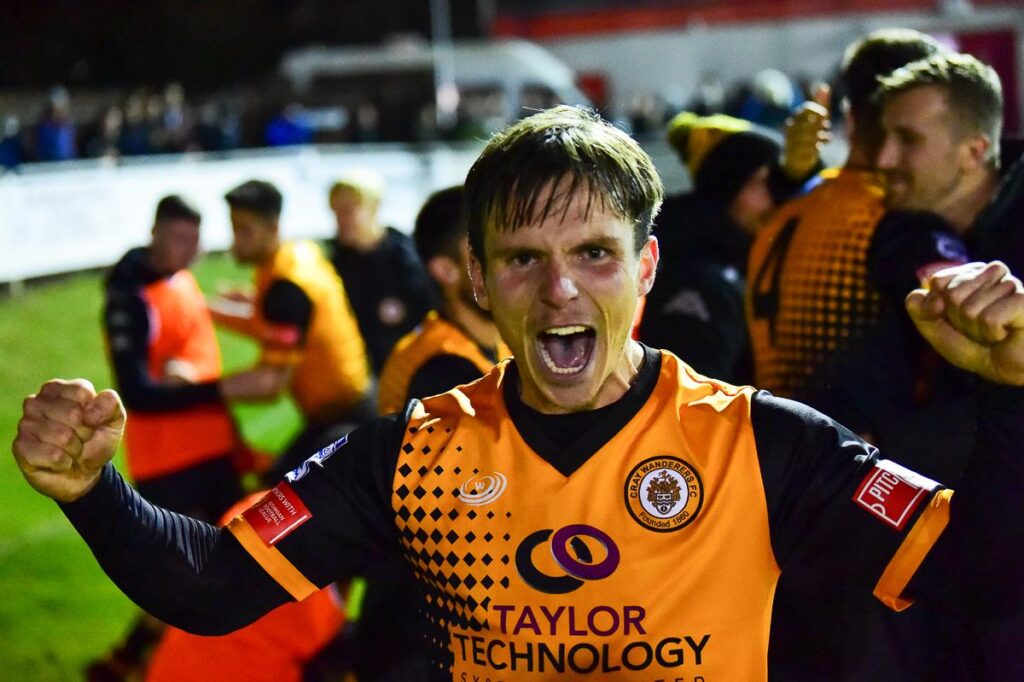 The problem we had was because we got back so late we couldn't train and reflect on the game. I wasn't at the Bishop's Stortford game as I wasn't well and couldn't risk going to the game. We live for the moment, and there are things we need to work on. I sent a text to the group voice mail and explained to them we need to do some shape work as we have so many games and can't get the training sessions. I said sometimes you have to go above and beyond so I want us to train Friday night. I know it is a big ask so they are coming in Friday, a couple of them have prior arrangements but the majority of them are in. I don't know many managers who can call their players up on a Thursday and ask them to do an extra training session a day before a game but that is what they are doing. That is the best attitude in the league to look to outwork everyone and if you've got that attitude look how far that will take you. If you chuck lots of ability in there it is a really good combination.
We've got a very tough game at Haringey and a bit short in some areas, Jason Banton, probably won't make it, Rhys we probably have to keep an eye on after what happened. We will work hard on Friday and put a session and keep giving everything we've got from the playing side of the club and give us the best opportunity to represent the club in the best light.
Canvey Island away in the 4th Qualifying Round. What are your thoughts on the tie on 24th October?
I think both us and Canvey Island will see this as a winnable game. They have got off to a good start to the season and only lost 1-0 at Maldon & Tiptree when they had a man sent off and we know how good Maldon & Tiptree are so clearly in good form, are at home so evens itself out. Both sides will be looking at it as a great opportunity to get into the 1st Round. It will be a tense affair, two good sides and let the best team win.