Cray Wanderers vs Sutton Common Rovers
FA Cup 1st Qualifying Round – Saturday 4th September – Match Report
Pics: Jon Hilliger/www.hilligerpix.com
Cray Wanderers                                    1
Cook 45 pen
Sutton Common Rovers                       3
Murphy-McVey 11, Fernandez 44
Allen 67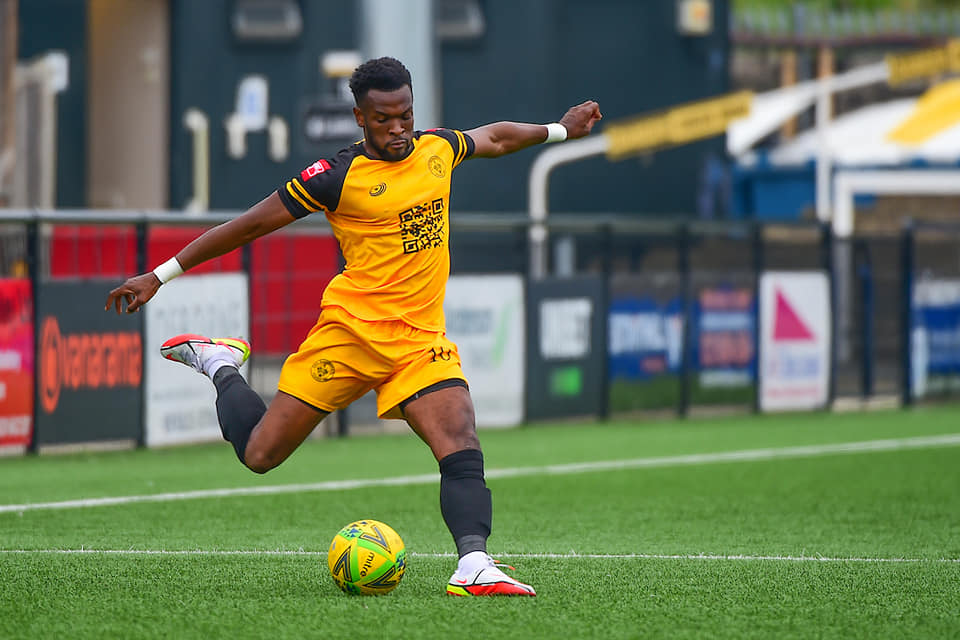 Cray Wanderers FA Cup story for 2021-22 came to an early end as Sutton Common Rovers in a first ever meeting between the sides claimed a merited victory with some good finishing and stoic defending to book their place in Monday's 2nd Qualifying Round draw.
The match was Cray Wanderers 150th FA Cup tie but after a bright first ten minutes when Cray began on the front foot, Isthmian South-Central newcomers Sutton Common Rovers went ahead in the 11th minute when Brendan Murphy-McVey latched onto a Jack Turner clearance but still had a lot to do to place his shot into the bottom left corner.
Rovers soaked up Cray's pressure for the rest of the half and went two nil up in the 44th minute when Matt Tanton's left wing cross fell to Danny Fernandez who managed to set himself up from 12 yards to fire low into the net.  However, a minute into added on time, Cray pulled a goal back when Fjord Rogers was upended by Niran Butler and a penalty was awarded which was dispatched by Anthony Cook.
The second half promised a Wands onslaught but Rovers were able to stem the tide and broke away brilliantly in the 67th minute when Adam Allen broke through midfield and then from a short return pass found himself down the left of the area and placed his shot into the bottom right and the visitors held on for the win.
Cray Wanderers manager Danny Kedwell made a handful of changes from Monday's loss to Margate with Cameron Brodie returning in place of Lee Lewis while there were debuts for experienced former Charlton, Middlesbrough and Millwall midfielder Nick Bailey in place of Andy Drury and loanee Archie Burnett for Charlie Allen.  Sutton Common Rovers had disposed of Steyning Town Community in the last round and picked up their first point of the season from a 1-1 draw at Tooting & Mitcham United on Tuesday night and into the starting lineup came Dom Bates, Aaron Bogle and Danny Fernandez for Jay Dunstan-Digweed, Kiyo Brown and Tyrell Butler.
On a grey and overcast afternoon Cray got off to a bright opening and a lax clearance from the back fell to Archie Burnett in the 4th minute and his shot was well held by Michael Eacott. Then a Joey Taylor corner from the right came to Brodie whose shot was blocked.
From a free kick just outside the area, Taylor's shot came back off the wall and then a Taylor cross from the right was met by the head of Fjord Rogers but again Eacott got down to save.
In the 11th minute though, Sutton Common Rovers took the lead when a clearance from Jack Turner was picked up in midfield by Brendan Murphy-McVey who strode forward and found sufficient space to shoot with accuracy into the bottom left corner of the net.
Cray took a little while to settle after that Murphy-McVey' ball in from the right was flicked to Turner by Danny Fernandez while Rogers set up Anthony Cook whose shot was blocked.
Another Cook shot was deflected for a corner for Cray and then a Burnett cross from the right into the area came to Danny Kedwell but his shot was blocked inside the area possibly by Rogers and a Sutton defender.  Then from a corner, the ball came to Rogers who set up Cook whose stab towards goal was cleared almost off the line by Malachi Robinson.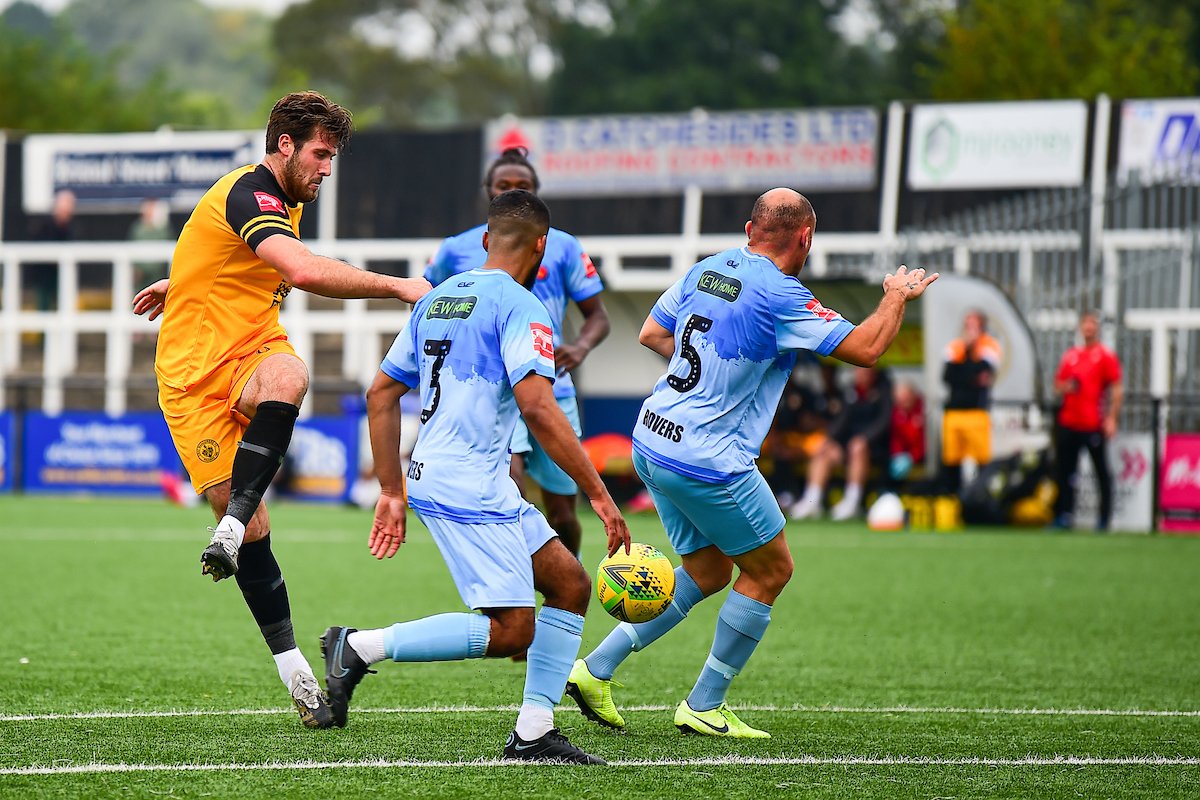 As the first half went on Cray posed a threat but the Rovers defence was proving a tough nut to crack and apart from a Taylor shot which went over the bar down the left and Burnett hooking a cross-shot across goal, Eacott was well protected in goal.
With a minute to go in the half Sutton Common Rovers added a second goal when Tanton showed good pace down the left to speed into the box and laid the ball across where Fernandez was able to pick his spot to shoot past Turner from 12 yards.  Sadly for Cray shortly after, Taylor who had a good game went off with what looked like a bad injury and was replaced by Abdul Saccoh who was making his Cray Wanderers first team debut.
Two minutes into added on time, Cray were given a lifeline when down the right of the area Rogers was tripped by Niran Butler for the award of a penalty which Cook converted and the Wands were back in the game.
Half Time: 1-2
The second half began with Cray looking to carry on where they left off at the end of the first half and Brodie shot wide from 30 yards from Cook's cross.  Then Cray were awarded a free kick out on the right and the ball into the box from Nicky Bailey was met by the head of Kedwell forcing Eacott to make a sharp save.
Cray won a couple of corners while Sutton Common Rovers were cleverly managing the game and were very sharp on the counter-attack or on the break.  Cray like in the first half weren't getting too many sights of goal aside from Saccoh setting up Cook for a shot from 20 yards which Eacott was able to hold.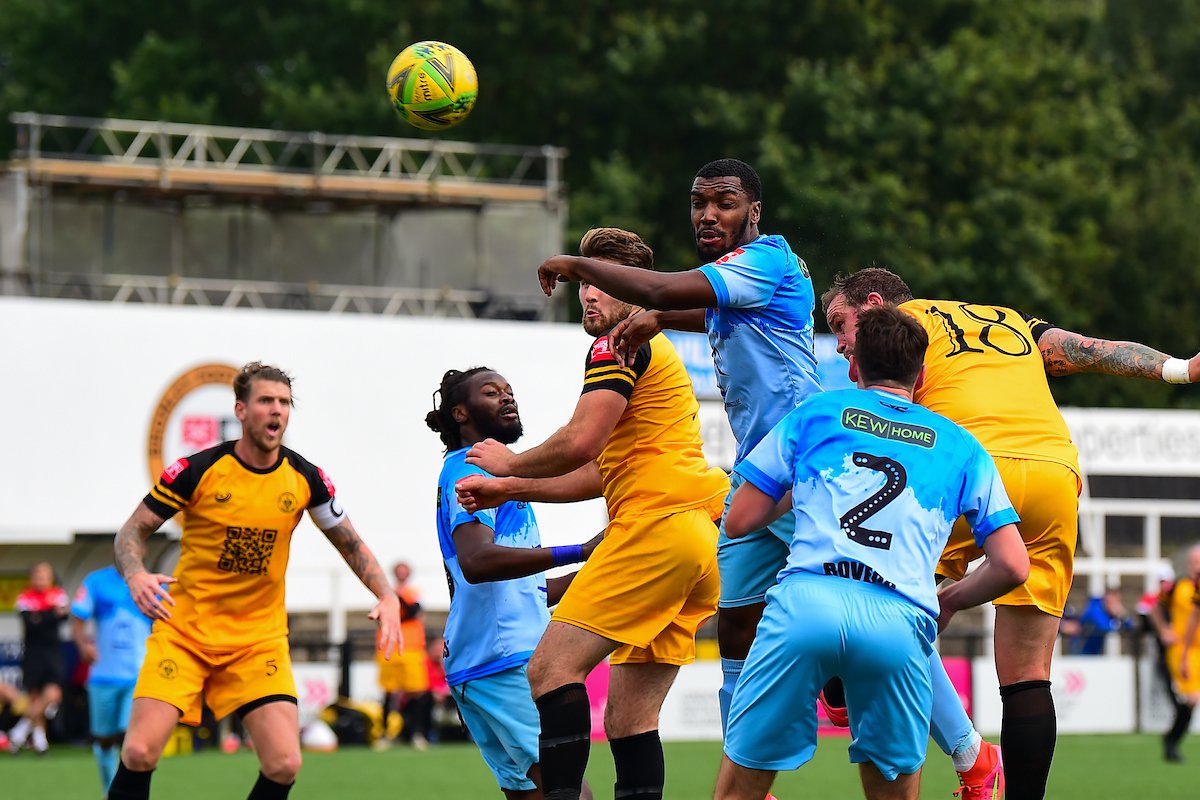 In the 67th minute, Sutton Common Rovers restored their two goal advantage as the excellent Adam Allen picked up the ball in midfield and down the left took an exchange pass and broke into the area and finished with great economy shooting into the bottom right corner.
A couple of changes saw Andy Drury and Anis Nuur introduced and from a free kick 20 yards from goal Kedwell curled over the top.  Sutton Common almost added a fourth when Allen's right wing ball to the near post was flicked wide by Tyrell Butler.
As the half went on Sutton Common continued to defend well, got blocks in and showed a lot of determination and again posed a threat on the break and Shawn Lyle saw a shot blocked.
For Cray, Cook curled a free kick around the wall and claimed by Eacott and then glanced a header off target from the impressive Freddie Cray's ball into the area.  For Rovers, Fernandez hit a shot from 20 yards claimed by Turner.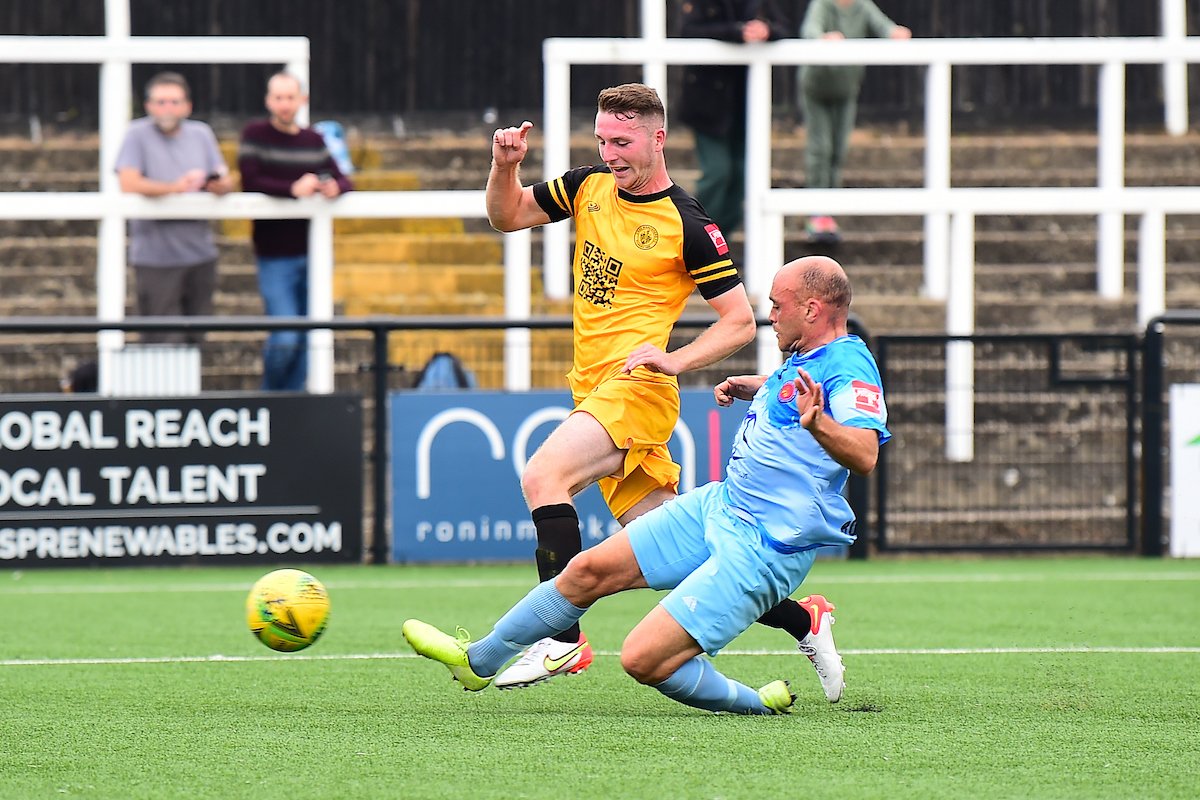 There were ten minutes of added on time required for a number of stoppages during the second half and Cray's last half opening came to Andy Drury who shot wide from Harvey Brand's cross and the game ended with Rovers going through and although Cray were not at their best credit where credit is due to Darren Salmon's team who claimed a notable cup scalp and was a real team effort by the Commoners.
For Cray it is time to move swiftly on and the next league game on Sunday at home to Potters Bar Town gives a little breathing space to bounce back and look to end a three game losing run.  As a result of the defeat, the scheduled league game at Carshalton Athletic on 18th September will be re-arranged due to the Robins continuing on in the FA Cup.
Cray Wanderers:            Jack Turner, Harvey Brand, Dean Beckwith, Freddie Cray, Joey Taylor (Abdul Saccoh, 45), Cameron Brodie, Archie Burnett (Anis Nuur, 69), Nicky Bailey, Anthony Cook, Fjord Rogers (Andy Drury, 63), Danny Kedwell:  Subs: Lee Lewis, Martin Onoabagbe, Adam Coombes
VBET MOM:   Freddie Cray
Sutton Common Rovers:  Michael Eacott, Dom Bates, Matt Tanton, Ryan Dacres-Smith, Aaron Bogle, Niran Butler, Malachi Robinson, Adam Allen, Danny Fernandez (Tyrell Butler, 62), Brendan Murphy-McVey (Shawn Lyle, 82), Kyle Henry (Ryan Healy, 70):  Subs: Sam Tutt, Arif Hattabi, Naeem James, Kiyo Brown
Referee:            Oliver Morris-Sanders
Assistants:         Damian Mirzadeh, Steven Marti
Att:       187