Cray Wanderers – 2019-20 season – That was the season that wasn't – A Pictorial Review
Isthmian Premier – Game 20 – Saturday 14th December, 2019
Pics kindly provided by Tommy McMillan, Bognor Regis Town FC
Bognor Regis Town                                            7
Ashton Leigh 21, Carlse o. g. 29, Smith 32, 88,
Tuck 50, 76, Tommy Leigh 74
Cray Wanderers                                                 2
Taylor 71, 83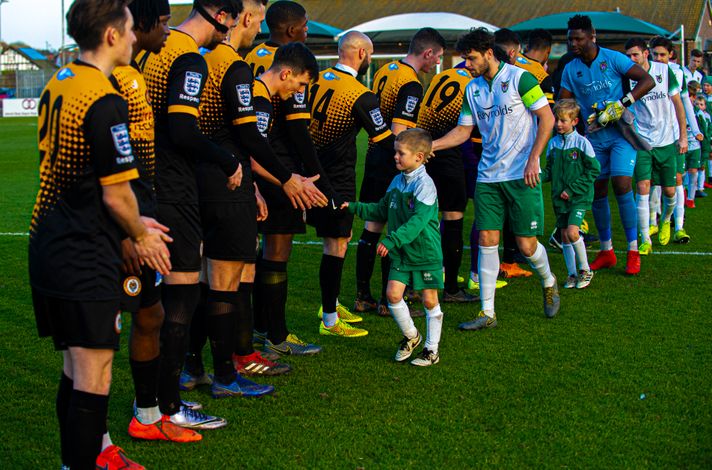 There are games like this every season for every club where as a fan you set out early for an away game and at the end you come home crushed after a heavy defeat but you come back next game for more.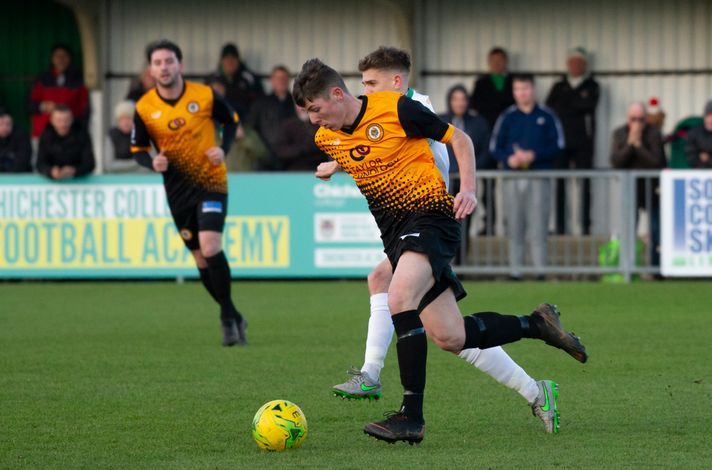 Cray made the first of two successive Saturday trips to the Sussex coast to Bognor Regis who had made a slow start to the season but had moved steadily up the table to sit outside the playoffs like Cray who were sixth. The Wands travelled a bit light with Ben Mundele, Barney Williams absent and Bradley Pritchard absent so was always going to be a tough game. Also a warning if ever known of the quality of the Isthmian Premier and the teams in it.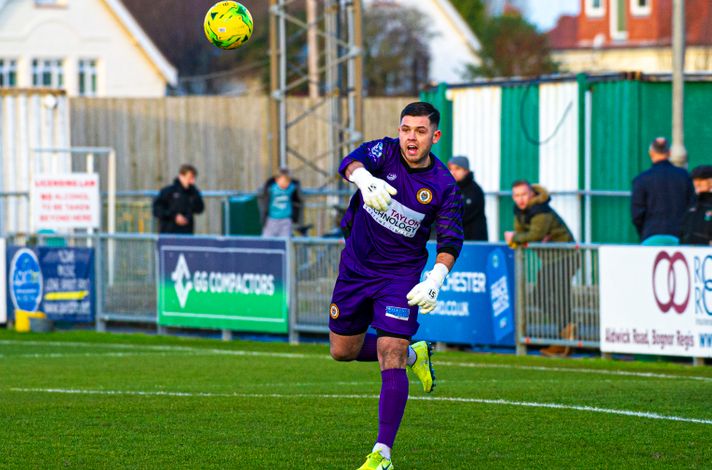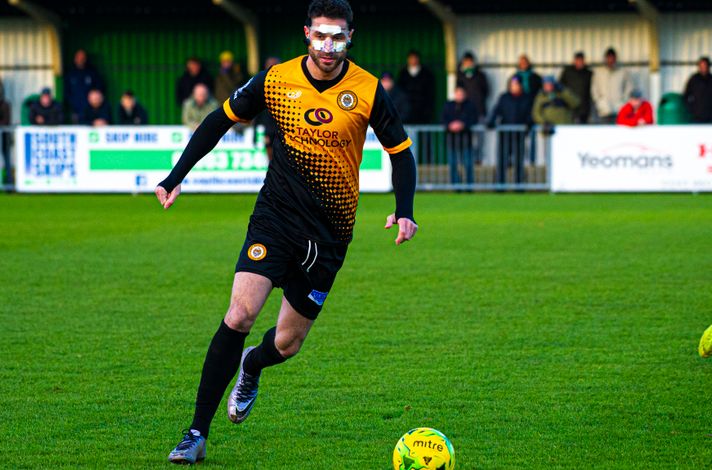 It is hard to believe Bognor Regis played as well as this all season and got off to a flying start and James Crane put a header wide and Ashton Leigh fired just over.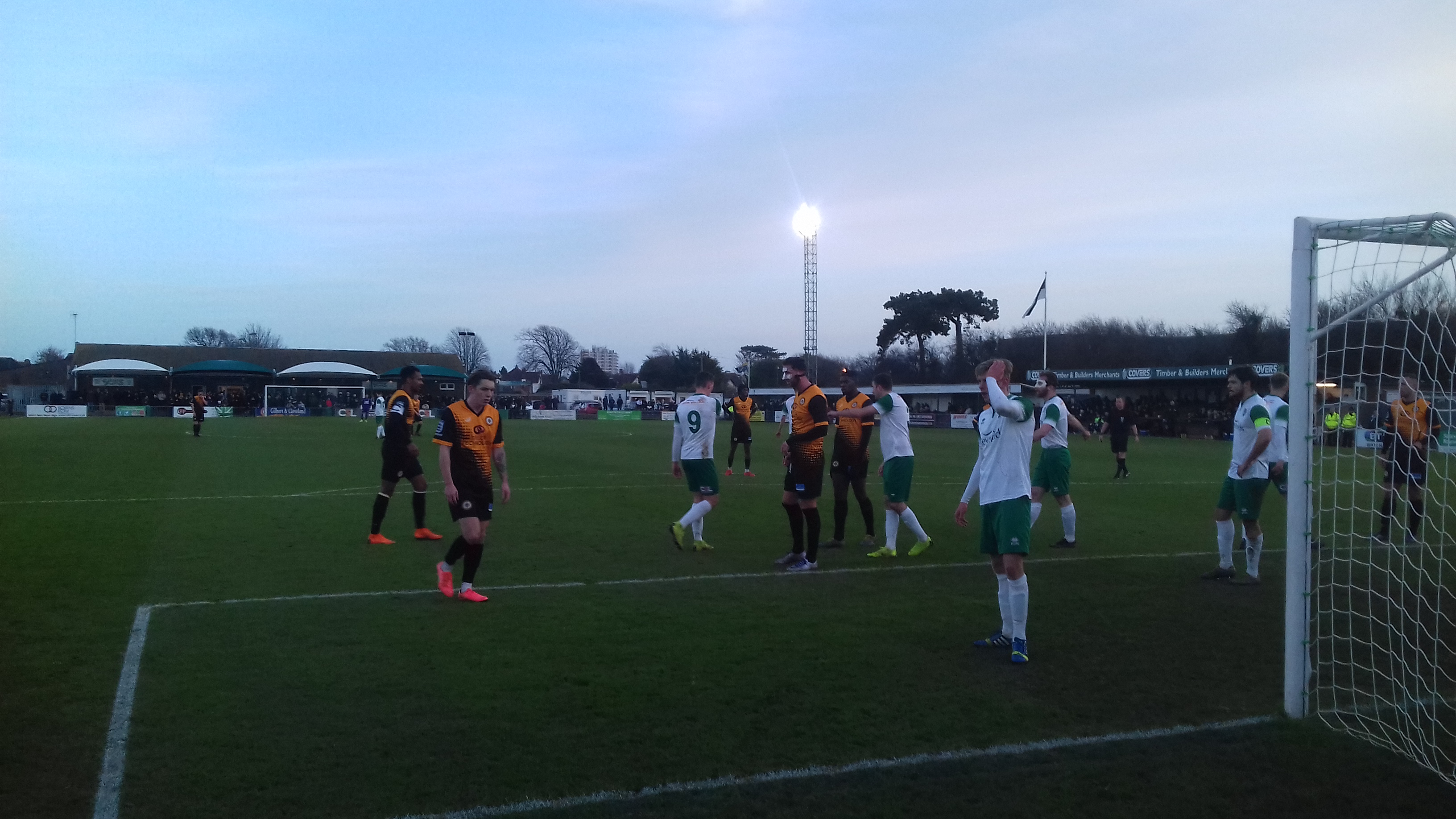 The best chance of the early stages though fell to Cray after ten minutes when Joel Rollinson played a fine ball through to Joe Taylor who bore down on goal but put his shot just wide of the left post.  Lewis Carey was busy though and had to make two good saves to deny Ashton Leigh and Joshua Flint.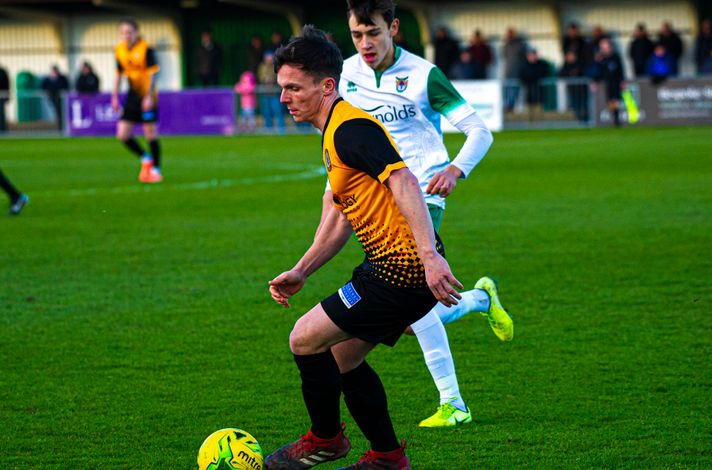 The first goal for Bognor Regis came in the 21st minute when following a patient move Crane down the right put over a cross which was turned in by Ashton Leigh from close range.
In the 29th minute it was 2-0 when following a Cray attack, a swift Bognor breakaway ended with Doug Tuck's cross being diverted into his own net by Tom Carlse although Flint probably would have scored.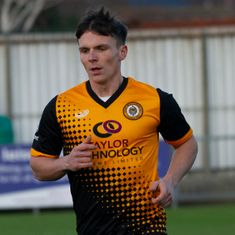 Three minutes later, Cray had a mountain to climb as the Rocks went 3-0 up when Dan Smith drove in a shot which Carey couldn't quite keep out and half time couldn't come quick enough.
To be fair the Wands didn't play that badly in the second half, were more competitive and although Bognor seemed to score with every attack, Cray had their moments too.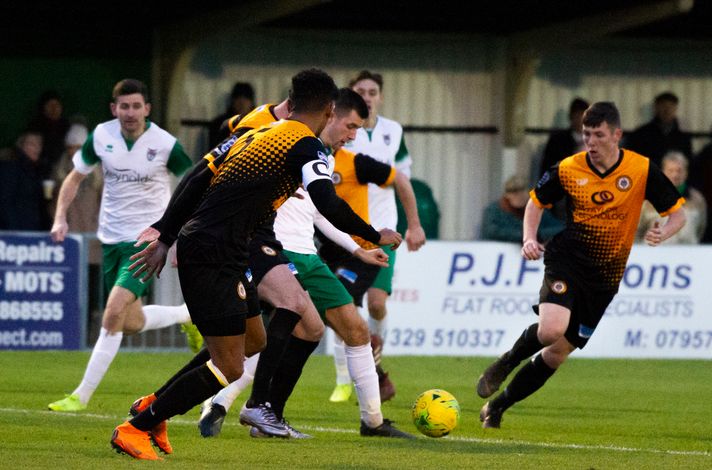 Five minutes after half time Bognor scored a fourth when Flint's shot was pushed out by Carey but Tuck was on hand to tuck home the rebound. Cray did threaten through Andre Coker's shot which was saved by Amadou Tangara, Charlie Allen glanced a header wide and Tangara saved from Taylor's skidding shot.
In the 71st minute, Cray pulled a goal back when hesitation at the back between goalkeeper and defender saw Taylor nip in and confidently placed a shot into the net to make it 4-1.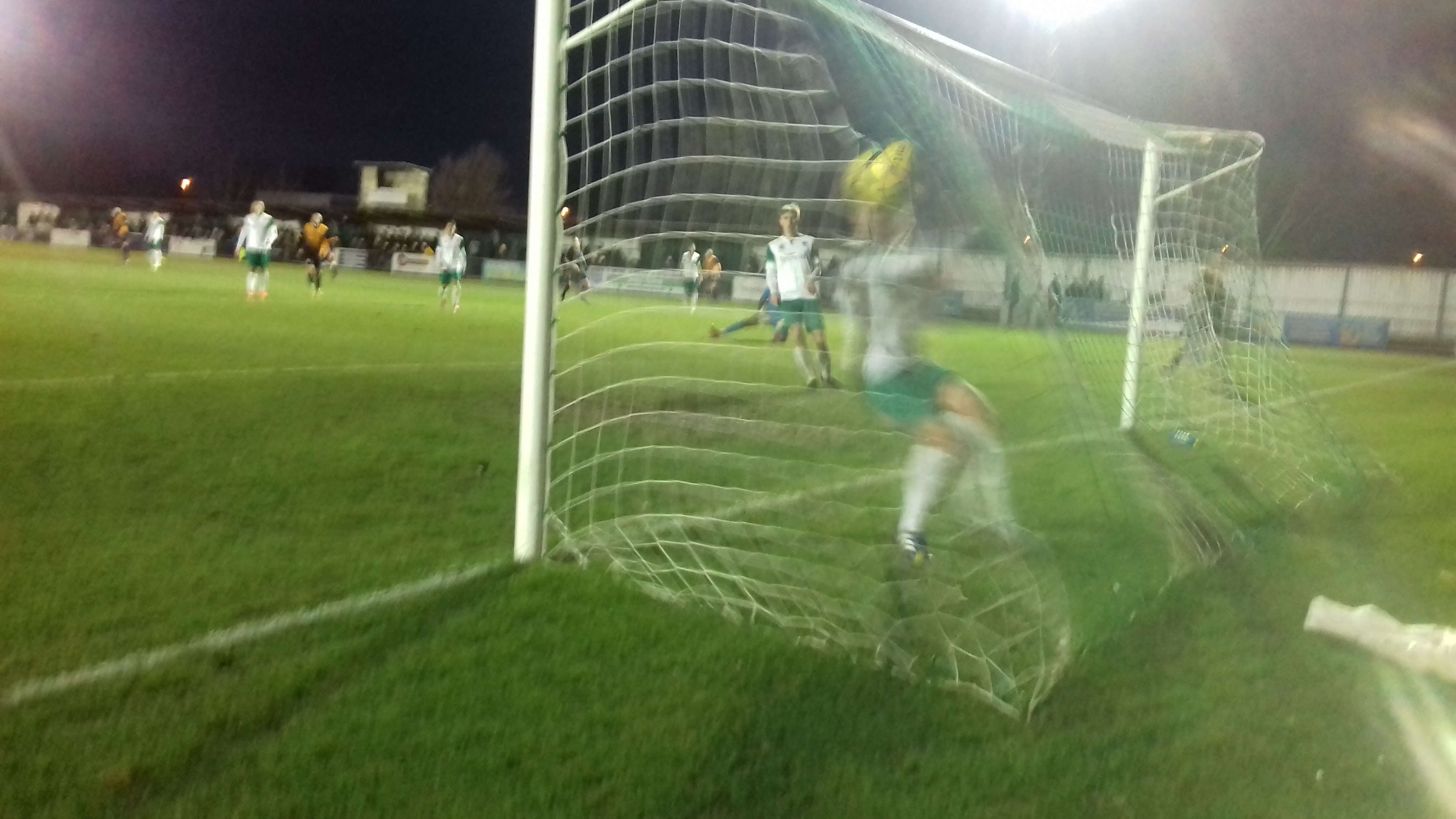 Bognor then scored two goals in quick fire fashion.  In the 74th minute, Bognor made it 5-1 when Tommy Leigh bundled the ball into the net after Jay Leader had blocked his first shot.  Then two minutes later, Tuck scored his second with a fine finish curling a shot into the net from Smith's pass.
With seven minutes to go Taylor was put through again from Dent's pass and lofted the ball into the net for his 24th goal of the season.
However, Bognor had the final say with a seventh goal two minutes from time when Smith notched his second goal of the game from Ashton Leigh's cross.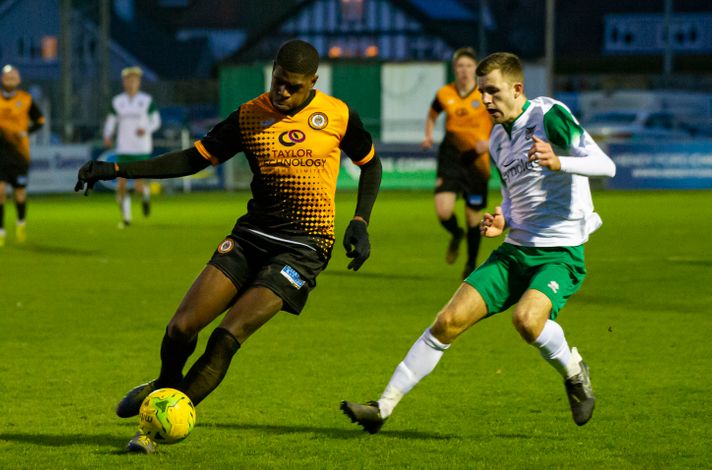 Before the end Taylor unselfishly set up Rollinson who pulled a shot just wide so ended the match well but there was no doubt Bognor had played well on the afternoon.
League position wise Cray weren't too affected and stayed 6th and just a point outside the playoffs with Bognor in 7th two points behind. A tough afternoon but in fairness to Cray heads didn't drop and this defeat was largely forgotten by the time the season ended in March.
Cray Wanderers:  Lewis Carey, Geofrey Okonkwo, Tom Carlse, Jay Leader, Mitchell Nelson (Capt.), Lee Lewis, Charlie Allen, Karl Dent, Andre Coker (Tom Murphy, 57), Joel Rollinson, Joe Taylor:  Subs:  Jerome Federico, Archie Daniels, Joe Vines, Grant Hall
Att: 527
Bognor Regis Town vs Cray Wanderers – The Thoughts of Tony Russell
"It really just summed up our season so far in that we have had so many players out all the time and I've never known anything like it and struggling to cope with it if I'm honest.  I've seen every team in this league and the analysis is quite simple, if we've got everyone available we can more than compete in the league.  If we get people out and play against the top sides and Bognor Regis are a very good team then it is hard for us.  However, it is a game of fine margins as we play very similar to Bognor in the way we set out to play and the way we control the ball.  If you get a team that is dis-organised against you, you can carve them open and we've done it in the past scoring nines, sevens, sixes etc regularly.  On Saturday we had boys filling in spaces and maybe out of positions so it only takes one cog in that wheel to not understand what we are trying to do and we've got a lot people high pressing and all of a sudden they break that press we are open at the back and the first half in particular was carnage and we did well to keep it at 3-0 nil, it could have been anything if I'm honest.
We made a few adjustments at half time and we've looked at the stats of the second half and we've had more of the ball and more shots than them so was one of those crazy games in that sense.  At half time it wasn't motivation we spoke of that changed it we just organised that players and told them what they should be doing. The positive that comes out of it although the scoreline looks brutal I thought what we got out of the boys at half time was good.  The fact that a couple of goals have been unlucky, a shot has hit Mitchell on the shoulder and sent Lewis the wrong way and Jay has tried to clear off the line and slipped and the forward has tapped it in sums up the day for us and everything that can go wrong did go wrong, but we tried to score up to the very end and didn't give up and that is a credit to the players.  It will be a good learning curve for us and it has dented the players pride 100% but we have done some good work this week and done some running, video analysis where we talked to the whole staff about what we should have done and what we want them to do. On Wednesday we had a positive session and done some work on real basics of what we are trying to achieve, how to press and to play.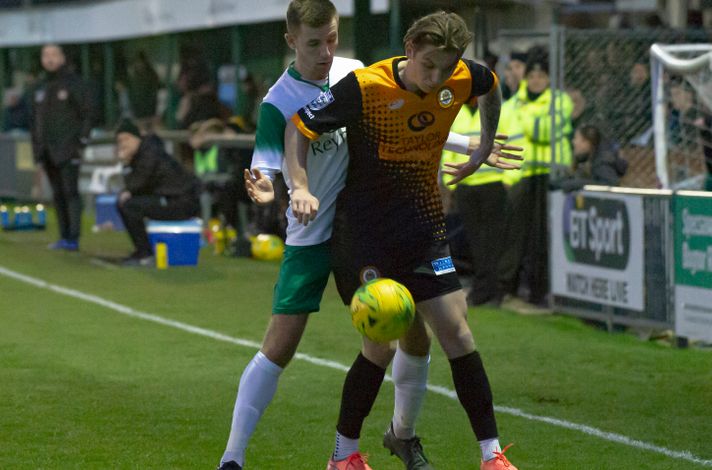 (On the injury situation) We have 16 players and that is it.  If people are out we are into choosing first year U18s players which is all that is available to us and we have no U23s this season.  It is just a brutal situation with all the injuries, we can't cope with it and we have done so well up to this stage to get through it like we have but have come up a little short on Saturday and it is what it is.  The aim for this club is to get better and better every year off and on the field.  For the next stage of our development we need to get a full time academy, produce our own players and then this will never happen again and that is the plan.
You also have to give credit to Bognor Regis Town, if teams are allowed to play well against us full play to them.  Take nothing away from them but I remember my first year at this level of football I probably learned more than I've ever learned and sometimes when people give you a problem it's your job to go away and find the answers and next time you play them you are ready for them.  That's what we have done. They have made us work on stuff maybe we've papered over the cracks and got away with against teams but opened up some areas where we need a lot of work and that's what we have done.  It's a learning curve and we need to be better and tip your hat to Bognor they played really well and they deserved the win. It can go two ways, at half time I could easily have shouted at everyone and threatening to get rid of them but it wasn't like that, it was more okay, it wasn't good enough and I put myself in that category. Our prep work could have been better and done more on the defensive side rather than the attacking side so we've all learned a lesson. I'm not the finished article and nor are the players but we are still learning and this will only make us better and we've worked hard this week. Me and Vinesy have been working and talking non-stop on the phone, watching the game, passing comments and plans long term which is good and one of the positives to take out of Saturday".
Bognor Regis Town vs Cray Wanderers – Me and My Old Man  Video
Part 2 of Henderson Russell's video journal with his travels with his dad Tony on the trip to Bognor Regis
There might not be many viewers from a Cray Wanderers perspective but here are match highlights courtesy of Bognor Regis Town TV.
LEAGUE RESULTS – 14/12/19