A note for supporters that there are five changes to the Pitching In Isthmian Premier fixtures for 2020-21 due to clashes with Bromley home games and a potential FA Trophy 3rd Qualifying Round tie.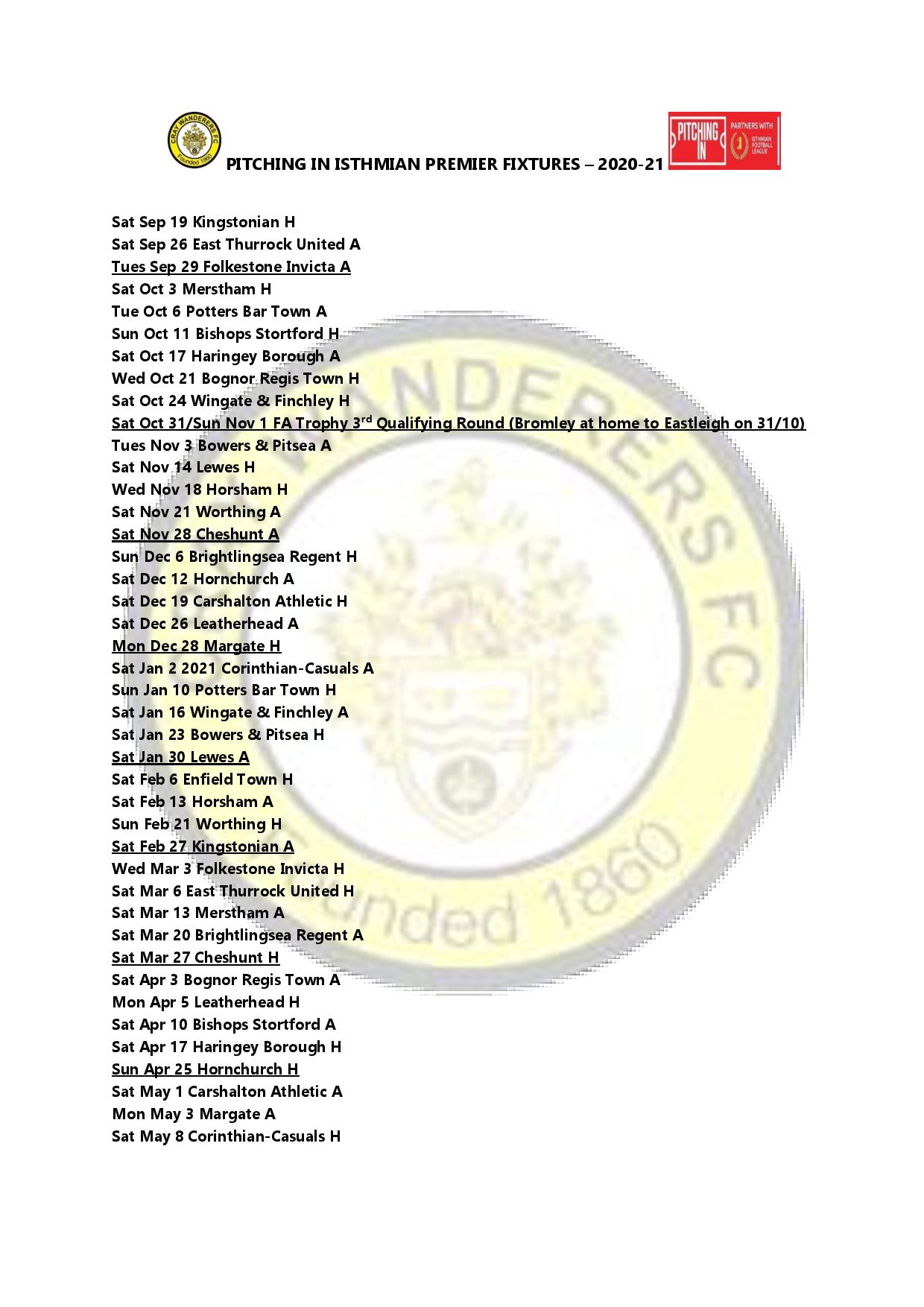 The following games have been changed:
Saturday 10th October vs Bishops Stortford to now be played on Sunday 11th October.
Saturday 31st October – If Cray Wanderers are drawn at home in the FA Trophy then this tie will be played on Sunday 1st November.
Saturday 5th December vs. Brightlingsea Regent to now be played on Sunday 6th December
Saturday 9th January 2021 vs Potters Bar Town to now be played Sunday 10th January, 2021
Saturday 20th February vs. Worthing to now be played Sunday 21st February
Saturday 24th April vs. Hornchuch to now be played Sunday 25th April.
There could also be potential changes if Cray Wanderers advance in the FA Cup and Bromley at home on those days.
Obviously with the current uncertainty over pilot scheme sporting events with spectators originally planned for the beginning of October possibly under review it is not certain when Bromley's league season would get underway as the National League will only begin if supporters are permitted.  At this stage Step 3 football downwards is exempt and will continue as normal albeit with a reduced capacity of 600. The story is never ending and changing daily so perhaps not wise to plan too far ahead and perhaps a month at a time.
In the meantime Cray Wanderers season tickets are available via the website link here and more details of where to go if you are having problems. Go to the top bar, select Buy Tickets and the season ticket option will be highlighted and takes you to a page from which to order your ticket(s).
Online season tickets are £140.00 adults, £70.00 over 60's and U16s.  Once applied season ticket cards should be with you in the post within 3-5 days.