On her birthday (20th March) here is an interview with Cray Wanderers physio Ally Maloney as part of the Club Class series of chats with key figures around the club.  Ally has been very much part of Cray Wanderers since arriving in the summer of 2015 and here is her footballing journey, her ambitions and details of her latest online media venture.
Hello Ally. On behalf of all the club a very Happy Birthday to you today and we hope you enjoy your special day. Also a big debt of gratitude but a big thank you to you as you are such a credit to our club, for SE Dons and your profession.
Also from me a big thanks for your social media football and media challenges last year. They certainly livened up lockdown no end and as my lockdown has been taken up with mostly football and music both perfect subjects. Just for those that are not aware of what you do for a living please let our readers know what you do as certainly puts life in perspective ahead of football at the moment.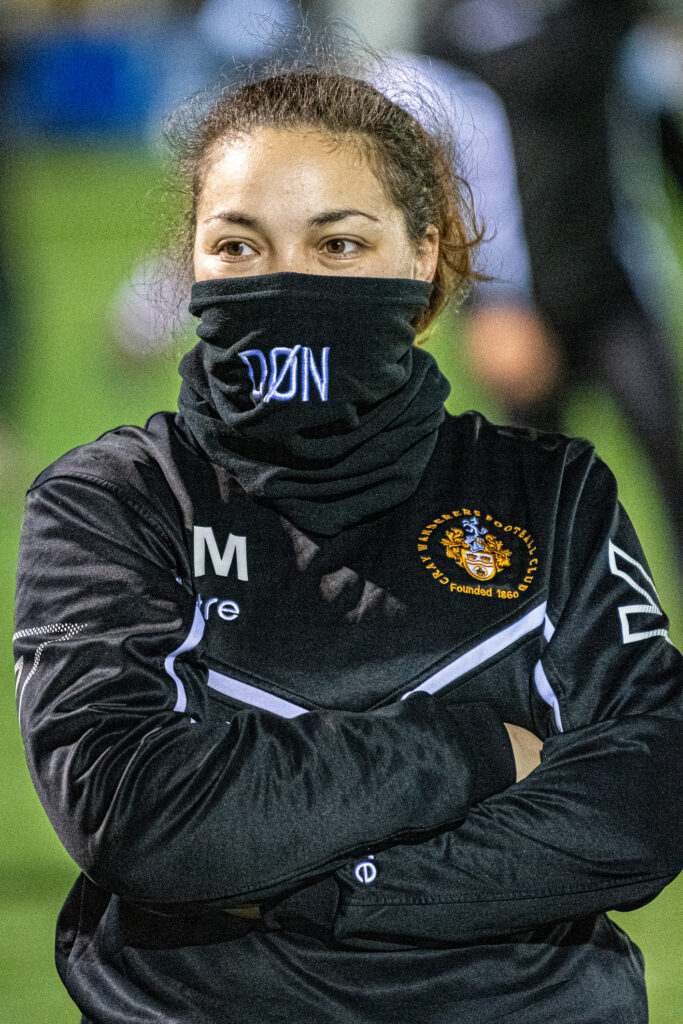 I work in a specialist rehabilitation hospital that works in-between bigger hospitals and more acute trusts and people going home. The patients are medically fit and not immediately going to have any problems but are not quite ready to go home yet as they cannot walk or not quite strong enough or a multitude of other reasons. They come to us for more intensive rehab but because of Covid-19 a lot of patients have been coming in with the illness and it became like Covid hospital at one point to help offload the burden on other hospitals so it has been rather different in the last year.
For those that may not know the last six Friday's a new football podcast has been set up, the F'n Bag Show which features yourself, and fellow club physio's, Emily Sawyer and Courtney Dobson and hosted by David Square. Some of the guests so far have included Steve Bennett, Tony Gale, Liam Ridgewell, Matt Le Tissier and our good friend Bill Lappage.  How did the show come about and whose F'n bag does the show refer to?

(Laughing) I believe it is Emily's bag. I never actually chose the title, I wanted to call it the Magic Sponge but Jimmy Bullard has taken that already and we're not as famous as him. So a little while ago Emily had championed more female voices being heard on these programmes and podcasts. So the Reposs Non-League show which goes out on Monday nights got in contact with me asking whether I would like to go on the show so got to meet the hosts, David and Keith McMahon formally and it is a very popular, well liked show. About two months ago I got a message from David saying he wanted to do a female physios show, can you put me in touch with a few people. So I got Toni Miller who works for Carshalton who I mentored at Cray Wanderers for a while and a couple of others one of whom was Emily who is a firecracker with a great personality and a bubbly bundle of energy. The show was really well received and Dave got in touch after to say would me and Emily like to do our own show talking about football and sport, how we find the games and a unique perspective. Physios see things differently to the other backroom staff.
So it has really gone from there and I can't believe people listen to us if I'm being honest so a bit crazy. I just wanted to say your support for the show and sharing on social media has been phenomenal. I never for one minute thought that anyone would be interested in my opinion as I have always tried to be quiet and stay out of the way and not ruffle any feathers. To have people actually care and want to listen and be interested and speak to us is a real confidence boost. In these times where nothing is normal and I miss the boys and football sometimes things like this emerge in crazy times which wouldn't normally.  David does a good job as host, if he wasn't there the show would descend into chaos. 
(This is the Tony Gale episode from Friday, 26th February, poignant as Ally is a big West Ham fan)
Before I get into your football journey I was just thinking as your dad, Con is a very talented musician, did you ever consider a career alongside him in music or perhaps a duet. It does happen, Frank & Nancy Sinatra, Ozzy & Kellie Osbourne!
This might upset my dad but I am completely tone deaf, I cannot sing a note. I'm not in any way musically inclined. I tried learning to play the flute at school and gave up after two weeks and that was about it.
Now obviously you know quite a lot about football did you every play the game when you were a girl or a young woman?
I did play and I love football. I had watched the film, Bend It Like Beckham and decided I wanted to be a footballer. I wanted to become the first woman to play in the senior England squad. No-one told me this wasn't a likely thing. When I was 14-15 years old I played at school and I joined a ladies team and almost got into a fight and thought this isn't really about me anymore. So how can I get involved in football without getting kicked? I think I did a season and a half, I wasn't good if I'm perfectly honest and definitely better as a physio. I was what you might call a Tomboy at school, always playing football when I could, in all the sports teams. I used to watch Dream Team (the Sky One football soap opera), Soccer AM growing up, and used to watch with my dad and really enjoyed it.
I always knew I would be involved in football in some way but just needed the right way to get involved. So I looked into physiotherapy and seems to go alongside what I wanted to do for a living.
So how did you get into physiotherapy and eventually tie in with what you do for a living?
In terms of physiotherapy, my Grandad (my mum's dad) had a stroke when on holiday in St Lucia to see his family. After treatment when he came back I said how come you can walk so well as my picture of someone who had had a stroke was of someone in a wheelchair and he walked off the plane. So after that I wanted to look into physiotherapy more and lo and behold once I saw what the options were I just fell in love with it. From that point on everything I do from this point on is as a physio.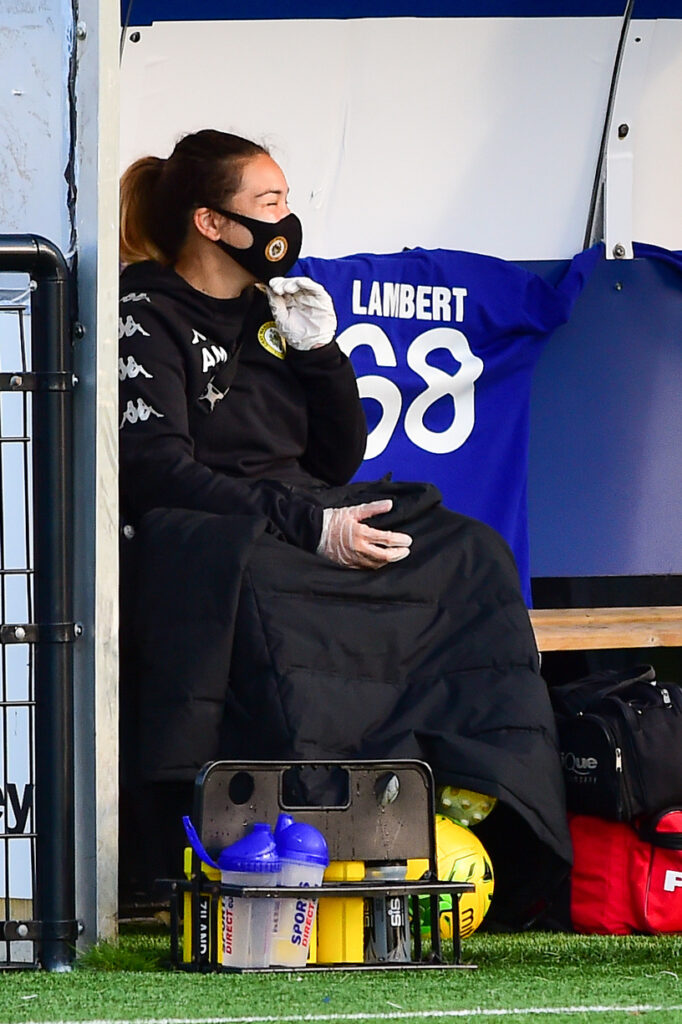 I think I must have been about 20 years old when I met Alex Gallego who was at Cray Valley PM as physio, a really lovely man who has sadly passed away now. He took me under his wing, took me round other clubs with him, learning the trade so was a bit like an old school physio but a very good one. One day he sent me down to Coldharbour Leisure Centre in Mottingham to meet up with Greenwich Borough FC. While I was waiting for him in the main reception he rang me up to say he wasn't coming down to pick me up and Greenwich Borough is now your team, enjoy it. So I was thrown into the deep end with a load of Bermondsey boys basically.
I seem to remember a really strange couple of weeks where obviously you were working for Cray Wanderers and then I went to a match between Fisher v Cray Valley at Dulwich and you were Fisher's physio on the night. Then on a Sunday afternoon, Erith & Belvedere played Epsom & Ewell in the FA Cup in a game that was played at Chipstead and you were the Dere's physio. I thought this Ally gets about a bit doesn't she!
I'm one of these people that follow people around a lot and you might notice a pattern. When I was at Greenwich Borough my manager there was a gentleman called Steve Firkins with Billy Walton as his assistant. They went across to Fisher so I followed them along with pretty much the whole Borough squad. Then half way through a season, Steve left Fisher due to some family issues and I chose to leave as well as I had done about 3-4 years by that point. So I'm thinking I've had a good run in football, I might leave it there. So then thought perhaps about other things, maybe turning pro then I got a call from Micky Collins at Erith & Belvedere saying we are top of the SCEFL Premier and we need a physio would I like to do half a season with them. Honestly, it was the best decision I ever made. I loved it there, we won a league and cup double and then on to VCD Athletic with Tony Russell.
You mentioned Fisher, and I know you were very well received down there, the fans sang songs about you. Of course we played them in the FA Cup this season and I was a bit disappointed as I thought it was going to be an Ally Maloney love in. Both clubs would bring you out on the pitch on a sedan chair feeding you grapes but I suppose because of the pandemic we couldn't get that close. It is so good that you had such a great experience and great testament to Fisher for looking after you.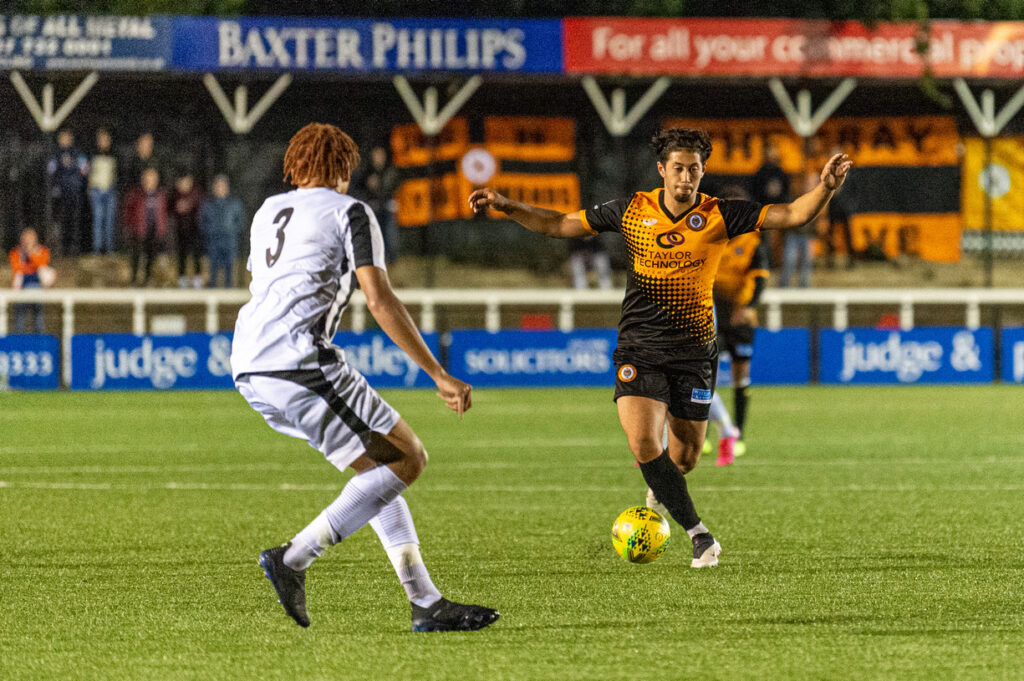 I would have loved that but if you were to do it, to be honest I'd prefer pizza to grapes. It is a club I remember fondly and had some amazing times down there. It was a bit of a Roy of the Rovers setup, a group of people who had come together who weren't meant to win very much and always an underdog. I met some incredible people there, some great friends and there were some amazing games too. I won't lie to you, you do get negative experiences but football makes me very happy and most of the people in football are incredibly good and wonderful, lovely people. I'm not going to let one person or one individual incident mar that. I can't live my life like that.
So let's move on to the summer of 2015. You, the management and coaching team and many of the players come over to Cray Wanderers from VCD Athletic who were in the Isthmian Premier at the time. I remember vividly a meet and greet at Hayes Lane where Tony Russell was introduced as the new manager, you were there, Ray Powell, the likes of Lea Dawson, Ben Payne, Karl Dent and others. Did it help that so many of you all came along at the same time and were you excited at joining Cray Wanderers?
It is strange as there are players at Cray now I've been physio for years. You end up trusting everyone so much and I know Tony hates the term "football family" but it really is what it has become. You trust the leadership and when they said this was a good move for us I trusted them to do what is best for us as a club. Tony has always treated me well and he is a good lad and a very good manager and I enjoy watching his teams play football. Sometimes you see teams play and you don't enjoy watching them, perhaps it is a bit dull, route one, the ball is in the air all the time. You certainly couldn't accuse him of being a dull manager or playing dull football.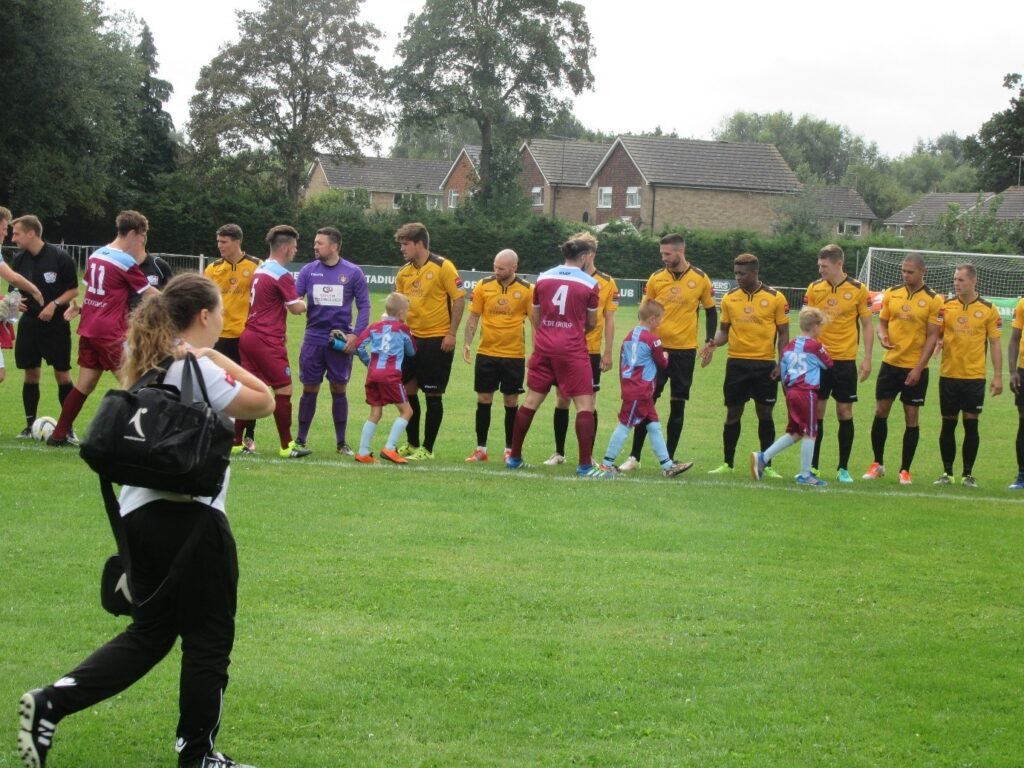 I remember when we came across, I knew Tony believed in it and where the club was heading and I believed in it too. Cray Wanderers are a team I have always been aware of. My brother played for Cray when he was a kid in the youth set up, my dad used to manage his team so I knew of the club and what sort of club they were. You think of your big local clubs, Welling United, Dartford, Dulwich Hamlet and of course Cray Wanderers. They are a club with a great history and when you get the opportunity to work for them you don't turn it down.
I remember Ally in your first season with us, right at the start of the season Cray played Tilbury and there was a photo taken by Ozay Booth of a group huddle at the end of course with you in it. Shortly after there was an infamous spat between Jose Mourinho when he was at Chelsea and his physio Eva Carneiro. I posted on Facebook that photo mentioning how important the club physio is and part of the team and for once this is not about you Jose and you can't pick fights with someone whose role is to aid serious injury. So now turn the wheel round a few years, three physios host their own football podcast. Perhaps get Jose on the show!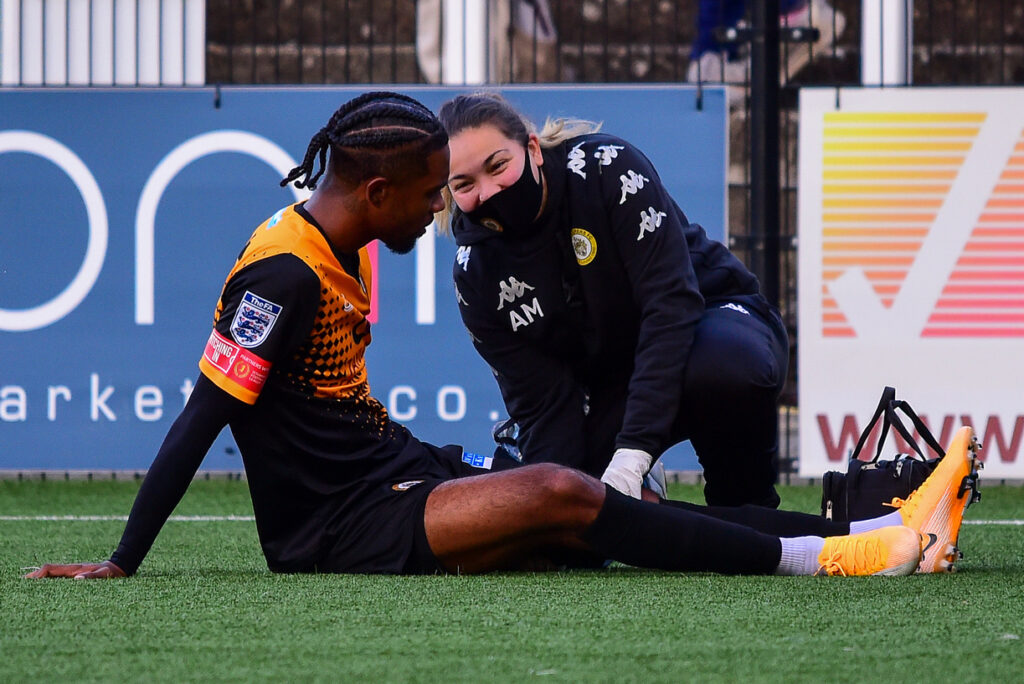 Mark, you can't underestimate the power of people appreciating what you do. At all the clubs I've been to I've had a very good relationship with them and always prided myself as being a good egg and leaving on good terms. I remember that post as I was at a wedding when I saw it and Tony said, Ally have you seen what is on the Cray Facebook page. I said no!  I was a bridesmaid that day and I remember I wandered off for a minute to look at the message and I was almost in tears as to how much people thought of me. At a football clubs you have cogs that work the machine that is Cray Wanderers on a matchday or for the club as a whole. Whether it is the Kitman getting the kit ready, Nathan arranging the warm up sessions we are all part of it. The most important thing for us though is that the team performs well and we all do our best so that the club functions as best it can.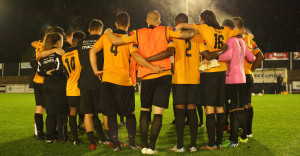 Also in your first season I remember bad injuries to a couple of players, Uche Ibemere and Jacob Erskine. Thankfully these occasions are rare but how important is your quick thinking here to help the two players who are obviously distressed?
As a physio all you want in a respectful way is to just sit on your bum on the bench all game, handing out Haribos. That's all you want to do and as if that is my game I'm a happy physio. Thankfully they are rare but I remember the injury to Uche was heartbreaking especially as you said you could hear the collision in the stands then you know something is very badly wrong. He had had a previous fracture and ultimately as a physio you know that is not a good sign. A lot of it is about keeping your head and being calm, trying to be systemic about the situation. This has happened now what do I do to make it better! What do I do to get the next stage of help! Ultimately when you get a very bad injury there isn't much you can do pitchside. You need to get them to a hospital quickly and that is the key thing, how can I get them there where it will be better for them and how calmly can I do it to make them comfortable. Luckily for home games we had the St Johns Ambulance teams come down and they acted from there which is perfect for me as then the pain levels go down and calmness goes down ten degrees. Touch wood I'm quite a lucky physio and not had too many bad injuries where some get it every week.  My background is in A&E and you kind of get used to your "Holby City" zone, I'm going to deal with this and the after effects. You can get cold and heartless at some points.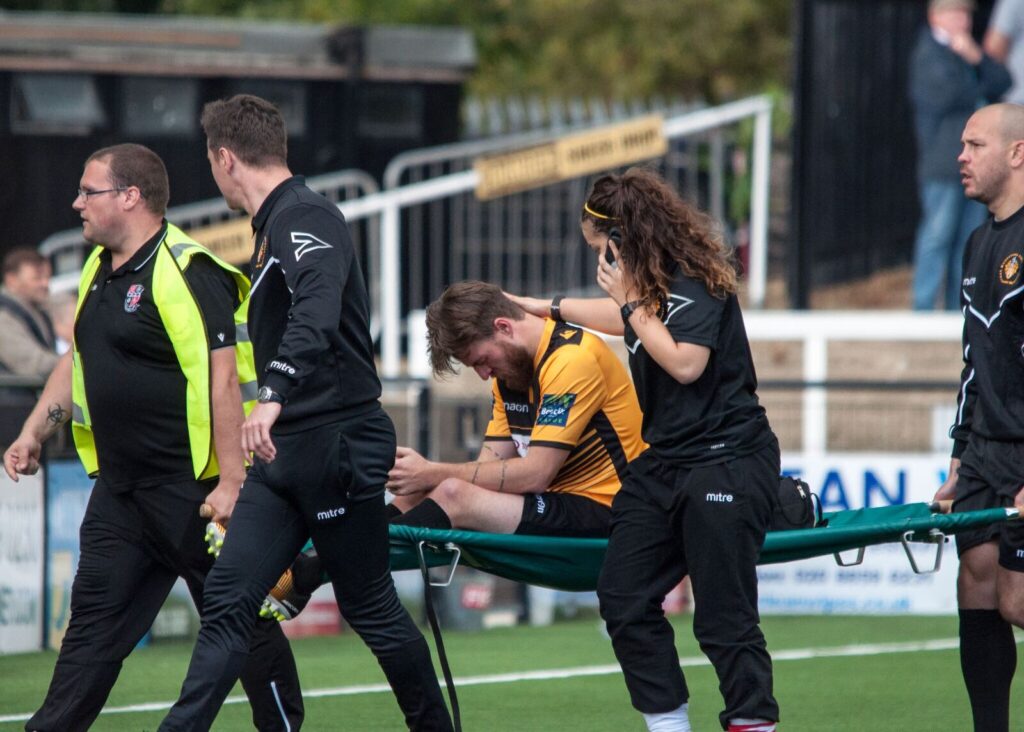 Another photo I remember was one Jon Hilliger took back in January 2019 with you pitchside consoling a crestfallen Aaron Rhule who got injured early in a game. It is one of the iconic Cray photos as it shows great togetherness at the club between player and staff.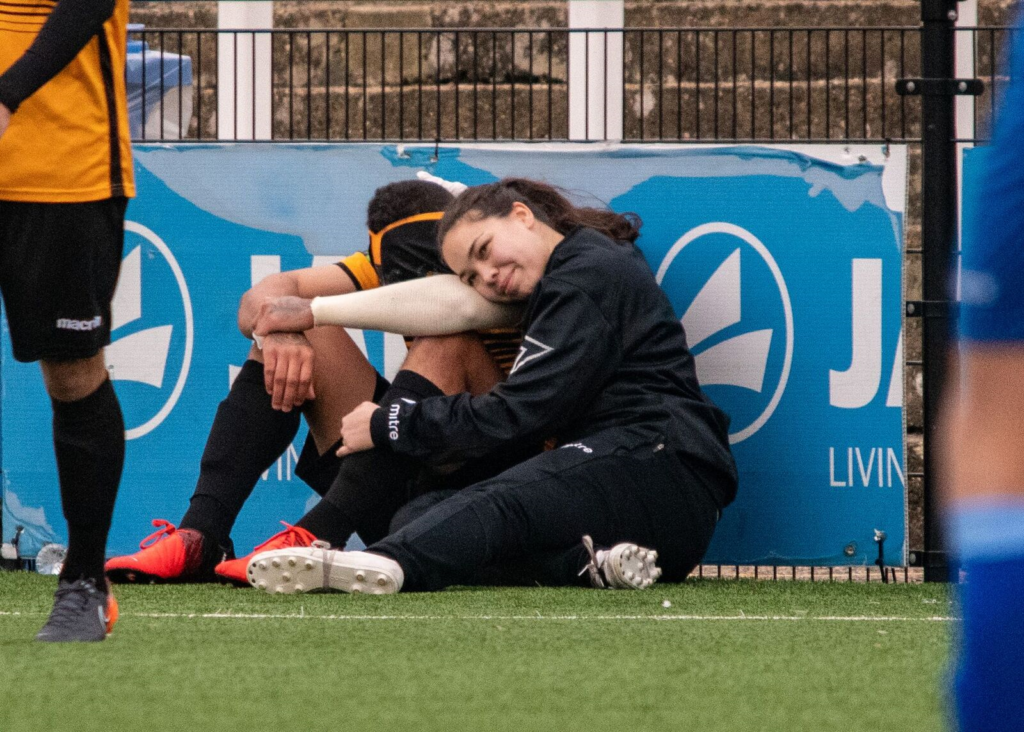 You know what it is, it is humanity which you don't always see in football. Thank god there wasn't Covid then as I would have been rapped across the knuckles by my governing body. I could have sat there with a brave face on thinking it was all fine but at that time was right to show a bit of compassion which shows I'm as gutted as you feel right now. It was devastating and you could tell in his face but genuinely Aaron is one of my favourite people in life and in football. A very good friend of mine and I love him to bits but the key thing for that moment it was friend on friend rather than physio and player. I wasn't saying it was going to be ok but really saying I can't promise it isn't going to rain but I can promise to bring an umbrella. So that was my umbrella moment and I'm going to sit with you in the rain and going to get through this mate! I'm a big softie really and wear my heart on my sleeve.
Let's move on to more recent times and the injury Jay Leader had at Worthing in February 2020 where he had a bad head injury and shed a lot of blood. How was that situation for you when blood loss is involved?
I think I pride myself on having a brave face but that particular occasion I didn't unfortunately. When you see that amount of blood coming out of somebody's head and you cannot see where it is coming from you think that this isn't good. You also have a situation where we were quite close to the Worthing fans who were shouting that he was cheating and faking it. I don't think I've ever seen a group of blokes go paler when I got Jay on the floor and the blood spurted out everywhere and could see that this is rather serious. Jay is a very tough lad though and he just got up and walked off which is something of a miracle. So we went to A&E and missed the second half and the most gutting thing was missing the comeback and had to watch it on Football Web Pages.
Now of course very fresh in the mind was the trip to Bristol Manor Farm in the FA Cup in October last year where Rhys Murrell-Williamson needed urgent attention to an unexplained/unforeseen incident. Before going on to that, before a game like that where Bristol is quite far away do you have to check out local Hospitals, A&E departments, casualty units for worst case scenarios?
For me, you tend to know most of the grounds and once you've been around a bit e.g. the A&E at Carshalton. What I do before I get to a ground is to have a little look around where the local hospital is. Luckily at Worthing the hospital is four minutes away in a car. So in that example, I could put Jay Leader in my car and take him there rather than wait for an ambulance to collect him. 111 is also a useful service for booking in and I do look around for local ambulance stations, urgent care units, X-Ray centres. I've been around the league long enough to know where most of them are now Mark.
So to the incident involving Rhys which must have been so scary for everyone as a mystery as to what was happening. This was a very late night, far from home can you describe the difficulties involved and it must have been a relief by the time you got home early on the Wednesday morning.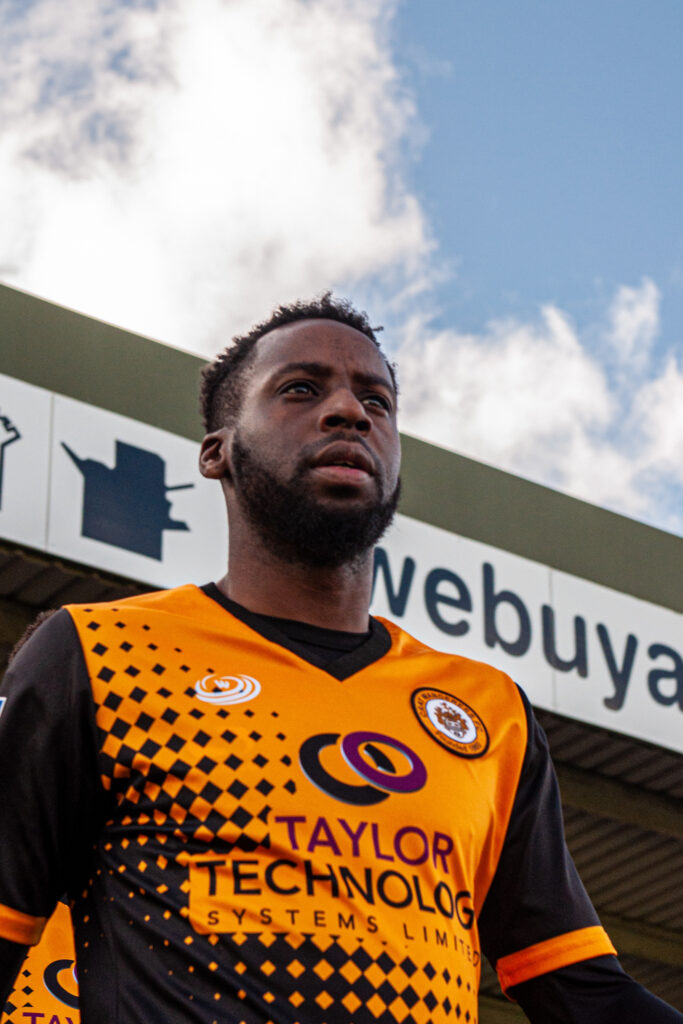 It was one of those nightmare scenarios like when you are a physio and you have those dreams when everything goes wrong and this was an example of when it all goes wrong. It was one where you don't try to think of negatives as it is so far from home, I think it was probably the worst moment of my career in both football and hospital, it was chaotic. So basically, Rhys suffered an anaphylactic reaction (a very severe allergic reaction) so it was life threatening and trying to keep him calm and his teammates calm in a changing room was no easy feat and to get an ambulance there and convey to people around the ground the seriousness of the situation to enable it to get easy access. Bristol Manor Farm were really helpful and lovely on the night. I also remember in the ambulance sitting there and also that my dad was at the ground as he travelled up with me. It was the physio's worst nightmare but being the great club that we are the team come and got us from A&E which was lovely. We had a very nervous ride home and I had to watch him like a Hawk for the long drive back.
All being well, Rhys is fine and that is the important thing really. It was a freak thing that happened and hopefully never again.
Do you get the chance to meet and chat to the opposition physio on the day/night of a game? Is there like a physio's social circle or group you can tap into?
I do sometimes but often too busy or caught up doing things. A lot of them I know and some I have trained which shows how old I am in football terms and have worked with them a long time. It is nice to have a chat with them but sometimes it is a nod and a wave to let them know I'm here.
We do have a physio's WhatsApp group which we are all part of where we can share stories and horrors. I know it sounds silly but when you get that horrible injury we all watch Twitter and you can see that Ally has gone to hospital for four hours suddenly you get 20 texts saying "can we help you". It is a very good community we have out there.
Just explain that feeling at the end of a game especially at home when you see your mum and dad and you go over to chat to them. I can see the joy in your eyes.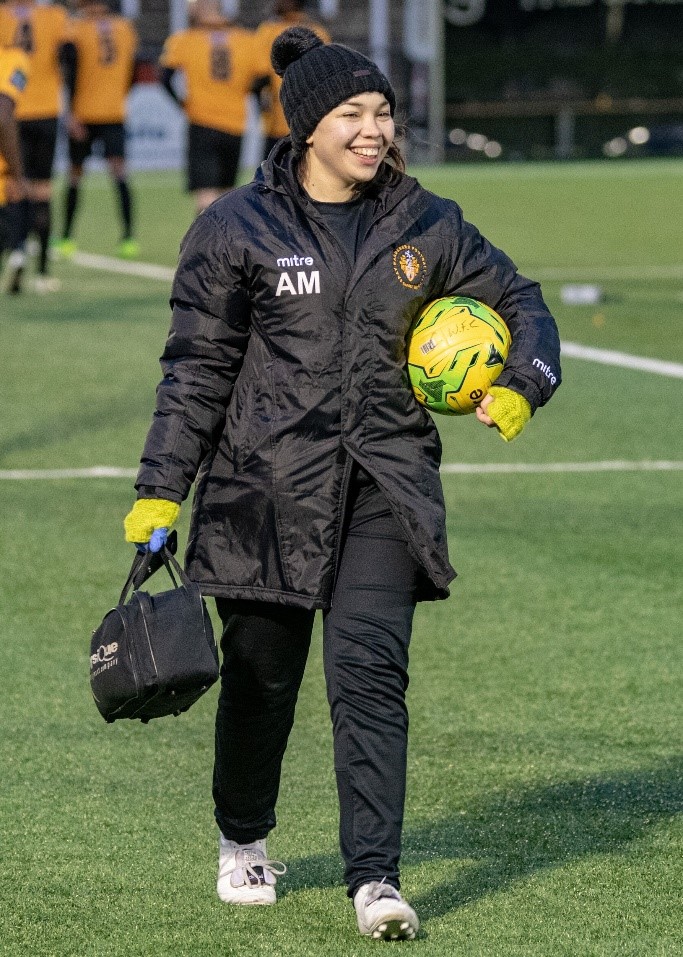 They are the reason I am here physically and metaphorically and they have been so supportive. My dad used to drive me to games and help out at Fisher and Greenwich Borough. I think for a club like Cray Wanderers to welcome them the way they have and to feel supported and safe shows that the Cray Massive are a wonderful set of fans and my parents are safe with you. They get on with the boys and it helps them to see the fruits of their labour.
We would like your dad to join the Cray Massive for his musical prowess which we sadly lack. Also for those that may not know you are also involved with the Sunday Football sensations SE Dons as their physio. How did that come about, did you approach them, did they approach you and have you had any particular incidents on the pitch you have had to get involved with? Also there does seem to be a large level of envy at what they are trying to achieve in some sections of social media.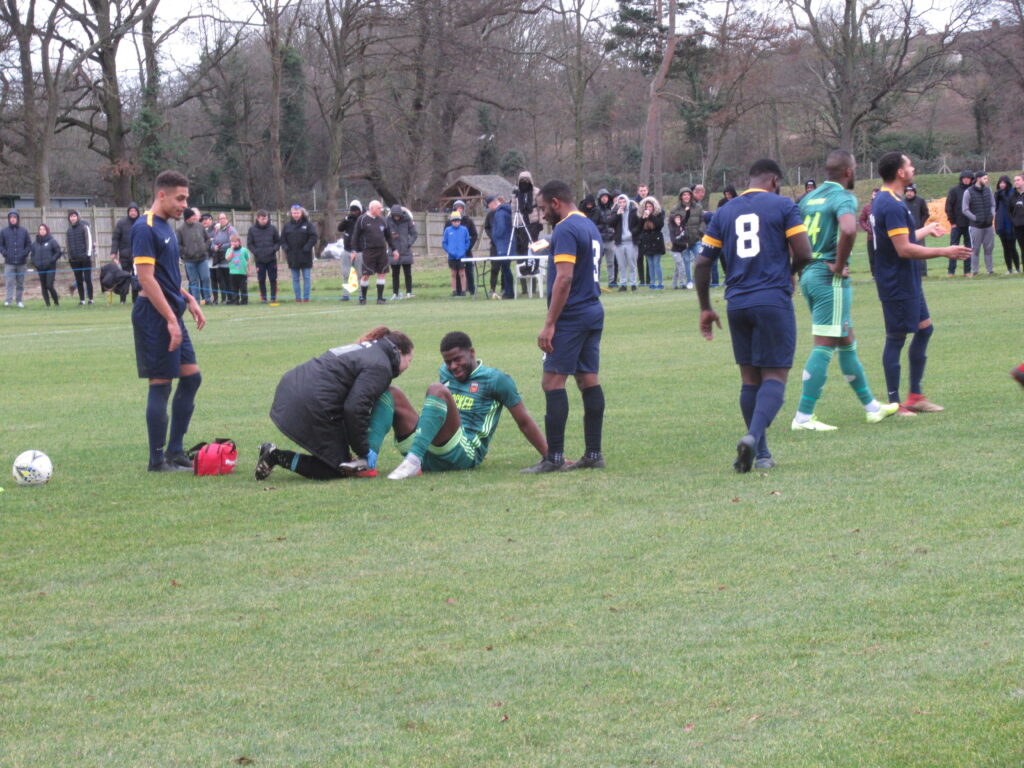 Basically it happened on Twitter as all things do in my life. They asked for a physio and the likes of Dean Carpenter and Nathan White advocated me to them. A couple of direct messages and a chat later and I said I'd do a couple of games and carried on from there. I've had a couple of injuries to deal with but nothing major. There was one where we needed to go to hospital but you get some crunching tackles and I'm on tenterhooks all game. It's strange to go from non-league football to that setting and see the level of passion and enthusiasm and adrenaline in the game. It is a good change for me after 12 years in the game.
Also there does seem to be a large level of envy at what they are trying to achieve in some sections of social media.
Some people always fear change, I'm sure they said the same about women in football as they quite frequently tell me. It's that situation where you embrace change and be a part of it or you get left behind. The Dons thrive on the negativity they receive and the haters and they use that to build their brand more. I'm learning so much from them. It is also great to see the two setups so close together at Flamingo Park. I would never have seen that coming to be honest.
Just finally touching on social media. I often refer to you as the Twitter Queen due to your thousands of followers. I feel you use social media responsibly and with the intention to entertain us, inform us and to be you. Do you enjoy this platform or is it something that needs a bit of sorting out right now.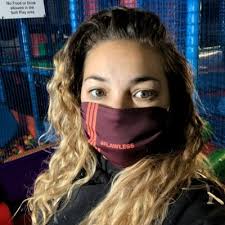 I've always tried to be approachable and friendly in my life. That is how I've been raised but that doesn't mean I occasionally don't have a little rant on Twitter especially if West Ham have just lost or about VAR. But in a world where you can be anything you should try to be kind and monitor your behaviour. If I can put out a tweet with me running out to the Baywatch theme then so be it. Social media can be a beautiful thing when it wants to be, a place of stories, memories, giggles and jokes but can also be a negative and the worst of human kind and you can let negativity drown any positivity.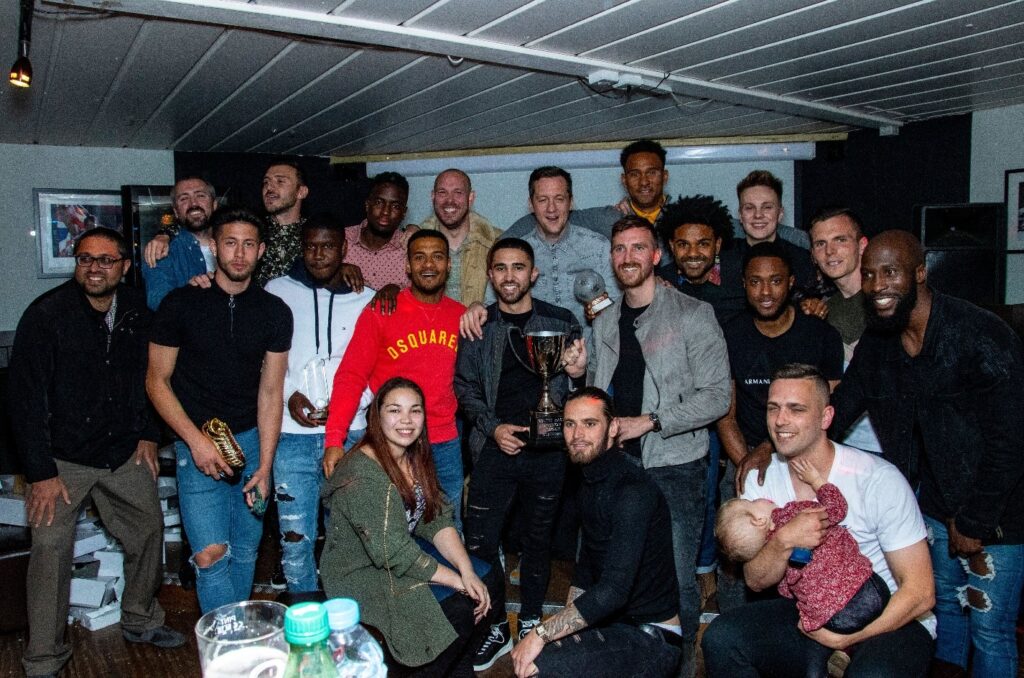 There are some things that quite frankly have been shocking for me sadly on social media. It seems the more open you are it allows those kind of people into your life and they wouldn't do it to you in the supermarket or on the pitch. You do have to realise these people are in the minority and then there are people like yourself, Tony, the Cray Massive, Peter on the door who help outweigh the negatives. I don't do what I do for those that are negative I do it for you guys and for myself more importantly. We have to stand strong on this and drown them out and have more positive voices and realise we are the majority and they are the minority. We have to move on and be better than this as a sport and society and have to let the light shine brighter than the dark.
Thank you so much for taking the time to chat and give us all an insight into your football journey. Have a great birthday and keep on bringing such joy on a Friday night. I think such is the outreach you now have on social media that when people now see the name Cray Wanderers they instantly think Ally Maloney so a big thank you for that and let's hope for some good healthy times when we resume again next season.