Cray Wanderers – Club Class Interview – Bill Lappage
Over the last seven seasons one familiar face around Cray Wanderers has been that of Bill Lappage who has been at Cray Wanderers as a coach through the late 80's-early 90's and as a goalkeeping coach from 2013-19.  Bill who turns a spritely 88 in January has continued to support our young goalies with expert tuition including our two young mascots at the recent game with Bedfont Sports.  I caught up with Bill for a recap on his career ahead of the FA Trophy tie with Ebbsfleet United.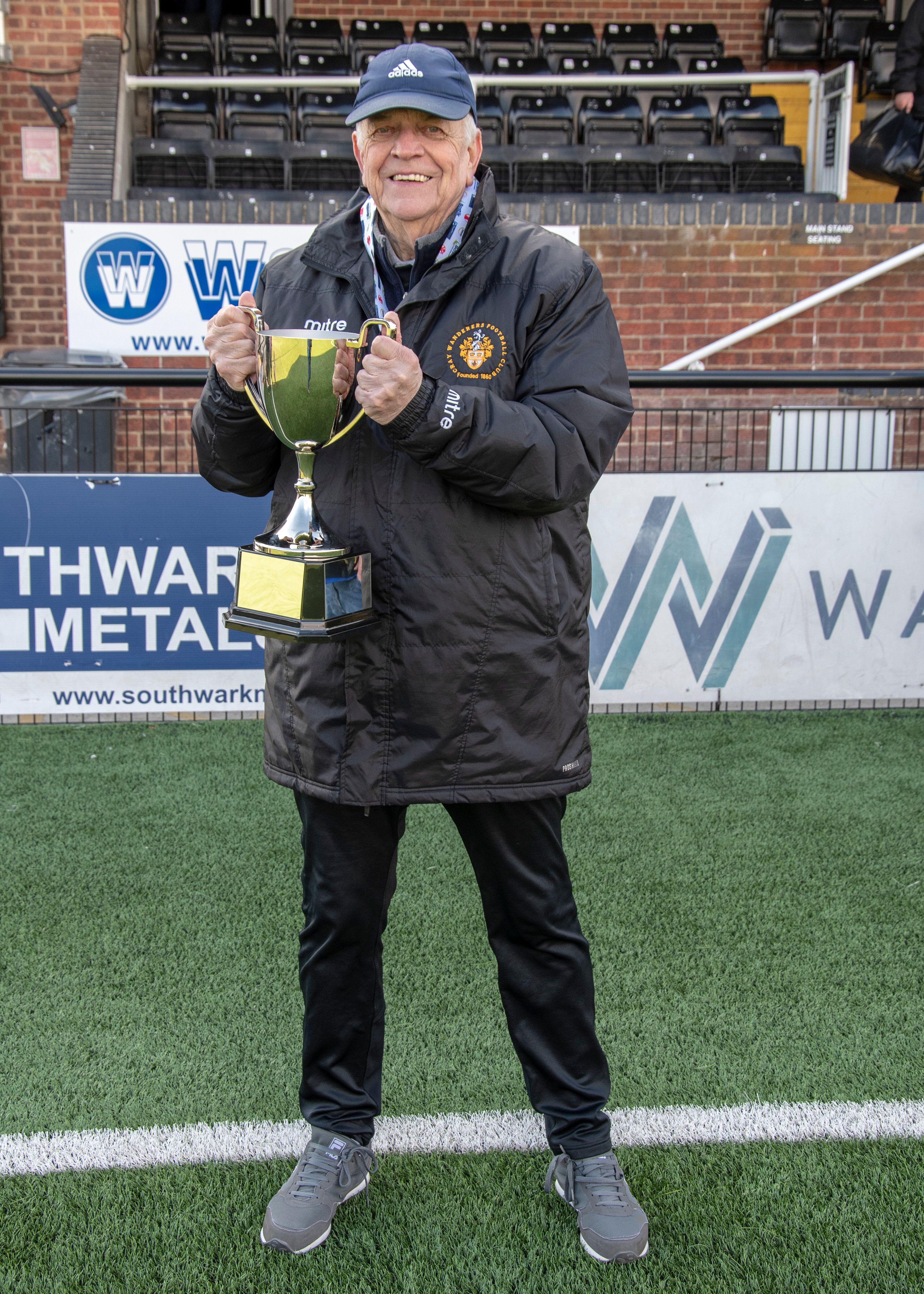 From all at Cray Wanderers, hello Bill. First of all I just wanted to touch on your career as a player as perhaps not too many people are aware of your playing days. Did you always want to be a goalkeeper?  From some of the footage I have seen of goalkeepers of the past like Harry Gregg being shoulder charged into the net I wasn't sure if being a keeper was for everyone and perhaps are more protected now.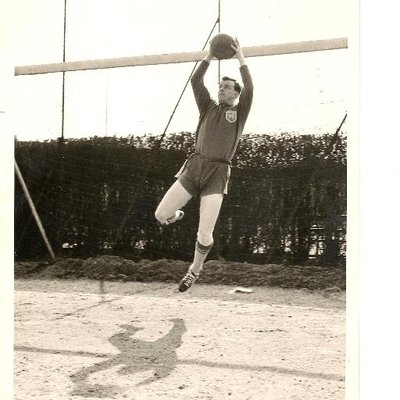 Yes, I did. When I started off as a young boy of 10 years of age I can remember I belonged to my local youth club in Catford and I always wanted to play in goal. The thing is with goalkeeping like in all walks of life has evolved tremendously since I was 10 years old. I've been involved at this level of football for 65 years so I've seen a lot of changes and you are right that keepers have a bit more protection now than they did back in the 50's-60's.
From these early youth club days did you get involved in the professional game or remain at amateur level?
I went down to Millwall as when I was 16 years old I played for a successful club playing in the New Cross/Deptford area and the secretary was a Millwall scout. He sent me there, I didn't do much, played a couple of friendly games at Deptford Park and then of course the Army wanted me for four years which meant a bit of a gap in my playing career.  When I came out of the Army I met the same scout who took me back down to Millwall but nothing came of it as they had I believe four professional keepers at that time all on about £5 a week.
I then went to Dulwich Hamlet and was never able to break into the first team and then a brief spell at Carshalton Athletic but after that spent most of my career at Senior County level. At the age of 30 I got involved in coaching and got my first coaching badge in 1965. Coaching had really just started up at that time so to get a badge you had to pass an FA Staff Coach and the guy I had to convince was Sir Bobby Robson who of course went on to become England Manager.
In those early days of your coaching career did you have a particular mentor or anyone who may have taken you under his wing?
Not really. When I was a kid a man I used to admire was Charlton's legendary keeper Sam Bartram and then when I progressed a bit it was Bert Trautmann at Manchester City who famously played in an FA Cup Final with a broken neck. In those days there were no substitutes and if you got injured you were basically a passenger for the game or otherwise would be down to ten men.  My problem was often dislocated fingers and if that was the case I was told to go up front.
So after you got your coaching badge where did your club coaching career begin?
 It was at Dulwich Hamlet, I met the manager Peter Gleeson and I think he was the first manager ever appointed at the club. Before that time all team selections were done by committees and Peter was selected as manager and he wanted me to become their youth team manager. Their youth team was later disbanded and then I was Assistant Manager to their reserve team and that too was disbanded and I think they were trying to tell me something. Then I was on the coaching staff until Peter left so that was my second connection with Dulwich Hamlet.
Then I moved to Essex and after about a year got involved with Basildon United as Assistant Manager/Coach and went from the Essex Senior League to Division Two of the Isthmian League via the Athenian League. Then I was Assistant Manager at Canvey Island, Maldon Town and one year at Billericay Town managing their reserves and they did the double that year and many of their players were my signings so I was very pleased with that.
Some fans may not know or remember that you had a spell as coach at Cray Wanderers in the mid 80's-early 90's under Peter Gaydon's management.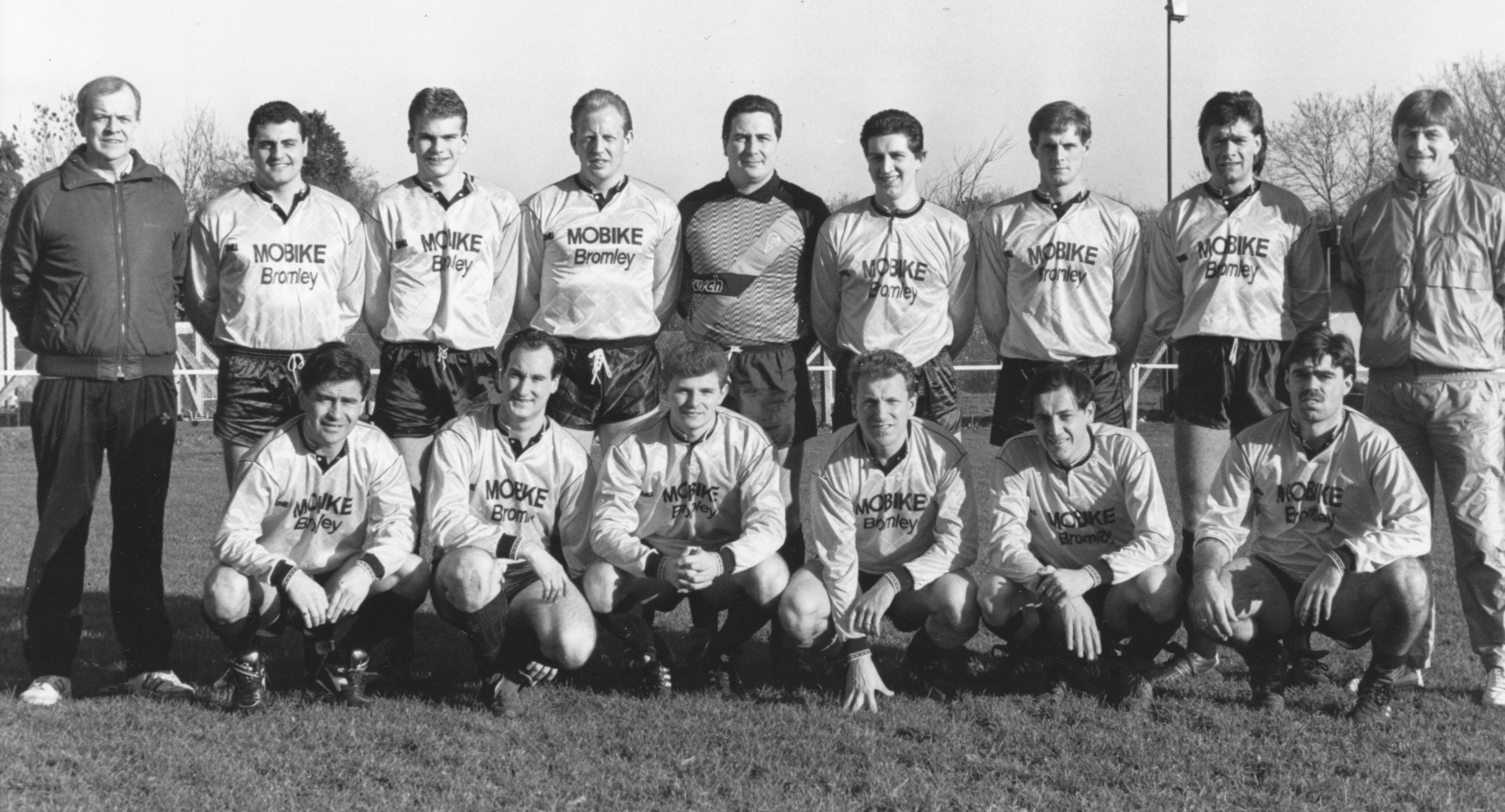 Peter was a man I met when we were both at Dulwich Hamlet and I bumped into him in Bromley as I had moved back to South-East London from Essex and he asked if I wanted to go along to Cray Wanderers as his Assistant as they were a club really going places with a new ground on the horizon but unfortunately never came to fruition.  We had a really good side in the 1990-91 season, we were Kent League runners up behind Sittingbourne who never lost a game all season. Peter went on to Croydon the following season and took me with him and it never worked out there and I had a handful of jobs around South London.
One thing I do know and our game there this season was a reminder of your days involved with Hornchurch who of course won the FA Trophy last season. When did your association with the Urchins begin?
When I was at Basildon United, I met a very good friend, Ronnie Hanley and he was involved with a club called Purfleet who later changed their name to Thurrock and he took me there as a goalkeeping coach.  Their manager left and went to Hornchurch and took me with him.  Whilst at Thurrock and at Hornchurch we got through to the 1st Round of the FA Cup on four occasions and played league opposition each time. Two games were on national TV and that was a very good time of my career.
We move it on to around 2013/14 and you come back to Cray Wanderers under Keith Bird's management. How did that come about?
 I came back under Keith and I knew Michael Paye as he was a Cray player when I was Assistant Manager and of course there was a new proposed ground round the corner. Then from Keith and Micky and then Gary Abbott, onto Tommy Warrilow then Tony Russell and of course now Danny Kedwell so have been around the club under five management teams.
Now I alluded at the start here that you helped out our two mascots Tommy and Bertie at the recent FA Trophy tie with Bedfont Sports with a bit of coaching.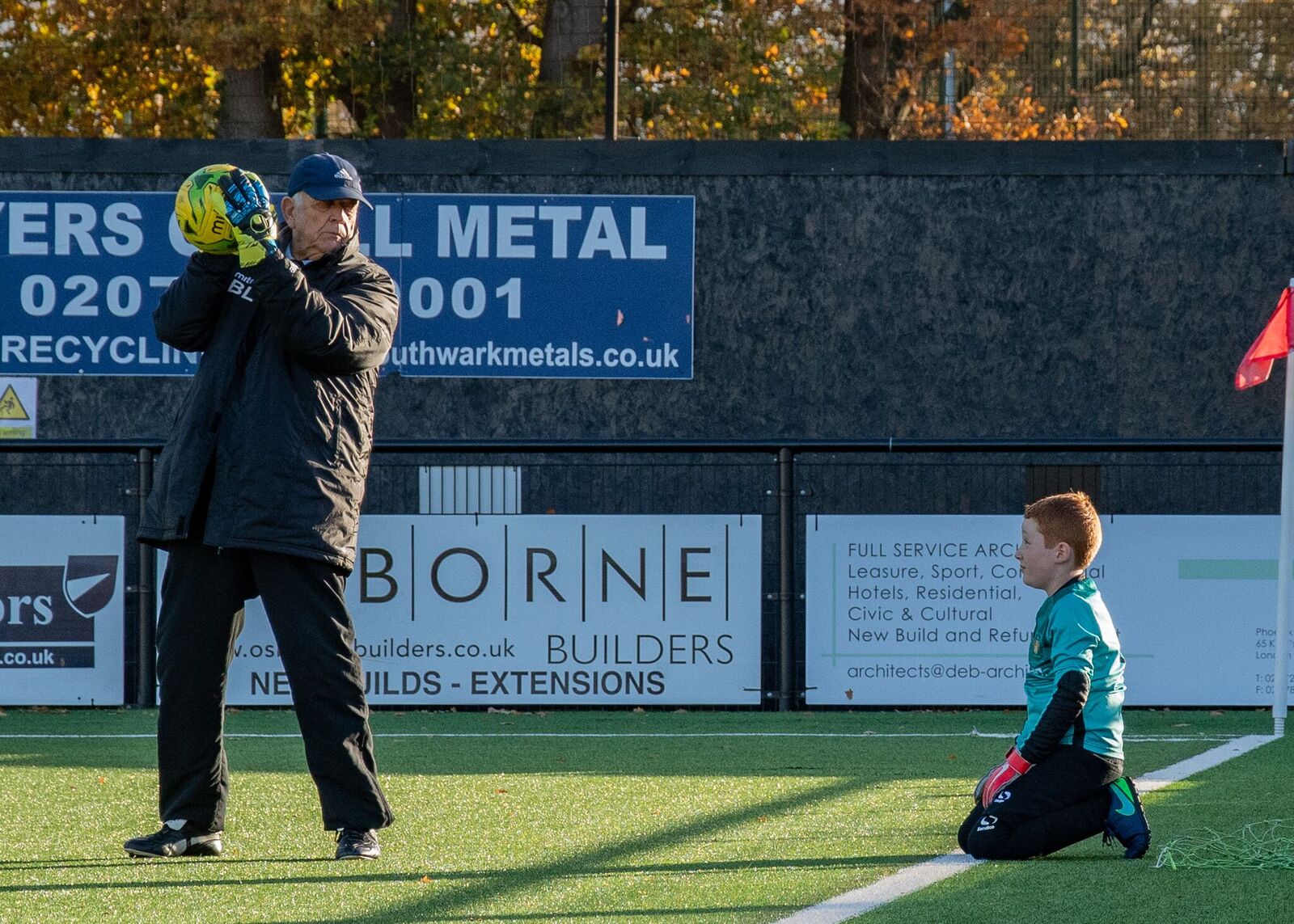 Yes, the two young lads arrived late and I was standing around in my gear waiting to go and I noticed there were a couple of youth teams training and Bertie was standing there and being rather neglected and I asked their manager would you like me to do a bit of coaching with him which I did and he enjoyed it. I have done quite a bit of coaching with young goalkeepers in the past. When I retired I did some work with Lewisham Schools coaching the youngsters and did this for 3 years and really enjoyed it.
Finishing off Bill, if there were three tips you could give up and coming goalkeepers of today what would they be?
You've asked me a question I could talk about for three hours. The main three principles I always follow is if you can always keep your eyes on the ball, always get two hands to the ball, and if you can get your body behind it. These are the tips I give to all young keepers. As I mentioned before the game is always evolving and players now have to be good with their feet as well as their hands.  In my day I used to get the ball and like all keepers bounce it every four steps, go to the edge of the penalty area and just loft it into the opponent's half. Now you have to play out from the back and read the game much better.  We've had some great goalkeepers in my time here, Nic Taylor, Luke Colquhoun, Nick Blue, Lewis Carey and now Jack Turner and they are all great guys and exceptional keepers and great with their kicking.
Another thing I do with young keepers in training is ask them to remove their gloves which they give me a funny look and I say if I take my gloves off you do it too.  Then the tennis balls come out and from a kneeling position I start working on the eyes-hands combination and start throwing tennis balls down the right and then the left side into their hands and then get them to catch a ball in one hand and always start with this combination. This can lead to other things like making sure your hand shape is right when collecting the ball.  Of course these days you have to play a bit and make square passes across your penalty area. If that happened in my day I would definitely be out of the side.  If you had to press me on the biggest change in goalkeeping I have seen over the years and it would be the equipment, mainly the football itself. The balls we used to use to what they use now is unbelievable. Those old leather balls that used to collect all the mud and need steel toe-capped boots to kick away thankfully are a thing of the past.
I just wanted to say Bill on behalf of all of us, a big thank you for everything you have done for Cray Wanderers in the past and present and for your football journey. It is a genuine pleasure to see you around at games and the stories, wisdom and experience you can impart to players, fans and management.
 I've mentioned this on Facebook, one of the things about being involved in football is not that you can be successful and win cups and titles, it is the people you meet and that is what stands out in my mind more than silverware and accolades. The people we have involved with the club are second to none and enjoy their football and love their club and it is a pleasure to be involved with such incredible people.