A note for supporters of a couple of fixture changes to Isthmian League games due to FA Cup commitments for Bowers & Pitsea and Horsham.
The game at Bowers & Pitsea originally on Saturday 6th November will now take place on Tuesday 30th November, 7.45pm.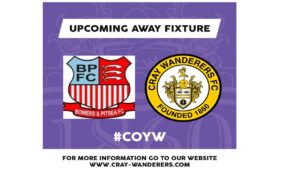 Meanwhile, the home league game with Horsham originally on 3rd November has been re-arranged to give Horsham time to prepare for their FA Cup 1st Round trip to Carlisle United at the weekend. This game will now take place on Wednesday 8th December, 7.45pm.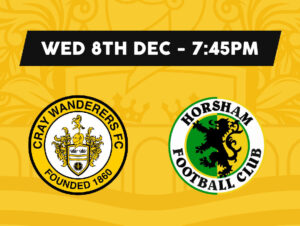 So at the moment our fixtures for the coming two months look like this
Saturday 23rd October – vs. Cheshunt: A: 3pm
Wednesday 27th October – friendly vs. Charlton Athletic U23s: H: 7.45pm
Sunday 31st October – FAT 3QR vs. Kings Langley: H: 3pm
Tuesday 9th November – League vs. Merstham: A: 7.45pm
Saturday 13th November – League vs. Bognor Regis Town: H: 3pm (or FA Trophy 1st Rd)
Saturday 20th November – League vs. Kingstonian: A: 3pm
Wednesday 24th November – League vs. Folkestone Invicta: H: 7.45pm
Saturday 27th November – League vs. Leatherhead: H: 3pm (or FA Trophy 2nd Round)
Tuesday 30th November: League vs. Bowers & Pitsea: A: 7.45pm
Saturday 4th December: League vs . Worthing: A: 3pm
Wednesday 8th December: League vs. Horsham: H: 7.45pm
Saturday 11th December: League vs. Bishop's Stortford: H: 3pm
Saturday 18th December: League vs, Lewes: A: 3pm (or FA Trophy 3rd Rd)
Monday 27th December: League: vs. Margate: H: 3pm