Cray Wanderers vs Bedfont Sports – The Pre-game thoughts of Danny Kedwell
Cray Wanderers continue their FA Trophy adventure this afternoon with the second cup tie with Bedfont Sports in the last couple of seasons. Here Danny Kedwell looks back on the defeat to Merstham in the league on Tuesday night as well as a look back to the previous round vs Kings Langley.
 Before we look back on the last round, a quick look back to Tuesday night and a 0-2 defeat to Merstham. What were your thoughts on the game and what we could have done differently?
There were one or two decisions that went against us. We could have had a couple of penalties for Anthony Cook and Chris Dickson and even the Merstham bench apologised to us during the game but we cannot use that as an excuse.  At the end of the day though they've got three points but I've told the boys we're in for a fight and have got to stick together and not pick and choose when they turn up because on their day they can beat anyone with the quality we've got and they have to roll their sleeves up, work together as a group and not let too much affect them. It was a bad day at the office on Tuesday night. We set up to play like they did and what we wanted to do to them they did to us.  Not necessarily with quality they just seemed to want it more. The first goal was unfortunate for us as we need to cut out the errors and once again we were chasing a game. This group has to learn how to chase games especially when we go 1-0 down so we need to regroup at training and we are going to work hard at it because this has got to stop because it is getting to the point where I am having to get fit to show what a man is and a team is and I shouldn't have to do that but if that is what it takes I will show them.
Let's look back to the last round of the FA Trophy and victory against Kings Langley on 31st October. This was a fine cup tie and a strong performance from Cray Wanderers. What were your thoughts on the game and performance?
Yes, it was a good performance after a week with no game to regroup as it has been a stop-start spell for us.  We had played Charlton Athletic U23s on the Wednesday before the Kings Langley game which was a positive exercise for us. They were a fast team which we needed to make us run around and for us to work hard as a group. That's all I asked for really as I felt our work rate against Cheshunt wasn't great. These are very good players on paper but I told them if you don't work hard then you won't get the results and I was drumming that into them all week. We need to work harder than other teams because of the stature of players we have teams want to beat us more.
So against Kings Langley the boys did all I asked of them. Obviously after that we had another week off which happened a couple of weeks ago after we won and drew against Carshalton and Haringey then we didn't play for a week and snapped the momentum. Against Kings Langley, they were very organised but we just had to stick to our game plan and it paid off at the end with a couple of late goals to win it.
Looking back to that game with the addition of Richie Danquah and Jai Reason are you starting to see the team you are looking for especially as we have a tough run of fixtures in November and December?
 It has taken time and it was always going to be a case of transition of getting players in. Unfortunately you can't just pick and choose players that you want as they are at clubs already and it becomes problematic to bring them on board to make it work. Obviously, I still have the players here from when I first arrived to build the team around and since then there have been a few changes but I am really happy with the squad I have now. A few of the boys have gone out on loan to get game experience like Lee Lewis, Freddie Cray and Fjord Rogers and those young lads are going to be big players for the club down the line.
I gather we had a game behind closed doors last Wednesday too and is it frustrating for you at the moment that we are not playing too many games?
We had another midweek game behind closed doors against an Academy team which we won 4-2 and was for the same reason as the Charlton game as I am rather superstitious and felt it worked before so we brought another team along and worked for us once again.  Yes, it is frustrating when you work with the team all week and then don't play. We trained twice last week, on Wednesday when we played the friendly game which is more beneficial than just training and then on Saturday.  Once we get the continuity of games you will see we are a very good team.
We take on Bedfont Sports in the 1st Round of the Trophy. Cray played them in the FA Cup two seasons ago and it was a close game. Do you know much about them?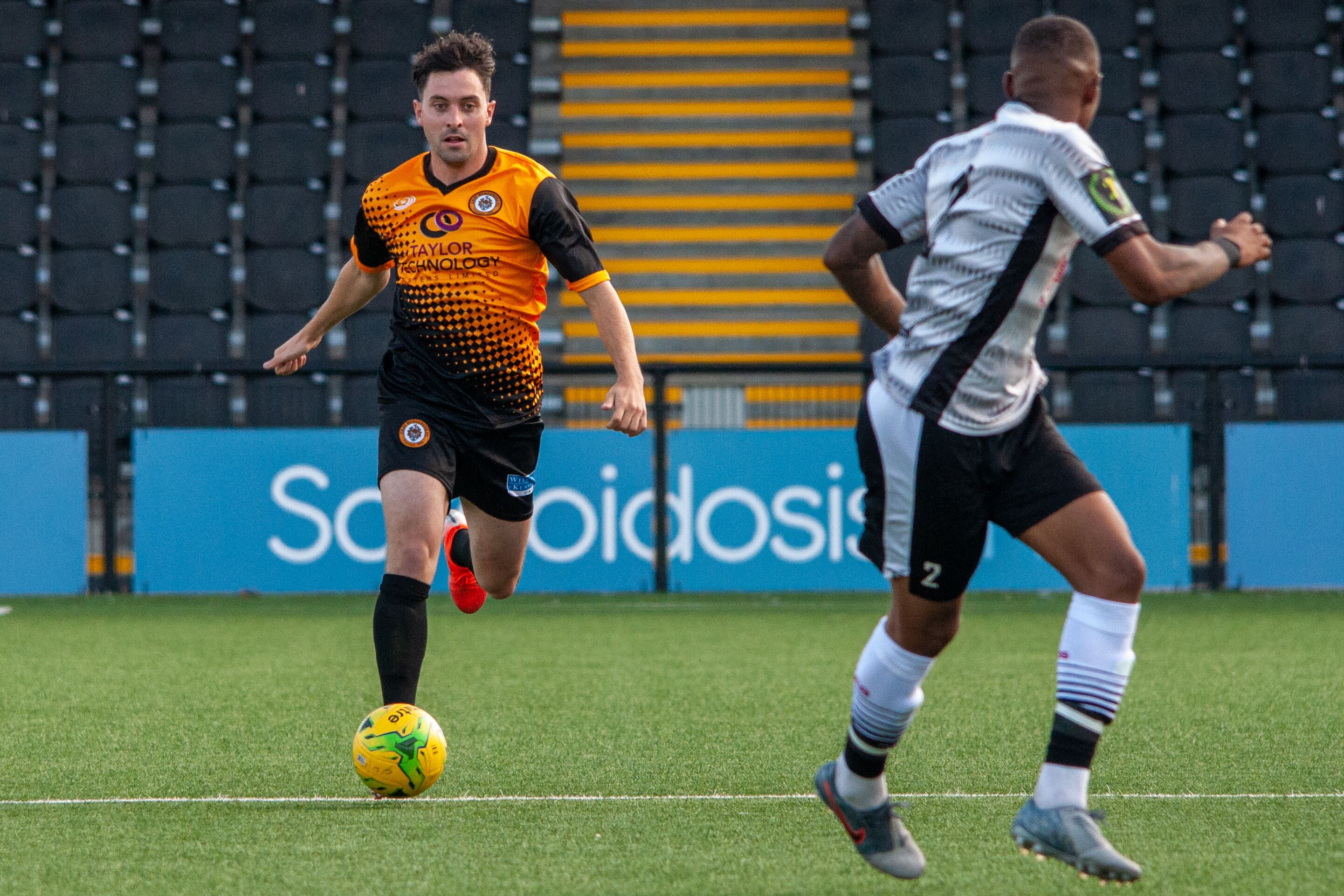 I went to watch them last week against Westfield and they are a good team. They've upset Dulwich Hamlet in the FA Cup so we will not take the game lightly even though they are a league below as we had that experience with Sutton Common Rovers so we will take their challenge very seriously.  We are looking forward to the game and we need to keep on doing what we are doing.
We have a lot of mouthwatering games coming up in November and December, Kingstonian, Folkestone, Horsham, Bowers & Pitsea, Worthing, Bishop's Stortford and Lewes amongst others. These must be exciting challenges for you in your first season as a manager.
This run of games will show where we are as a team and if you can win those types of games it can shape your season as it goes along as it gives you belief within the group that we have it in us to do it.  We just need to keep on going, keep plugging away and we will be alright against the top teams.
We shouldn't be where we are in the league and the boys know that and everyone else knows that especially how it has gone for us so far this season. At some point it is going to change and we will know after this run of games.