Cray Wanderers vs. Bowers & Pitsea – The pre game thoughts of Grant Basey
 After a busy start to March, the Wands picked up a win, a draw and a defeat in the last three games with a thrilling 3-2 win at Bognor Regis Town on Saturday. Here Grant Basey looks back on the game and the two home matches vs Cheshunt and Haringey Borough.
 Well done Grant to you and the team after the big win at Bognor Regis Town on Saturday especially with the three teams below us all winning. When I last spoke to you after the Horsham game you mentioned you were looking for us to be a bit clinical in front of goal. We didn't create many chances at Bognor but took them well didn't we! Was that the sort of cutting edge you were looking for?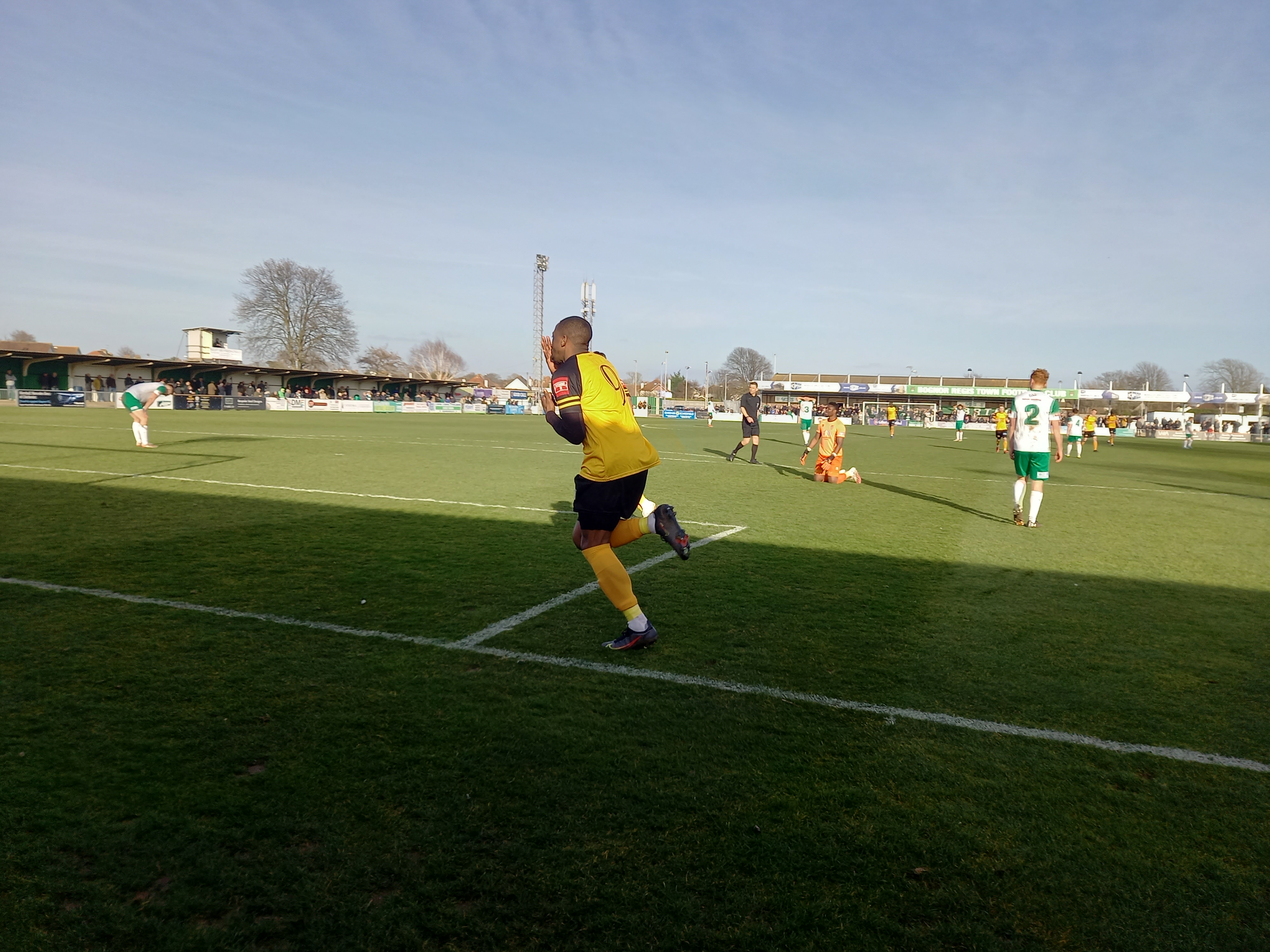 Definitely, I thought after the Haringey Borough game although we were disappointed with the loss we still created lots of chances and didn't take them. We weren't at our most fluent on the ball but still created chances for ourselves. On Saturday we didn't create so much but were more clinical and took our chances well. That is what you have to be, to be ruthless in front of goal.
 We got off to a great start with a goal from Sam Wood after 50 seconds. We have come out of the traps really quickly in a few games recently home and away and scored early goals.  Also we responded well when Bognor pulled it back to 2-2 and a class finish from Chris Dickson put us back in front and back on the front foot again.
Yes you are right in the last two games we have scored early goals which has been pleasing. Obviously when you start like that there is still a long way to go in games which is tough but I'd rather be in front than not.
 We were really disappointed to be pegged back to 2-2, I wasn't best pleased as I said at half time about being solid and not giving them any opportunities or limit them but we give a goal away from a set piece and another from our positioning with players not in the right position and that was all stuff we spoke about. So frustrating to concede goals the way we did but we hit straight back and scored a good goal at a crucial time just after they made it 2-2. After that we held on well for a good away victory.
Looking back to our last two home games vs Cheshunt and Haringey Borough, I don't think a point against Cheshunt is a bad result as they are still in the hunt for the playoffs while Haringey, like a lot of sides in mid table can still raise their games and be professional.
I think against Cheshunt, a point in hindsight is not a bad result but when you are in the position we are in, a goal in front and they were down to ten men and the goal we conceded was really poor. From our set play once again we don't switch on properly and deal with the long ball. It was a great finish from the centre forward  but we should have stopped it as at one time we had six bodies around the two players that broke forward. So if you would have said they were going to score you would have said no chance but we allowed them to turn, and play a good pass through and the forward hit the ball first time to score with a good finish but I was very disappointed.  If I am being honest I was more disappointed after that game than I was after Haringey. I am never content when we lose a game but I felt against Cheshunt it was a wasted opportunity for three points. I felt we were passing the ball well and then we stopped doing what we were doing well which was passing the football.  We got caught up with the way they wanted to play and became more direct.  We just had to put those two games to bed and we ended up having a big win at Bognor Regis and then hope to put in another performance on Sunday against Bowers & Pitsea in another very big game.
 You mention the game on Sunday which will be big as Bowers & Pitsea like us will be looking for points to move them away from the relegation places.    We had Jamie Yila and Cameron Brodie come off with injuries on Saturday to go along with Kyel Reid and Ethan Kaiser.  Anything particular with Jamie and Cameron we should be worried about?
 At this stage not too sure about the injuries as we will wait until after our Wednesday night training to check on their progress accordingly.  It wasn't ideal to lose Jamie so early in the game on Saturday and Cameron in the second half. It is where it is and injuries are part and parcel of football so we just have to make sure we dust ourselves down and make sure the lads are okay and if not it's up to someone else to come in and impress and try and stay in the team.
 We are going into our last seven games and we are proud of the team, and you and Gary for coming in at short notice and with the team in a difficult league position and making us harder to beat and we are still in with a fighting chance of staying in this league next season.  We still believe!
 Yes, I had a little look back and in the six games that we have lost only one was lost by more than one goal and that was at Lewes so this shows we are in every game and competing.  Those are the fine margins that either go your way or don't but I'd like to think that we have made a positive impact.
 I also wanted to say a massive thank you for the fans who came down to Bognor Regis and your support not just there but at other away games is greatly appreciated none more so than by myself.  Please keep coming along and supporting the lads, we have seven big games to go and we are all in this together and want us all pulling in the right direction and we will keep going until the end.