Cray Wanderers vs Carshalton Athletic – Isthmian Premier – Saturday 11th November, 3 pm – Match Preview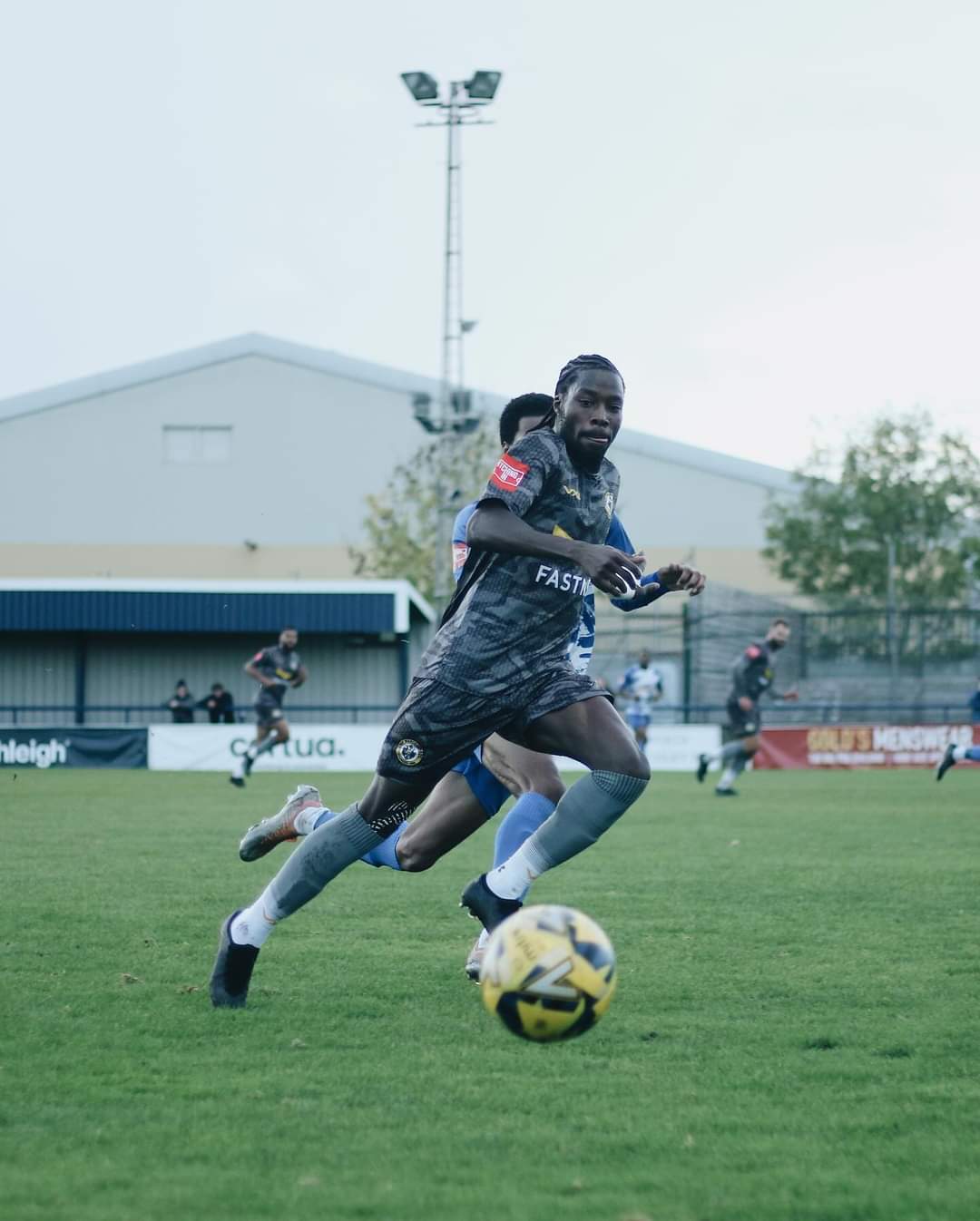 Cray Wanderers are in Remembrance Weekend Isthmian Premier action on Saturday as Carshalton Athletic are the visitors to Hayes Lane.  Kick off 3 pm.
Cray will be looking to build on the momentum of some good recent performances and a run of three wins out of four league and cup games.  Neil Smith's side moved out of the bottom four into 17th after victory at Wingate & Finchley last Saturday in a 3-1 win with goals from Gary Lockyer, Frankie Raymond and Anthony Cook.
On Wednesday night, a team of young and experienced players were given a tough workout at home by Tooting & Mitcham United in the London Senior Cup but ultimately advanced 4-2.  Yahya Bamba has been in fine form and scored twice, while Lockyer made if four goals in five matches with a fine piece of finishing to make it 3-2.  Nyren Clunis added a fourth two minutes from time.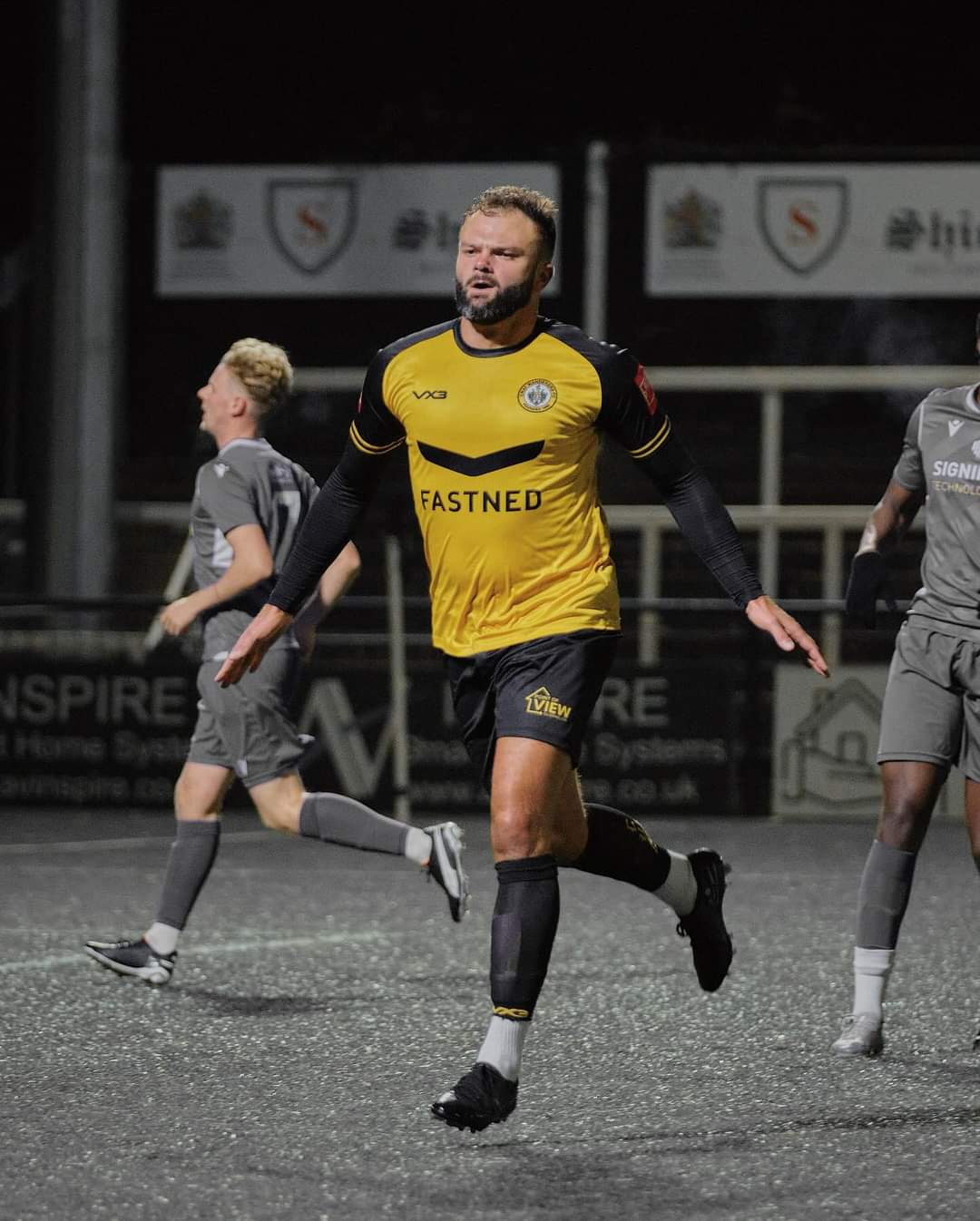 The Wands will hope to have David Ijaha, Frankie Raymond, Jack Holland and Ellis Brown back after being rested for Wednesday's game but Cameron Black misses the game through the final match of his two game suspension.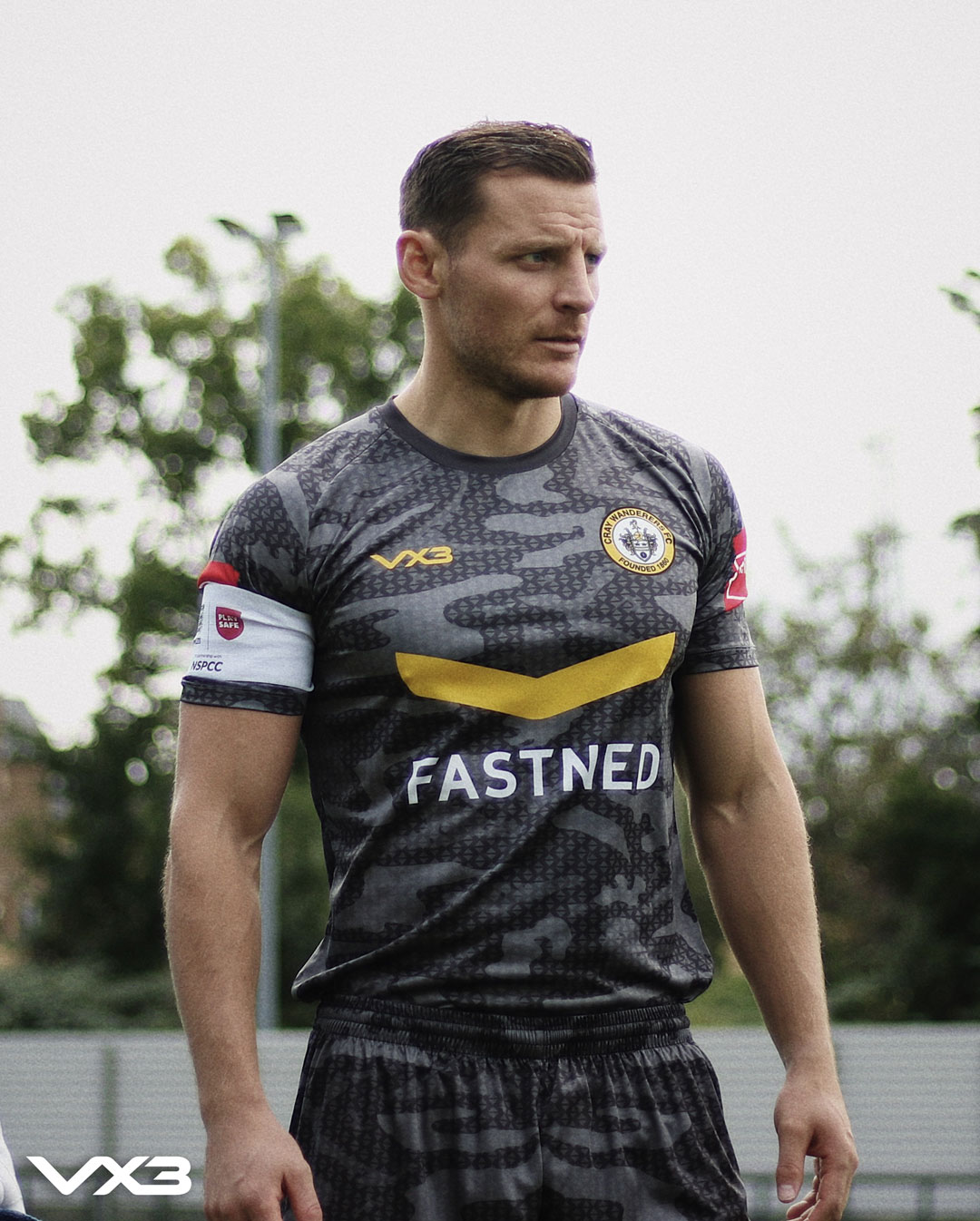 Recent performances had deserved better results but after a difficult August Cray have won four of the last eight league games and will just be hoping for that bit more consistency to move up the table.
The Wands will be well tested on Saturday as Peter Adeniyi's Carshalton Athletic side have begun the season well and are 5th in the table, just inside the playoff placed on 22 points after 13 games and are unbeaten away from home.  Peter returned to Carshalton in the summer for his second spell as manager after an 11th placed finish last season.
Last Saturday, Carshalton were 3-1 winners at home to Folkestone Invicta with goals from Olawadumni Babajide, Luke Read and Mark Marshall.
Away from home Carshalton have won at Kingstonian (3-2) and Enfield Town (3-0) and drew at Bognor Regis Town (3-3), Hornchurch (1-1) and Chatham Town (2-2).  At home the Robins beat Potters Bar Town (5-0), Haringey Borough (1-0), Concord Rangers (2-0) and Folkestone Invicta (3-1), drew with Lewes and were beaten by Hashtag United, Canvey Island and Horsham.  In the Cups, Carshalton were beaten in the FA Cup 3QR and FA Trophy 3QR by cup specialists Cray Valley PM. Ex-Wand Danny Bassett is the leading scorer so far this season with seven goals.
Last season's games were very tight affairs with the sides drawing 1-1 at Colston Avenue on 30th November with a Bassett goal cancelled out by a Calvin Ekpiteta strike.  Then at Hayes Lane on 11th February, Cray came from a goal down to win 2-1 with goals from Bassett and Tom Derry after Matthew Vigor put Carshalton ahead.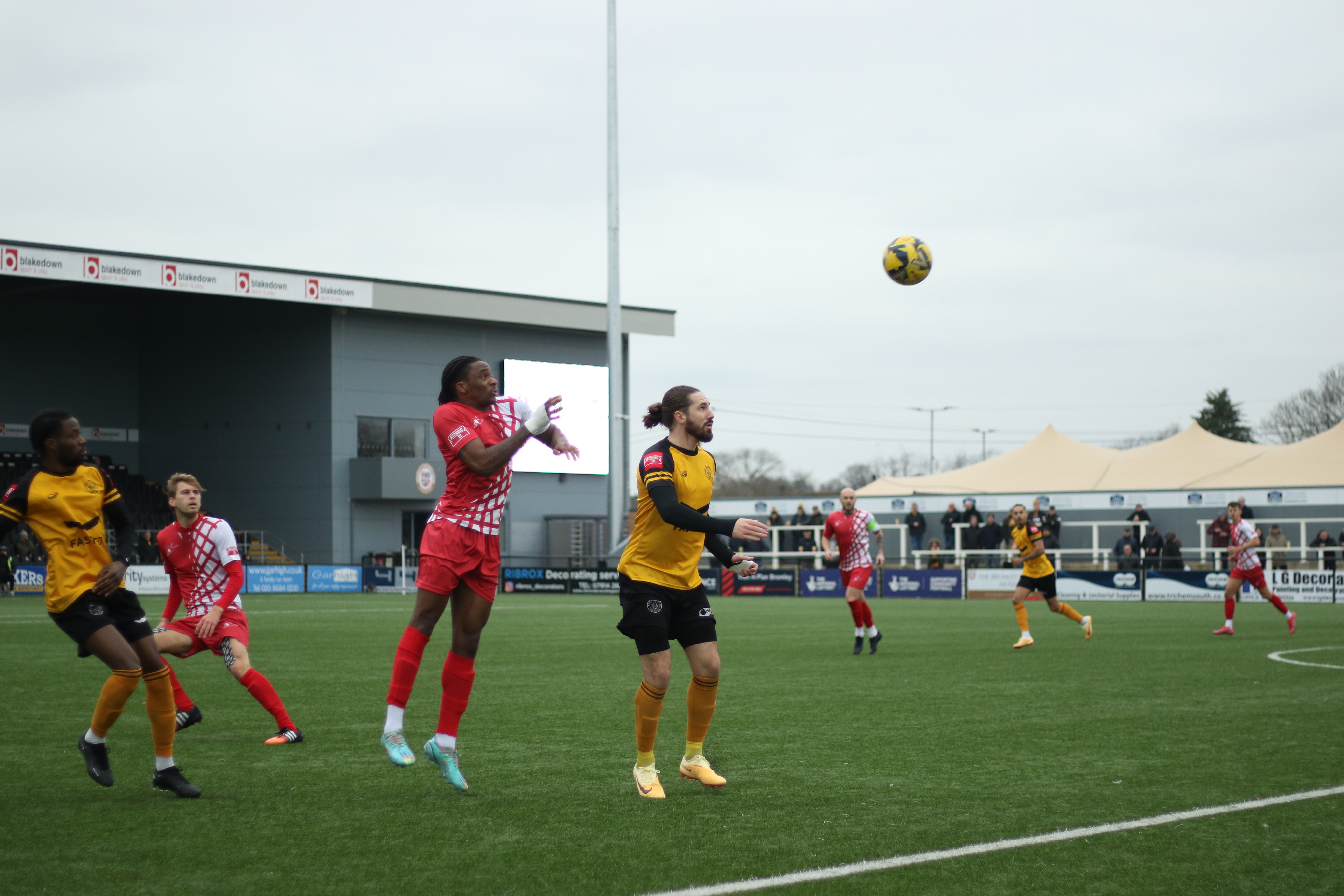 The Robins were formed in 1905 and had been members of the Isthmian League going back to 1973, reaching the 2nd Round of the FA Cup in 1982-83 losing at Torquay United and they spent thirty years there before being moved to the Conference South in 2004-05 following league restructuring where they spent two seasons before relegation back to the Isthmian League where our paths crossed for the first time since the 1920-30's in the Premier in 2009-10.  Both sides were relegated together in 2013-14 and renewed a pretty decent football rivalry when Cray were re-located to the Isthmian South in the 2016-17 season. Carshalton were the last winners of the Isthmian South in 2017-18 and and finished 2nd in 2018-19 in the Isthmian Premier with 71 points before losing at home to Merstham in the Playoff Semi-Final and reached the last 16 of the FA Trophy.  In the last two pre-Covid seasons Carshalton finished 12th and 11th.
Usually games between Cray Wanderers and Carshalton Athletic tend to be exciting games full of enterprising football and this game should be no different as both teams seek points at both ends of the league table.
Admission £12/£6 on gate (cash only) or online at www.cray-wanderers.com/tickets.  Printed Match Programme, £2, Golden Goal tickets £1. 
THE PRE-MATCH THOUGHTS/PROGRAMME NOTES OF NEIL SMITH
Please note these notes were compiled before Wednesday nights London Senior Cup tie.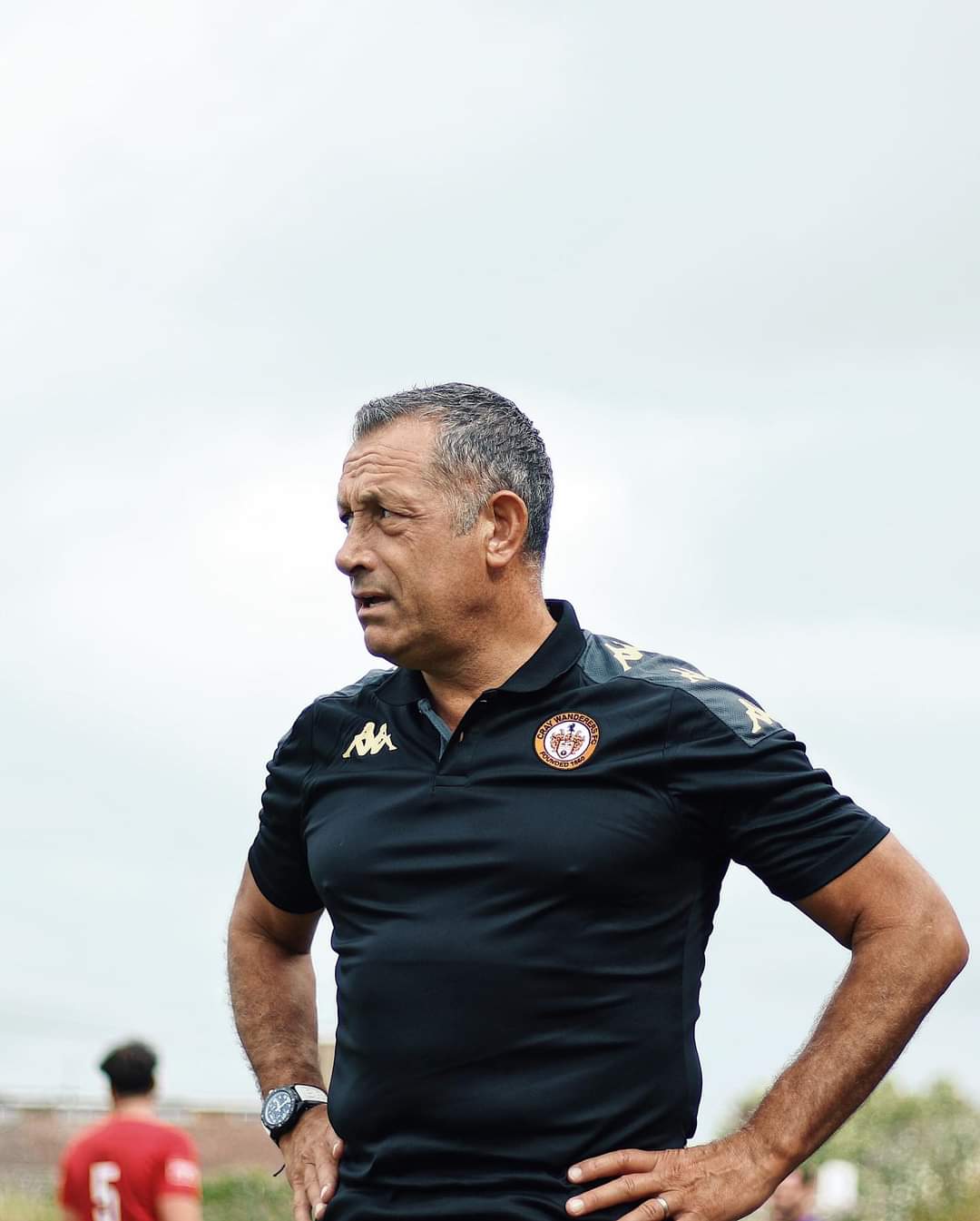 Cray Wanderers look to build on last Saturday's win at Wingate & Finchley this afternoon in what promises to be an entertaining game against one of this season's early promotion contenders, Carshalton Athletic.  Here Wands manager Neil Smith looks back to last Saturday's game, the last home match vs Chesham United and the challenge from today's opponents. 
Hello Neil.  A very good three points at Wingate & Finchley on Saturday and I felt just reward after some positive recent league performances that merited better results.
Yes, I was very pleased with the boys. I had watched Wingate & Finchley on 31st October at home to Enfield Town and they looked an accomplished side despite losing 4-1. We had to change things around a bit, we threw Alfie Evans in who deserved a place after his work ethic and training philosophy and I thought he did really well.  It was a great result for us, although still disappointed with the goal we conceded as they hadn't earned the right to score it as it was gifted a little bit.  So to go in at 1-1 was a bit disappointing but as a game plan the players were very astute to it and did it really well.
In the second half I thought we deserved it and even though they had lost a player I thought we would have gone on and won against eleven men. 
Another goal for Gary Lockyer too, that is four goals in five matches for him and he took his goal superbly didn't he!  Overall though it was a good team performance wasn't it!
That's right, Gary is still getting sharper and the boys are starting to play to his strengths a little bit and it was a great finish to put us 1-0 up.  I felt Yahya Bamba had a good game too and was unlucky with the goal disallowed for a very tight offside call. I could go through the whole team, David Ijaha at the back was excellent.  I knew they had a strong boy up front with a bit of pace and watching them against Enfield and David slotted in for Cameron at the back and played really well.  With Alfie, I think he has done brilliantly.  I said at the time he needed to get some game time so he went to Phoenix Sports and did well for them. He has trained ever so hard and his desire and application has been a credit to him and deserved to start the match/
We also had a couple of new players on the bench since our last home game, striker Antonio Dembele and loanee defender Emmanuel Kwartchey who came on in the later stages at Wingate & Finchley.
It has been difficult, Tom Penfold has gone to Hastings United so I had to try and reinforce the team.  Emmanuel I tried to get in during pre-season but got injured so we had to wait for him to get fully fit with Leyton Orient and we couldn't start him on Saturday as he needs to get his times done.  Again, he is another who has shown in training what a character he is and hopefully a good acquisition.  
Antonio has been in and around the club as he was looking to get away from Harrow Borough. Once again, numbers were thin and he came in, did a job and he is someone for us to have a look at and for him to have a look at us and credit to both of them.
Let's look back to our last home game against Chesham United in the FA Trophy which we won on penalties after a 3-3 draw.  I felt we played very well against a team that were unbeaten away from home and created plenty of chances against them and probably deserved to win over the ninety minutes.
I thought it was another Needham Market performance from us. Like Chesham, they are doing very well in their league and I don't think we got the credit we deserved for that performance.  Chesham were the same, they were riding high, a very good attacking team which we knew about but I also thought we could get at them at the back.
I thought we made it difficult for ourselves yet again and perhaps gifted them a couple of their goals but the boys stuck to the task and it was all about getting into the next round of the cup and we achieved it whatever way we were going to do it.  Full credit to the boys yet again who stuck to the game plan and when it came to the penalties stood up to take them and took their chances.  I didn't have to ask who was going to take them, they already knew.  They all wanted to take one and the order that they wanted to do it so the players took full responsibility for that.  They were strong, very composed and sometimes in those penalties situations you let the boys take over which they did and also a great save from Shaun Rowley as well.
Of course that sets up a trip to a National South side in the 2nd Round, a trip to Weston-super-Mare!
It's a fantastic draw for us, I've been there before and it is a tidy little ground. It's a bit of a trip to get there and we have been through the logistics of it all. However, we have a big game this afternoon which we are making our sole priority at this time but a great chance for our players to put themselves up against players from the National South.
Onto to today's game, Carshalton perhaps last season went under the radar a little bit but this season with Peter Adeniyi back at the helm they have started well and near the top of the table. Games between us and the Robins are usually exciting and should be a good game of football.
That's right, last season Steve McKimm was there and I felt they were quite robust and a strong side physically, powerful and pacy. So they were difficult games we played against them last season. The season before under Peter I watched a couple of games with the likes of Danny Bassett in the side and they like to play a certain way which is different to last season.  So, we are expecting a very tough game.  I like Peter, he is a good guy, and has some very good players and we are going to have to be on our full mettle. Hopefully those players with a few niggles after a week might be a bit stronger and we will see where we are but are going into it with a bit of confidence. What we need now is to get some consistency and try to put a little run of winning games together.
LEST WE FORGET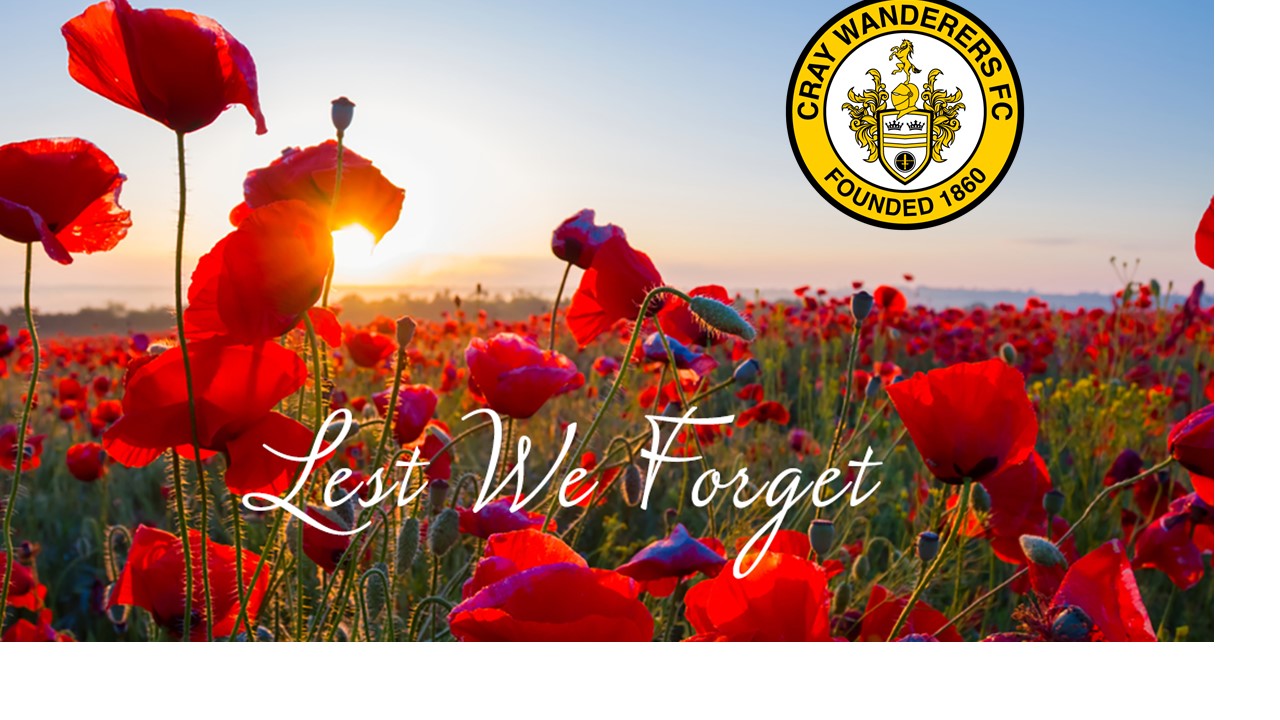 At Remembrance Weekend all at Cray Wanderers remember those servicemen and women who have served and fought in wars, conflicts & peacekeeping missions around the world and sought to preserve freedoms over generations. For those that served from the Cray's & across the UK & Commonwealth, we say thank you and we will never forget you and the sacrifices made and your immense courage.