This afternoon's match has been dedicated to the memory of Richard Heselden, a former Cray Wanderers player, sportsman and PE teacher at Kemnal Technical College who sadly passed away in August 2021. Please see here a piece compiled by Pete Goringe and with help from Rich's family which appears in today's Cray Wanderers v Corinthian Casuals match programme
Richard Heselden – ex-Wand, sportsman, educator, family man
Today's game is dedicated to the memory of Richard Heselden, a former Cray Wanderers player whose life was tragically cut short last August, as a result of injuries sustained in a road traffic accident when cycling, part of a rehab programme following a knee replacement. He was 57 years old.
Richard (known as Rich) was part of a family that has a long association with the Wands, dating back well over a century. His grandfather was Wally Heselden, who played for the club before the First World War. Wally was born in St Mary Cray in 1891 and first played for Cray Wanderers at the end of 1910 as a left-back. Jerry Dowlen met Wally back in 1983 when he was 92 and his memories of playing for the Wanderers were very clear. Cray were in the Kent League then and Wally recalled a 3-1 victory over Crystal Palace reserves; he later played some trial games for Palace.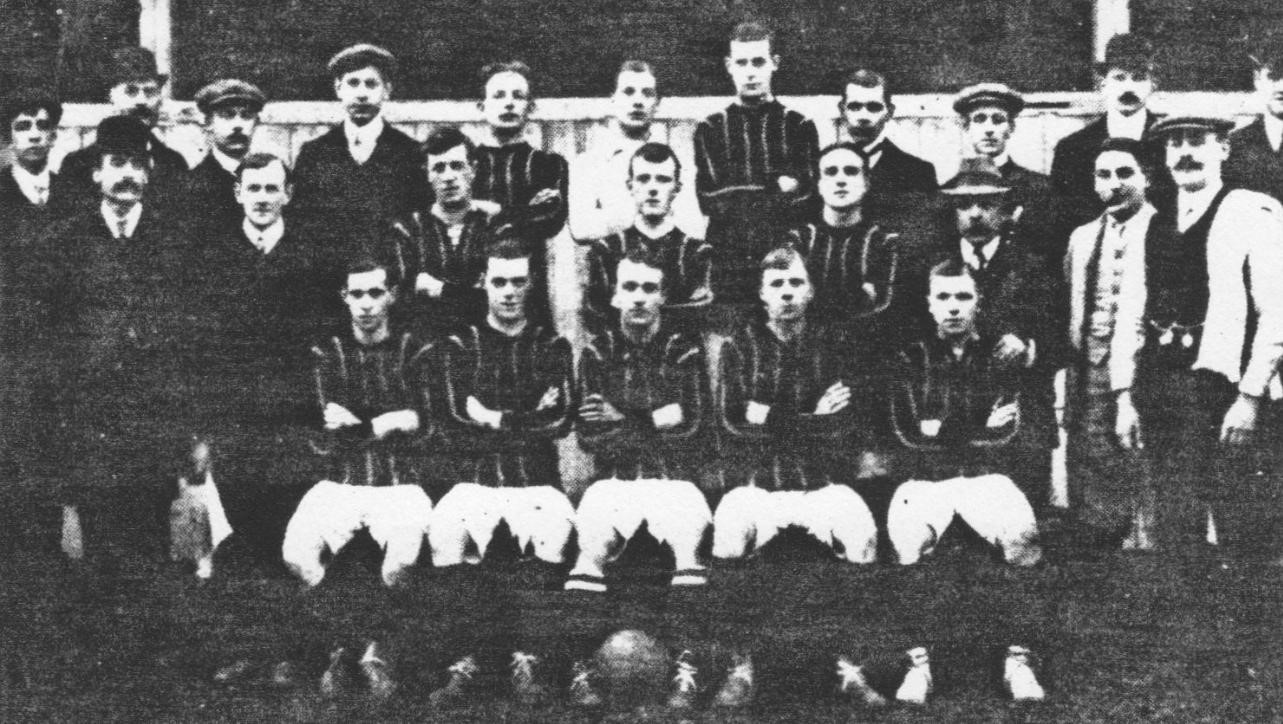 Cray Wanderers team photo from 1911-12. Wally Heselden is the tall player in the back row.
With work scarce in the Crays, Wally and some other local lads went to Australia, where he was employed as a plasterer at a new Parcel Post Office being built in Sydney. On the outbreak of war, he served at the retreat of Mons (1914) and in Mesopotamia (1915). In June 1915 when the British forces were surrounded in the desert, he received a wound that led to him having a leg amputated. Another family member, Arthur Heselden, who also played for Cray, was sadly killed in action. Having been fitted with an artificial leg, Wally lived a very energetic life as a builder, going up and down ladders all the time!
Wally had 11 children, eight sons and three daughters. His youngest son, Frank (Rich's uncle), was also a footballer and is believed to have played for the Wands; this is something we are researching.
And so to Rich himself. Born in June 1964, in St Paul's Cray, it was not long before he found himself watching a Cray Wanderers game at our former ground, Grassmeade in St
Mary Cray. Rich's older brother, Laurie, remembers attending a charity or testimonial match, probably some time in the late 1960s. Some of Cray's "senior" supporters will remember these games, which were very popular as they gave the chance to see some famous celebrities in the flesh; big crowds came to watch.
Laurie recalls clearly that Cray were losing 1-2 in this particular match with almost no time left. The ball went off for a throw-in and arrived at his feet, where he and Rich were standing on the touchline. Rather than giving the ball back directly to the Cray player, who was keen to waste no time in setting up a late equaliser, Laurie passed the ball to his very young brother, so that he could hand the ball to the player. As Laurie says,
"Ever since Rich's first steps he had been a magnet for a ball."
The player was apparently not best pleased with this slight delay in proceedings and Cray lost the game, but it was, of course, not Rich's fault!
It was at the end of the 1982-83 season that the 18 year-old Rich Heselden appeared for the Cray Wanderers first-team. Manager Alan Payne included him for the final game of the season against Deal Town. Just like his grandfather, Rich was at that time a left-back. Cray won the game 3-0. A team photo was taken beforehand, showing Rich alongside such Wands legends as Dave Jackson, Glen Cooper and Phil Williams.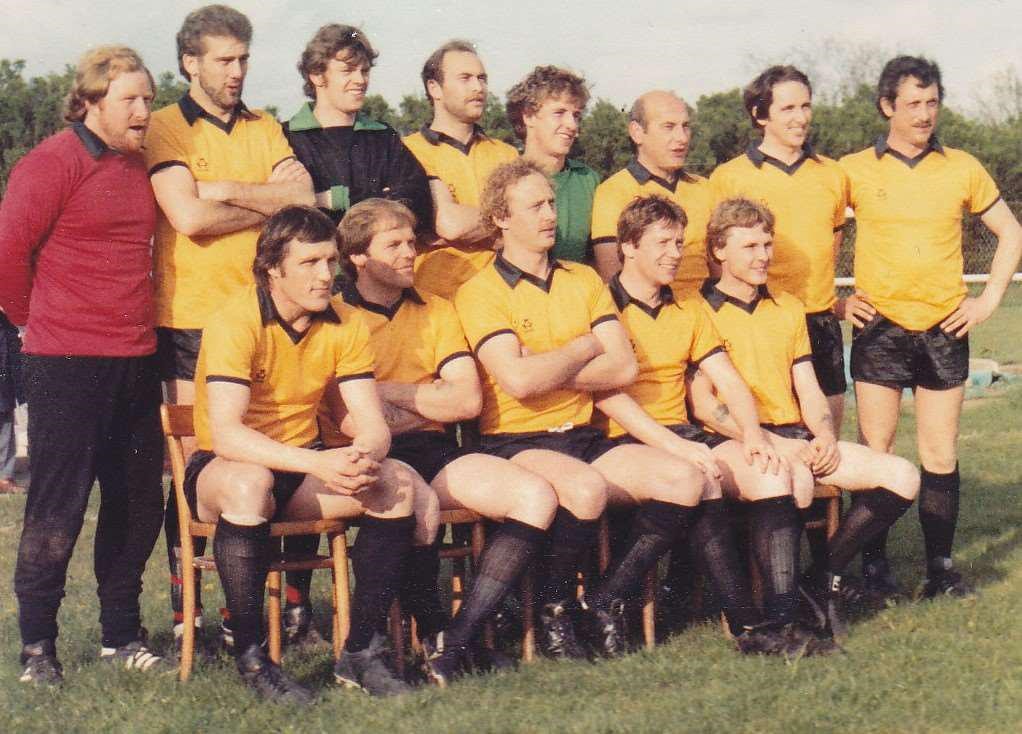 Cray Wanderers in 1983. Back row (left to right): Dave Jackson, Paul Edgar, Gary O'Neill, Mick Wills, Rich Heselden, Ken Edwards, Steve Greenway, Alan Payne.
Front row: Phil Williams, Alan Whitehead, Glen Cooper, Terry French, Neil Lawrence.
So, Rich was the third generation Heselden to play for Cray and he was fittingly proud to extend the family tradition and the family's commitment to one of the oldest football clubs in the world. At this time Rich was working for the Sport in the Community programme, bringing games and sports to under-privileged communities. He would spend a lifetime immersed in a variety of sports, and he was passionate about broadening opportunities for participation in sport.
Unfortunately a knee injury, which proved to be a recurring problem for Rich, put an end to his time at Cray. After some games for Crockenhill, he spent the bulk of his playing career
At FC Elmstead, who now play in the Southern Counties East League. He made lifelong friendships with his team mates from that era.
Rich had a pivotal decision to make in May 1988 when he was offered a semi-pro contract and a job as a trainee electrician in Switzerland, after impressing the local club as a lion-hearted left-footed central midfielder, in an international tournament. It was obviously Rich's possible football breakthrough, but he knew the limitations of his own body, and he chose home, family and friends, and a long-term commitment to football, rather than chasing what may have been an improbable dream.
He continued to play serious football for FC Elmstead, but just loved to play for fun too. So, he also played for the newly founded Independent newspaper, and almost certainly played alongside Henry Winter, now the chief football correspondent for The Times. And he pulled his boots on for The Non-Conformists, a wandering team of musicians, artists, poets and wannabee sages, in South West London.
The twilight of his serious playing days was with Farnborough OBG, a club for which he was also a manager. He played for several seasons on both Saturdays and Sundays and later turned out for Orpington Vets until his mid-forties. Having won various leagues and cups over the years, his knee finally let him down in 2010.
Rich was a great organiser and leader, and an accomplished coach who relished the challenge of managing a team as well as playing. So it was an obvious progression for him to go to Greenwich University and study for a Sports Science degree with a teaching qualification. After graduating he began teaching in the PE department at Kemnal Technology College (KTC) a school at which he had once been a pupil. He soon became head of the PE department and he had immense success with its sports teams, especially their football teams.
Rich was a teacher at KTC, which is located just down the A20 from Flamingo Park, for 21 years. He chose not to climb the 'management ladder' as he loved the interaction with the pupils and felt he would have lost this element of the job. He enjoyed working with the lower groups and encouraging participation; he believed there was something for everyone in sport and that it was a good basis for friendship, discipline and commitment.
Rich managed by far the most successful football team the school had seen, taking the same team from age 11 to 18 and winning something every year. He was fair and consistent with all students and in turn they had
great respect for him. He introduced many initiatives to the school; more recently he was responsible for developing external links including arranging KTC sports leaders to lead sessions with primary school pupils. He also developed a partnership with Sidcup Rugby Football Club and was presented with the 'Spirit of Rugby' award in 2018.
Rich also worked closely with the Football Association to fund a 3G pitch on the KTC site in Sidcup, but unfortunately due to the FA's strict criteria the application wasn't successful.
However he had recently been back in touch with the FA as the criteria had changed, to explore the possibility of a second application.
Rich's passion was that sport should be accessible to every pupil and should be a central part of their life. He understood that sport, especially team sport, is a fantastic foundation for really strong personal values and for lifelong friendships. That is why Rich would have been so supportive of Cray Wanderers' outreach and role in the community, and hopeful that the new stadium project at Flamingo Park will be a stimulus to a renaissance for Cray as a club and as a place.
And what did Rich think success looked like? "It's not important to be the best, but it is important to be the best you can be, together as a team. And to enjoy it".
Happily married with two adult sons, Rich lived in Orpington his entire life. He enjoyed many sports, both playing and spectating. He was a champion golfer and a keen cyclist. His love was Leeds United and he was a loyal supporter through good and bad times. He loved Marcelo Bielsa's style of management and although winning is important, his focus was more often on if the team had played well. At their first home game this season in August, Leeds included a photograph of Rich in a montage as a tribute to those lost during the year, alongside legends such as Jack Charlton, Norman Hunter, Peter Lorimer and Terry Cooper. Rich would have been proud and humbled by the recognition that Leeds United and Cray Wanderers have afforded him.
As his wife Nicky, says, "Richard was a devoted husband, father, brother and son. He was surrounded by good friends, most of whom he met through sport. He was generous with his time and always wore a smile. He was kind, courteous and thoughtful and filled the room with sunshine and laughter. Richard was an amazing man and is loved and missed by many."
Rich's wife Nicky, sons Adam and James, and brother Laurie would like to thank everyone at Cray Wanderers football club for the kind and the generous tribute made to Rich today. They would also like to wish the club every success in its development and evolution.
Postscript Laurie has written updated words for the football anthem, "Abide with me", dedicated to the memory of Richard.
| | | |
| --- | --- | --- |
| Stand firm with me, | Time waits for no man, | In search of glory, |
| In sunshine and in the rain. | Legends passed away. | Humble we will be. |
| Shoulder to shoulder, | Never forgotten, | Passion and justice, |
| Stronger we remain. | Here with us today. | The path to victory. |
| Win, lose or draw, | Win, lose or draw, | Win, lose or draw, |
| United we will be. | United we will be. | United we will be. |
| The shield to all who need, | The shield to all who need, | The shield to all who need, |
| Solidarity. | Solidarity. | Solidarity. |