Cray Wanderers vs Enfield Town  – The Pre-Match Thoughts of Tony Russell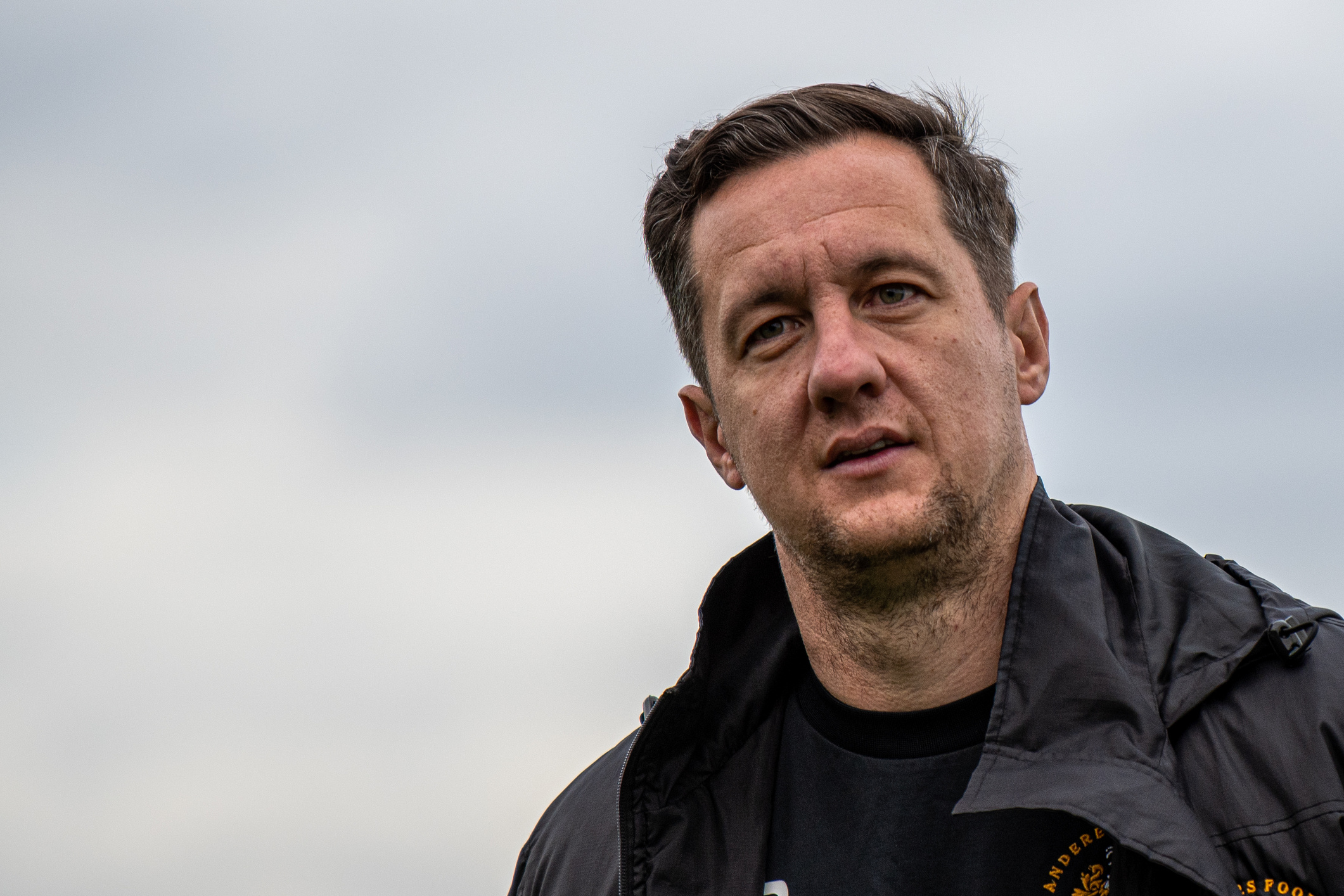 Cray Wanderers return to league action on Saturday against Enfield Town looking to bounce back from last weekend's FA Cup defeat against Haringey Borough.  Here Tony Russell looks back at the trip to Haringey and the chance to build on our solid league form with another game against North London opposition.
Obviously a disappointment to go out of the FA Cup last weekend at Haringey Borough after a decent run. It seemed quite a technical match much like two prize fighters trying to find an opening and was a game of few chances. What were your thoughts after the game? 
Sometimes you get games like that where the first goal was probably going to win it. It was a match of few chances, neither team were giving much away and it just needed a little bit of quality or magic to win the game.  We were disappointed after the match as we saw it as an opportunity missed as I thought they were there for the taking if I'm honest.  We lacked a bit of quality in the final third and with our decision making and lacked penetration but so did they to be fair and they scored with their first shot on goal.  I'm not usually one to criticise referees but we had a word after the game and thought he got caught up in the game a bit.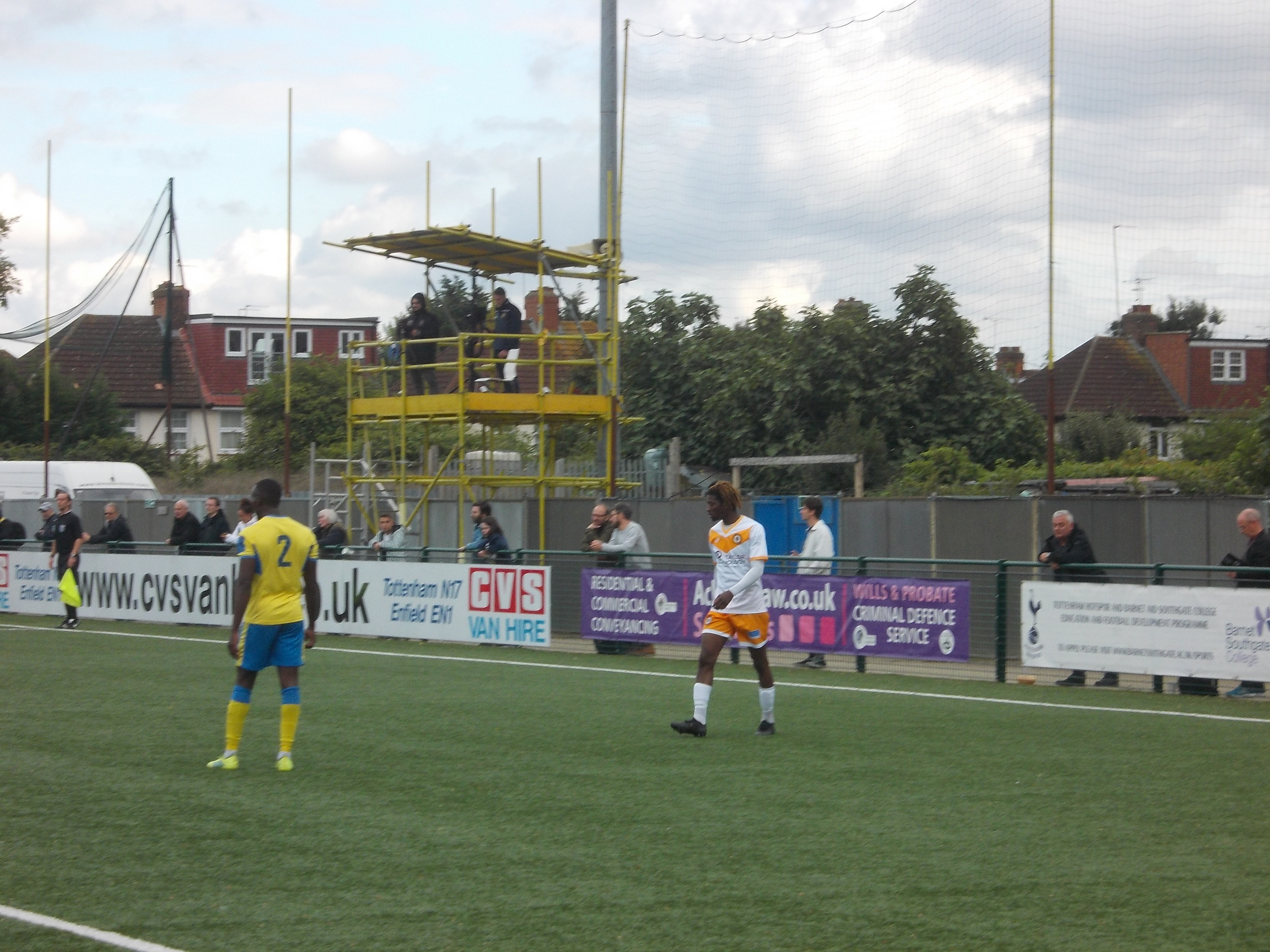 Did key decisions go against us on the day, particularly the goal from Joe Taylor which was disallowed for offside in the first half and of course the award of the penalty?
We've videoed the game and have had a really good look at it as Joe was adamant at half time he was onside which has been confirmed by the video. We're disappointed because I think if we had scored the first goal we would have gone on and won it as I didn't think they had a goal threat from open play and were more of a handful from set pieces but otherwise never really created anything.  Joe Vines and I went in to see the referee at half time as we had warned him about their no 8 who was throwing himself to the floor and rolling around. He did it in the first half when he got Denty booked when the ref gave us the foul and then he fell to the floor, Denty gets a yellow card and the foul is given the other way.  The penalty was soft and he has gone down easy.   It was just one of those very frustrating games as we felt we didn't play as well as we know we can play or how we have been playing. We allowed it to get to the point where one goal was going to win it.
We said at the end yes we can moan about the officials but we shouldn't have to rely on that and we are good enough to get the game won ourselves.  I think everyone has left the ground really frustrated as it was an opportunity missed and should have got at least a draw out of it.  I thought the boys in the forward areas didn't really fire and there was no magic in there which is what you need.  I don't think we played badly but as a game it wasn't great and neither team really looked like scoring and it looked like it would take a moment of brilliance, a poor refereeing decision or even a replay to decide it.  Ultimately we thought the penalty was soft and had a perfectly good goal chalked off.  It was a sombre dressing room after but we go again.  Also a shame we missed out on getting Yeovil Town at home as that is what we were looking for, a  big game to have a go at, a shot at nothing, a free hit.
We're not very good losers me and Joe and the boys will tell you we don't take defeat very well.  At the start of the season I apologised to the boys in advance that I will lose my head if we lose. It is just something in me that I can't stand losing. Normally I'm quite a calm person and relaxed during training but when we lose it drives me mad.  The flip side is in the morning, Vinesy and me will talk and we say we have to work harder, we have to do this better, we have to do that better. We try to fuel that for the next game and try not to lose the next match.
We've now got a big run of games coming up with Enfield Town at home followed by away trips to Merstham, Lewes and Horsham as we look to build on our solid league form.  Looking back to our last home game against Bowers & Pitsea I know there were areas of that game you weren't not happy about but the ten minute spell where we scored three goals was vintage Cray Wanderers wasn't it?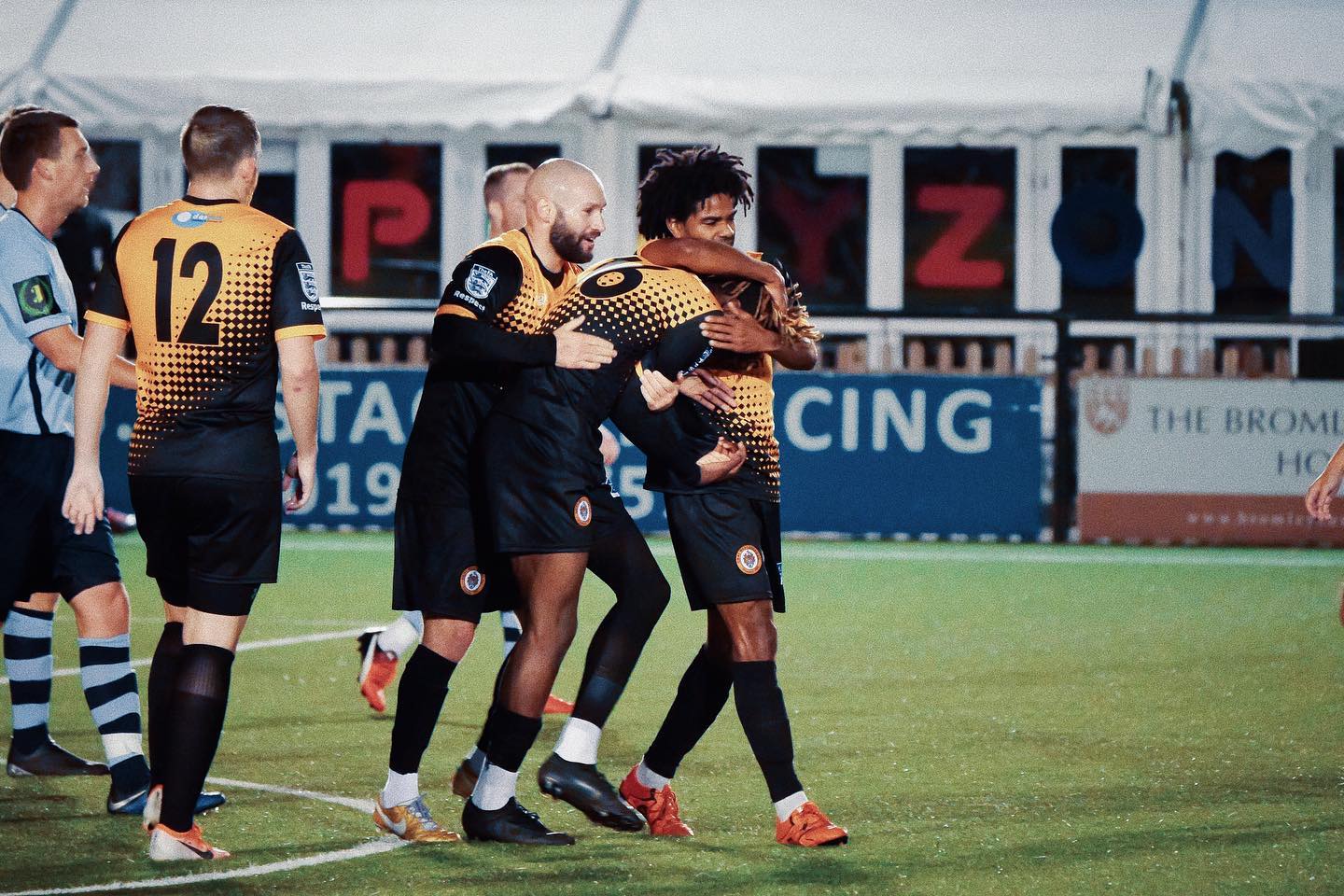 Yes, I think you can even stretch that to twenty minutes as we were ripping them open at will and during that time could have scored 5 or 6 they didn't know what was going on. It was interesting because we had no Mitch, no Jay Leader or Phippsy and we had a 17 year old as deepest midfielder, an 18 year old and a 20 year old centre-half.  We were playing against a side that was un-complicated who were whacking it up to the big no 9, long throws, corners.  If we had Jay and Mitch in there they would have just chewed it up and spat it out but because we had those boys in there they didn't deal with it very well and made the second half carnage.  In the end we were a bit fortunate to win the game.  I've been saying all season about the amount of points we have dropped through missing chances or the opposition keeper playing well or we've hit the post or crossbar meaning we are getting draws rather than wins.  Against Bowers because we couldn't deal with the long straight ball it became an issue and when we were winning headers they were half headers and going out for throw ins, which meant a long throw or them winning a corner.       
When I first started as a manager at Erith Town I just used to pick people to play and one game we played Hythe Town and we were passing the ball around well and creating chances. Hythe just had one long throw into the box and they scored and they ended up winning 2-0 and all they did was pump long balls into the area.  After I thought, we have to implement our style but at the same time have players who can deal with the "non-league" style, the long ball up to a big centre-forward and that is why the likes of Jay, Mitch and Phippsy are gold dust as they are very good in the air, all 6' and over and are very good with the ball as well and this allows us to dominate in the air and at the same time implement our style of play.  Because against Bowers we couldn't dominate in the air we couldn't implement our style and brought them into the game.  There wasn't much we could do on the bench due to the injuries we've had. I didn't want to take the young boys off as it is a great learning curve for them.  For someone like Harry Hudson he wouldn't have this playing for Watford U23s or Geofrey Okonkwo or Lee Lewis.  I do think if we had our usual centre-halves we would have gone on to win 6 or 7 nil.
To me it's always been about performances.  We've drawn against the likes of East Thurrock etc and I've told the players in the huddle after I'm proud of the way we've played, disappointed we've only drawn but delighted with the performance.  It was strange after the Bowers game because in the huddle we were fuming.  For me since I've started I've always wanted to see good football I believe in how I want to see it and to stick a finger up to non-league football and to the way it is played. So when a team turns up and gets joy from a big ball up to a centre-forward that annoys me because we are better than that.  As it is we are judged on how many points we have and outside our group everyone is happy we've got three points.  After a week it becomes tomorrow's chip paper how we played and if we keep putting in the performances and play how we want to play, the points will eventually look after themselves.  I've played for Managers in the past when we've been winning games but not playing well and the players are happy just getting the results rather than performances.
I can remember as a player for Cray Wanderers, I think it was the year after we lost at Horsham in the playoffs.   We got off to a flyer and won the first four games, we weren't playing well, we weren't doing anything in training and it didn't matter as we were winning.  I think then we went to Hastings away and we got absolutely battered, lost 0-4, the crowd were giving us stick and it had been coming as we hadn't been playing well.  Recently we haven't performed against Bowers & Pitsea, we did ok against Haringey Borough and we are not going to beat Enfield Town unless we up our performances no doubt about that.  This is why we arranged a friendly for Tuesday night so we could give Jay some minutes and possibly for Phippsy to get some game time because we need to get these boys back in.  The youngsters have done brilliantly they really have and proud of them but we need to get our full strength team back.
I know the owners are looking for us to stabilise this year but me, Vinesy and the players have a real dislike to losing games.  We just need to get over this period and if Jay can get through the game on Tuesday you will see him with his mask on Saturday and if his does our season will properly start
We have a great game on Saturday against Enfield Town who have started the season well and look like challengers this season. Have you had a chance to see them?
Enfield are one of only a couple of teams I haven't physically been to watch but we have a report on them and I know some of the players.  Ken Charles was with us for a while, came through the youth setup and played a couple of first team games for us before going out on loan. He went on to Colchester United but has come out of their now and playing for Enfield. I like the centre-half Marc Weatherstone, he was at Dulwich Hamlet and is a very good player, Alex Read, the ex-Harlow striker. They are a good club with experienced players and are always there or thereabouts.  Every time you play a team above you in the table it gives you the opportunity to gain points. It's very early in the piece but the league table is starting to take shape.
This is a very good league and this is my second attempt at this level.  The one thing you realise is you are playing some proper non-league clubs with good fan bases and Enfield Town is one of them, then the following Saturday to Lewes and then Horsham all big names at non-league level and it is an exciting time.  I'm going to see Horsham against Carshalton on Tuesday and they have started the season so well, top of the league with a settled and basically the same side as last season when they went up with Cray Wanderers.  It makes me wonder how we would have done at this point without the injuries we have had  This shows how tough the South-East Division was last year and the South the year before are to win when you have the likes of Horsham, Carshalton, Lewes and us doing well in the Premier.
Finally, good news for the club as football is going to be played at Flamingo Park from Saturday, 19th October and with the tie up with SE Dons on Sunday and eventually for the U18s and U13s to play there.  These are exciting times to be a Cray Wanderers supporter aren't they!
Yes, I believe the first game to be played there will be a legends match on the day of the Lewes game.  I've just been speaking to Vinesey as we are going to have 7 U18s players in the squad for the friendly game this Tuesday and what an exciting group of players this is.  For me, when I first came to the club there was no real connection with the youth teams and the club and I made it my priority to change that. Not just that they had to be good youth teams as well and have to be supported by the whole club so myself, Mark Simpson and Charlie Francis got to work and began a proper link up with the youth setup and the club.  Now it is properly structured and I think you can't really do things unless you're fully committed and I think in the past we had teams who just wanted to hide behind the name. Those days are gone now and now we have the U15s who are a very good side, both the U14s teams, the U13s so we have conveyor belt of good young players coming through. In terms of the ground there wasn't much I could really do about that as was out of my hands but what I could do is if I was to leave the club tomorrow, I would leave thinking, this is how I wanted it to be with good training facilities, better infrastructure of the youth teams, we start producing our own players and the club as a whole in a very healthy position.