Cray Wanderers vs. Hastings United, Isthmian Premier – Wednesday 21st September, 7.45 pm
The pre-game thoughts of Neil Smith
Pics:  Jon Hilliger & Ozay Booth
Cray Wanderers are in action this evening for the second game of a quick fire home double header as Hastings United make their first visit to Hayes Lane since the 2018-19 season.  Here Neil Smith looks back at Sunday's battling 3-3 draw with Bowers & Pitsea and a stirring comeback and a look ahead to the challenge Hastings will provide this evening.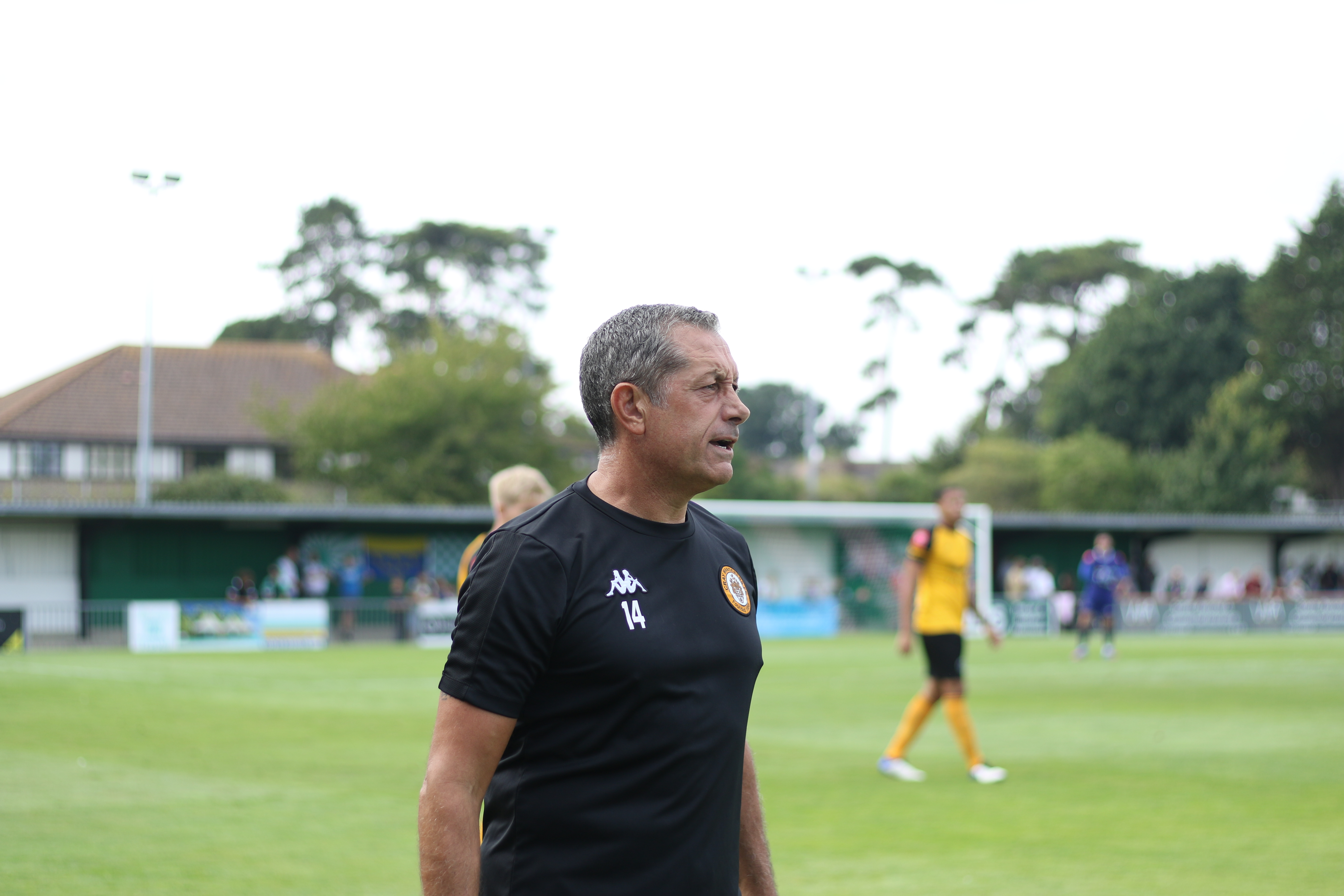 Hello Neil.  A busy week for Cray with a win at Folkestone and then on Sunday we have had to come from behind twice to get a point against Bowers & Pitsea.  Were you pleased in the end with the point or were there things you felt we could have done differently.
Yes, I was disappointed with the goals we conceded, I think we are better than that and should have dealt with those better. Two set plays and giving a goal away so quickly after half time.  What I couldn't fault was the character of the side and that we got back into the game.  I thought Anthony Cook changed the game when he came on and the dimension of the side. 
We got back into it at 1-1 with a Dan Bassett goal who had a good week scoring in both games.  We knew when he got into the position against Bowers & Pitsea to score he would as he is a great finisher isn't he.
I think for him he had a quiet game against Bowers & Pitsea yet he scored a goal and earned a penalty and that is what he can do.  Michael Ademiliuyi was quieter which was a bit of a concern as he has been superb the last few weeks. Against a physical side I thought we matched them in every department and it was only from their set plays where we let ourselves down.   Going forward I thought Tom Derry was a bit isolated at times and didn't have much support.
Overall to be 3-1 down and to get a draw I am happy with that but just disappointed with the goals against.
David Ijaha made his debut and I felt after a quiet start grew into the game and looked a quality player in midfield.
David has been training with us for a few weeks and looking to get some fitness which he can only get through games so he got through 90 minutes and how he did it I do not know.  He will give us experience and is a quality player.
Billy Crook scored his second of the season to make it 3-3.  He had a very good second half and followed on from his performance at Folkestone.
Yes, again I thought he was quiet first half if I'm brutally honest and when we brought Cooky on it gave us a bit more energy which allowed Billy to get into areas and score a headed goal and fair play to him.  I was just disappointed that we were so good against Folkestone that we were under par on Sunday. You have to give credit to Bowers & Pitsea but we didn't reach the heights we did at Folkestone.  They were physical and had a big man up front who Jalen Jones did well against but it was the two set plays and it was not if they opened us up to score.  They will cause upsets during the season and they will move up the division.
Looking now to tonight and the visit of Hastings United. A very ambitious side, just returned to the Premier, this will be a good game this evening won't it.
It will be a brilliant game, they did so well last year. I know the area quite well, they will have a good following, they are a club who are looking to go and improve and do good things and it will be another difficult game. Hopefully we will have a few more players to call upon as well as we were without a few against Bowers like Mitch Chapman and Ben Krauhaus we hope will be available for selection and there is competition for places once again.  We know it will be a tough game tonight, they are a good side Hastings and we don't expect anything other than a difficult match so we need to be ready for it.