Cray Wanderers vs Margate – The Pre-game thoughts of Danny Kedwell
After the excitement of the record breaking run to the 3rd round of the FA Trophy came to an end against Dartford on 18th December all thoughts now turn to the Isthmian Premier and Cray Wanderers look to put a run together to ease away from the relegation places. Here Danny Kedwell looks back on the Dartford game and the thoughts on our Christmas Bank Holiday Monday match versus Margate.
 From all the club and supporters, I hope you and your family have had a great Christmas Danny.  Let's look back on the game vs. Dartford in the FA Trophy.  Personally, I thought we played very well, the final score perhaps didn't reflect the game overall and we were made to pay for a powerful six minutes from Dartford before the half hour.
I think you knocked the nail on the head, it was just six minutes of football that lost us the game and against a team like Dartford with what Steve King brings in you can't afford to do that. Before the three goals and after I thought we dominated the play, we played very well in the second half especially and should have had a few more goals. I thought the penalty in the first half shouldn't have been a penalty when the fourth official and linesman are saying it isn't a penalty and yet something similar happened in our box near the end when Andy Drury went down and nothing was given.
 However, the boys have to be very proud of themselves, it was just that six minute spell where we lost it but we created chances, Fjordy has hit the crossbar and if that goes in it could be a totally different game and that is the fine margins of football.  It is something we have been used to this season.
 We had a lot of players out that would probably have been playing and the players that came in did themselves justice on the day like Jack Hanson who is not a right back and never played there in his life and I think everyone played well. There was no-one that didn't put a shift in and did everything we asked of them.
 We came with a game plan to press them, we did that and made them resort to long balls, we were nicking the ball on the counter-attack and the one time we let them play we were punished and that is the difference. Against sides like Dartford you can't sit off them as they will find space and that bit of quality and that is what they did.  Jake Robinson has been a clinical finisher for years and you can't let a player of that calibre have that much space in the box. That was it, six minutes that is all I can really say. It is very frustrating but I am very proud of the boys.
 We won the second half which is what I said to them at half time and said if you can do that you never know. If we could score early that would put them on the back foot and Jamie is unlucky with a great header ten minutes into the second half and it would have been game on then with so much time still to go.  We created chances and half-chances but with the squad I have and with six key players out to put in a performance like that was so pleasing. These boys have just got to start believing in themselves now, how good they are and we have to start punishing teams.  I've been saying this for weeks, we make mistakes and we get punished for it so we need to cut those out because if we do that I'm confident we can go on to be comfortable winners in games.  It will come and when it does I can start to enjoy football more.
 Finally for 2021 let's look ahead to the challenge of Margate. I know you went to see them play last week when they beat Worthing 4-1 at Hartsdown Road. We were a little unlucky to lose down there in August weren't we!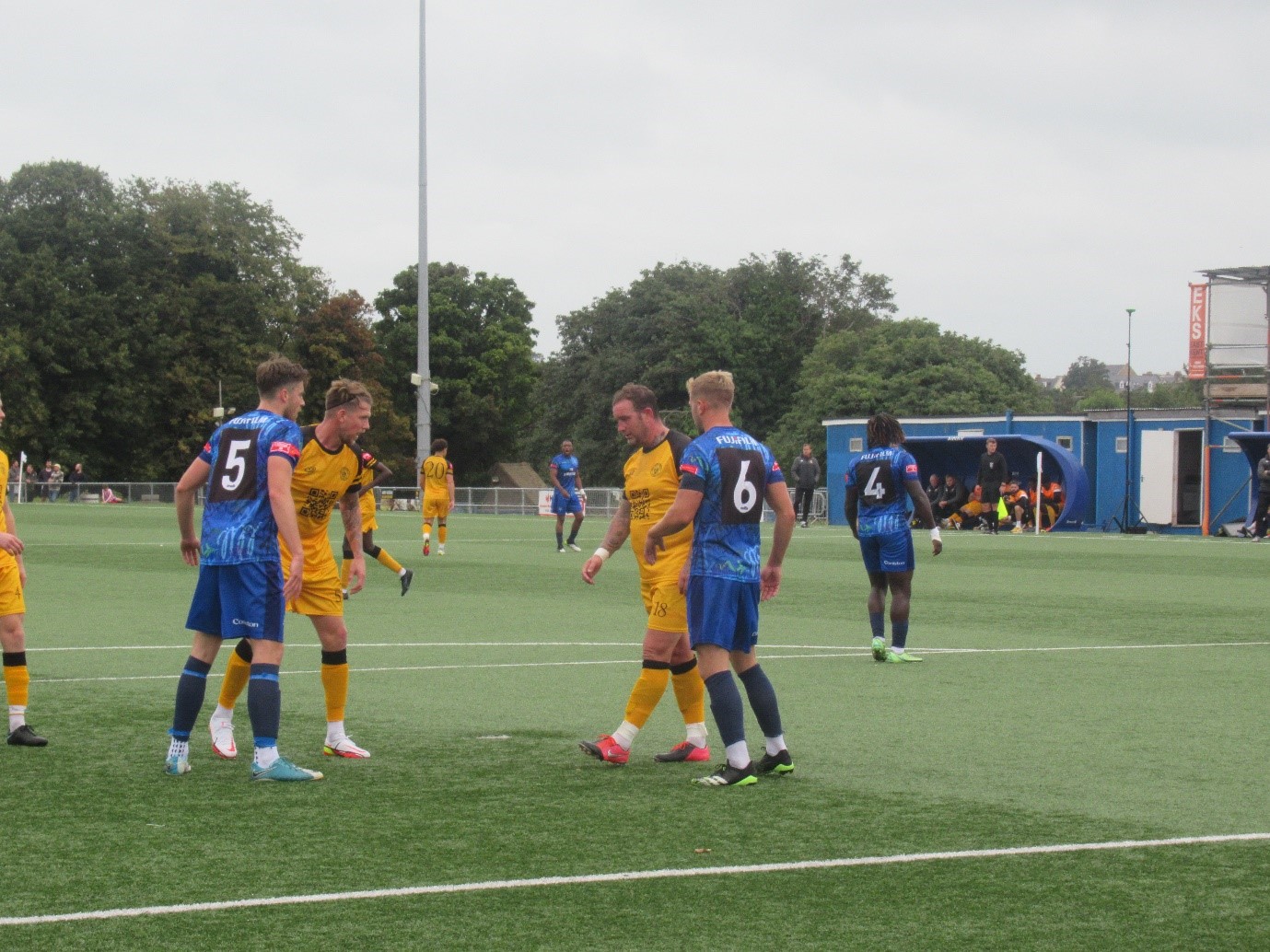 Yes, I thought we were the better side in that game. This is a funny league where anybody can beat anybody. Margate went and beat the league leaders 4-1 at home on Tuesday and played incredibly well but lost to Wingate & Finchley at home on Saturday.  In this league you have got to be on it constantly and the team most consistently on it will be promoted from this league. You cannot switch off for one second and you cannot go into a game saying you are going to definitely win it because you just never know. I do believe in these boys and once we get a run going we are only 18 games in so plenty of time to turn things round.
 The cup run is over but we made a bit of history and told them to remember that they were history makers for the club but now it is all about the league and if you put performances in like against Dartford week in week out I can't see why we can't put a run together and start climbing the league because we are good enough.  There is not one team this season I feel are better than us which is the most frustrating and baffling thing at the minute and even the players are too. I can see it in their heads, what is going on but they have got to start believing and stop getting frustrated in themselves.  Sometimes they want to win so badly, for me, the staff, the fans and that is how mistakes happen. They just need to chill a bit and show their ability because once they do that we will be alright.
 From all the club and supporters Danny, have a very Happy New Year to you and the players.