Cray Wanderers vs Ramsgate – FA Cup 2nd Qualifying Round – Sunday 17th September, 3 pm – Match Preview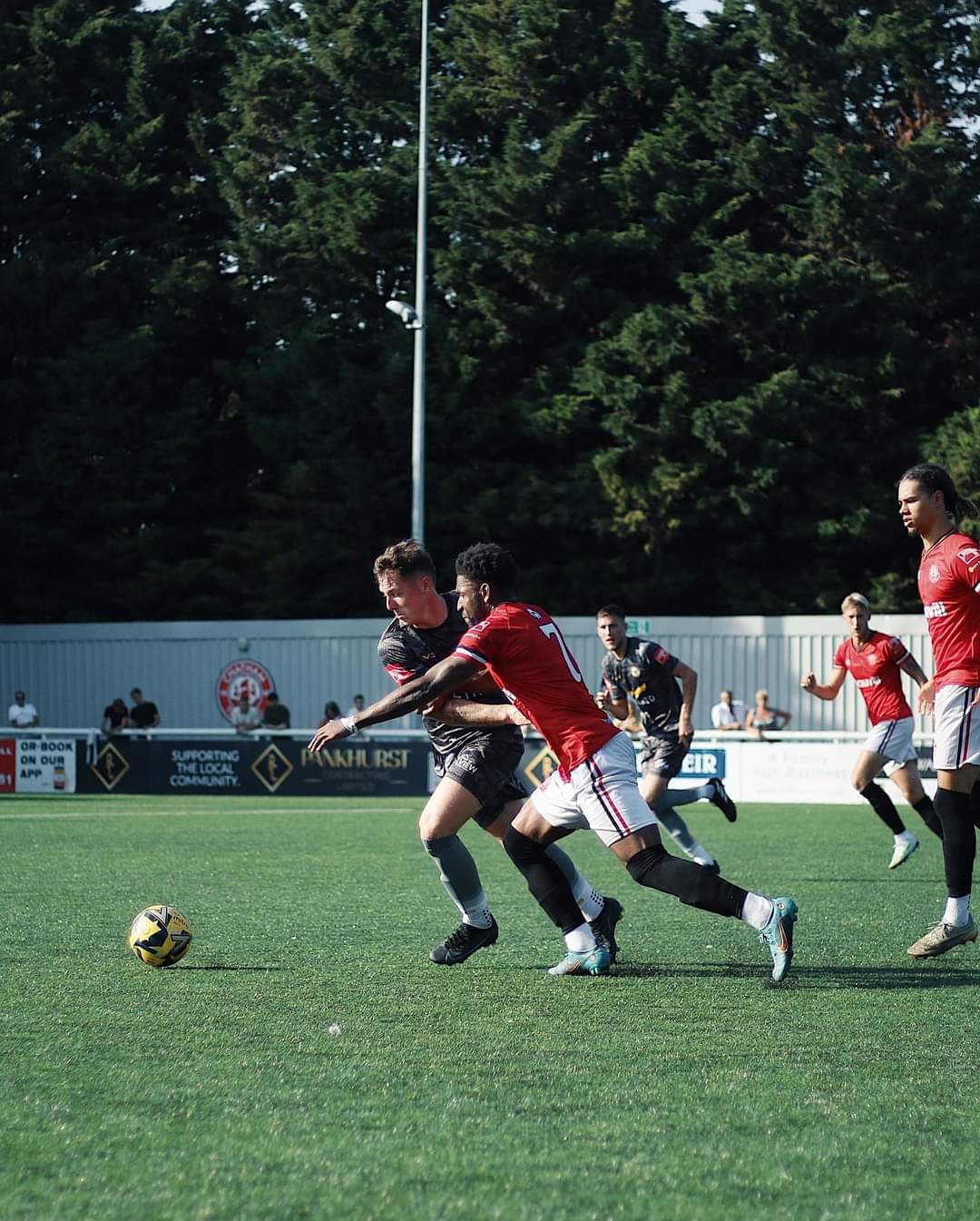 Cray Wanderers play their first Sunday afternoon game of the season tomorrow as Ramsgate are the visitors to Hayes Lane in the 2nd Qualifying Round of the FA Cup.
This is the first ever FA Cup meeting between the sides and sees two teams high in confidence after recent results.  Please note if the tie ends in a draw after ninety minutes the replay will be on Wednesday 20th September, 7.45 pm ko.
Cray Wanderers after a difficult August with five straight league defeats to begin the campaign have scored ten goals in the last two games starting in the previous round beating Newhaven 5-1 at Hayes Lane and then followed up with another 5-1 win at league leaders Chatham Town last Saturday.  The Wands hit great form and two Frankie Raymond penalties and well taken goals from Cameron Thompson, Nyren Clunis and Jamie Mascoll gave Cray their first three points of the season.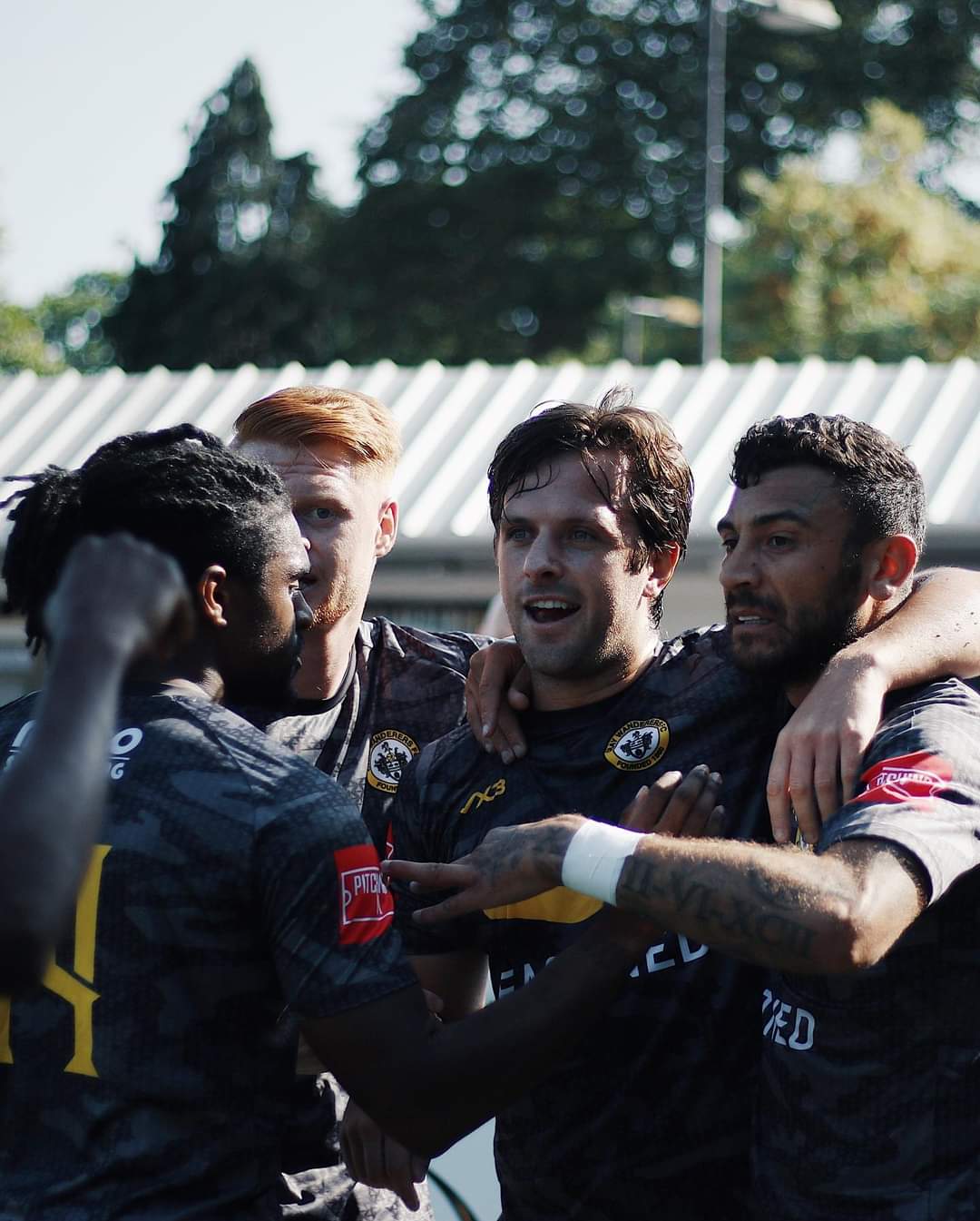 Since the last home game, Gary Lockyer has joined the club from Faversham Town and played well up front with the back four, Lee Lewis, Cameron Black, Tom Penfold and Will Wood outstanding. Also the return of George Porter after three games out with injury has given Cray a boost up front and goals which were scarce in the opening weeks of the season are suddenly being shared around.  Midfielder Mason Saunders-Henry has departed the club and joined Ashford United.
Manager Neil Smith has always had faith that this group of players would hit form and although still a lot more work to do to climb the table the team are moving in the right direction.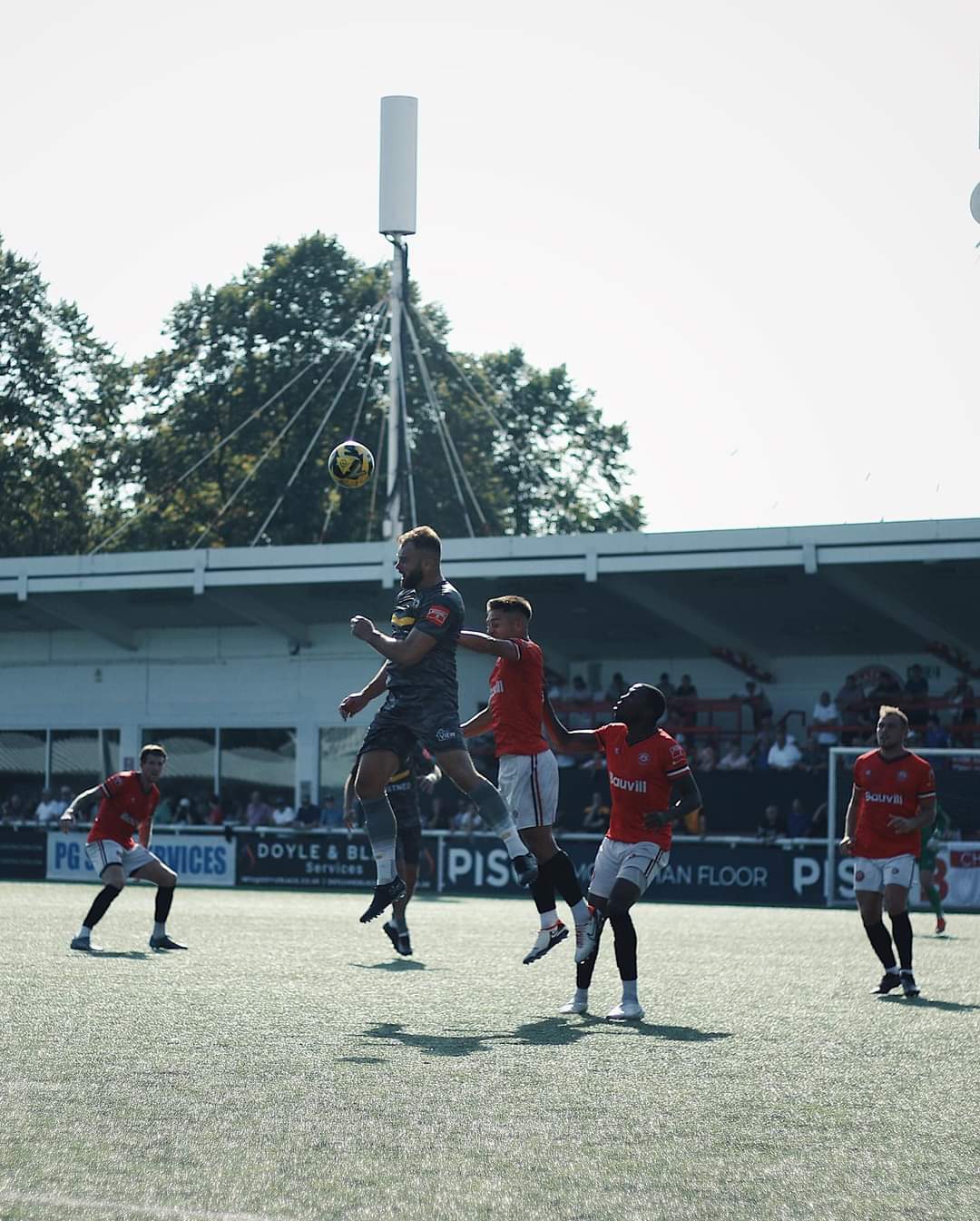 Isthmian South-East Ramsgate will pose a serious threat though to Cray Wanderers hopes of a lucrative FA Cup run and have advanced past two rounds to face the Wands beating Bexhill 4-1 at home in the Preliminary Round and then also won 5-1 at Chatham Town on 2nd September with Joe Taylor (2), Bode Anidugbe (2) and Tijan Jadama on target.  Ex-Wand Taylor was one of the marquee signings of the summer in the Isthmian League having joined from Lewes and has seven goals already this season including a hat-trick in the with Bexhill and has a good track record in the FA Cup.  Another ex-Cray player, defender Sinnkaye Christie who played for the Wands last season may also feature for Ramsgate.
Ben Smith's side started the league season with a 2-4 defeat at Sevenoaks Town and followed that up with a 4-0 home win against Littlehampton Town and a 2-1 win at Herne Bay on Bank Holiday Monday.  After three league games Ramsgate are 6th in the Isthmian South-East with six points.  Ramsgate have advanced to the 2nd Qualifying Round of the FA Trophy after a 3-0 win at home to Northwood last Saturday and will meet Sevenoaks Town at home next Saturday.  Ramsgate did play on Wednesday night in the Isthmian League Cup but quite a young side were beaten 2-4 at home by Ashford United.
Ramsgate came close last season to promotion from the Isthmian South-East finishing 2nd in the table on 72 points behind Champions Chatham Town but like Cray suffered playoff heartbreak losing to Hythe Town at home in the playoff Semi-Final after a 1-1 draw were beaten on penalties and also reached the Semi-Final of the Kent Senior Cup.
The last time the two sides met was in the Isthmian South-East in 2018-19 where both league games ended in draws, 0-0 at Hayes Lane on 25th November, 2018 and 2-2 at Ramsgate on 16th February 2019 with Joe Taylor and Junior Dadson scoring for eventual champions Cray Wanderers with Tom Chapman and Gil Carvalho scoring for the home side.  
Ramsgate were quite a strong side in the old Kent League winning the league three times in the late forties-mid fifties. They joined the Southern League after the collapse of the Kent League when they were known as Ramsgate Athletic until 1972 before returning to the rejuvenated league in 1976. They reached the 1st Round of the FA Cup in 1955-56 before losing to Watford. They remained in the Kent League until 2004-05 when they won the title and were promoted to the Isthmian South for the first time. There they met Cray in the 2005-06 season and won the title at the first attempt once again reaching the 1st Round of the FA Cup losing at Halesowen Town, the same year Cray reached the 4th Qualifying Round. They remained in the Isthmian Premier for three seasons, reaching the playoff semi final in 2007-08 losing to Staines Town but were relegated the following season remaining members of the Isthmian South and then Isthmian South-East since playing Cray for three seasons between 2016-19.
This promises to be one of the ties of the 2nd Qualifying Round and a chance for those that enjoy their Sunday afternoon cup ties to watch a Kent derby and two teams in good form.
Admission £12 adults, £6 concessions/U16s, pay on the gate (cash only) or online ticket sales at www.cray-wanderers.com/tickets/. Printed programme £2 and golden goal tickets £1 available.
THE PRE-MATCH THOUGHTS/PROGRAMME NOTES OF NEIL SMITH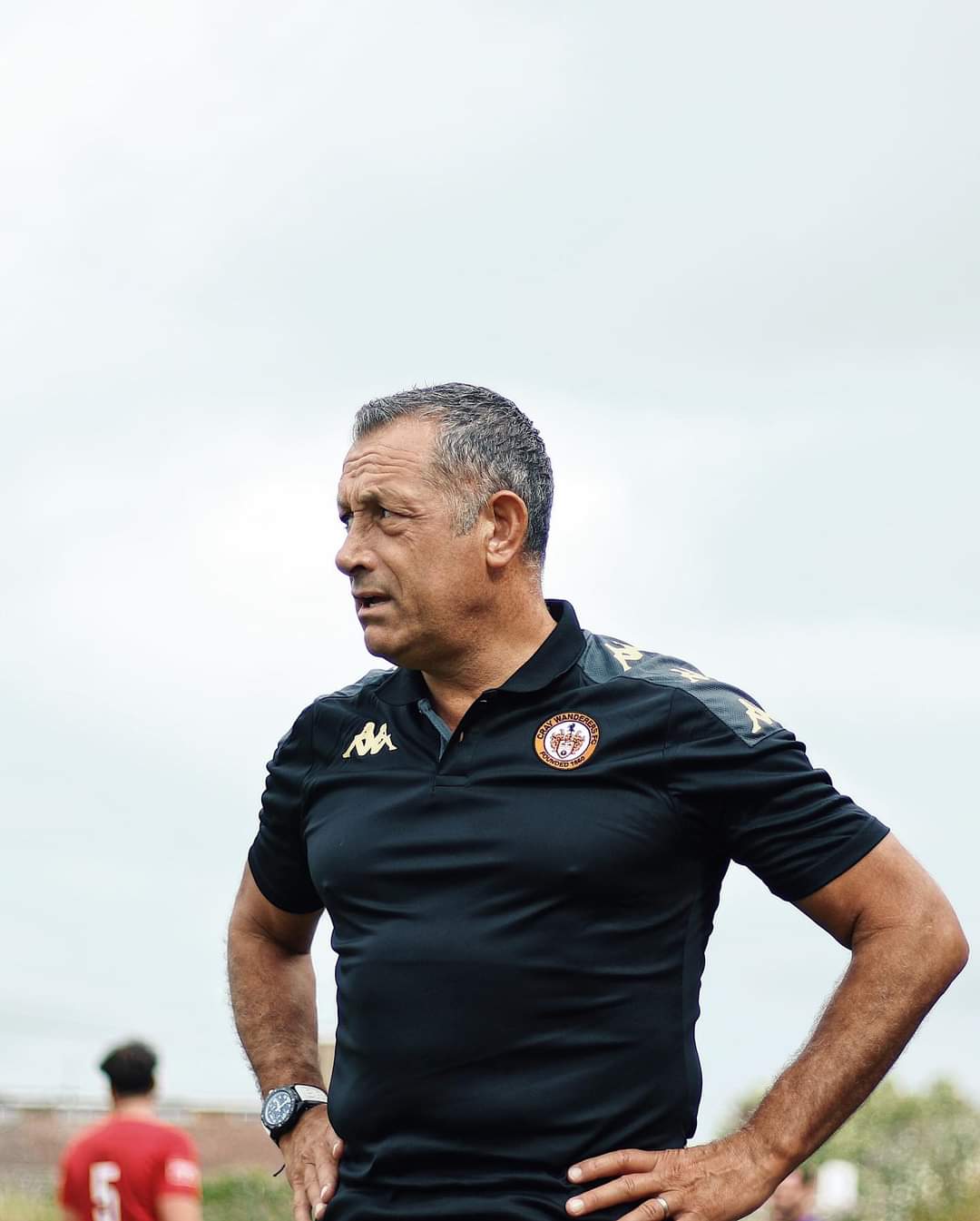 Cray Wanderers vs. Ramsgate
Sunday 17th September, FA Cup 2QR
Cray Wanderers come into this afternoon's FA Cup tie with Ramsgate on the back of two fine performances against Newhaven and last Saturday at Chatham Town.  Here Wands manager Neil Smith looks back to the first league win of the season and how after a difficult August things may just be slotting nicely into place.
Hello Neil.  Well done to you, your management team and players after the great result last Saturday.  I had been saying for a while that performances were better than the early results had suggested and things have really clicked together in the last two games.
That's right, we didn't go too low, we haven't gone too high.  We had a fantastic result last Saturday. Obviously many people didn't give us a chance against the league leaders but I believe in the players and they just need to start believing in themselves.  The FA Cup tie with Newhaven was a bit of a marker but that was a game most thought we would win so to go to a high-flying side like Chatham in front of a big crowd was a great performance and we deserved it as well.
Another thing that had been missing in the early games was us scoring the first goal and against Newhaven and Chatham we did that.  We were clinically efficient in front of goal when chances came along.
It helped that we did that against Newhaven but before that we had chances in games where we could have gone 1-0 up against Lewes where we hit the crossbar, we had a couple of chances and they got one and took it and meant us coming from behind. Also against Billericay, Enfield Town and Hastings United we had chances.  It is always satisfying to get the first goal as you can sort of relax but the players have strong characters to deal with that.
It was a good win for everybody, the board, the Directors, the players and especially for the supporters.  We haven't yet cracked it, there is a lot of hard work still to do but we have shown glimpses of what we are about.
We knew our goal scoring was something we had to work on, myself and Tim, Alfie working with Shaun and the keepers and we have been doing a lot of finishing exercises and sessions.  It is just having that belief when you get in front of goal and that you are not thinking too hard about it and just doing what you do naturally and I think you saw that with Frankie Raymond and his two penalties and also Nyren who has been tucking the goals away in the last couple of games.
Also a great substitution to get Jamie Mascoll on towards the end and score the fifth goal from a great cross from Cookie.
Yes, Masc can play in a couple of positions and it was just that we had given a goal away but the reaction was to go straight back up the other end restoring the four goal lead. It was disappointing to concede as I felt the defence did so well against a Chatham side in form but it was a great way to respond to score a fifth goal.
As I said we have been disappointed with the results and at certain times of games we should have done better but we have kept the faith, kept together and knew what was needed on the other side which is hard work in the training sessions on a Tuesday or Thursday and that is what the boys have been doing.
You mentioned how well the defence played last Saturday particularly Tom Penfold and Cameron Black in the middle and that was one of the big improvements last season wasn't it being more solid and hard to break down.
Yes, I think we have been disappointed with some of the goals we have conceded, even the penalty at Hastings, where there wasn't much room for Cameron to get out of the way of the shot which was blasted at him from a very short space and more ball to hand. Those little things have just gone against us and then he has tried to clear one and goes in.  I think the boys have put in some really good defensive work, we know we have got to get better at it and try to get those clean sheets on the board but also it we continue to put the goals away it takes the pressure off the defenders as well.
Also there was an impressive performance on his return to the club for Gary Lockyer who never stopped running and his hold up play was excellent and he could be a real favourite with the fans.
That's right, Gary came to us at the start of last season and was probably shocked by how fit the boys were and I know he had been training very hard while he has been at Faversham Town.  Since he was released and with Tom Derry going, we thought we could get him back in and give him another go at it and he took his chance well.  He knows though he has to do that on a regular basis.  
Let's look ahead to today's game and the visit of Ramsgate.  They too had a great win against Chatham Town in the previous round. What sort of challenge will they provide this afternoon?
It will be a tough game, we are not expecting anything other than that.  They have got Joe Taylor who has played and scored plenty of goals at this level so we know it is going to be difficult.  I know Medy Elito who has played at Conference level with Barnet and I had him at Bromley for a little while.  They have got some good players and they are going for promotion and they beat Chatham 5-1 as well.
Finally, September has started very well for the club, two first team wins, the new Women's team won their first league game, the U18s progressed in the FA Youth Cup, the clubs staged ifs first live music event at Flamingo Park and work getting underway with the ground and it seems we have got August out of our system on and off the field.
Yes, absolutely it was a terrible August. There are no two ways about it and something we want to put to bed and hopefully the hurt got to the players and don't want to go through that again. September has started so much better with work underway at the ground, the Women's team, the Girl's sides are doing brilliantly, the Youth teams starting their seasons again and the live music venue at Flamingo Park taking off.  Our two wins is something to build on. We want a foundation forged with the Youth section, Women's and Girl's teams with the cherry on top being your first team.  It is a great place to be at the moment, there is a real buzz about the club which is going to grow.  This is the start of something very, very special and it is a privilege to be here.