East Thurrock United v Cray Wanderers
Pitching In Isthmian Premier – Saturday 26th September, 2020
East Thurrock United 1
Nzengo 88
Cray Wanderers 3
Taylor 29, 37, Parker 55
Pics – Jon Hilliger, www.hilligerpix.com
Cray Wanderers continued their 100% winning start to the season and made it 15 unbeaten in league and cup in 2020 with victory at a chilly East Thurrock United.
Cray who started the season with two home wins in the league against Kingstonian and the FA Cup vs Fisher travelled to the first of four consecutive away games to Corringham to face a new look East Thurrock United side. A first half brace of goals from Joe Taylor taking his tally to the season so far to four either side of the half hour and Freddie Parker continued his fine start to the season with a third goal ten minutes after half time.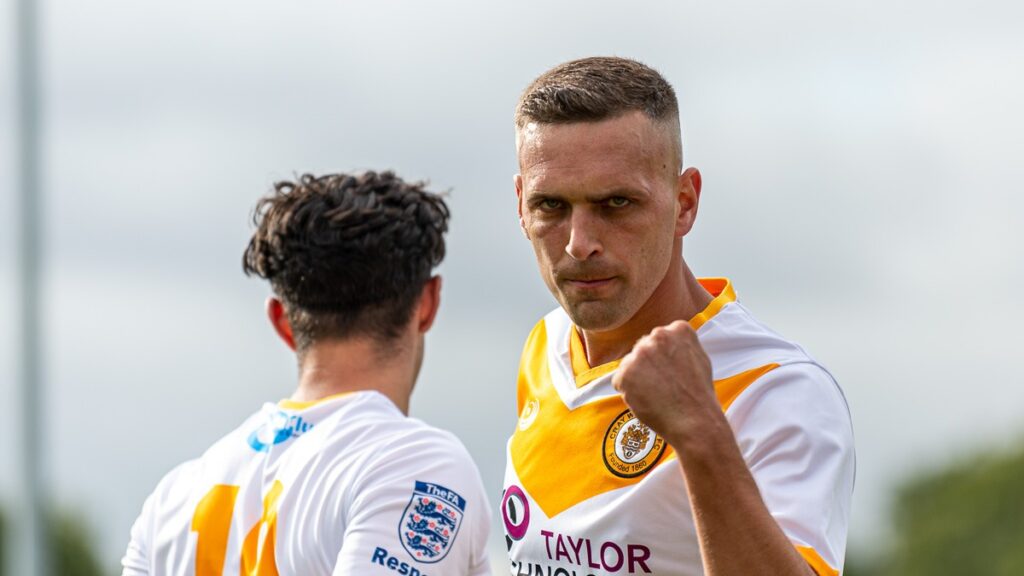 East Thurrock who were somewhat depleted with injury and had a number of young players in the team worked hard and pulled a goal back two minutes from time courtesy of a Jon Nzengo strike but was too late for a dramatic turnaround.
For Cray there was one change to the starting lineup to the one which started against Fisher with Charlie Allen coming in for the injured Bradley Pritchard. The Rocks who were beaten in their first two games narrowly including an FA Cup defeat at Potters Bar on Tuesday were shorn of a handful of regulars through injury.
East Thurrock were Cray's last away opponents last season before the season ended early on 22nd February and this game was played in similar cold, windy and fresh conditions but was thankfully dry and perhaps the wind wasn't going to help the game to be a classic.
The game started with Cray dominating the possession and East Thurrock didn't really see the ball in the early stages. The best early opportunity for Cray came when Mitchell Nelson and Jay Leader combined to find Charlie Allen who then played a pass to Jason Banton who fired over the bar from 20 yards.
East Thurrock finally were able to put some passes together and down the left a shot from Jon Nzengo was well off target.
Cray continued to press and push for a goal and nice combination play down the right from Rhys Murrell-Williamson and Barney Williams led to the ball being played to All hit his shot from just outside the area wide of the right post.
East Thurrock though were beginning to grow with the game and Kenny Aileru down the left fired a ball across the box which was cleared by the Wands defence.
Then a fine slaloming run from Ayo Olukoga from midfield took him to the edge of the area but perhaps lacked a little composure and his shot wide of the left post.
This was followed by another opportunity for East Thurrock when again down the left of the area Aileru found Jordan Peart who was unlucky to see his shot go across goal and wide.
It was Cray though that went in front on 29 minutes with a well worked goal starting from the left with Banton and into midfield to Allen who then found Freddie Parker who played the ball through to Joe Taylor who was onside and who from the edge of the area simply stroked the ball past Arthur Janata for a confident piece of finishing.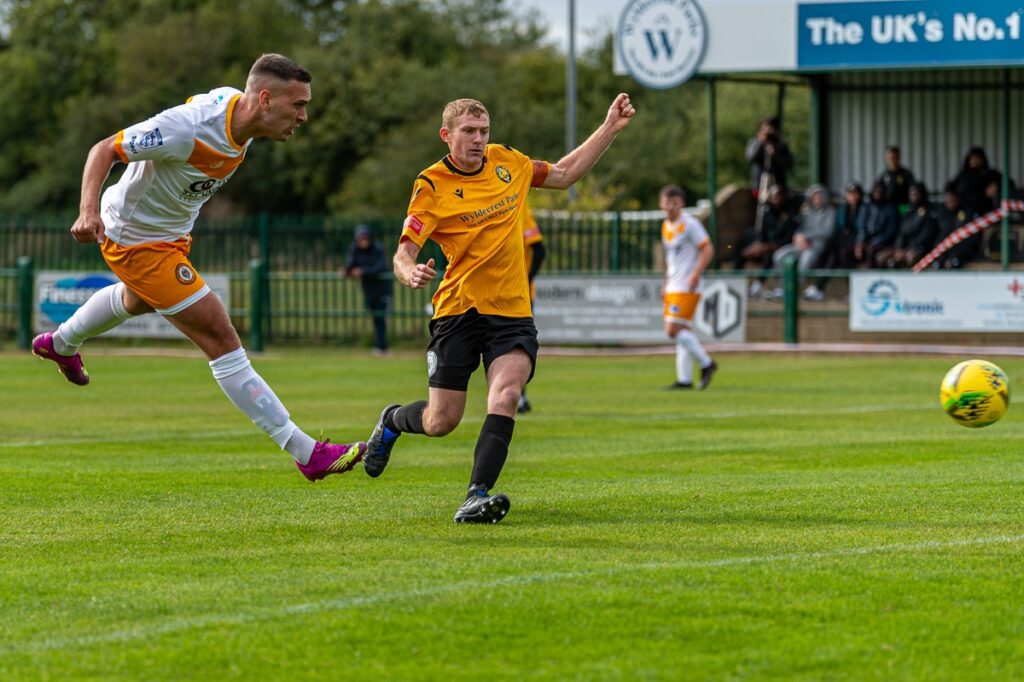 Cray now had a spring in their step and after a bit of possession and pressure, eight minutes before half time the Wands scored a second.  Again worked down the left from Tom Carlse who found the lively Banton who similar to the third goal assist against Kingstonian last Saturday showed great pace to speed close to the left byline, turn a defender and as Janata came to meet him squared the ball superbly to Taylor who from five yards tapped into the net for his 49th goal for Cray Wanderers.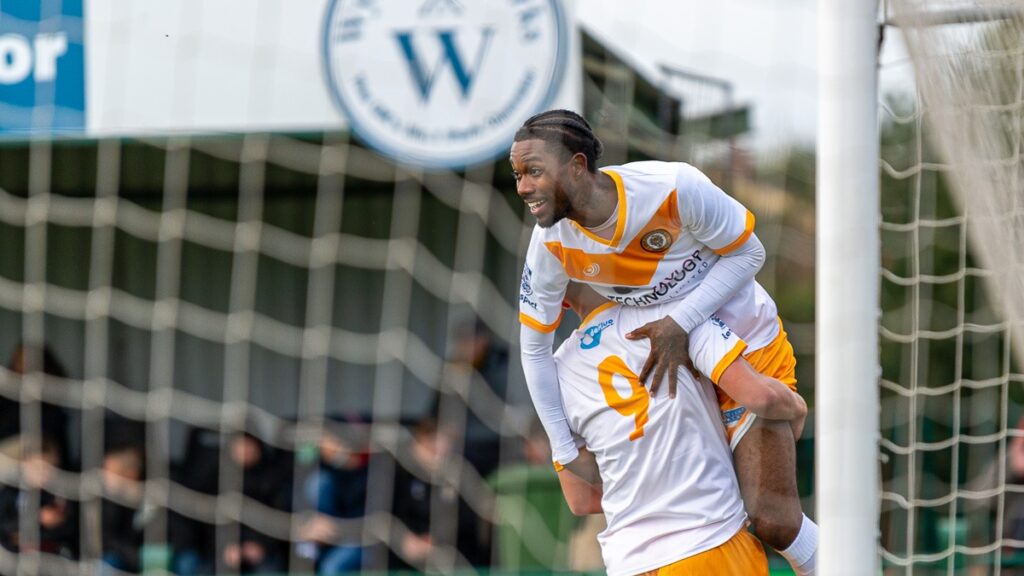 Before half time looked to wrap it up completely with a third goal but Murrell-Williamson cut inside from the right and curled a shot over the top.
The second half began with a bright start from the home side who perhaps had the better of the conditions. Firstly Aileru saw a cross shot deflected onto the crossbar and over the top. Then from a free kick out on the left, the ball was cleared out to Nzengo whose shot was blocked.
East Thurrock were then unlucky not to score when Zenon Stylianides down the left hooked the ball towards the far post and was fired over the top by Callum Taylor.
Cray though weathered that early storm and broke out to score a third goal in the 55th minute when the ball came to Taylor who from down the left of the area fired the ball goalwards and appeared to get a touch from Janata which pushed the ball towards goal and Khaya Gregory on the goal line could only half clear the ball as far as Parker who fired in from 4 yards for his third goal in three matches.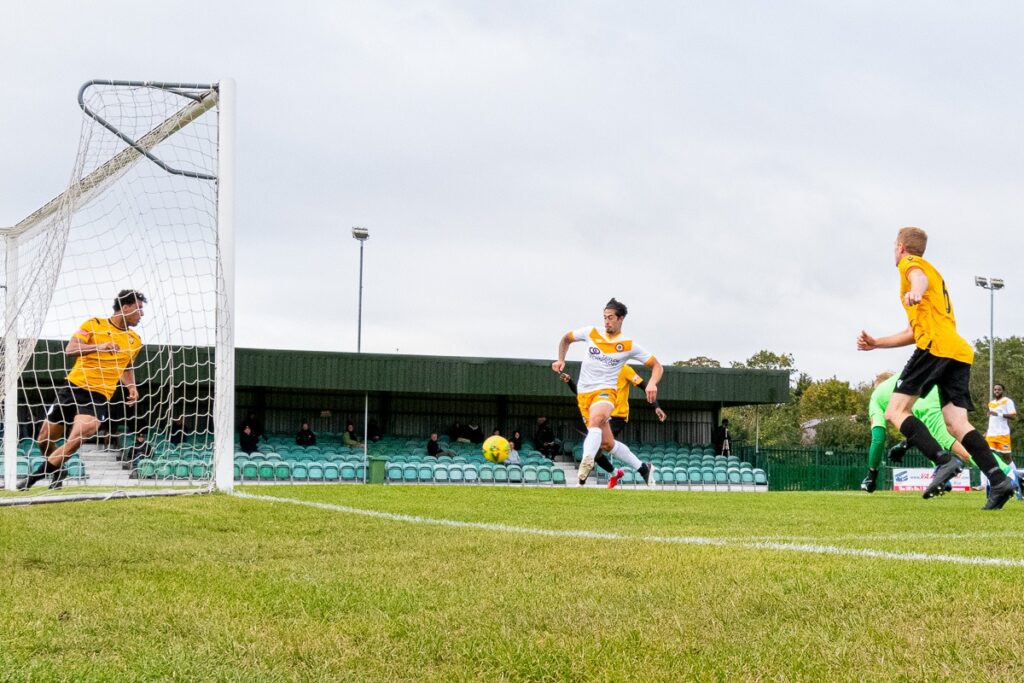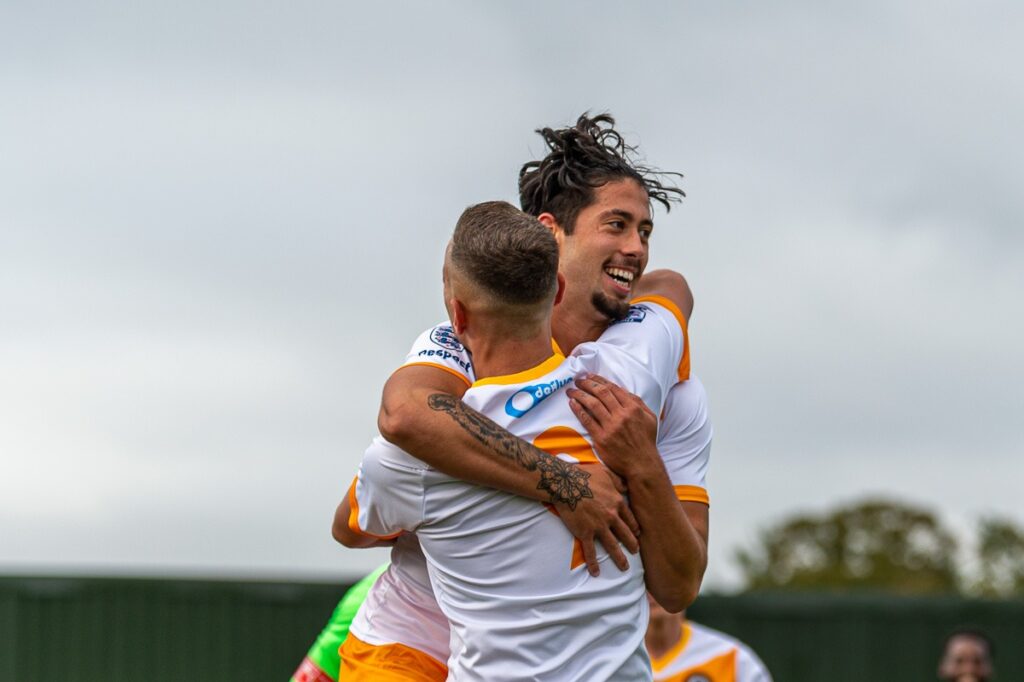 East Thurrock looked to reduce the arrears and Aileru down the left looked certain to score when he went round Lewis Carey but his shot was cleared off the line by Mitchell Nelson and then the follow up from Callum Taylor was also cleared off the line by Jay Leader and the follow up blocked with the East Thurrock players claiming a handball.
Cray though were game managing the match well and positive substitutions with Jerome Federico, Tom Phipp, and Ben Mundele coming on to freshen things up and just were able to repel any East Thurrock attempts at a fightback.
Cray almost scored a fourth goal when from a corner Freddie Parker's wind assisted ball into the box had to be punched away by Janata and then from a right wing corner, Parker's ball was played to the far post and nodded goalwards by Nelson but his effort was blocked by Olukoga.
Then from another, corner, Jay Leader headed the ball towards Taylor who fired over. This was followed by Taylor looking for a hat-trick getting in front of Federico and firing a shot which was held by Janata. Then Taylor down the right put over a fine ball to the far post to Murrell-Williamson who turned the ball wide under pressure from Dan Cossington.
With a couple of minutes to go and the game drifting to its conclusion, East Thurrock pulled a goal back when the lively Nzengo brought the ball forward down the right and fired in a crisp angled drive past Carey into the bottom left to make it 3-1.
In the closing minute, Olukoga hit a shot wide for East Thurrock but despite their best efforts Cray had run out winners in a game which perhaps wasn't vintage partly due to the weather and have now got off to their best ever start to a Isthmian League Premier season with back to back wins to start the campaign. Taylor was as sharp as ever and just needs one goal for a half century for Cray while Parker has looked superb in midfield and three goals shows a player in great confidence. Also there were good turns from Charlie Allen and Jason Banton and overall Cray were the better side but were given a decent workout and have the happy knack of knocking out wins when not always at their fluent best.
This starts a busy period of away matches for Cray with a trip to Folkestone Invicta on Tuesday night with Cray 2nd in the table which will be followed an FA Cup visit to Moneyfields on Saturday and then off to Potters Bar on 6th October.
'
Cray Wanderers: Lewis Carey, Barney Williams (Capt.), Jay Leader, Mitchell Nelson, Tom Carlse, Rhys Murrell-Williamson (Ben Mundele, 79), Lee Lewis, Charlie Allen (Tom Phipp, 76), Jason Banton (Jerome Federico, 57), Freddie Parker, Joe Taylor: Subs: Ehizojie Onoabagbe, Roman Hall
Booked: Williams
East Thurrock United: Arthur Janata, Jonathan Nzengo, Callum Taylor, Khaya Gregory, Zenon Stylianides (Hafeez Sanuzi, 69), Danny Cossington, Luke Illsley, Ayodeji Olukoga, Ricky Brennan (Ezekiel Bademosi, 70), Jordan Peart (Philip Brown-Bahpoe, 70) Kenny Aileru: Subs: Kieran Case, Jorden Williams
Booked: Brennan
Referee: Ayrton Hursey
Assistants: Liam Giles, Fabio Roque
Att: 319