Erith Town v Cray Wanderers – Pre-season friendly – Saturday 2nd July, 1pm.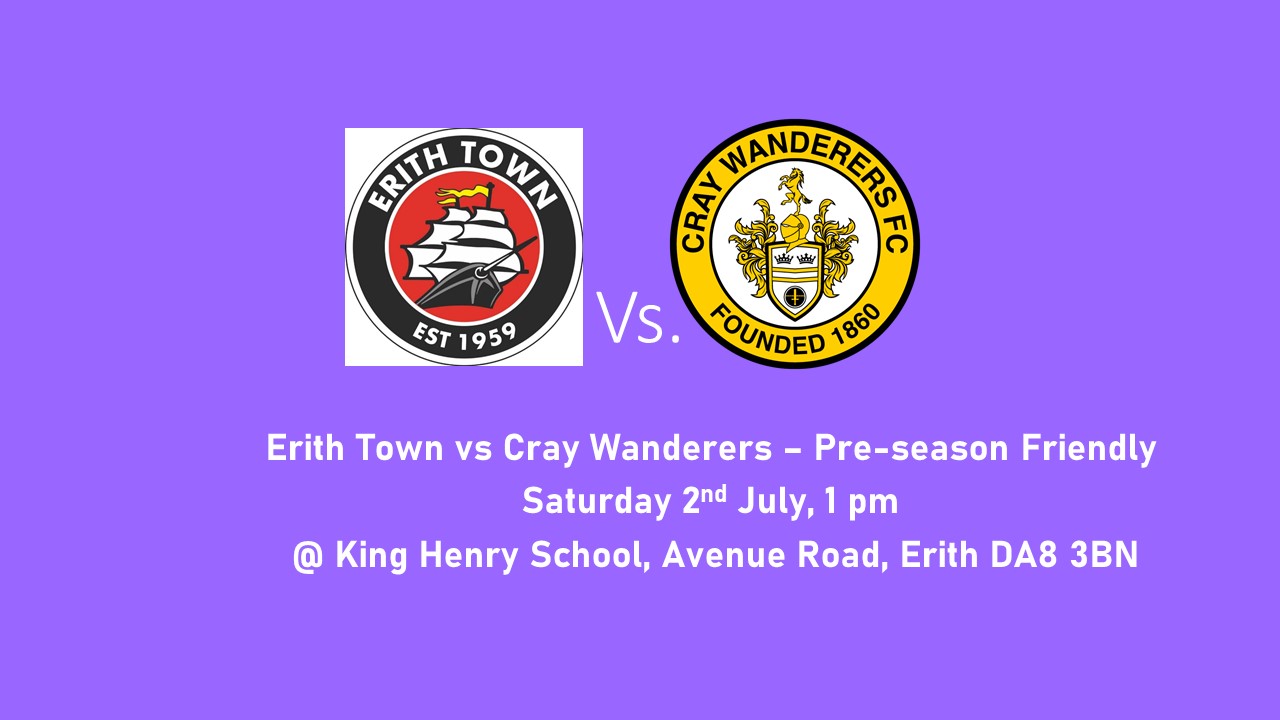 After a break of a couple of months Cray Wanderers begin the pre-season campaign on Saturday 2nd July as the Wands visit Erith Town FC. Please note the game is being played at King Henry School, Avenue Road, Erith DA8 3BN, kick off 1pm.
Neil Smith is building a team to take on the challenge of the Isthmian Premier for 2022-23 and hoping for a less stressful season to the last and there is optimism the club will be more competitive this year. At this time the club have announced the signings of defender Harold Joseph, midfielders Billy Crook and Sam Skeffington and strikers Danny Bassett and Tom Derry. Skipper Anthony Cook and Freddy Barton have been retained and more squad announcements are due in the coming days.
The probability on Saturday is that there will be some trialists looked at which is common for the first match of pre-season with the Wands having home games vs Welling United and Tonbridge Angels to follow in the next week.
The Wands make the visit to face Adam Woodward's Dockers side who last season finished a creditable 7th in a very competitive SCEFL Premier division. Erith are a well established club at SCEFL level and were regular opponents for Cray Wanderers back in the Kent League days having joined the league in the 1996-97 season firstly as Woolwich Town and then Erith Town. The Dockers did well in cup competitions winning the Kent League Cup in 2006/07 and Kent Senior Trophy in 2010-11 and finished 3rd in the league in 2012-13 and 2013-14. They also reached the final of the London Senior Cup in 2019-20 where they played Brentford B in the final game played at Griffin Park. Although they have had to groundshare at Cray Valley and VCD in recent years the club's home is the Erith Stadium.
Directions
If travelling from the Cray's head to N Cray Road/A223 and follow for 2.1 miles. At the 0.3 roundabout, take the 1st exit and stay on N Cray Rd/A223 for 0.3 miles and then at the roundabout, take the 2nd exit onto Bourne Rd/A223. At Black Prince Roundabout, take the 2nd exit onto Bourne Rd/A220/A223 and after 0.3miles at the roundabout, take the 2nd exit onto Gravel Hill/A220. After 0.5 miles at the roundabout, take the 2nd exit onto Gravel Hill/A207/A220 and after 0.9 miles going over 2 roundabouts take the 1st exit onto Erith Rd/A220 and after 0.7 miles turn right into Avenue Road for the ground.
Nearest railway stations: Barnehurst or Erith
Nearest pub: Royal Oak (322 Bexley Road, DA8 3HB)