Cray Wanderers return to Isthmian Premier action on Tuesday evening (13th September) following the weekend's suspension as Neil Smith's side head to Folkestone Invicta.  Kick off at Cheriton Road is 7.45 pm.  The go ahead has been given for all midweek matches to take place following the cancellation of games last weekend. At this stage we are not sure as to the games this weekend with the Funeral for HM Queen Elizabeth II taking place on Monday and awaiting a decision.
Cray will be looking to maintain a four game unbeaten run in the league but perhaps an improvement in performance from the FA Cup defeat to Bognor Regis Town last Wednesday.  The Wands had been more than a match for the Rocks in two meetings early in the season but on Wednesday Bognor showed their qualities to advance on the night.  However, there have been many reasons to be positive with the performances of what is still mostly a new team of players and the likes of Jalen Jones, Sinn'kaye Christie, Shaun Rowley, Mitch Chapman, Tom Derry and Dan Bassett amongst others have impressed in the early weeks.
Cray's last league game was a 1-0 win at home to Margate on Bank Holiday Monday and a good performance but on Tuesday the Wands will have to show the same tenacity and resolve to that at the last away league game at Bishop's Stortford where Cray picked up a point.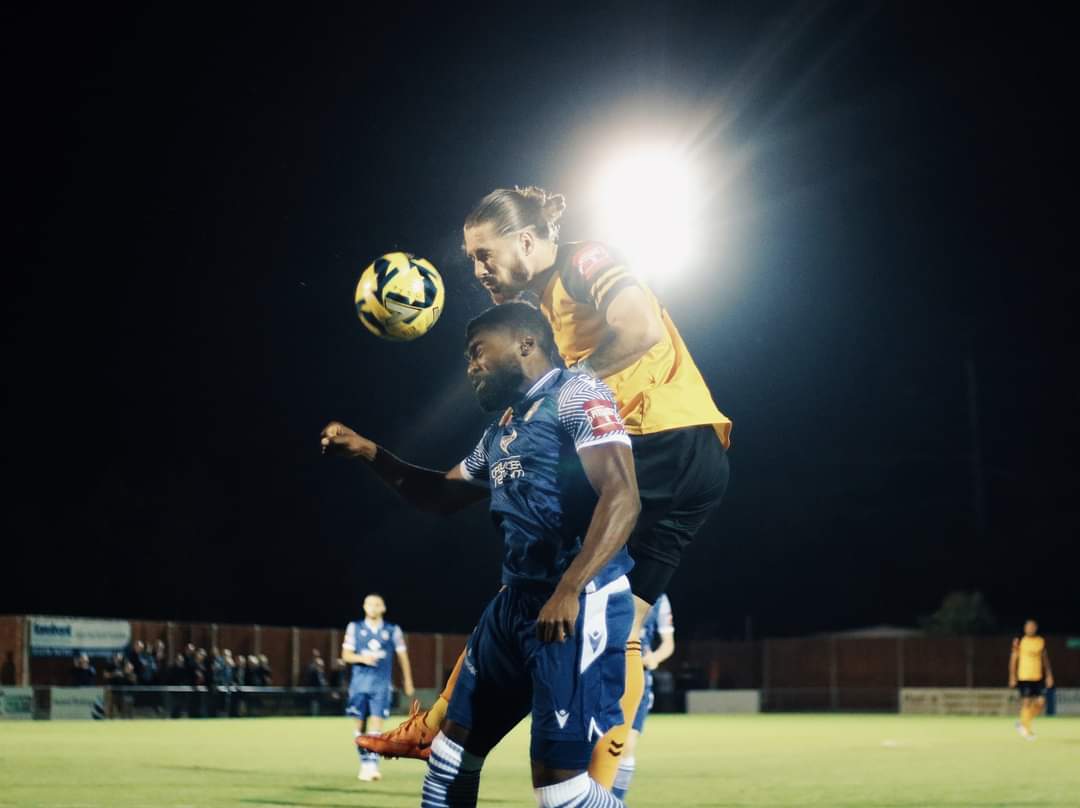 Folkestone Invicta under the astute management of the evergreen Neil Cugley have started the season well and have won their last four games in league and cup and are unbeaten in the league after five games. New summer signings included forwards Kadell Daniel and Ibrahim Olutade and both have scored three goals so far. 
After beginning with a 1-1 draw at Enfield Town and a goalless draw at home to Hastings United, Folkestone beat Wingate & Finchley 2-1 at home and then showed resilience to come from 0-2 down to win 3-2 at Billericay Town. This was followed by a 2-1 win at home to Herne Bay on Bank Holiday Monday.  Folkestone advanced in the FA Cup with a 3-1 win at home to North Greenford United with goals from Josh Vincent, Olutade and Daniel and will now host Chichester City in the 2nd QR.
Folkestone Invicta had a very positive season in 2021-22 and were contenders for much of the season but in the end finished 6th and four points outside of the playoffs.  Last season's games between the sides were close affairs with a 2-2 draw at Hayes Lane on 24th November with Anthony Cook and Jai Reason scoring for Cray and Jordan Wright and Callum Davies for Invicta while Folkestone won 1-0 at Cheriton Road on 14th February with a Adam Yussuf goal.
Folkestone Invicta were formed in 1936 and after the demise of the original Folkestone club which used to play in the Southern League in 1990, Invicta moved in to the Cheriton Road ground and started their rise from the 2nd division of the Kent League in 1991-92 to the Kent League Premier where they met Cray Wanderers for the first time. We played until the 1997-98 season, the first under the management of Neil Cugley who arrived from Ashford Town in the summer of 1997 and finished runners-up behind Herne Bay to clinch promotion to the Southern League. They did extremely well in the Southern League and gained promotion from the East Division to the Premier and in 2001-02 briefly topped the league. They were relegated back to the East Division in 2002-03 but earned promotion straight away.
They were moved to the Isthmian League for 2004-05 to the Premier Division where they stayed for four seasons reaching the 1st Round of the FA Cup in 2005-06 losing to Chester City. They were relegated in 2007-08 and met up once again with Cray Wanderers in the South Division for 2008-09 where Cray gained promotion. In 2009-10 Folkestone were promoted back to the Premier after beating Godalming Town in the playoff final. With a very young team they were relegated straight away in 2010-11 and for the next four seasons were playoff contenders in the South, twice getting to the semi-finals in 2011-12 & 2012-13. Then in 2013-14 beat Hastings United in the Semi-Finals before losing at home to Leatherhead on penalties in the final after a 1-1 draw. In 2014-15 they returned to the playoff final but were beaten 0-3 by Merstham. The following season there were no such dramas as they won the South title by 24 points to go up in some style.
In 2016-17 they survived relegation from the Premier on the last day of the season but since have been near the top and in 2017-18 they made it to the Playoff Semi-Final losing to Hendon. They were 4th two places behind Cray Wanderers when the 2019-20 season ended early and  were 10th when the 2020-21 season was curtailed before finishing in 6th place last season. 
The Wands tend to play Folkestone quite regularly in evening matches and there is quite special about games under the lights there and hopefully can help to lift the mood after a difficult few days for the country and something to cheer.
DIRECTIONS TO FOLKESTONE INVICTA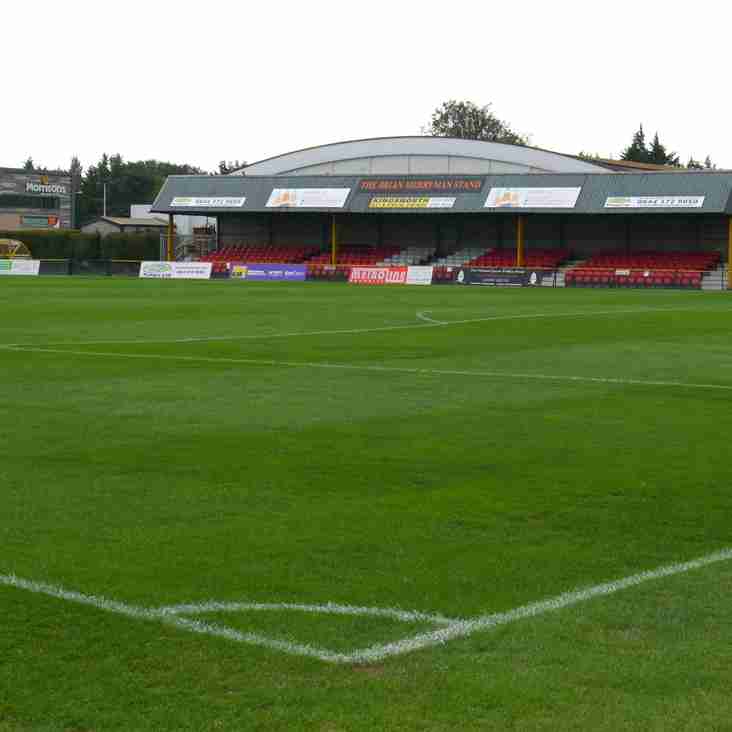 Address:
The BuildKent Stadium, Cheriton Road, Folkestone, Kent CT19 5JU
Adult: — £12.00
Concessions/Students: – £9.00
Juniors: 5-18 y/o – £ 3.00
U5's with paying adult – Free
Card or cash payments will be accepted, although if possible, and if you are paying by cash please have the right money available. Card Payments can only be made at the Bar Invicta end.  Tickets available online at: https://fifctickets.onlineweb.shop/
Programme:  £2.00 
BY ROAD
From the Cray's – From the A20/Sidcup-by-Pass follow for 3.9 miles and then keep right to join the M20 and follow for 50 miles following signs for Dover/Channel Tunnell/Maidstone.  At Junction 13 take the A20 exit to Folkestone. Continue to drive along the A2034 then turn left at the 2nd set of Traffic lights and you will be able to see the stadium about 100 metres on the left (Just past the Harvey Grammer school.
Considering the game is a midweek match you might want to give a bit more time for your journey factoring in traffic and could take between 1 hr 5 mins/1 hr 40 for the 57.5 miles trip.  
By train:
The nearest stations are: Folkestone West and Folkestone Central. Folkestone West is marginally nearer. From the station, walk east on Station Road towards and then on to Beachborough Road/B2064.  Then turn right onto Cheriton Road and after 0.2 miles turn left for the ground. 
From Folkestone Central – Walk east towards and onto Folkestone Station Road, then turn left onto Cheriton Road/A259, then at the roundabout take the 4th exit onto Cheriton Road/A2034 for 0.5 miles and then turn right for the ground.
For train travel you can go from Orpington but no direct trains to either West or Central station.  Your journey will require a change at either Sevenoaks or Tonbridge.  From Bromley South you can also change at Ashford International but overall quite a longish journey by train midweek. IPlease check trains at www.nationalrail.co.uk for your best options. 
The last train back to Bromley South after the game leaves Folkestone West at 22.13 or Central at 22:11 requiring a change at Ashford International or Tonbridge.  Best to check national rail enquiries website prior to travel.    
A bit round the houses but maybe the quickest way there or home will be via Ebbsfleet International with trains at 25 and 52 past the hour and take 35 minutes to get there. There are trains back at 22.02 and 23.02 to take you back to Ebbsfleet International.
By bus:
Buses to Cheriton run every eight minutes from the town centre (bus station) on weekdays.
Service Nos. 71, 72, 73 – Get off just past Morrisons Supermarket.
Nearest pub:  Perhaps best on a midweek match to make full use of Bar Invicta.
This is situated on the main Cheriton Road directly in front of the stadium.  There is ample parking in front of the Bar and has been fully refurbished. There is a disabled entrance at the front and has disabled toilet facilities. There are two bars with a function room.
If you arrive at Folkestone early enough near Folkestone West station are the Nailbox pub on Coolinge Lane or the Royal Cheriton (339 Cheriton Road). This is going in the other direction to the ground. From Folkestone Central you will find The Park Inn on Radnor Park Road or the Firkin Alehouse (a renovated former Estate Agents, now a micropub) on Cheriton Place.   For Wetherspoon's fans there is the Samuel Peto in Rendevouz Street which is about a five minute drive from Cheriton Road which was formerly a Baptist Church and has stained glass and imitation organ pipes.   
For Fish and Chips there is the Corner Plaice (317 Cheriton Road, close to the Royal Cheriton) and the Golden Gate (374 Cheriton Road). From Central Station there is the Central Fish Bar (98 Cheriton Road).  For Indian food best try the Red Chilli on Bouverie Road while on Cheriton Road is the Peking House Chinese Restaurant.
Folkestone is a port town on the edge of the South Downs and a prominent part of the English defences against French invaders.  A harbour was introduced during the 19th century and also good railway links to London and Kent gave good business to the area and became a popular holiday destination.  If you've time, the cliffs are well worth a visit and has at the top a Martello Tower which was built in 1806 as a look out should Napoleon invade and has been a coast guard lookout and a Second World War Naval mine control post.  The Brockhill Country Park in Saltwood between Folkestone and Hythe is part of a Kentish area of natural beauty.  There is also the oldest Battle of Britain Museum in the UK in nearby Hawkinge and the Battle of Britain Memorial on the White Cliffs is testament to the battering Kent took over the skies during the War.  Overlooking the Channel Tunnel entrance is the carving of the Folkestone White Horse which can be a spectacular sight.