Cray Wanderers continue their FA Cup adventure on Saturday as Tony Russell's side travel to Haringey Borough in the 3rd Qualifying Round.  Kick off at CVS Van Hire Stadium is 3pm.
This is the first ever FA Cup meeting with Haringey Borough although the sides have met in other cup competitions down the years.  The teams also met as recently as 14th September when the Isthmian Premier league game at Hayes Lane ended in a 1-1 draw with Joe Taylor's second half penalty cancelling out a Dimitri Froxylias first half strike. Cray were denied the three points by an inspired goalkeeping display from Valery Pajetat.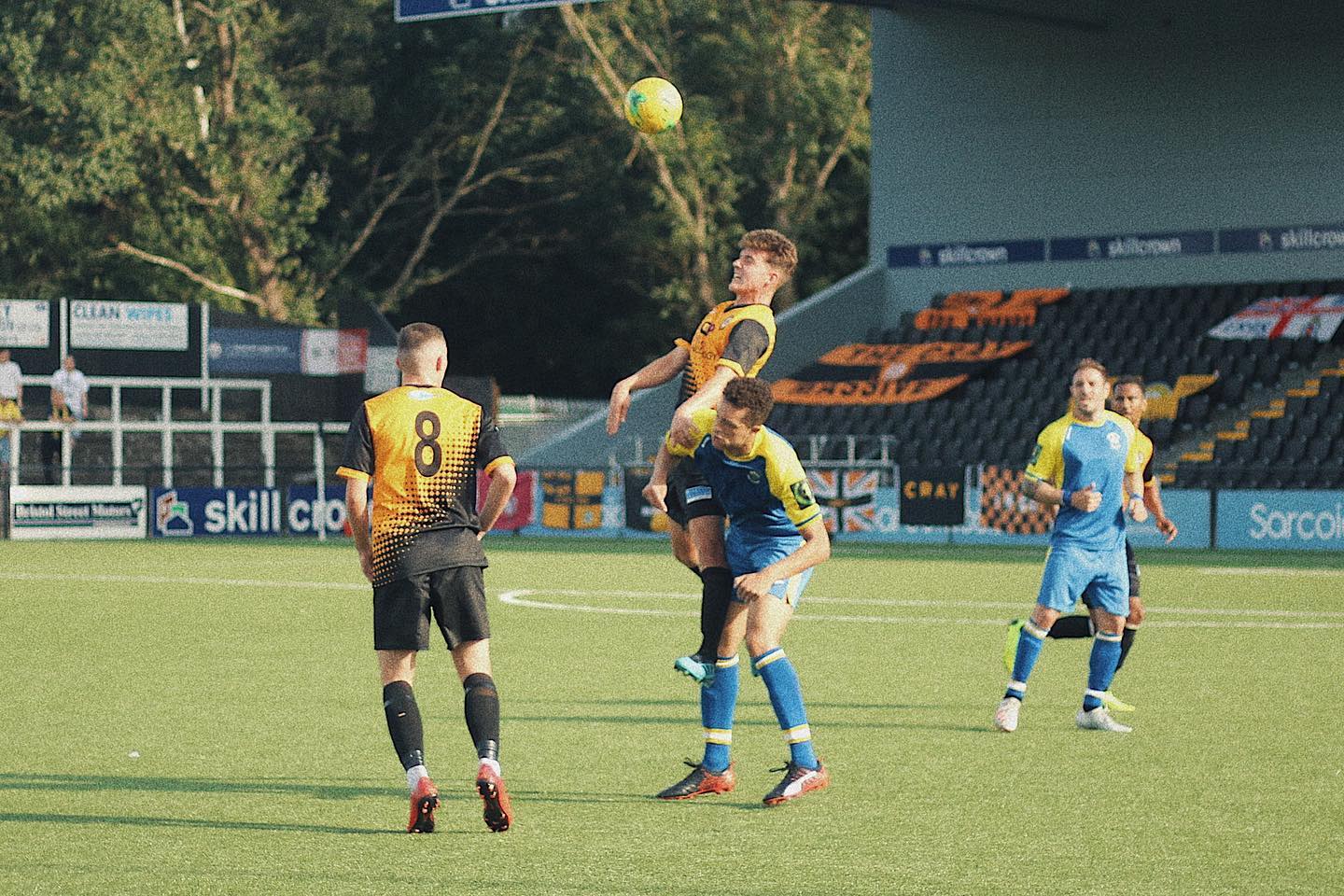 Should the game be drawn it is expected that the replay will take place next Wednesday, 9th October at Hayes Lane.
Cray come into the game in decent form and are unbeaten in ten league and cup matches and this was extended on Wednesday night as a powerful passage of first half play saw three goals in eleven minutes from Andre Coker, Joe Taylor, his twelfth goal of the season and Tom Carlse notched his first of the campaign before the 31st minute. Despite a Bowers rally in the second half Cray held on to the win to move up to ninth in the league table with 14 points from the 9 games played.
The Wands have advanced to the 3rd Qualifying Round for the sixth time in their history and the first since 2012-13.  Cray will be looking to make it through to the 4th and final Qualifying round for only the second time and the first since 2005-06.
Cray have made it three early rounds, all home draws against step 4 sides scoring 12 goals along the way.  In the Preliminary Round, Cray won 5-0 against Hythe Town (Tom Murphy (2), Taylor (2) & Bradley Pritchard) and then followed that up beating Bedfont Sports, 2-1 (Lee Lewis & Taylor).  In the 2nd Qualifying Round the Wands beat Soham Town Rangers, with Taylor scoring a hat-trick and goals from Harry Hudson and Murphy.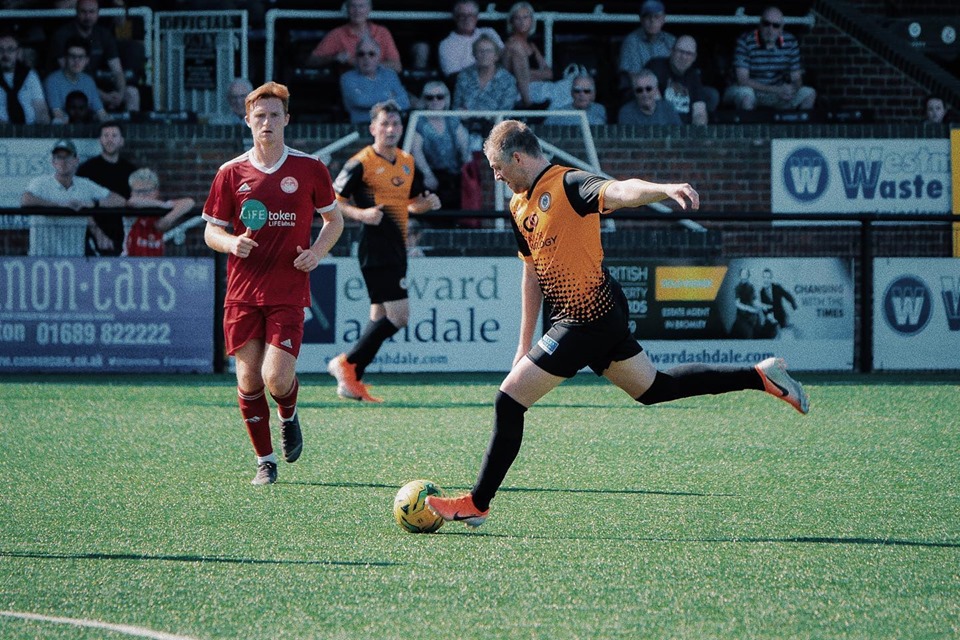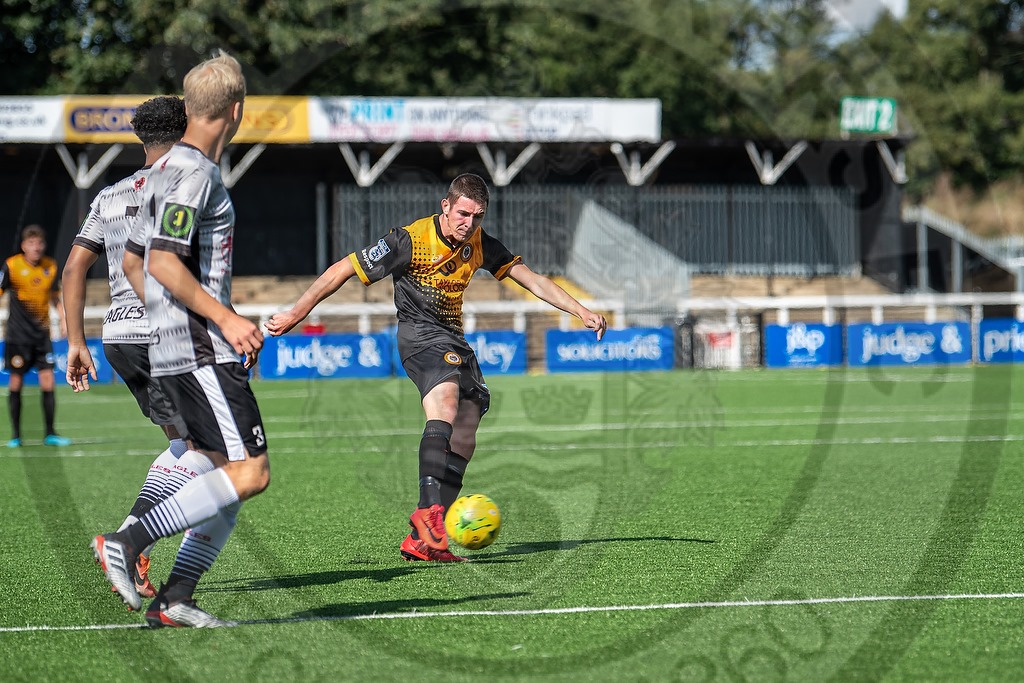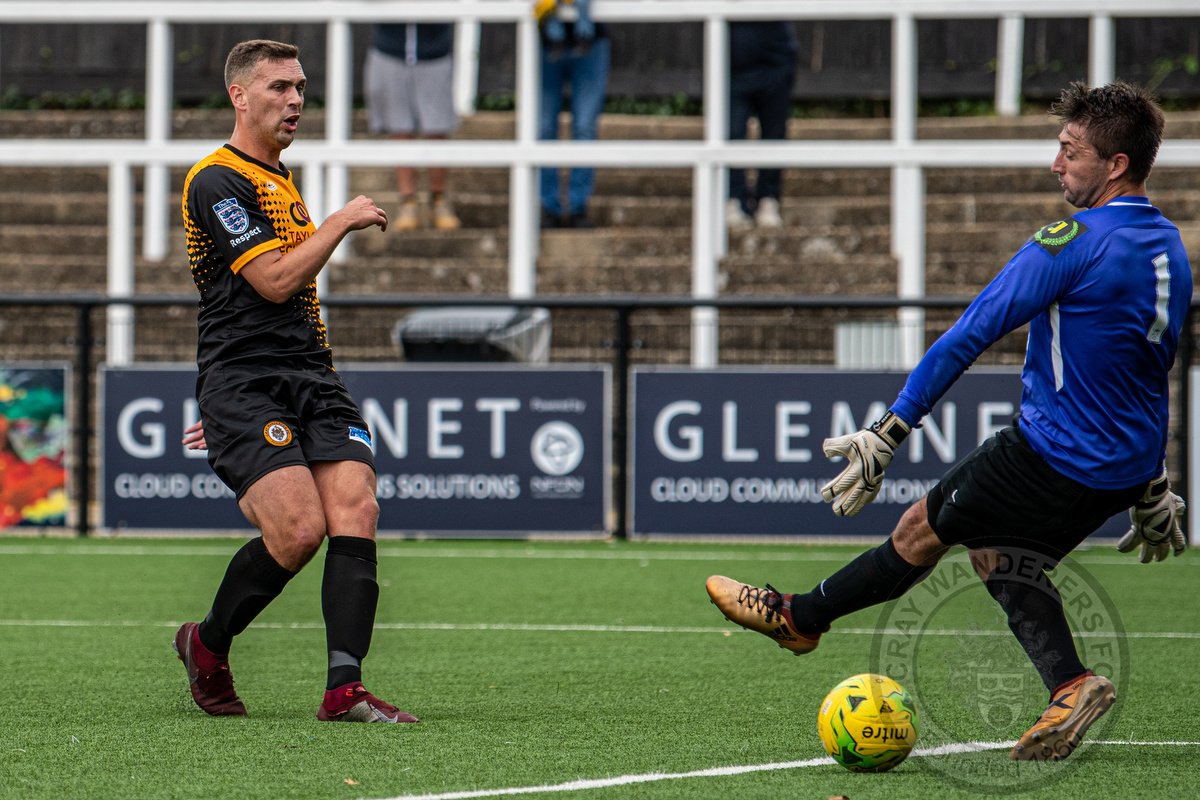 This will be a tough game though for Cray against a Haringey Borough side which last season reached the 1st Round Proper of the FA Cup where they were only beaten by a late AFC Wimbledon goal.  They too have made it through with the bare minimum of fuss winning two home games beating Herne Bay (3-0) and then won impressively 5-0 against Staines Town with a hat-trick from Chidubem Onokwai and goals from Rakim Richards and Froxylias.
Tom Loizou's side have made a decent start to the Isthmian Premier division season and are 5th in the table with 16 points although they have lost their last two league games at Bognor Regis (0-2) last Saturday and a rare home defeat to Kingstonian (0-1) on Monday evening.
Last season was their first in the Isthmian Premier and did superbly finishing third and reaching the playoffs where they lost at home to Tonbridge Angels in the Semi-Finals.  They also made national headlines by reaching the 1st Round Proper of the FA Cup and a televised tie which they narrowly lost at home to AFC Wimbledon.
Matches between Cray Wanderers and Haringey Borough down the years have been few and far between with just eight past meetings including five in cup games.  Haringey have won three, Cray two and three draws.
Haringey Borough were formed in 1973 after a merger of two clubs Edmonton and Wood Green Town and were in the Athenian League until 1984-85 when they joined Division 2 North of the Isthmian League. They remained there until 1989-90 when they entered the Spartan League and won the London Senior Cup in 1990-91 and briefly changed their name to Tufnell Park in 1995. After the Spartan League merged with the South Midlands League in 1998-99 they had a couple of promotions and relegations. For the 2012-13 season Haringey Borough moved to the Essex Senior League where they stayed for two seasons winning promotion in the 2014-15.  In 2015-16 they finished 15th in the Isthmian North where they met Cray in league competition for the first time and the following season they finished 5th reaching the playoffs where they lost to Maldon & Tiptree.  In 2017-18 they finished 4th and reached the playoffs again beating Heybridge Swifts and in the final Canvey Island 3-1 to take their place in the Premier Division where they did so well last season.
This promises to be a tough game but one which Cray can come into with confidence and could be one of the ties of the round if the earlier league game is anything to go by.
DIRECTIONS TO HARINGEY BOROUGH FC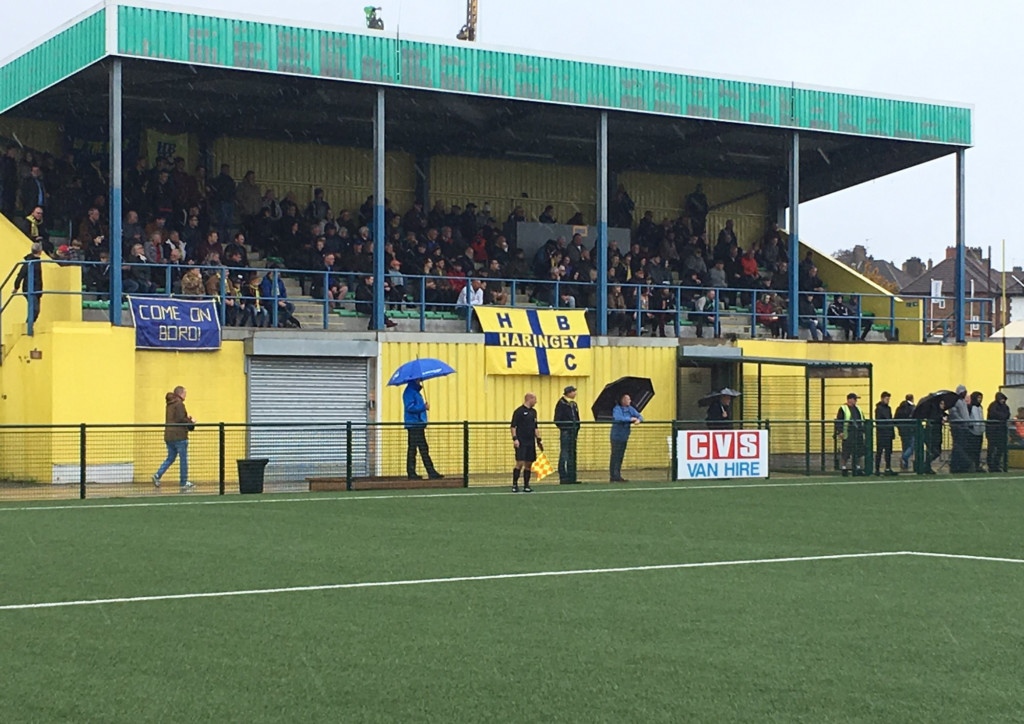 CVS Van Hire Stadium
Coles Park, White Hart Lane
Tottenham
LONDON   N17 7JP
ADMISSION PRICES
£10 – Adults
£5 – Concessions/students'U21s
Free – Under 10
The quickest journey from our neck of the woods should be about 35 miles and please bear in mind that Tottenham are not a home on 5th October so traffic may not be as much of an issue.
From St. Mary Cray head onto the A2018 and then on to the A2 for 2.1 miles then left lane to take M25 slip road to M20/Dover/Gatwick/Dartford Crossing/Channel Tunnel for 0.3 miles. At Darenth interchange take the 1st exit then for 0.8 miles at Princes Road interchange take 2nd exit onto A282 for 0.9 miles and then keep left staying on A282.  After 2.9 miles take the exit towards Dagenham/Rainham/Thurrock/A13/West Thurrock/A126 for 0.4 miles then at Mar Dyke Interchange take 2nd exit onto A13 slip road to London (E&C)/Barking/Docklands/Dagenham/Rainham for 0.2 miles then merge onto A13 for 7.1 miles. Continue straight on to Ripple Road/A13 and follow for 2.1 miles using the left lane to take A406/A1020 slip road to M11/A12/N Circular.
At the roundabout take 3rd exit onto N Circular/A406 heading to A12/M11/Ilford/Barking for 4.6 miles.  Continue straight to stay on N Circular RoadA406 for 6.4 miles.  Slight left on A10 onto slip road to C London/Dalston/Heathrow/Enfield/M25/Potters Bar/A11 for 0.9 miles.  Then at roundabout take 1st exit at Great Cambridge Road/A10 for 0.7 miles then turn right onto White Hart Lane, then a left, then a right and the ground will be on the left opposite a builders merchants between the junctions of Fenton Road and Rivulet Road.
Public Transport:
Your best bet is by tube and bus, with the nearest tube station Wood Green (Piccadilly line).  From Wood Green Tube station, bus W3 from Bus Stop B just a short walk up from the station run fairly regularly on a Saturday afternoon and takes a little over 15 minutes for the journey. Alight at Haringey Borough Bus Stop (WX), cross over the road towards the ground.  Unless time on your hands probably best for this option as a bit of a hike up to the ground if you choose to walk it.  The best starting option if going by train is via Victoria from Bromley South/St Mary Cray or on the Bexleyheath line. The Sidcup line has engineering works this weekend so a replacement bus is required to get you to Lewisham.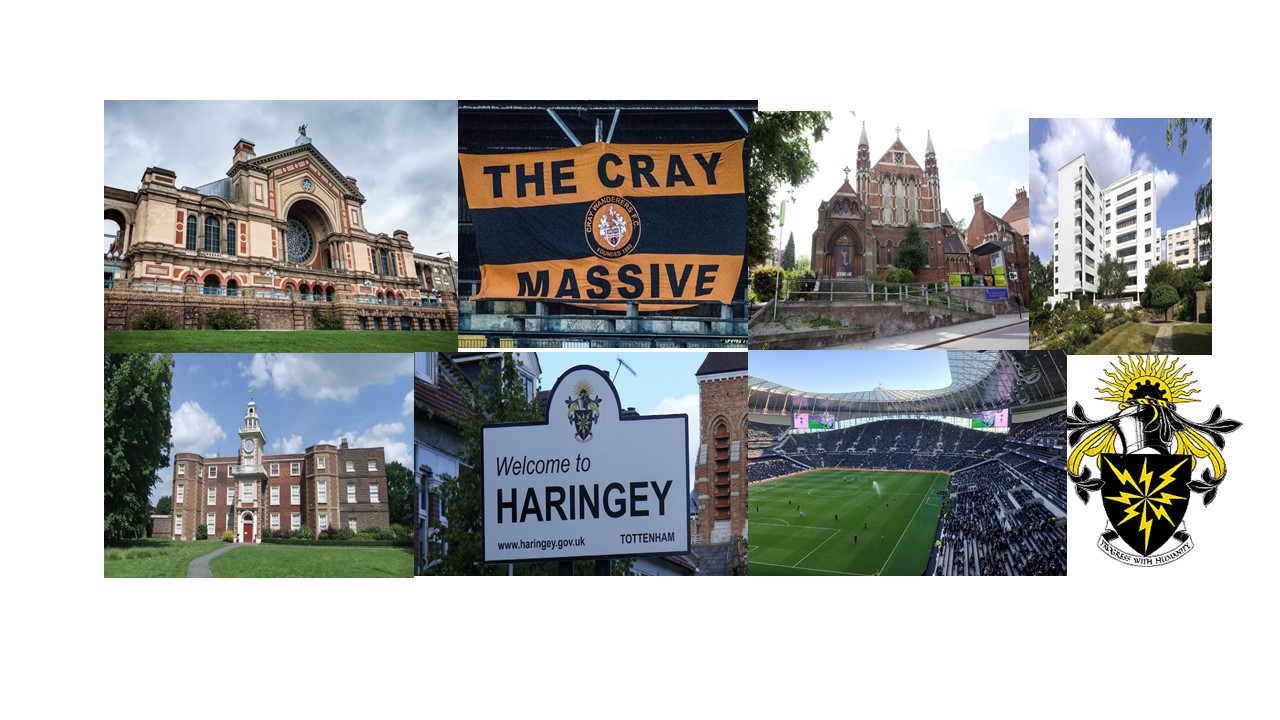 There are not too many pubs around the ground but if you've time on your hands, in Wood Green there is the Prince on Finsbury Road, a fairly modest looking pub but has a wide selection of ales and may be your best choice.  The Liquid Bar on Wood Green High Road might appeal for the more modern tastes.  If you want to make a day of it and take advantage of Spurs not being at home in Tottenham itself there is the Antwerp Arms on Church Road, opposite a park and is considered to be a Community Pub. On Tottenham High Road there is the Bricklayers which might appeal to a Spurs enthusiast as adorned with pennants, scarves and memorabilia but to an Arsenal fan like myself might be a touch unpleasant.  Otherwise the club house at the ground should satisfy you enough.
If you are looking for a chippy then probably the nearest is the Dolphin Fish Bar on Great Cambridge Road or nearer Wood Green station there is John's Fish Bar on Lordship Lane.  For an Indian Restaurant there is the Paramount Tandoori on Wood Green High Road.
Haringey is a North London borough which as well as Tottenham Hotspur being a major part of the Borough's culture, Haringey is also the home of the London Scholars Rugby League team who play just down the road from Coles Park and our esteemed programme editor, Mr Phil Babbs will be able to regale you with many stories of their fortunes as a big supporter of the club and a regular watcher.  If you are making a whole day of it the borough is also home of Alexandra Palace, the swish residential tower blocks, Highpoint I & II, designed by Berthold Lubitkin.  There is Bruce Castle which is more of a Manor House than an actual castle which is on Lordship Lane in Tottenham, and close by are Muswell Hil, Crouch End and Highgate.  The borough of Haringey was formed in 1965 following the merger of three municipal boroughs, Wood Green, Hornsey and Tottenham.
If you like classical culture on Archway Road is Jacksons Lane Arts Centre, a converted Methodist church which is an iconic theatrical location and many up and coming acts in comedy, acting and dance have started out there.  Tottenham is also the home of one of the most successful British singer-songwriters of modern times, Adele and perhaps the most famous band to come from Tottenham were the Dave Clark Five who reached no 1 in 1964 with Glad All Over.
This is the first of two visits to Haringey Borough this season so if you haven't done everything you wanted to do on Saturday you can always go back on 4th April and Tottenham will be away then too.