Hornchurch vs Cray Wanderers – Isthmian Premier, Playoff Semi-Final, Wednesday 26th April, 2023
The pre-game thoughts of Neil Smith  
Pics:  Jonas Lustosa, Ozay Booth, Ben Keayes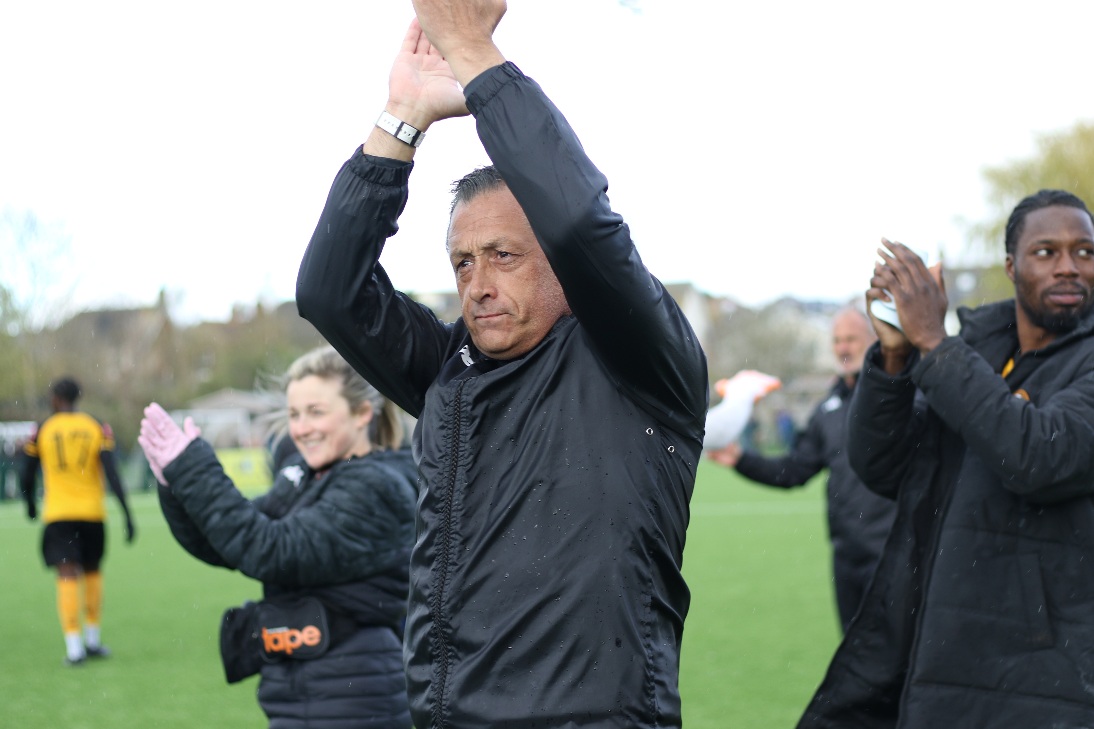 After 42 league games completed and Cray Wanderers finishing in 5th place, the Wands head to Hornchurch this evening for the first ever Isthmian Premier Playoff match in the club's history. Here, Cray Wanderers manager Neil Smith looks back at a season which saw many records broken and the club earning a couple of shots at National South football for the first time.  First, though Cray must overcome the challenge of a strong Hornchurch side who finished 2nd in the league table.
Hello Neil.  From myself, the club and fans, congratulations to you, your management team and players for reaching the playoffs which is always a great achievement as it shows we have been competitive all season.  Twenty wins, fourteen draws and eight defeats shows we have been hard to beat.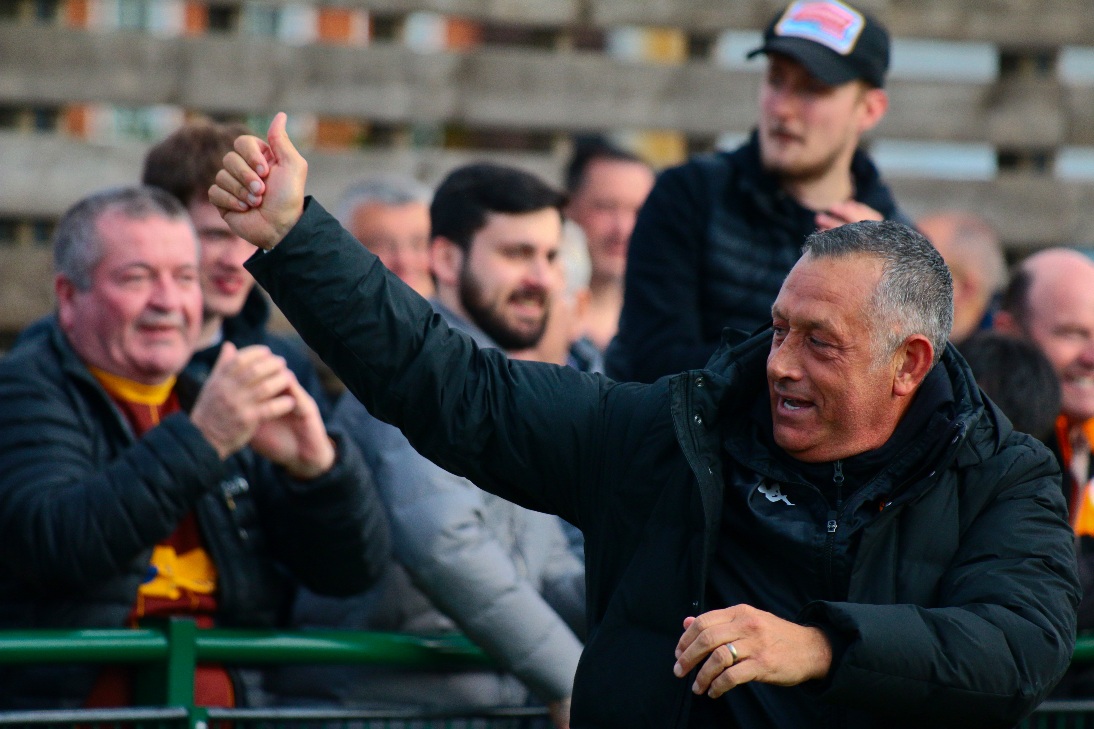 Obviously after last season my job was to come in and improve the form, not saying the players as we had good players last season but for whatever reason it didn't work. So my job was to make sure we didn't have another one like that and have to win to stay up on the last day of the season. 
Between myself, Tosh and the management team we always wanted to be competitive and take this season through as long as we can. So to achieve a playoff place is full credit to the players, the management team and the supporters. You've all been there through the bad times of last season to all of a sudden going to games with a nice chance of winning and at least not losing.  It is a massive achievement for the club and to Gary Hillman and the rest of the board as well as they have been so supportive.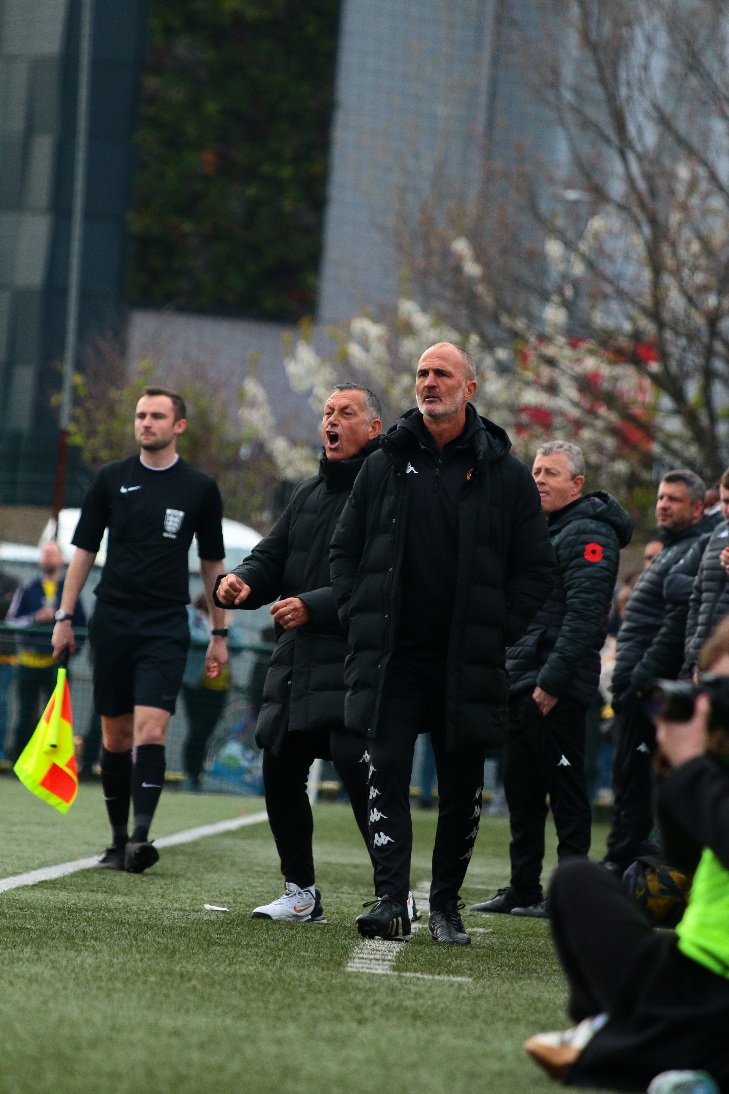 This was a season with plenty of club milestones surpassed, most points and goals scored in an Isthmian Premier season, highest league place attained and fewest league defeats.  Although not a record in a season, the fourteen clean sheets kept by Shaun Rowley may well be for one keeper so his displays have been vital in getting us over the line.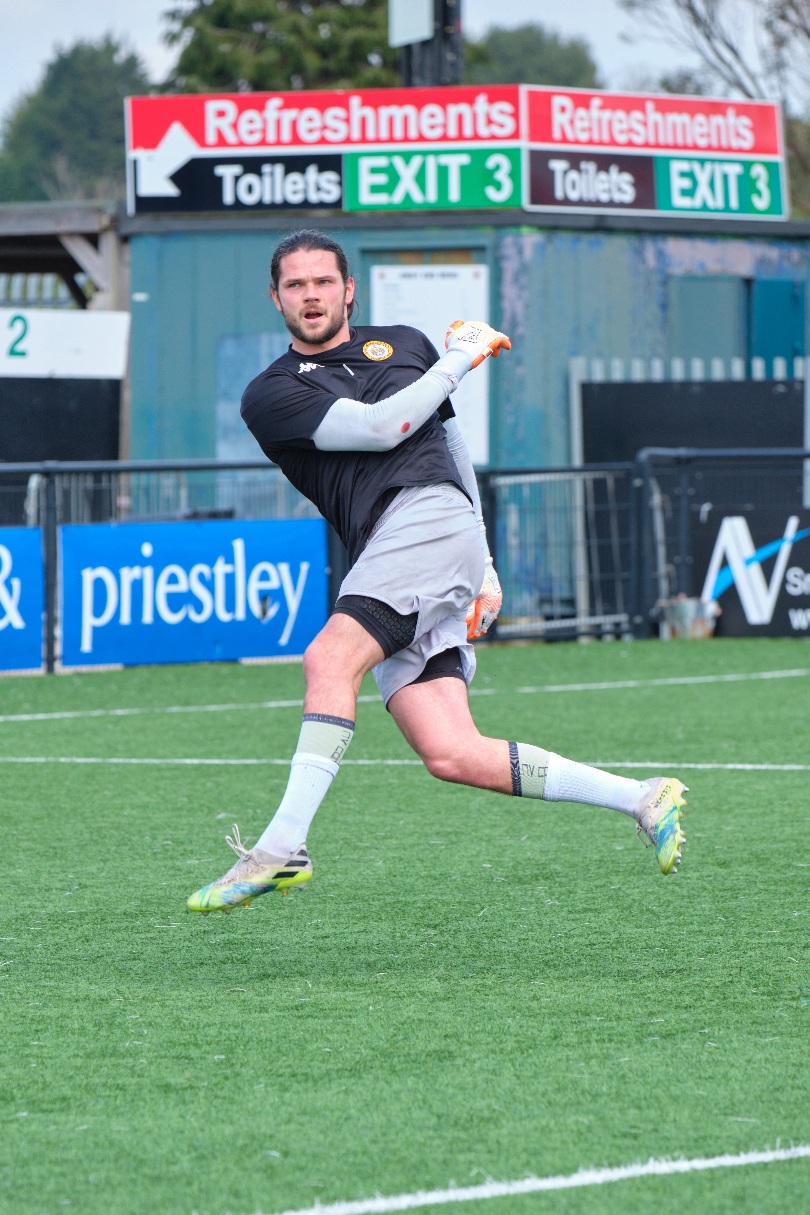 Shaun has been fantastic and would have been involved in every game but for the red card at Brightlingsea where he took one for the team and thoroughly deserved the fans player of the year award. He has been an ever present at training, never missed a session and his attitude has been first class. All the records are great but we have one more hopefully to achieve and that is to win a playoff game away from home and that is a goal I would like us to reach tonight.
In a season of such fine margins where it came down to goal difference, I look back to key games early in the season like Billy Crook's winner against Canvey Island deep into stoppage time, Mitch Chapman's goal at Bishop's Stortford on a Friday night and later coming back from 0-2 down at Horsham, Sam Skeffington's 97th minute winner vs Bishop's Stortford (pictured), all moments like this add up don't they over the course of a season.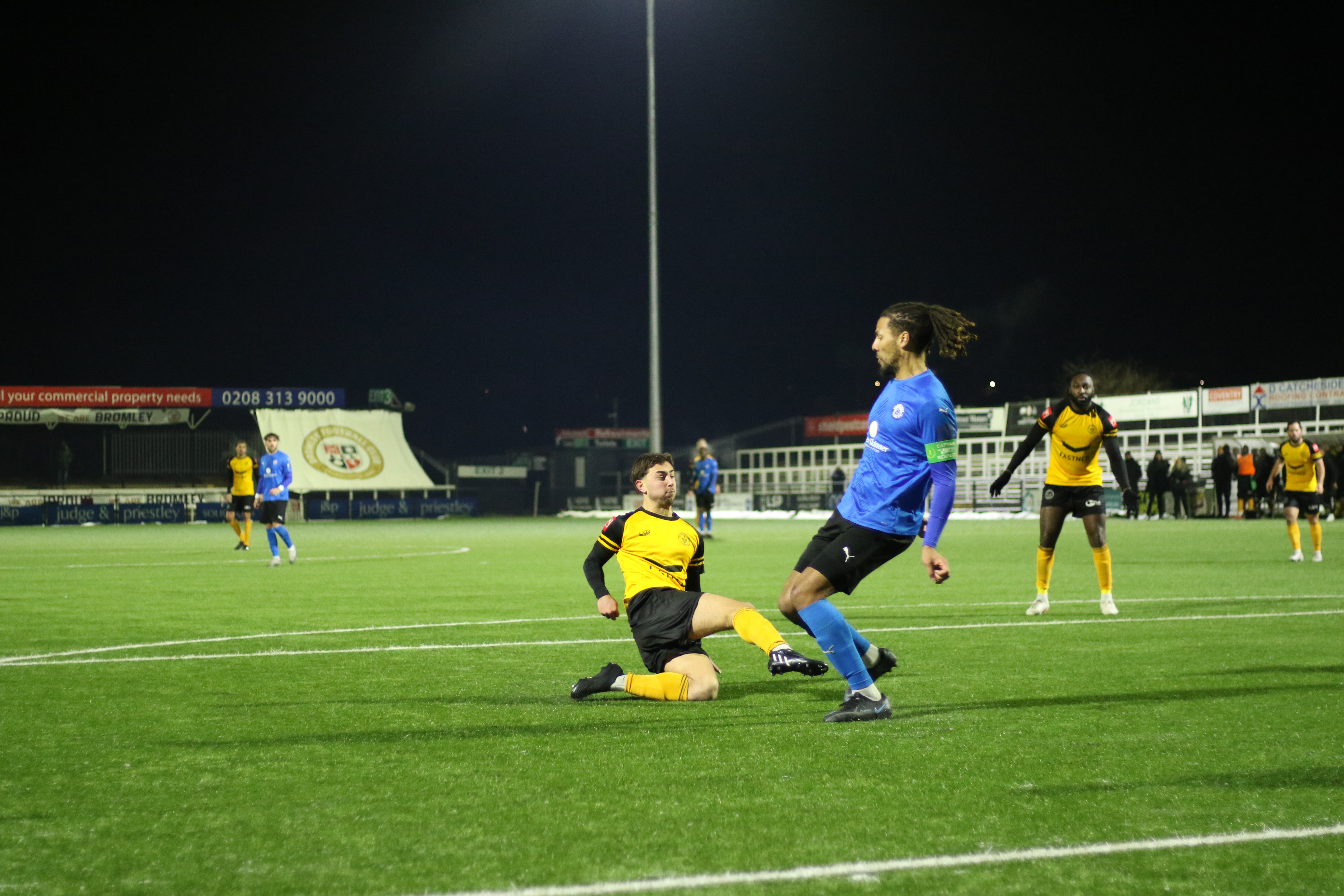 That's right, even fairly recently, Destiny Oladipo's goal at Brightlingsea late in the game away from home where if it had stayed a draw we wouldn't have made it and needed the three points.  Even on Saturday although Haringey had nothing to play for they still had their pride and a cup final upcoming so we knew it was going to be difficult. However when the boys needed to be resolute they got us through it.
We also had good runs didn't we during the season, one defeat in twelve between late November-January and of course nine games at the end.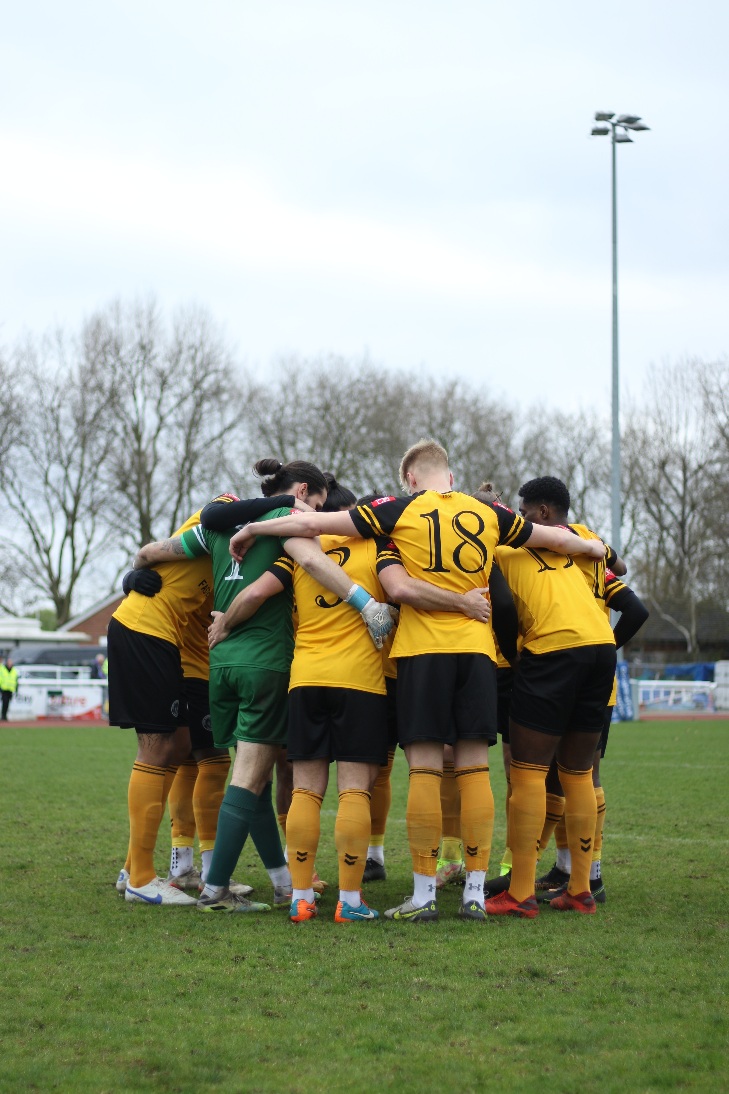 Yes, February I think stalled us a little bit losing at Wingate & Finchley where perhaps we were expected to win and didn't take our chances.  Then we lost at Hastings and at home to Hornchurch and you lose a bit of momentum and belief.  I remember sitting down with ten games to go, myself and Tosh and he was going through every permutation and fixture for every team and we knew we needed to put a run together and take one game at a time.  We started the run with four wins and a draw at Enfield Town and then three more wins and a draw but the boys have taken on a lot. I've asked for everything they've got in training sessions and matches and they have given me everything.  
We will make it difficult for Hornchurch tonight, the pressure will be more on them as we were not expected to be in there so have nothing to lose but everything to gain.  We just hope we can go there and give a good account of ourselves.  You never know in the playoffs as they are one off games and form goes out of the window.
I also wanted to mention our back four this season who are a fairly young bunch, three of them on loans and they seem to have matured as the season went on and their performances have not gone unnoticed amongst the supporters.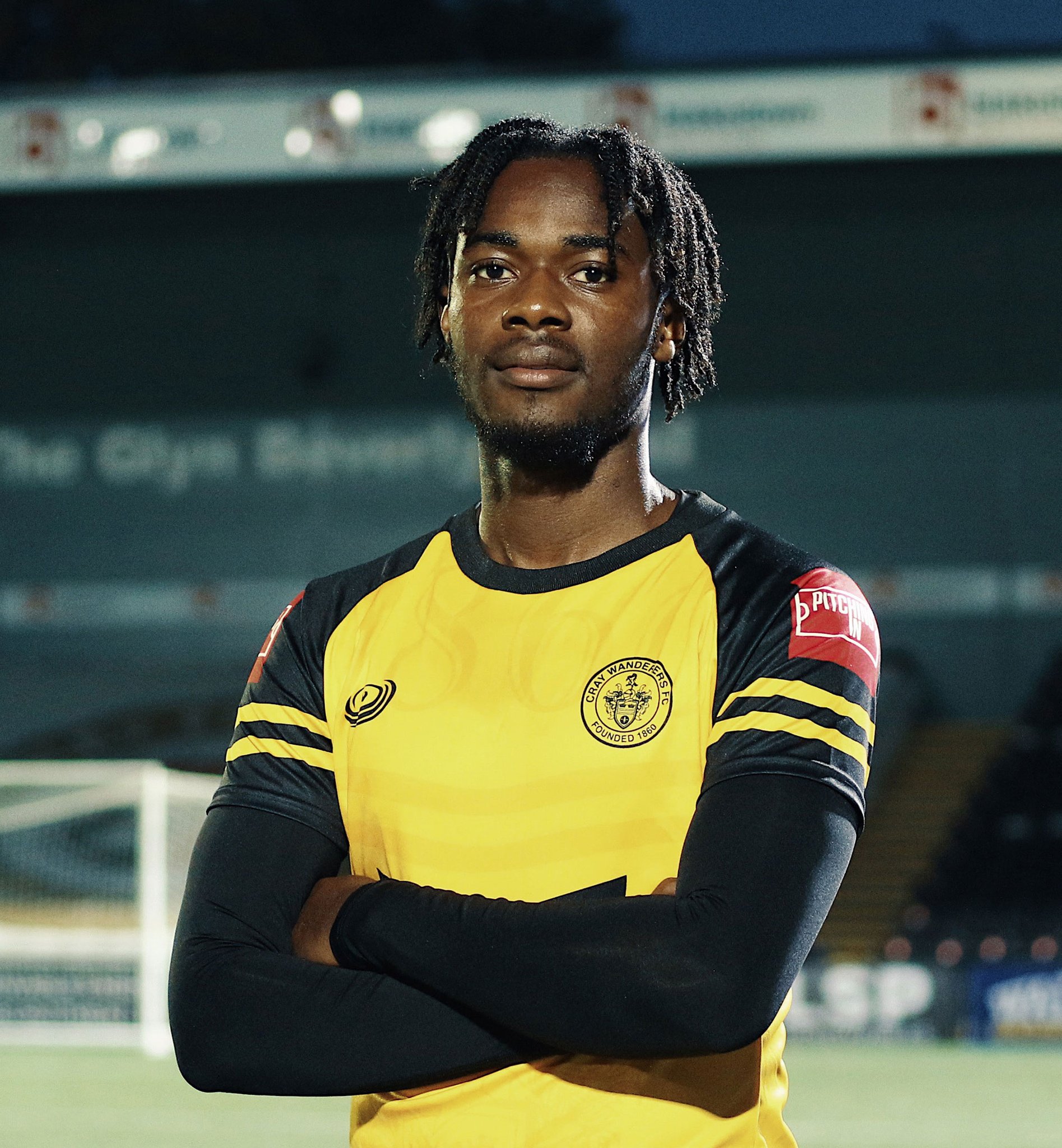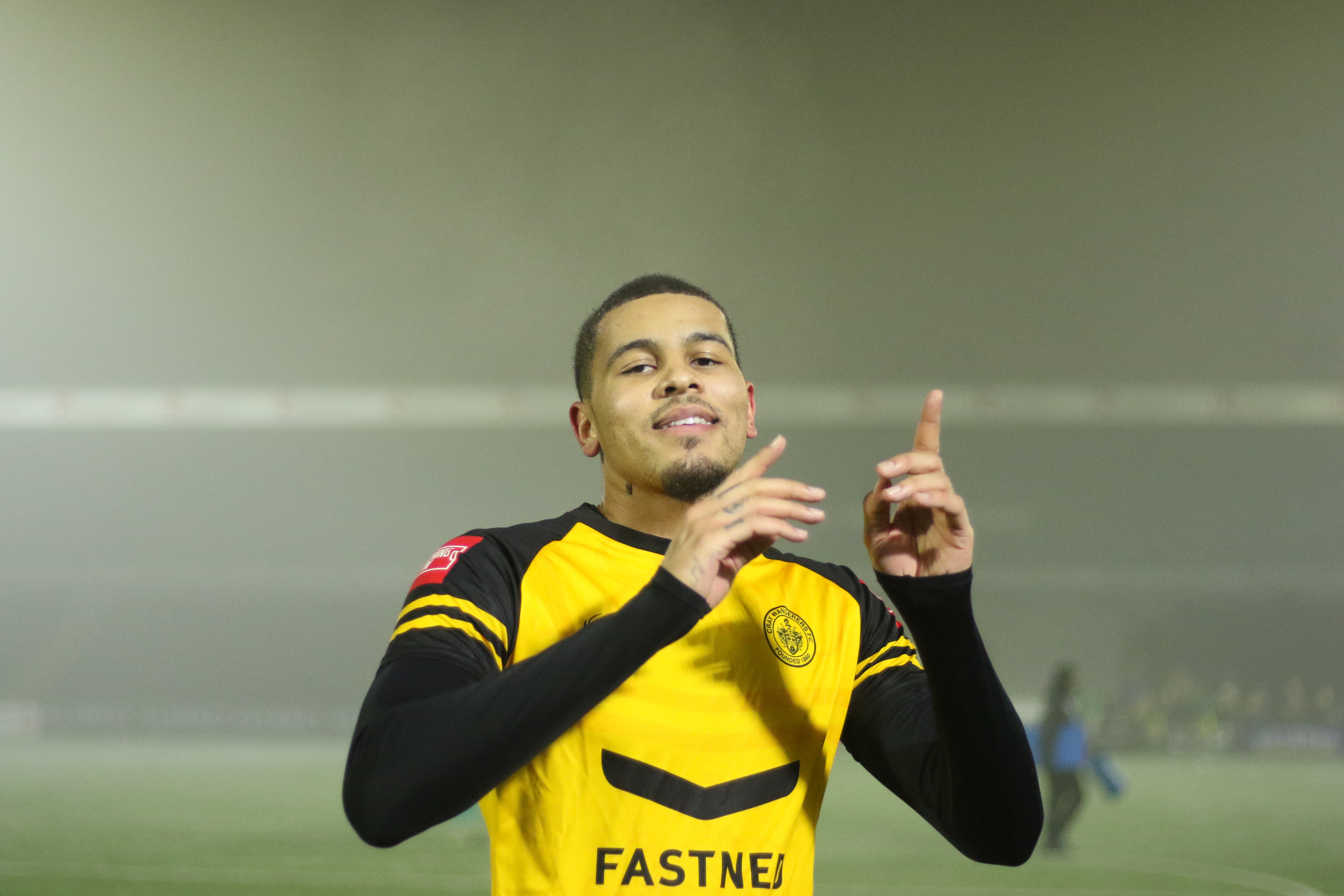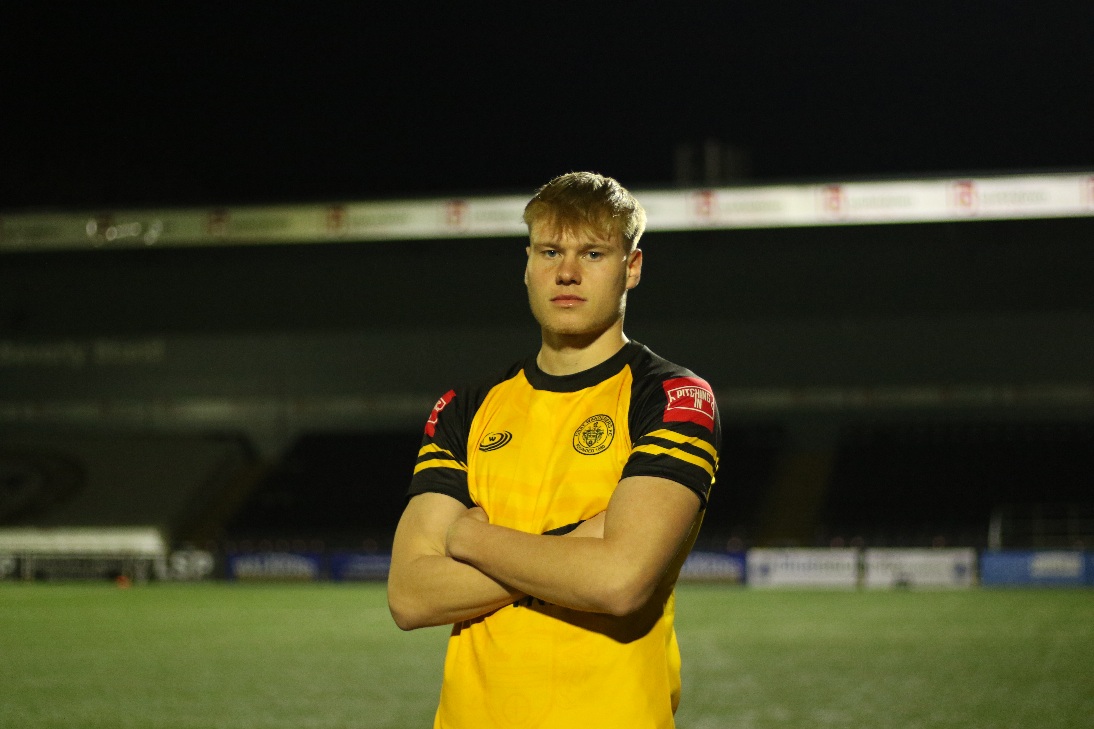 I have to thank all those teams that have loaned us their players this season.  Leyton Orient have been absolutely brilliant, I know they took Harrison Sodje back a couple of times because he was doing so well for us which is credit to Harrison and we were obviously doing something right as he was in and around the first team.  When you go to a club on loan sometimes you go there and are just playing for yourself or you might be disappointed as you are not in and around the first team.  The guys who have come in like Ben Krauhaus, Kellen Fisher, Josh Allen who was with us from Luton Town have given everything and fitted in and the rest of the boys make them feel welcome and part of the team. So they don't feel like they are on loan and are part of the whole setup at Cray and I think you have seen that in performances.  Freddie Carter has put himself on the line a few times also and credit to the players and thank you to those clubs for lending us these players and giving us that chance.
There were two other players I would like to give special mention, a couple of Neil Smith loyalists if you like, Anthony Cook and Sam Wood.  It must be a godsend for you to have players with that experience and versatility in the team and still putting in top performances.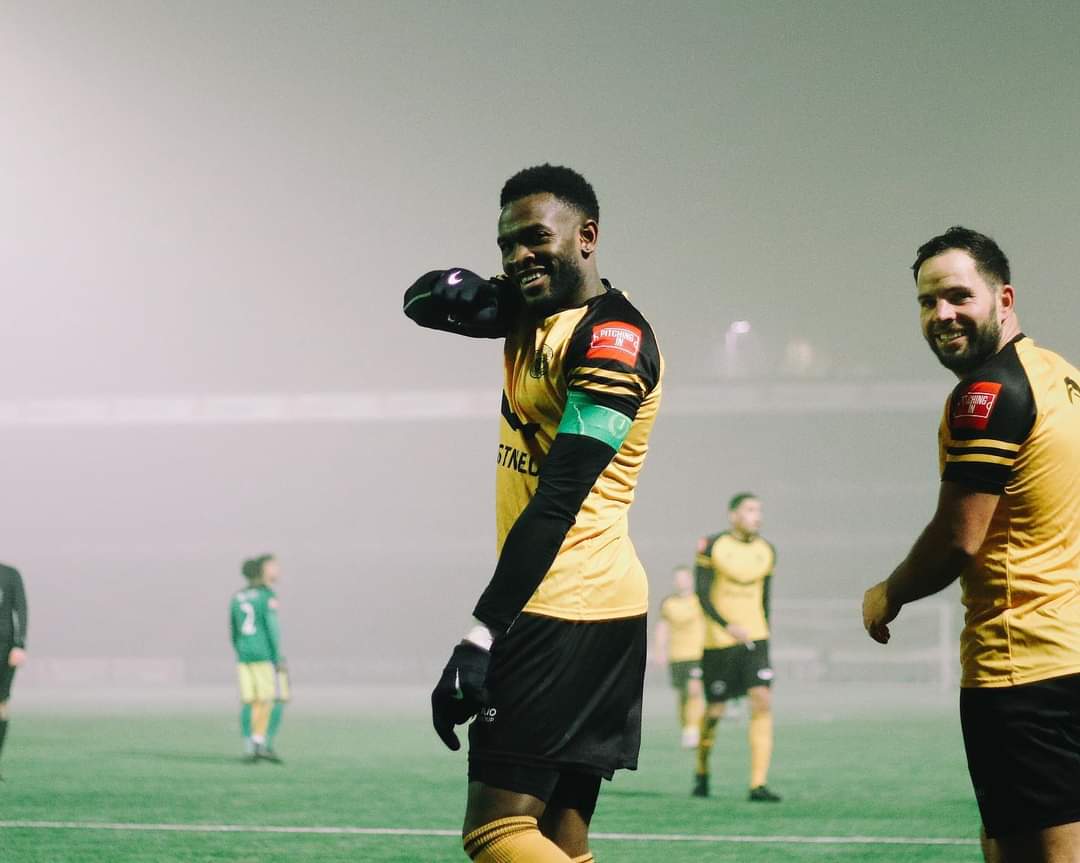 They have been unbelievable, the pair of them, I don't just mean now playing but during the pre-season, player recruitment, they knew players, they knew this division and the sort of players we would be coming up against and who we may need.  So they have been invaluable to us and if you put them on the pitch they will be your management team out there. They know how we want to do it and I speak to them a lot as they are influential.  They have been a credit not only to myself and Tim and the club but to the players as well.  Players can always go to them, always offering advice as sometimes players would rather speak to a player rather than the manager.   So they deserve the season we have had for their age and experience, they put themselves up for every training session and game they can. 
Whatever happens tonight or Monday, all of our players have been amazing, perhaps playing through injuries or sometimes after news that hasn't been great on a personal note but have always made themselves available.  We are talking about the likes of Mitch Chapman, Sam Skeffington, Billy Crook at the beginning of the season, Michael Ademiluyi, Sinn'kaye Christie, they have all had a part to play even if they have gone on to somewhere else that is by the by, I have to thank every player who has played for us this season. It has been a tough one but we are getting our rewards.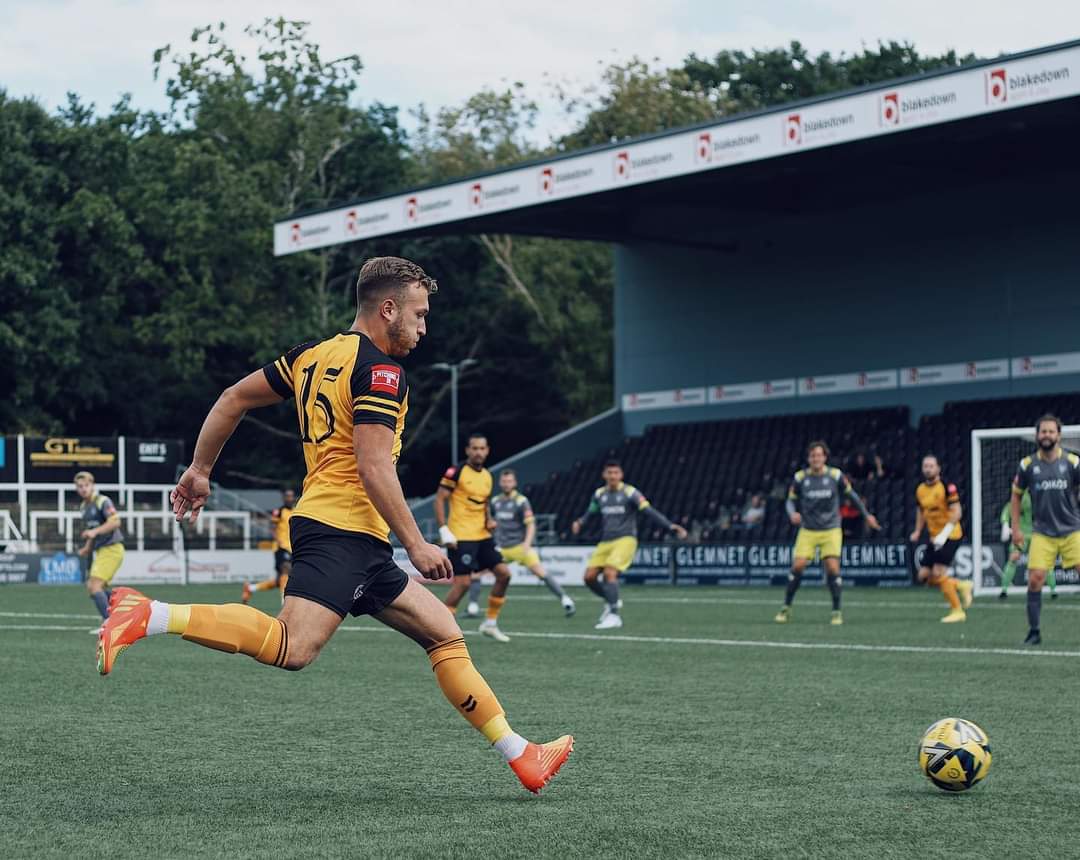 That's right, there are a number of teams in the league now on holiday's, perhaps under new management next season, players looking elsewhere whereas we were able to last the distance so that is great testament to the players.
Not just the players but every supporter, every Director and everybody associated with the club. In twelve months we have set up an Academy which has been difficult in itself. The boys have come in to do their education, we have won the league, we have had players training with the first team including recently Lennie and Reggie Rye and others. I think it is a testament that in the twelve months we have been here we have tried to create a football club, not just a team on the pitch but a club off it.  Hopefully there is good news on the ground being built where we will be able to build a fan base up again and the Cray Massive might get even more bigger in numbers. 
Yes, we are getting there in terms of building up a fan base if the trip to Haringey is anything to go by.  We had that five game away run during late November- December when the World Cup was taking place and travelling to Horsham and Bognor Regis in midweek in decent numbers was very enjoyable.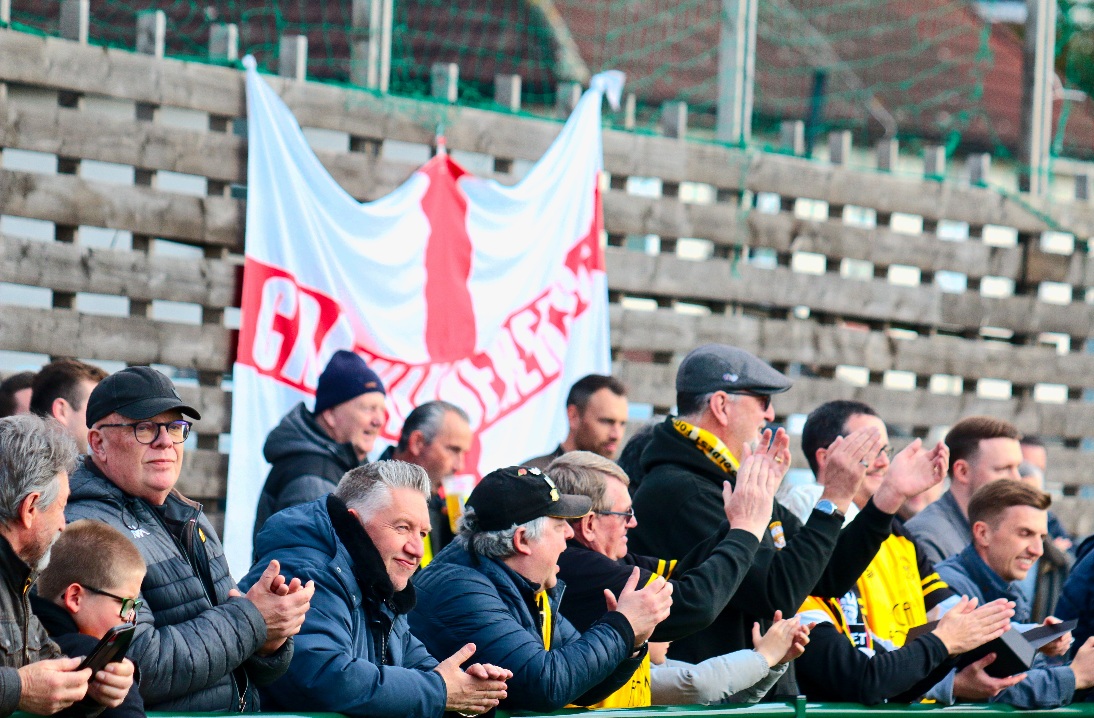 Honestly, I know it might seem that you hear it all the time but the players really appreciate the support from the fans. That is why after the game on Saturday and every game we all go over to thank you all. As you say some of these away trips are not easy to get to but you've always turned up in numbers as best you can, even at home. I like the fact that we've got somewhere to play at home but we need a real home to help generate and build this club up to where I believe we can get to.
Finally let's look ahead to tonight and the challenge of Hornchurch.  I must admit when they beat us 2-0 on 25th February, I said after that I didn't think anyone would catch them as they looked the part.  They scored 98 goals during the season but managed to miss out by four points but they are a very strong and experienced side aren't they.
I definitely had them down as champions when they played us.  Mark Stimson has got boys there that have been there a few years and have added a couple here and there. When you have someone like Sam Higgins on 30 goals, Liam Nash, Ade Yusuff, Chris Dickson when he comes on they are experienced at this level and above that score goals and I was surprised after scoring 98 that they didn't win it.  Credit though to Bishop's Stortford, when you need to put a run together they did.  
I think our two games against them have been closer than the score lines suggest.  When we played them in September we lost 2-1 but I thought we were well in the game and just missed out on a point and at home they took their chances when we didn't.  We know it will be a very difficult game, possibly on a tricky pitch.  As I have said though my players always give me everything and maybe we can produce a shock but we certainly believe we can do it.