Some sad news to report that former Cray Wanderers manager Jimmy Wakeling passed away yesterday. Jimmy was manager of Cray Wanderers between 1975-78.
Jimmy was a huge success at the Wands taking over from Johnny Biddle at the start of the 1975-76 season, having come from the local Sunday league side 2 7 9 and had to bring in many new players and a fire in Oxford Road led to the dressing rooms to be burnt down but managed to produce a team that played incredible football and won the Harry Sunderland Memorial Trophy in 1975-76. He then led Cray with a side boasting players like Bob and John Scott, Pat Carey, Gerry Collier, Steve Greenway, Graham Taylor, David Waight, John Cox, Gary and Glen Cooper and Butch Dunn to back to back London Spartan League titles in 1976-77 and 77-78 and masterminded a famous 2-1 win vs Maidstone United in the FA Cup in October 1976 and one of the clubs most successful managers for such a short stint before departing before the 1978-79 season.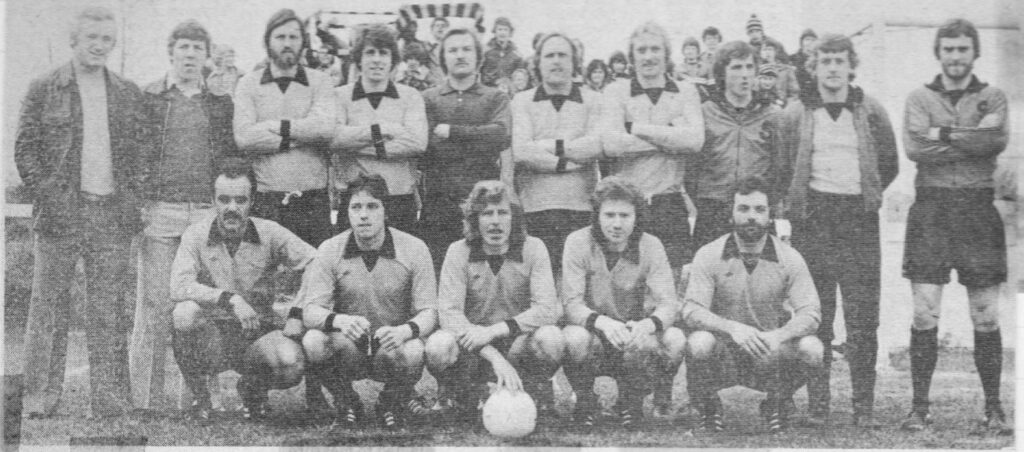 Our thoughts are with Jimmy and his family and friends at this sad time.
Please see here a fine tribute piece from Jerry Dowlen about Jimmy and his work for Cray Wanderers.
Jimmy Wakeling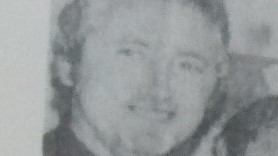 Jimmy Wakeling did a fantastic job as Cray Wanderers manager in his three seasons at Oxford Road in the 1970s. The Wands won the London Spartan League championship in his second and third seasons 1976/77 and 1977/78. They also reached the F.A. Cup 3rd qualifying round in 1976/77 which at that time was a club record (in effect a joint record equalling the 1967/68 team under Norman Golding with players including John Dorey, John Faulkner and Colin McGannon).
On arrival in 1975/76 Jimmy had to build a complete new Cray team after Johnny Biddle had departed to Bromley taking all the players with him. One of Jimmy's first signings was Roy Pettet a big strong midfielder from Bromley. The merger of the Met London and the Spartan League had created a brand new competition and in the opening fixture of the London Spartan League the visitors to Oxford Road were Hoddesdon Town who had won the new F.A. Vase competition the year before, defeating Epsom & Ewell in the final at Wembley. A creditable 1 – 1 draw featured one of Jimmy's best new signings – striker Jimmy Crombie who netted from a penalty. Jimmy would score 25 goals in 61 games for Cray before leaving the club whereupon Jimmy found Butch Dunn ex- Aveley and Fisher Athletic to wear the number nine shirt with great impact. Butch netted 32 goals in 29 games in his first and only full season at Cray in 1977/78.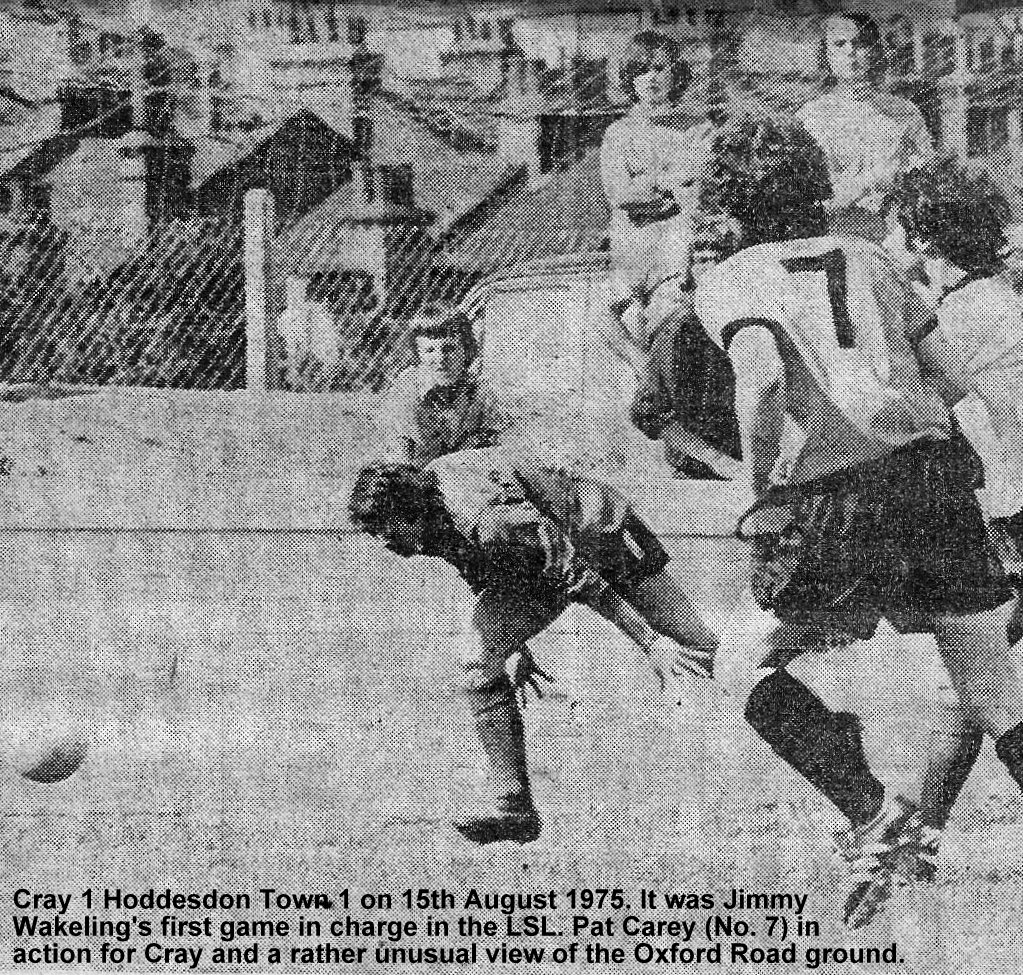 Steve Greenway was another impressive new signing for Cray in the forward line. John Cox settled in as Jimmy's first choice goalkeeper as did Alan Williams a sound defender and Brian Fitzpatrick a skilful attacking midfielder. Among many players who made short but important contributions I will highlight Colin McGannon who returned from the late 1960s team to play on the wing, John 'Harpo' Canavan who scored a few goals, John Russell at full back and Bobby Sustins in central defence. Then towards the end of Jimmy's reign at Cray came the arrivals of Andy Bushell, Glen Cooper and Dermot Trainor all of whom would enjoy a successful second spell at Cray in the early 1980s when Harry Richardson's powerful team won the Kent League.
Without doubt though, a key success factor for Jimmy Wakeling at Cray was the number of Johnny Biddle's players who didn't settle at Bromley and yearned to come back to Oxford Road. Jimmy already had proved that with his many connections in the game he could recruit good players to Cray, including members of his 2-7-9 Sunday team that played at Flamingo Park. Even so Jimmy must have been delighted when players of the calibre of Pat Carey, Gerry Collier, Terry Dinan, Dave Fiander, Phil Lawrence and the brothers Bob and John Scott came back to Cray during his first campaign in 1975/76. Cray finished 6th in the table and then strode to two successive LSL championships with many of those former Johnny Biddle players continuing to make their mark. Terry Smart was another welcome returner and so too in a big way was Dave Waight who netted a hatful of goals for the Wands before eventually going back to star for Bromley alongside Butch Dunn in the early 1980s.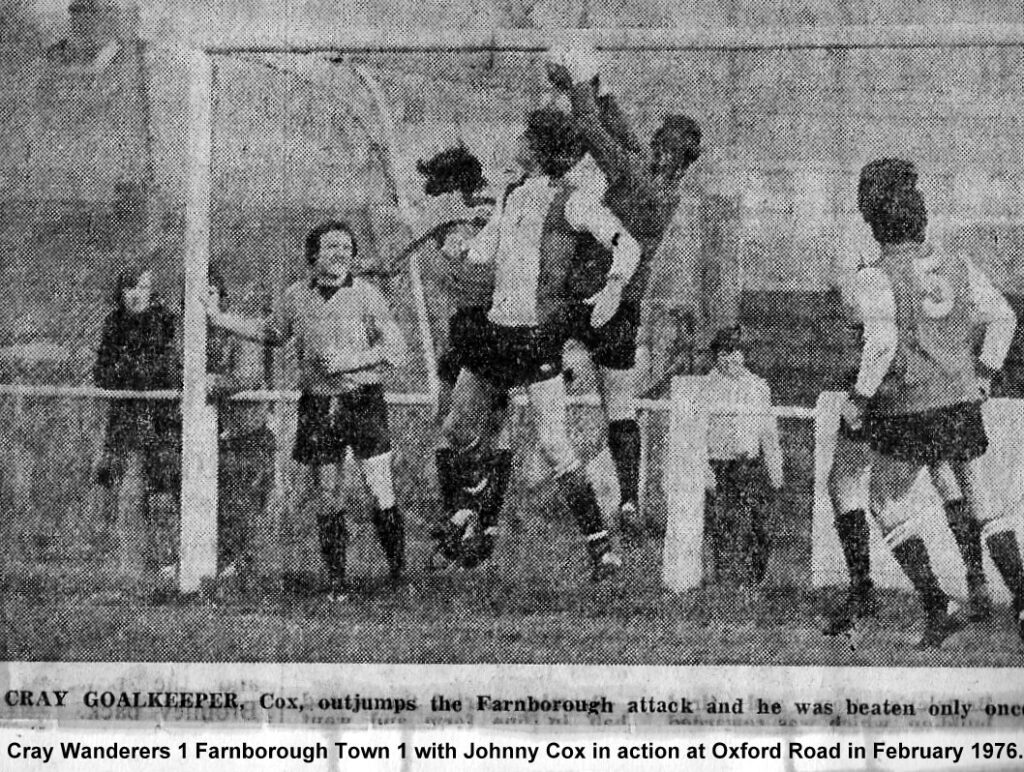 I have heard the question: OK but how strong was the London Spartan League really? The structure of non-League football was rather muddled in those days (and would remain so until the 1980s and 1990s brought the gradual reshaping into the nowadays much more regularised pyramid of Step 1, Step 2, Step 3, etc). I don't like to hear dismissive remarks about Cray winning the London, Aetolian, Greater London, Met London and London Spartan titles in the 1950s, 1960s and 1970s. Perhaps in very simplistic terms those would rank today at Step 4 (Isthmian Division One) or Step 5 (South East Counties a.k.a. Kent League of old) in which case Cray managers like Arthur Baron, Norman Golding, Johnny Biddle and Jimmy Wakeling most certainly hold legend status in my opinion.
Let's consider this about Jimmy Wakeling and his super Cray side. In 1976/77 the F.A. Cup saw the Wands play higher level opponents in three consecutive rounds. First up, Cray drew 2 – 2 with Erith & Belvedere before 338 spectators at Oxford Road. After winning the replay 3 – 2 Cray hosted Southern Premier League giants Maidstone United and a gate of 719 witnessed a sensation when the Wands won 2 – 1. A mouth-watering local derby brought 698 to Oxford Road for Cray versus Bromley of the Isthmian Division One with the visitors winning 2 – 0. Defeat in that game was a bitter blow for Cray against Johnny Biddle and some ex-Wands players – the more so when Cray opened the scoring but annoyingly the referee had blown his whistle to award Cray a free-kick instead. But the disappointment was soon forgotten when Jimmy piloted his exciting Cray team to the London Spartan League championship in 1976/77 and then retained the title in 1977/78.
Jerry Dowlen