This weekend sees the inaugural Jersey Bulls Cup and a first for Cray Wanderers as we travel to Jersey to play for the first time. The Wands will be joined by the hosts Jersey Bulls, Hashtag United and Cray will play in the semi-final against FC United of Manchester for the first time.  This match kicks off at 5.30 pm on Saturday 16th July and follows the hosts Jersey Bulls take on Hashtag United at 2 pm.  It is not expected to go to extra time if a draw after 90 minutes and will be decided on a penalty shoot-out to decide the finalists or 3rd place participants taking place on Sunday 17th July.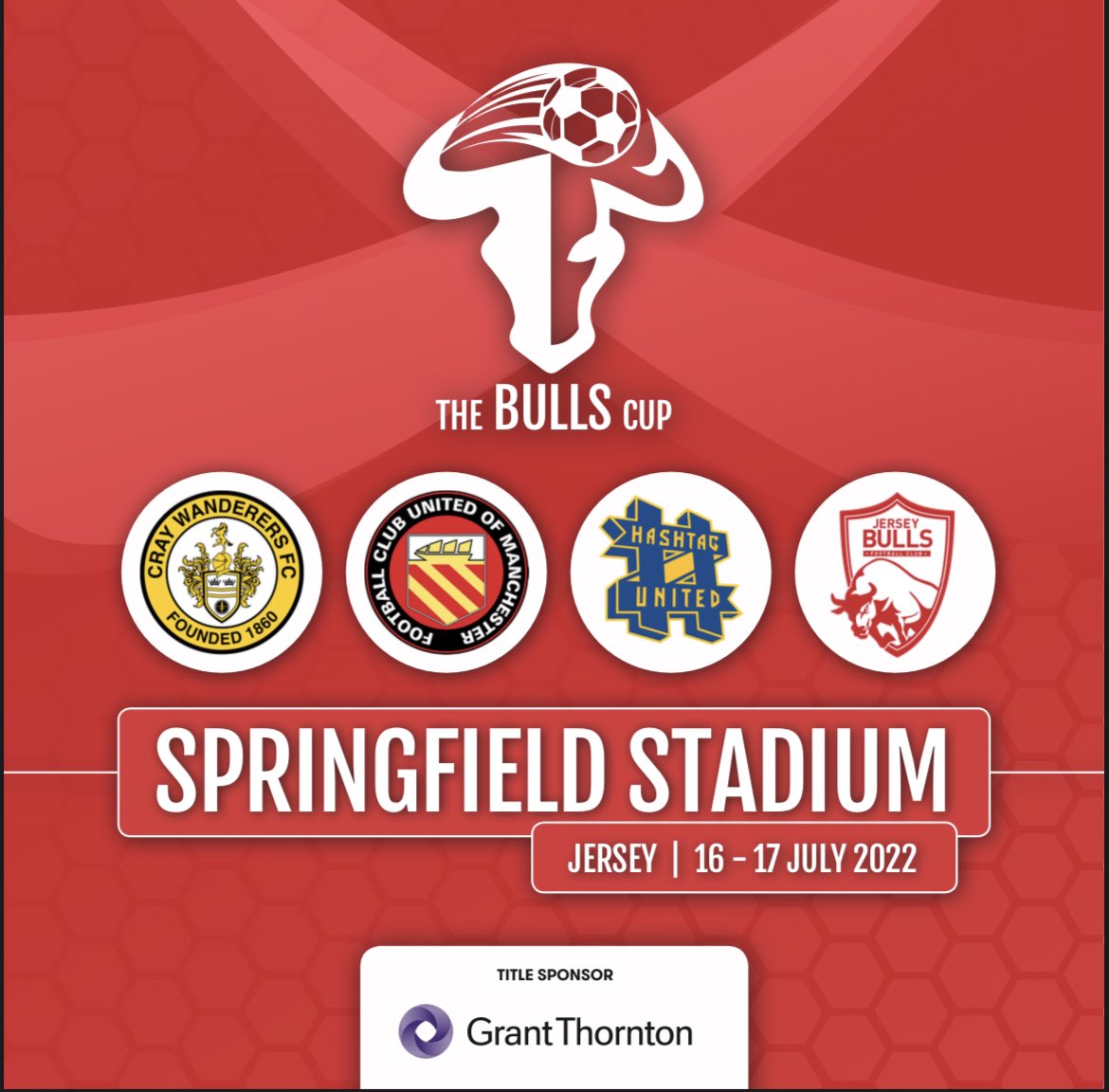 The tournament was due to be played last July but due to the Covid regulations still in force this time last year the tournament was rescheduled for July 2022.
The first day schedule is as follows:
Saturday 16th July
Jersey Bulls v Hashtag United – 2 pm
Cray Wanderers v FC United of Manchester – 5.30 pm
Tickets are available to purchase online at
https://jbfc.ticketco.events/uk/en/m for individual match or day pass.  Main stand seating: £10.50 one match, £18.90 for both games. Adult standing £7.87/£14.18.
Concession/disabled standing: £6.30/£10.50 (both games)
Online streaming of the games available at £5.50 from the above link
Sunday 17th July
3rd/4th Place Playoff – 12 pm
FINAL:   3.30 pm
Prices as above for single or two match pass
For a group ticket for all four games £35.70 Adults main stand,
£26.25 Adults standing, Concessions Main Stand £26.25, standing £19.95.
Streaming of the games as above available to purchase online.
The address for the stadium is:
Springfield Stadium, Janvrin Road, St. Helier, Jersey JE2 4LF
Please visit the Jersey Bulls website for more information about the tournament, https://bulls.je