Wingate & Finchley vs Cray Wanderers – Match Report
Isthmian League Premier – Saturday 12th February, 2022
Wingate & Finchley                          2
Cray Wanderers                                2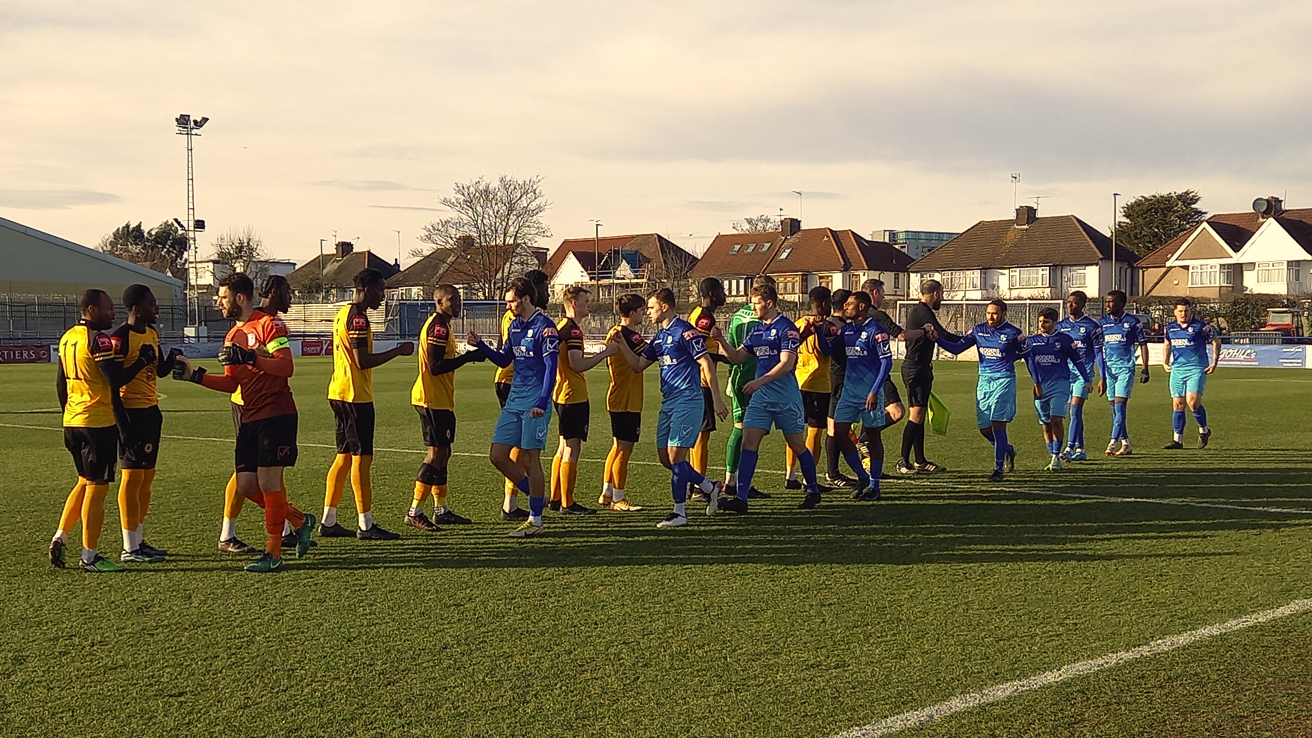 Cray Wanderers moved out of the bottom three on goal difference after coming from behind at half time to pick up a point at a bright if very chilly Wingate & Finchley.
The Wands who continued their unbeaten league start to February had got off to a flyer with a goal in the 2nd minute when Jamie Yila down the left set up Chris Dickson for an accomplished finish and his seventh goal of the season. The game though turned before the 20 minute mark when Wands keeper Bailey Vose had to go off with an ankle injury and Captain Anthony Cook went in goal for the remaining 80 minutes which included seven minutes of first half injury time. By half time, Wingate & Finchley had turned the game around and Dylan Kearney levelled in the 21st minute and then a minute before half time, Antonis Vasiliou's shot was pushed onto the bar and following up Kavan Cotter slotted home.  Cray though showed great character in the second half and merited an equaliser on the hour when from a Freddy Barton left wing corner to the far post Nazir Bakrin rose to power home a header for his second goal in three matches.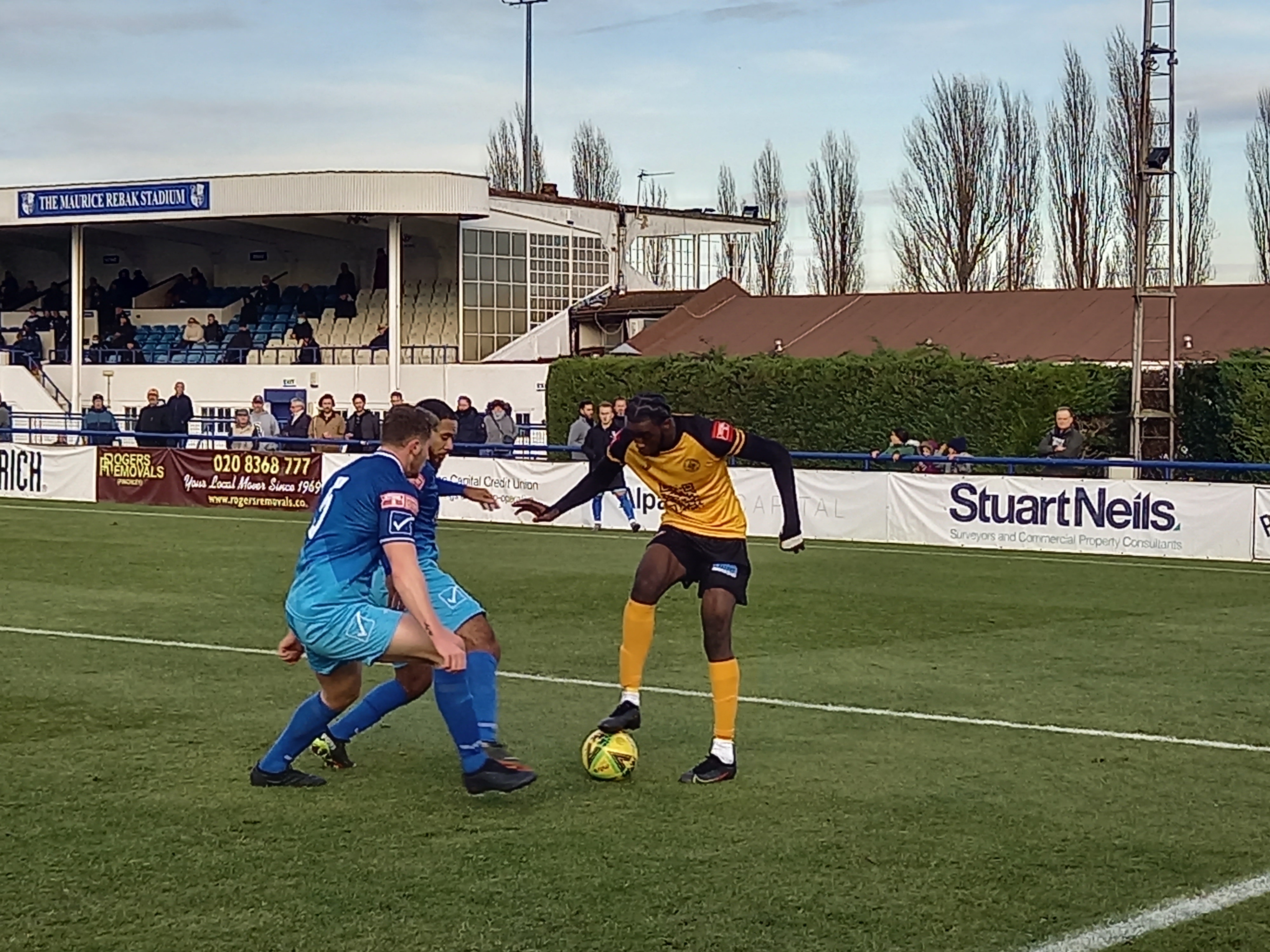 From the side which beat Merstham last Saturday there was one change with Richie Danquah coming in for Sam Wood who missed the match with injury picked up before the end of the Merstham game. Wingate & Finchley had won their last three at home and won 5-3 at Cray in September but were beaten 0-6 at Worthing last Saturday and into the side came Daniel Emovon, Luca Vega  who were making their debuts and Antonis Vasiliou for Sam Hatton, Ethan Kessel and Freddie Hinds.
The match had a look of one that would be fast paced and Cray got off to a flier in the 2nd minute with a well worked goal with Kyel Reid and Kasim Aidoo involved and down the left Jamie Yila picked up the ball, ran at the defence and cutting in from the byline played the ball across invitingly for Dickson to score from ten yards.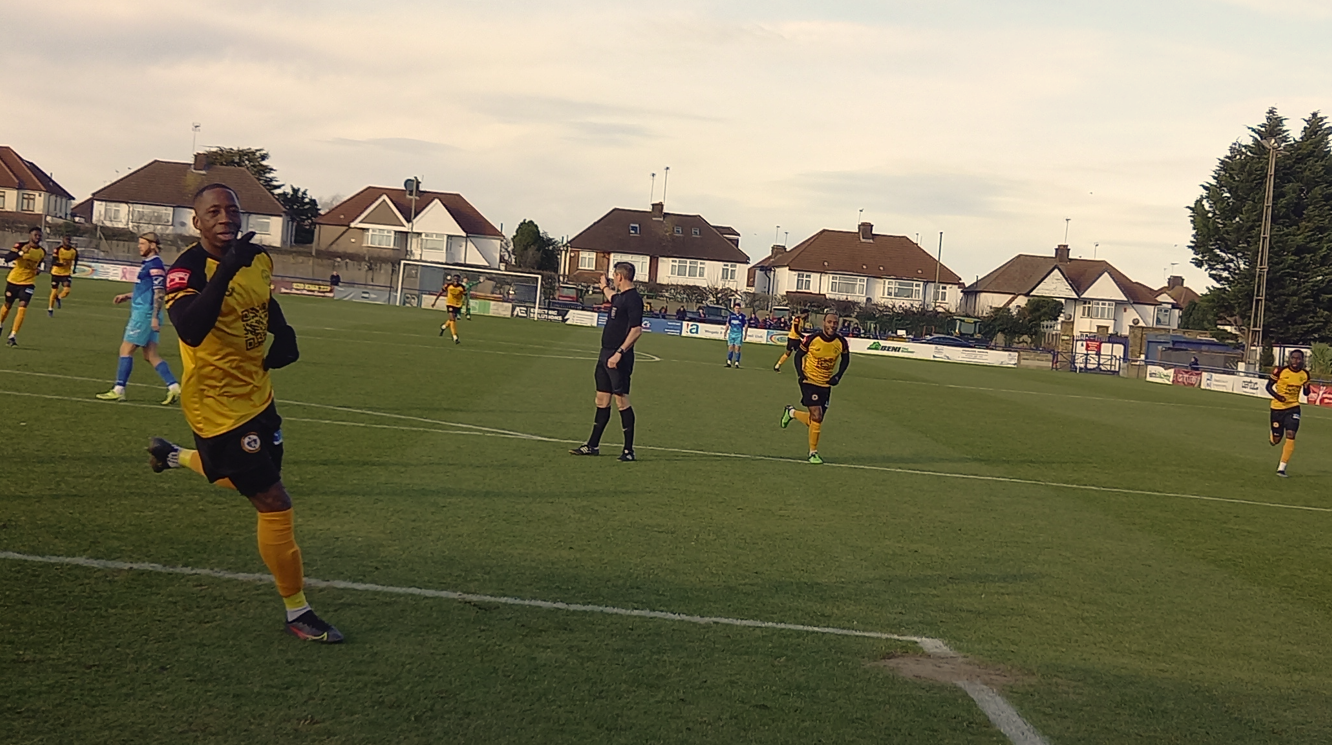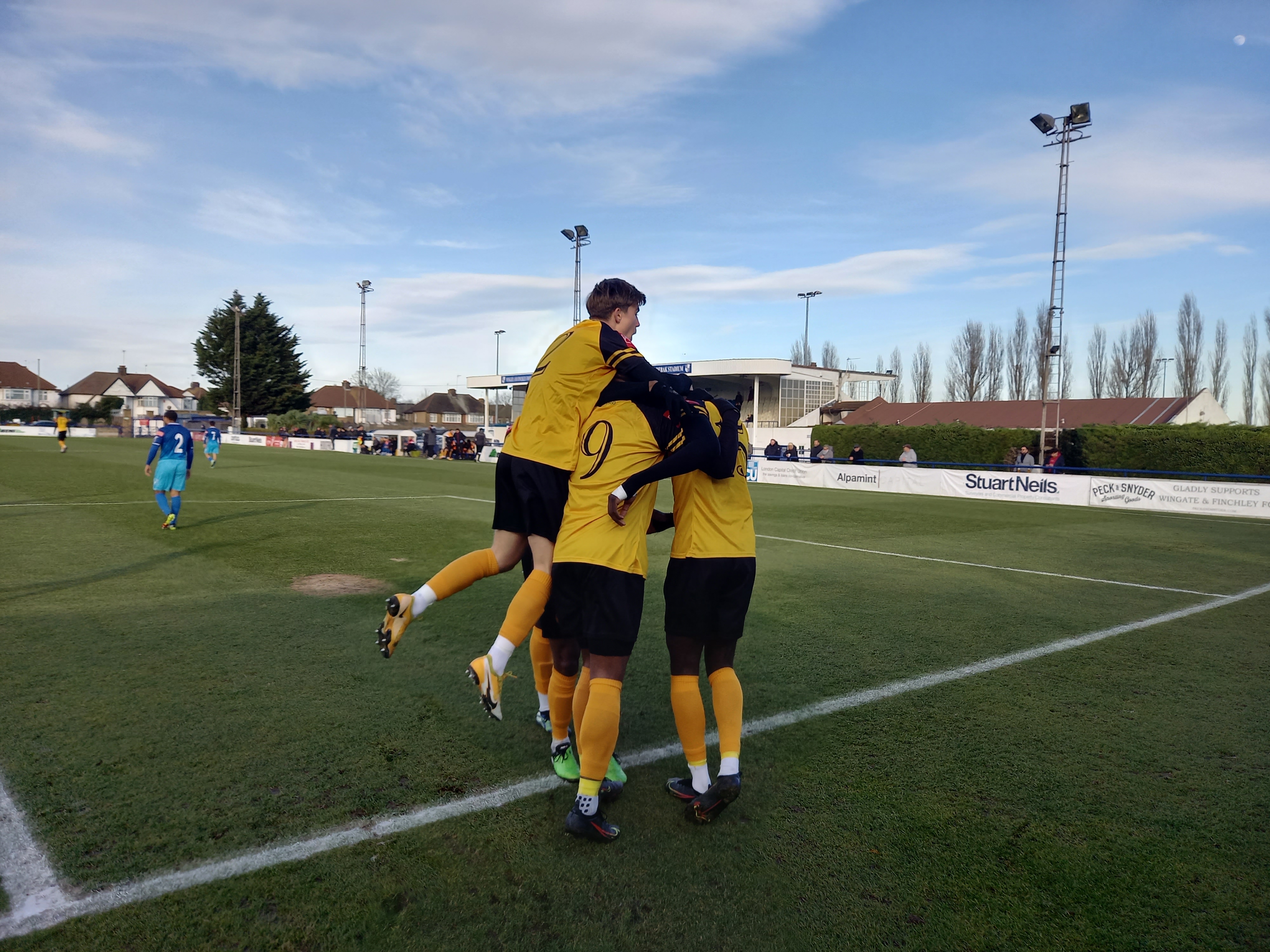 Despite this good start there was a blow for Cray just after the ten minute mark when Vose was hurt in a challenge with Dylan Kearney and after a fair few minutes of treatment couldn't continue and had to go off with an ankle injury. Anthony Cook went in goal with no goalkeeper on the bench and Jacob Munting came on to fill Cook's place in midfield.
Perhaps with no time to recover composure, Wingate & Finchley pounced straight away when a pass out from the back was intercepted by Kearney who broke into the area and fired into the net to make it 1-1.
Cray almost went back in front when Aidoo down the left sent over a cross into Dickson who set up the excellent Cameron Brodie who shot over the top.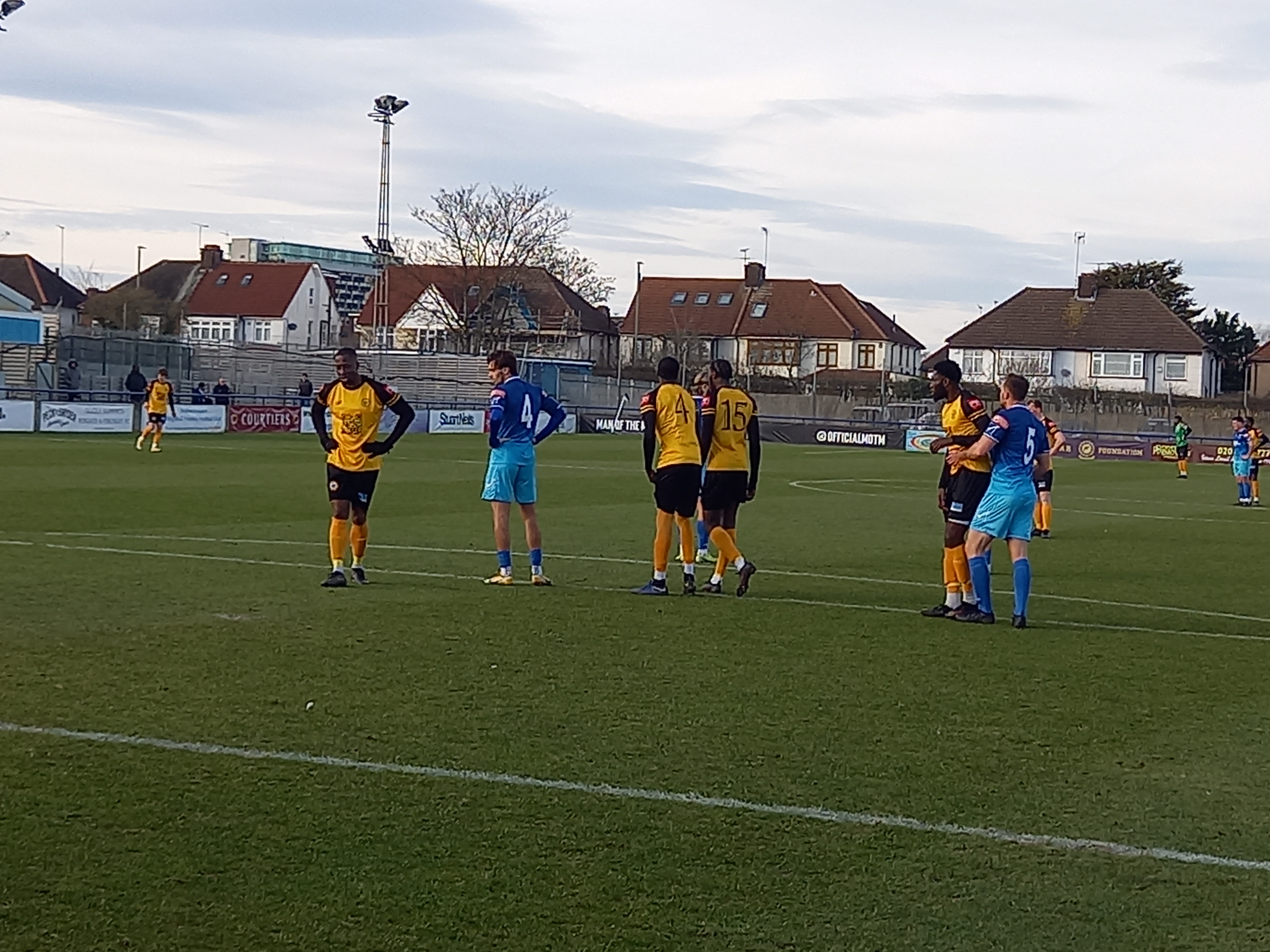 There was a scare for Cray when Kavan Cotter from a free kick smashed in a terrific shot which thudded back off the crossbar.
Another good Cray movement saw Dickson and Brodie combine to set up Munting just inside the area but saw his shot go just over the crossbar.
Before half time, the home side began to exert pressure and a minute before the break took the lead when Luke Ifil found Antonis Vasiliou down the right and his near post shot was pushed against the bar by Cook but following up Cotter turned the ball in from close range.
With seven additional minutes there was still time for a reposte and Cray almost levelled when Munting set up Aidoo inside the area but the ball came to him quickly and his shot was held by Ben Goode.
HT:  2-1
The second half began with the temperature getting much colder and Cray threatened to get back into it and Reid's corner from the right was flicked wide of the left post by Nazir Bakrin.
Wingate & Finchley came close down the right Luca Vega and Kearney combined to set up Vasiliou but his cross-shot went across goal and behind.
Cray though were having a decent spell and Aidoo found Barton who fired over the top but perhaps a big moment of the game came in the 58th minute when Wingate & Finchley were awarded a free kick centrally 25 yards from goal and from the free kick Alkeo Bani's shot was turned round the left post well by Cook.
Two minutes later Cray drew level when from a corner kick down the left, Barton sent over a cross to the far post where Bakrin got to the ball before Goode to head powerfully into the net for his second goal in three matches.
Cray now had their tails up and sensed a winner and the pace of Yila was again in evidence as down the left hand side and down the byline he burst into the area and this drove in a shot which Goode did well to push away.
Then the ball was switched from the right for Reid who hit a well struck shot which Goode got down to save.  With ten minutes to go from a free kick down the right, Reid's cross into the area was headed wide of the left post by Ethan Kaiser.
Cray who had put a lot into the game were just beginning to tire at the end and there were one or two scary moments as following a free kick the ball came to Vasiliou down the right and his ball across goal couldn't get a touch.  Then Daniel Emovon set up Vega for a shot which Cook held.
Then from a corner down the right the ball came to Ifil who shot wide and the final action of the half saw Liam Smyth curl a cross shot across goal.
In the end though a draw was the least Grant Basey's side deserved from the game and the point puts Cray into 19th place on goal difference over Brightlingsea Regent who have played a game less. For the second away game in a row Cray have had to show resilience to get a result and credit to Anthony Cook for showing a captain's responsibility to go in goal and do well in an unfamiliar scenario. It is hoped that Bailey's injury will soon heal but was certainly serious enough to go off early in the game. There were good performances from the likes of Brodie, Munting, Yila, Reid and Dickson going forward and Bakrin and Kaiser seem to have built up a good partnership at the back.
The Wands next head to Folkestone Invicta on Tuesday night in what will be a tough match but with 12 games to go and 36 points still to play for Cray can go into it in good form and confidence.
Wingate & Finchley: Ben Goode, Luke Ifil, Daniel Emovon, Alkeo Bani, Lewis Hobbs, Luca Vega, Antonis Vasiliou, Tyrique Clarke (Matthew Achuba, 77), Dylan Kearney, Kavan Cotter (Liam Smyth, 86), Isaac Tshipamea–Mulowayi (Theo Ofori, 77): Subs: Sam Hatton, Ethan Kessel
Scorers:         Kearney 21, Cotter 44
Cray Wanderers:  Bailey Vose (Jacob Munting, 19), Freddy Barton, Nazir Bakrin (Luca Albon, 61), Ethan Kaiser, Kasim Aidoo, Cameron Brodie, Richie Danquah, Anthony Cook, Jamie Yila, Kyel Reid, Chris Dickson:  Subs: Tom Hanfrey, Emanuel Oduguwa, Eniola Hassan    
Scorers:         Dickson 2 mins, Bakrin 60
 Booked:         Kaiser, Reid, Danquah  
 Att:      118