Wingate & Finchley vs Cray Wanderers – Isthmian Premier, Saturday 12th February, 3pm – Match Preview
Cray Wanderers face the first to two successive away Isthmian Premier fixtures on Saturday as the Wands travel to Wingate & Finchley. KO 3pm.  Grant Basey's side will be looking to build on the momentum of two successive league wins in February as they strive to climb away from the relegation places. It promises to be an exciting game if the corresponding game at Hayes Lane in late September is anything to go by which finished in a 5-3 win for the North London side.
Certainly the mood around Cray Wanderers has perked up considerably since the start of the month as the 3-2 win at Potters Bar Town on the 1st of February was followed up by a 3-0 win at home to Merstham last Saturday.  Early goals from Chris Dickson and Kyel Reid put Cray Wanderers 2-0 up by half time and scored a third before the hour when Ethan Kaiser powered in a header from a Sam Wood corner. Certainly the arrival of Wood from Dover Athletic looks to have given the club a terrific boost and only the second clean sheet of the season was another bonus.  Since then, a very young Wands side were beaten in the Kent Senior Cup at Corinthian on Tuesday night with many of the first team regulars given an evening off after an exhausting run of games over the last couple of months.  Skipper on Tuesday, Jai Reason has since departed the club and has joined Brentwood Town.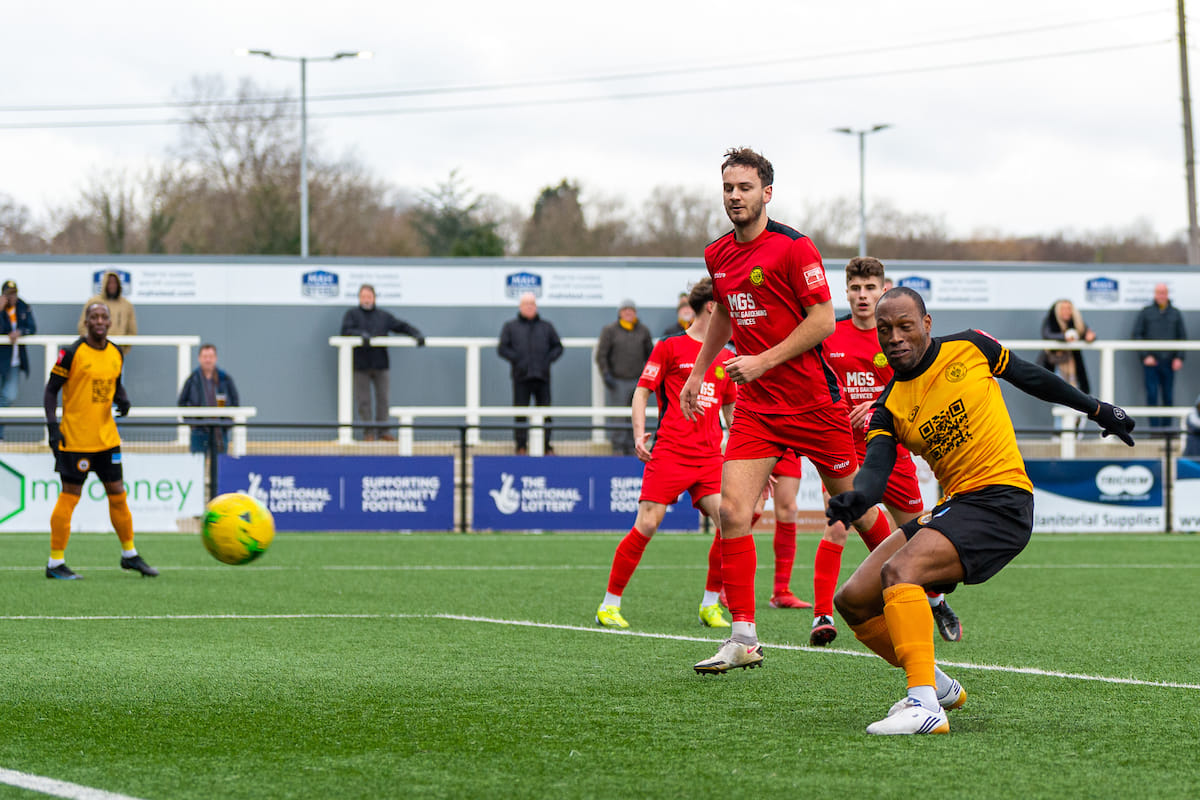 Cray moved back down one place to 20th in the league table on Tuesday night after Bowers & Pitsea's draw at Folkestone Invicta but the Wands are only three points behind Wingate & Finchley who lie 16th so with 13 games still to go there is still ample time for Cray to begin to climb the table.
Wingate & Finchley have made a good start to 2022 at home in the Isthmian Premier and have won their last three home matches including a 2-0 win against Bognor Regis Town on 30th January. Last Saturday Marc Weatherstone's side were beaten 0-6 at league leaders Worthing which always a difficult place to visit and pick up points.
The game at Hayes Lane on 29th September was a feast of attacking football but perhaps not great in a defensive perspective.  A quite heavily depleted Wands side which had Danny Kedwell as centre-half were in the middle of losing run of six games and did score three times through Anthony Cook (2) and Adam Coombes but a quick and nippy Wingate & Finchley scored five through Liam Smyth, Sam Hatton, Bilal Sayoud,  Dominic Sadi and Jabir Laraba.  The last time the two teams met at Wingate & Finchley was on 12th November, 2019 which Cray won 1-0 with an early Joel Rollinson goal.   This fixture has a reputation for goals, there was a 4-4 draw here on the last day of the 2012-13 season and Wingate & Finchley won the game at Cray 4-3 earlier in the season.
Home form for Wingate & Finchley has seen wins against Kingstonian (3-1), East Thurrock United (5-0), Bowers & Pitsea (2-0) and Bognor Regis Town (2-0). They drew with Corinthian Casuals (2-2), Carshalton Athletic (1-1) and Lewes (1-1) and were beaten by Margate (0-1), Potters Bar Town (0-2). Worthing (1-3), Folkestone Invicta (1-4), Cheshunt (1-3), Hornchurch (1-2) and Haringey Borough (1-2). Away from home Wingate & Finchley won at Leatherhead (2-1), Cray Wanderers (5-3), Brightlingsea Regent (3-1) and Margate (1-0) and drew at Bognor Regis Town and Corinthian Casuals. There other games ended in defeat at Haringey Borough, Bowers & Pitsea, Enfield Town, Bishop's Stortford, Horsham, Merstham, Kingstonian and Worthing.  In the FA Cup they reached the 3QR after beating Basildon United and Baldock Town but were beaten in a replay at home to Corinthian Casuals. In the FA Trophy Wingate & Finchley knocked out the holders Hornchurch at home on penalties after a 1-1 draw but were beaten at Hanwell Town in the 1st Round.  Top scorer is Bilal Sayoud with 10 but he has since moved on to Potters Bar Town.
Cray will be hoping for a continuation of last Saturday's form and attempt to move up the table but will be a good test against a very capable side in good form at home.
DIRECTIONS TO WINGATE & FINCHLEY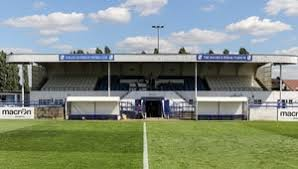 Maurice Rebak Stadium, Summers Lane, Finchley, London N12 0PD
 ADMISSION PRICES
Adults – £12
Conc (OAP, student, unemployed) – £6
U18s – Free
​Cash and card are accepted at all sales points at the stadium.
Programmes: Online
Supporting ID required for concessions or full price admission will be charged
Driving
The simplest way to get to stadium is to get on to the A406 North Circular Road.
If coming from the West (eg via M1), go past Henlys Corner (taking the left fork after the traffic lights) and then drive for about 1 mile. The exit to take is the one immediately after a BP garage.  Take the slip road and then turn right at the lights onto the A1000.
If coming from the East (eg via A10, M11) take the A1000 turn off. At the end of the slip road turn left at the lights. Go straight over the next set of lights, then after 100m pass through another set of lights.  Then at the next set of lights turn right into Summers Lane. The Stadium is a few hundred metres down on the right hand side.
Car Parking
Please be aware NOT to park in the Rugby Club next door, as they will close their gates and lock you in. There are plenty of nearby streets, although please note not to park on the kerbs and also some surrounding roads have yellow lines.
The Club car park on matchdays is available for Club Officials (Home & Away), Players, Staff and VIP guests only.
Blue Badge Parking: 4 free spaces are available on the front forecourt.
Tube
The nearest Underground station is West Finchley Station (Northern Line – High Barnet branch).
The station is a 10/15 minute walk away from the Ground. Alternatively go to East Finchley Station (also on the Northern Line, High Barnet branch) and get a 263 bus heading north towards Barnet. Get off at the bus stop just after Summers Lane traffic lights. Please note if using the Northern Line that there are closures on the line between Kennington-Moorgate until May 2022 so if you plan to go from London Bridge, best to use Charing Cross or Waterloo underground services for the High Barnet branch.
National Rail
The nearest station is New Southgate in Travelcard Zone 4, approximately 1.5 miles from the Abrahams Stadium. Trains are operated by First Capital Connect and can be picked up from Finsbury Park.
At the top of the station steps take the right hand gangway which brings you onto Station Road. Head left up Station Road towards bus stop. The regular 382 service to Millbrook Park goes via Summers Lane and takes about 5-10 minutes. You will need to alight at the Woodgrange Avenue stop, which is a short walk to the ground.
Nearest Pubs:  The nearest pubs are the Elephant Inn in North Finchley which is also a Thai Restaurant around 0.6 miles away with the Tally Ho (Wetherspoons) is similarly located.
If coming in to East Finchley then the Old White Lion and the Bald Faced Stag are a bit of trek on foot but the 263 bus will take you will take you from there close enough to the ground.
For a decent chippie on what will be a coldish day you would think, The Two Brothers Fish restaurant in Finchley is worth a stop off. About 1.4 miles away or a 263 (south bound) bus will take you to the ground.
Finchley is an area of the LB of Barnet which has three town centres in East Finchley, North Finchley and Finchley Central (Church End) and developed from the late 1800's with connections to the Great North Railway. The area is quite artistic and has been the site of a number of films and TV locations. Finchley was the home of the Goons' Spike Milligan and there is a bronze statue in the Stephens House and Gardens in East End Road. It was also the constituency of Margaret Thatcher from 1959-1992 and former speaker of the house John Bercow. Also singer-songwriter George Michael was born in East Finchley and Spice Girl Emma Bunton was born in Finchley. The area has a large Jewish community and the original Wingate club who Cray Wanderers played in the 1950's were formed in honour of an Israeli soldier Orde Wingate and to combat Anti-Semitism and the current set up was formed in 1991 as a merger of the Wingate and Finchley football clubs.