Saturday sees another top of the table as Cray Wanderers look to maintain their unbeaten start to 2020 with a trip to league leaders Worthing.  Kick off at the Crucial Enviro Stadium is 3pm.
Cray will be looking to build on their 7 game unbeaten run and have given Worthing two good games already this season but the Mackerelmen are currently 18 games without defeat and have a five point lead at the top following their 1-0 win at Bishop's Stortford on Tuesday night.  That put them on 63 points five ahead of Folkestone Invicta who they meet at home next Saturday.  Cray moved down one place to 4th with Hornchurch's win on Tuesday and have 51 points from 28 games played.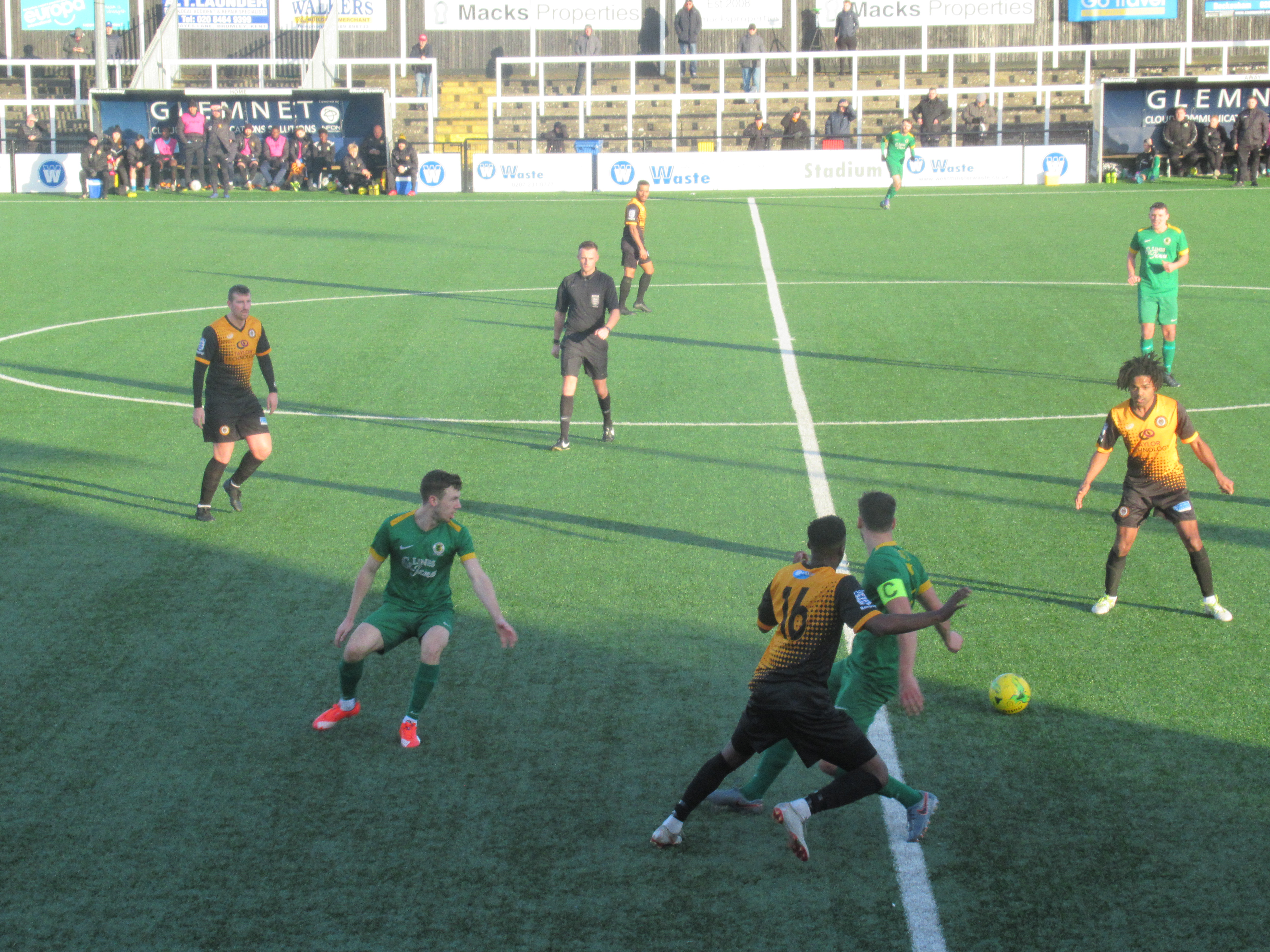 Cray meanwhile can go into the game with confidence on the back to three straight wins including two against playoff contenders Enfield Town on their last away game and at home to Horsham last Saturday.  The Horsham win was a gritty, determined and resolute display earned with ten men for 80 minutes after the dismissal of Ben Mundele.  Also knocks for Tom Phipp and Jerome Federico during the first half meant a bit of a rearguard action in the second half after Joe Taylor's penalty and a superb strike from Rhys Murrell-Williamson put Cray two nil up before Horsham replied.
Defensively, Jay Leader, Mitchell Nelson, Geofrey Okonkwo and Barney Williams were outstanding while Charlie Allen, Bradley Pritchard and Karl Dent deserve credit for their solid work in midfield while Taylor and Murrell-Williamson never stopped working and in the end despite, some Horsham pressure Lewis Carey, not for the first time stepped up to produce a terrific performance in goal.  Not just for his penalty save nine minutes from end but his handling and composure were key in repelling the Horsham drive late in the game.
The Wands will be without Mundele through suspension and the team played a training friendly at Punjab United on Monday night in order to give players looking for a game a chance for fitness.  Joe Taylor's goal gives him 28 for the season and 22 in the league to continue to lead the Golden Boot standings. February is certainly a tough month but the postponement of the Folkestone Invicta game on 18th February lightens the load a little.
Worthing have put together a great run and their last league defeat came in October at home to East Thurrock United and in 2020 have won 6 out of their 7 league games played which won manager Adam Hinshelwood the January Manager of the Month.
The two sides have already met twice this season with a tremendous tussle at Hayes Lane on 2nd November which ended 2-2 with Joe Taylor putting Cray ahead at half time before Ricky Aguiar levelled on the hour.  The game burst back into late life when Worthing went ahead four minutes into stoppage time when Shola Ayool's ball across was turned into the net by Leader but there was still time two minutes later for Aguiar to nod into his own net to earn Cray a draw which on reflection was definitely a fair result.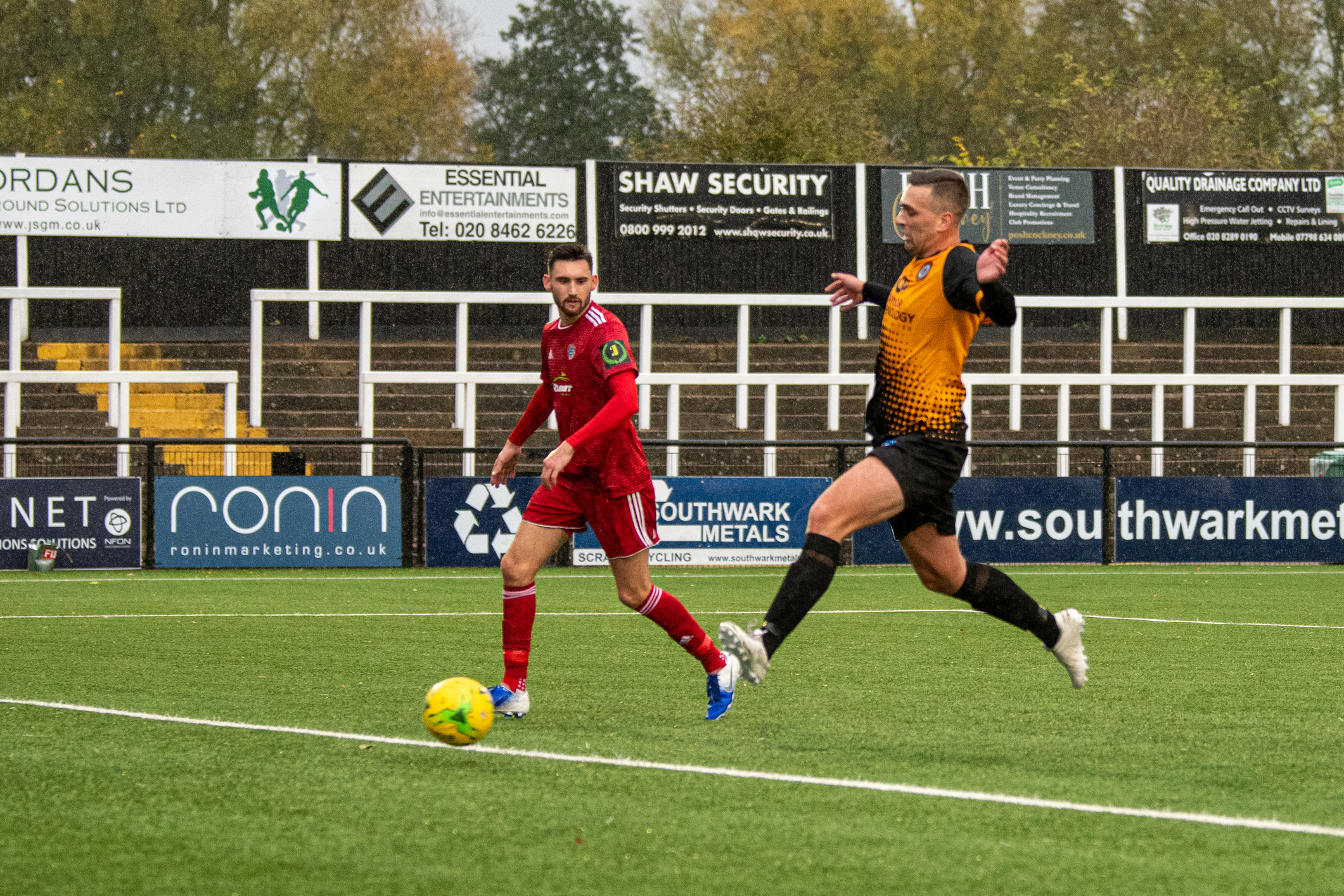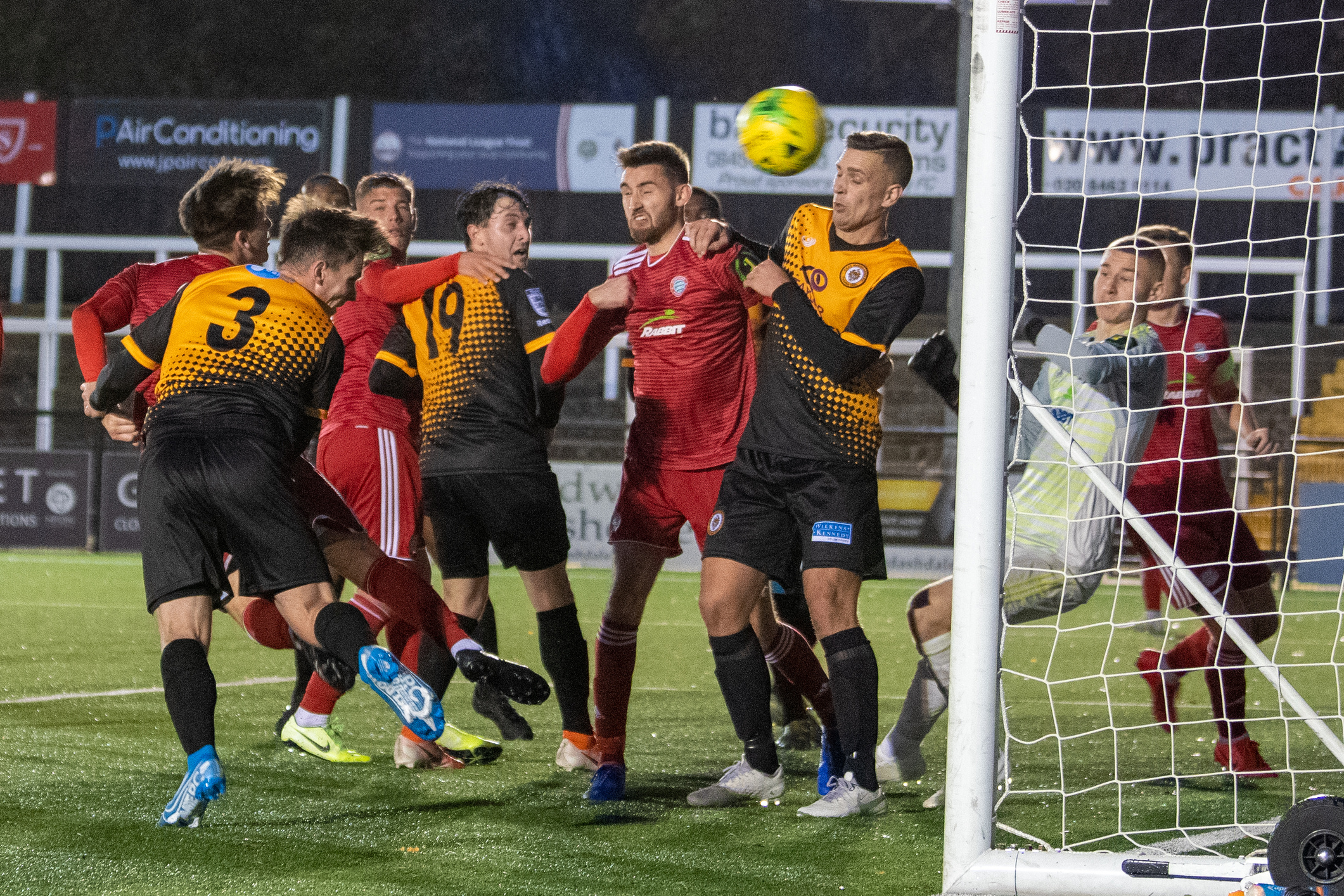 Cray also travelled to Worthing on December 21st in the Isthmian League Cup where Worthing went two up through goals from Dylan Jelley and a Mundele own goal. Cray pulled a goal back after half time through Bradley Pritchard but a Tom Chalaye strike made it 3-1 before Karl Dent grabbed a late consolation but the game ended 3-2 to Worthing. So not really a lot to choose in both meetings.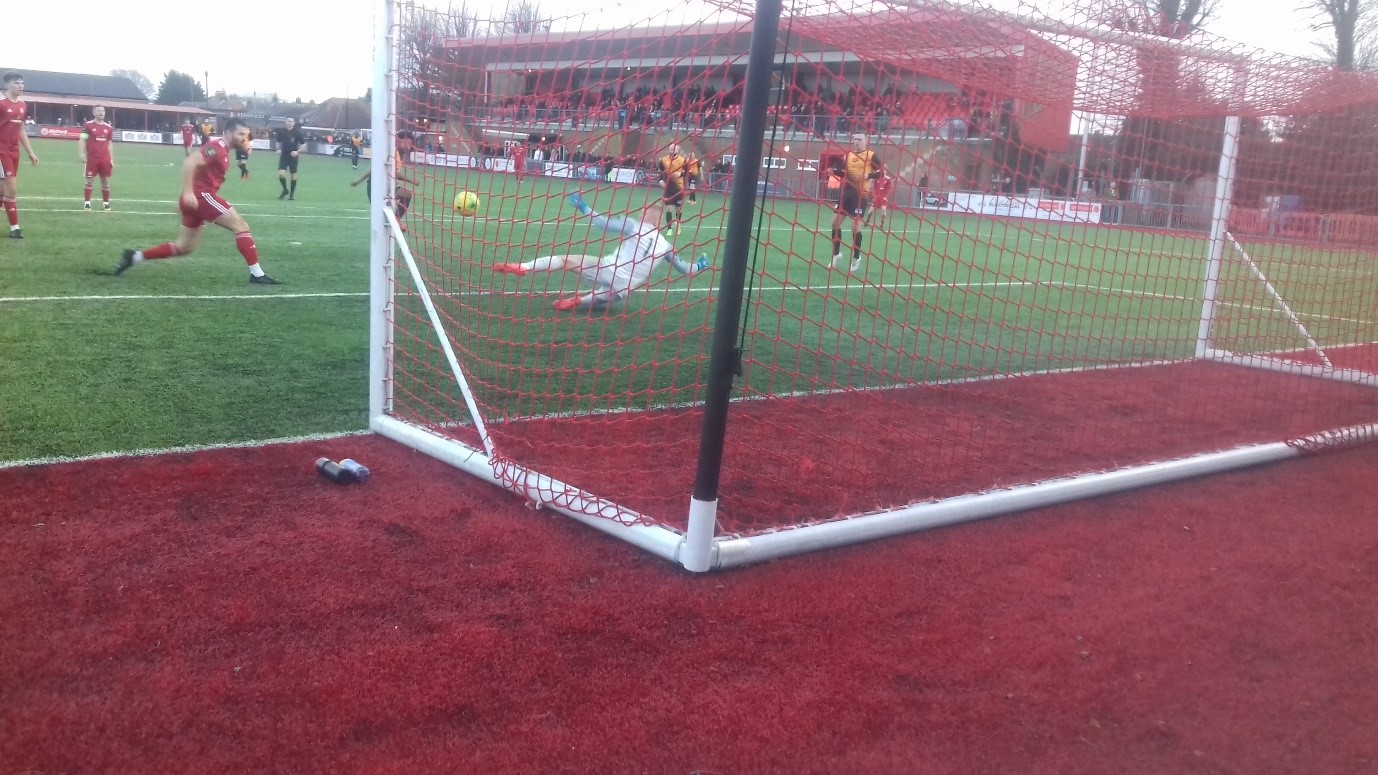 Worthing's home form has been very good with wins against Lewes (3-1), Bognor Regis Town (3-0), Kingstonian (2-1), Brightlingsea Regent (3-0), Corinthian Casuals (2-0), Margate (2-1), Enfield Town (3-2), Horsham (3-0), Merstham (6-1) and Cheshunt (2-0).  They drew with Leatherhead (5-5) and Carshalton Athletic (1-1) and their only home defeats came at the hands of Hornchurch (0-6) and East Thurrock United (2-3).
Away from home their record is just as impressive since losing their season opener at Folkestone Invicta.  They have won at Margate (2-0), Merstham (3-1), Cheshunt (2-1), Wingate & Finchley (3-2), Bowers & Pitsea (2-1), Bognor Regis Town (3-0), Brightlingsea Regent (3-0), Carshalton Athletic (2-1) and Bishop's Stortford (1-0). They drew at Potters Bar Town, Cray Wanderers, Haringey Borough and East Thurrock United.   They are also through  to the Quarter Final of the Isthmian League Cup and Semi Final of the Sussex County Cup. Top scorer in the league is Oliver Pearce with 15 goals.
Meetings between the two sides have been rare with just the seven matches played, one FA Trophy tie in November 2016 and the Isthmian League cup tie mentioned above.  One of those games was one of the biggest games in the Wands history on 28th April 2009, in the Ryman South Playoff semi final at Hayes Lane, a Jamie Wood goal before half time settled a tense contest and sent Cray through to the Final against Met Police which the Wands ultimately won.  Of the five league games Cray have won one, Worthing one and three draws.
Founded in 1886 Worthing spent their early years in the Sussex League where they won eight league titles up to the 2nd World War and played in the Corinthian and Athenian leagues after that.  They have been members of the Isthmian League since 1977 and have played in all divisions finishing runners up in the Premier twice during the 80's.  They were relegated from the Premier in 2006-07 and remained in the South until the 2015-16 season when they finished third in the table.  In the playoffs they hammered Hythe Town 7-0 at home and then comfortably beat Faversham Town 3-0 at home in the final to gain promotion back to the Premier for the first time since 2007.  Since then the Rebels have finished 14th, 16th and last season finished 9th.
This will be a great test of Cray Wanderers promotion credentials that is for sure but the Wands can take heart from their previous two performances against Worthing and should be a tremendous match to watch and one Tony Russell's side will relish.
DIRECTIONS TO WORTHING FC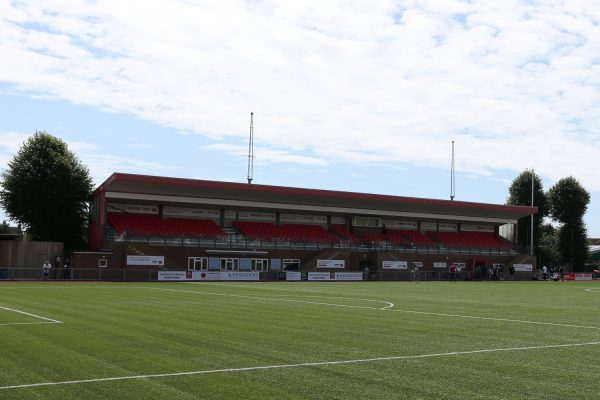 The Crucial Enviro Stadium, Woodside Road, Worthing, West Sussex BN14 7HQ
Adult — £10.00
Concessions — £8.00
12-16 year-olds — £3
6-12 year-olds — £1
Under 6 — Free
Driving
From the Cray's your best bet is via the A23.  From the M25 after 3 miles at junction 5 use the left 2 lanes to take the M25 exit to M23/Gatwick Airport/Heathrow Airport/M4 and after 0.8 miles continue onto the M25 for 11.7 miles.  At junction 7 use the left 2 lanes to take the M23 (South) exit to Brighton/Crawley/Gatwick. After 1 mile merge onto the M23 continuing on for 13.8 miles and then onto the A23 for 15.7 miles.  Use the left two lanes to turn slightly left and after 0.3 miles at the roundabout take the first exit onto the A27 slip road to Worthing.  After 0.3 miles merge onto the A27 and after 7.9 miles take the 2nd exit onto Upper Brighton Road/A27. After 2.2 miles turn left onto Sompting Road and then at the roundabout take the 2nd exit onto Sompting Avenue/B2223.  After 0.3 miles turn left onto Broadwater Road/A24 and then after 0.3 miles turn left onto Northcourt Road.  After 0.3 miles at the roundabout continue straight on to Bulkington Avenue and after 0.2 miles turn into Woodside Road and the ground will be on your right.
PLEASE NOTE THERE IS NO PARKING AT WORTHING FC
Away supporters are advised to take advantage of the parking at Worthing High School in South Farm Road, BN14 7AR.
Turn right out of the school gates and proceed to the mini-roundabout, whereupon a right turn will take you into Bulkington Avenue. Take the next available left down here and you will be in Woodside Road, the football club will be on your right.
Parking at the High School is free of charge.
Train:
Directions – Worthing station is around half a mile to the ground.  From Railway Approach head towards Cross Street and take a right onto Cross Street and then a right onto South Farm Road and after 0.1 mile turn left onto Henty Road and after 0.2 miles turn right onto Woodside Road and the ground will be on the right.
Trains go direct from London Victoria at 16 & 46 minutes past the hour and takes about 1 hr 20 to get there.  Returns are at 05 and 35 past the hour. If you wish to leave from London Bridge trains at 15 & 35 past the hour require a change at East Croydon or Haywards Heath.  Returns at 05 or 35 require a change at either Gatwick Airport or Haywards Heath.
The club minibus running to the game is now full and leaves Flamingo Park at 11.30am.
The nearest pub to the ground is possibly the Brooksteed Alehouse on S Farm Road (might not be open until after the game though) while in the High Street is the Corner House Free House and Garden.  There are plenty of other options in Worthing.  If you have time there are plenty of Fish and Chip shops in Worthing with the Worthing Fisheries highly rated on George V Avenue.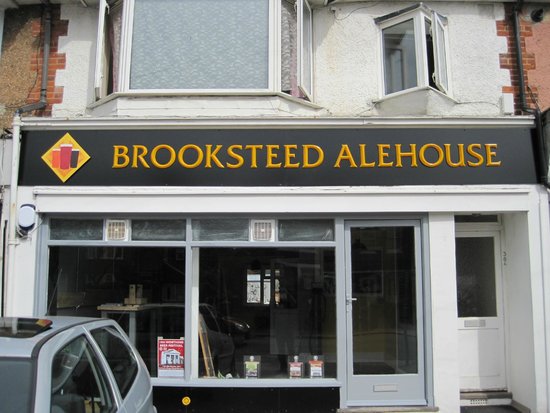 Worthing is a large seaside town in West Sussex and 10 miles from Brighton.  It possesses an award winning pier voted the best in Britain in 2019.  There is also the Cissbury Ring, a National Trust protected monument to a Neolithic Flint Mine and an Iron Age Hillfort.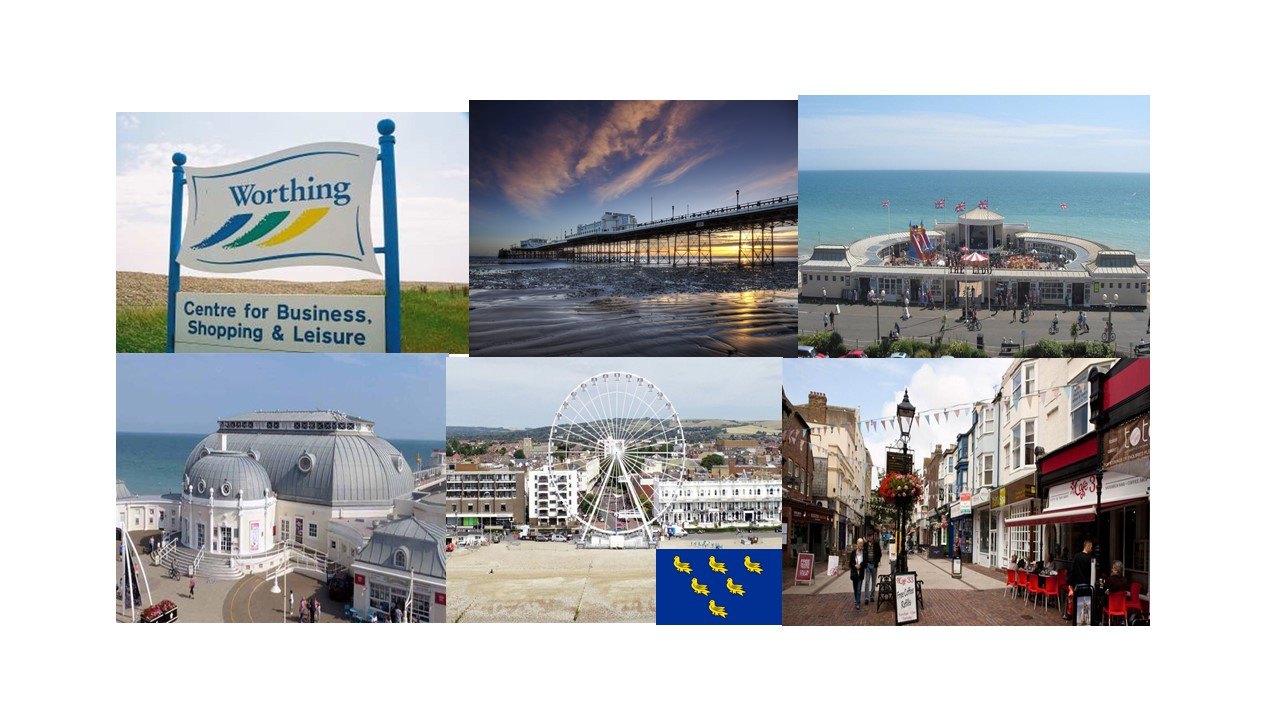 The town was known for centuries for its Mackerel fishing and was a major industry before becoming a major seaside destination and many wealthy people went to stay there particularly in the literary field particularly Oscar Wilde and Harold Pinter.  It is also home to one of the country's oldest cinemas, the Dome, opened in 1911 or as it was known the Kursaal up to World War I.  It has survived a number of closures and restoration and was re-opened in 2007. Culturally excellent, there are theatres, an Assembly Hall, Museum and Art Gallery and amidst the culture and fun of the seaside there remains evidence of its fishing industry past, hence the club nickname of Mackerelmen.