Hi Members, hope you are all well and in fine fettle.
Yesterday, Saturday 25th was 'Non-League Day'. For those of you who do not know what that is, in simple terms, it is the one day in the
season that all non-league Clubs, registered with the FA, try to raise funds for a worthy cause.
Cray Wanderers FC were delighted to help local adult palliative Hospice, St Christopher's. 
Besides a collection etc. we had a "Hit the goal Crossbar" challenge. 
We are therefore very grateful to Fiona Heath, the Fund Raiser for the Hospice, who agreed to make the draw for us during half time of the fixture, Cray Wanderers FC v Horsham FC. Which indeed turned out to be very entertaining itself, as it finished in Cray winning the game 5-3.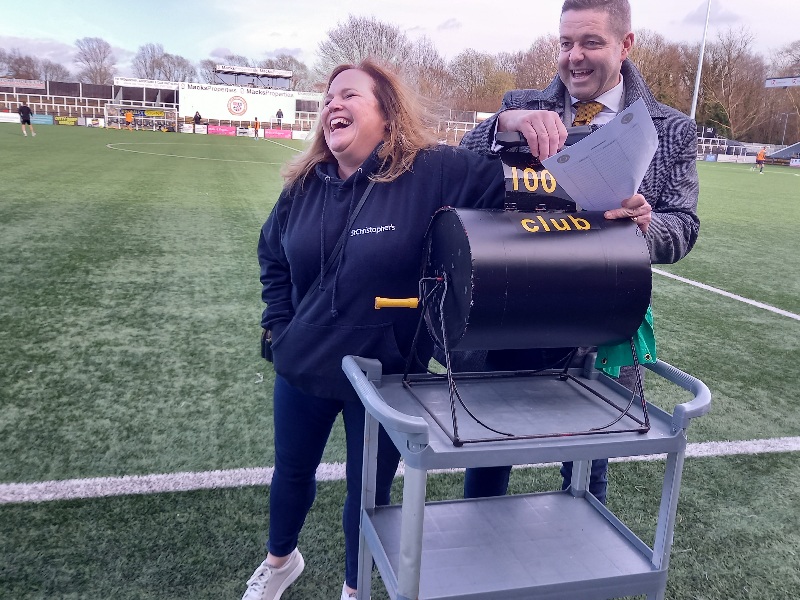 So, here are the Results of Fiona's efforts on our behalf.
The first Prize of £150 went to the holder of number 27, and guess who that is? It is yours truly, yes me!  I am happy however to tell you that the prize money has been passed on to both St. Christopher's and Cray Wanderers FC.
The 2nd Prize of £100, was won by holder of number 64, Alison Moriarty, who resides in Chingford, London E4 and no, I can assure you that she is not related to Sherlock Holmes's dire enemy. 
The third prize of £50 has been won by long time supporter of CWFC, Mr Leslie Hain. Les lives in Tonbridge Kent.
Congratulations to our winners for March and the best of luck to you all for next month's (April's) Draw.
Please let me know if you change address, get a different telephone number etc.
And Yes, once again I thank you all for the support you have given to Cray Wanderers Football Club, long may it last.   
Best Regards,
Kerry.
K.Phillips.
CWFC Life President,
                &
100 Club Administrator.