Cray Wanderers 2019-20 – That was the Season that wasn't – A Pictorial review
League Game 7 – Tuesday 17th September 2019 –
Bishop's Stortford vs Cray Wanderers
(Apologies for the pictures, none really came out on the night and bright halogen lights and small camera doesn't really work for me. It would have been a shame if there were no pictures from the match)
Bishop's Stortford                        1                   Thomas 29
Cray Wanderers                          5                   Taylor 25, 54, Murphy 39, 68, Dent 43
One of the great Cray Wanderers performances of the season as a first ever trip to Bishop's Stortford ended in a 5-1 win for the Wands. This was also the night where Cray showed the league we had arrived in the Premier and the bad luck in the previous games was blown away.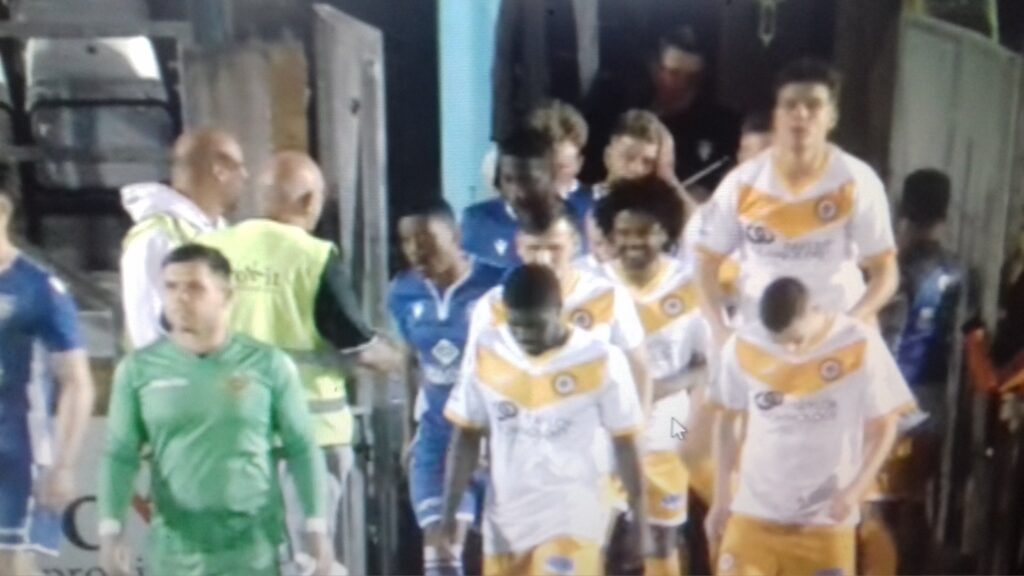 Cray set out really quick and Bishop's keeper Jake Burbidge had to make smart saves to deny Joe Taylor, Lee Lewis's free kick and a Harry Hudson header all within the first quarter of an hour.
The Wands deservedly went in front in the 25th minute when Ben Mundele made a run forward, created a bit of space inside the area and his shot was pushed out by the keeper and Joe Taylor followed up to score.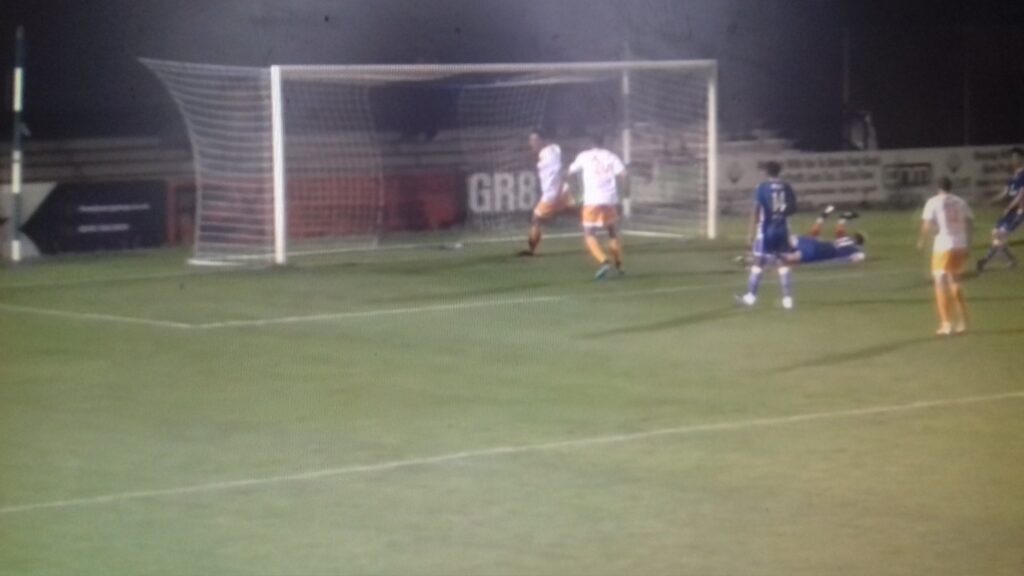 Bishop's though drew level four minutes later when Jake Thomas made a strong run forward and blasted home a decent strike from just outside the area.
The home side should really have gone in front when veteran Jamie Cureton was played through but shot wide of the right post.
However six minutes before half time Cray restored the lead when a long ball from Lewis Carey found its way to Tom Murphy who charged down the right of the area and tucked home a very tidy finish.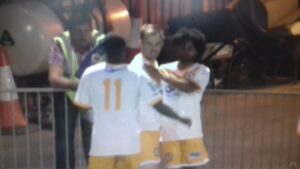 Two minutes before half time Karl Dent scored his first of the season following a fine pass from Bradley Pritchard and fired into the bottom right corner with a sublime finish.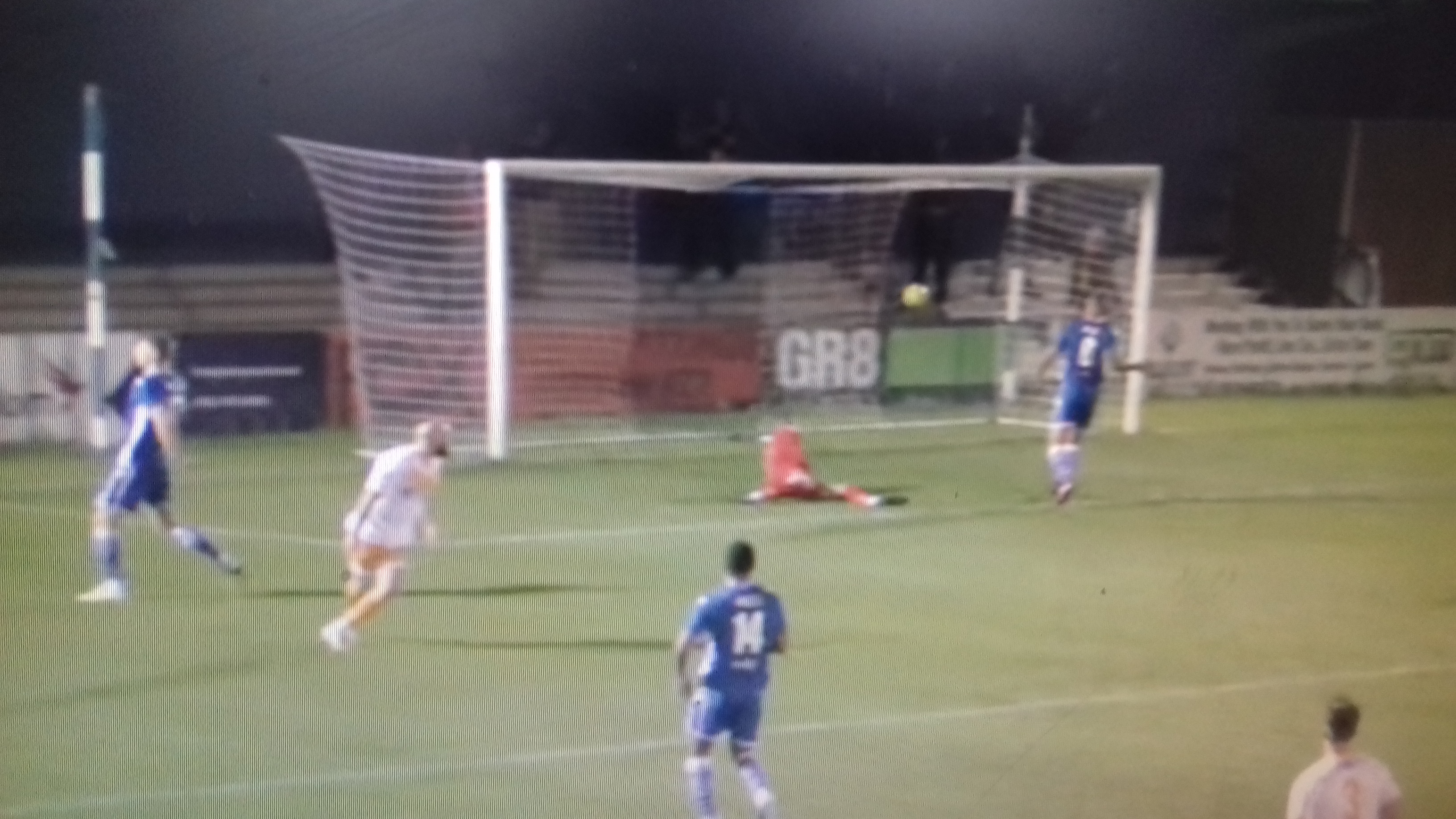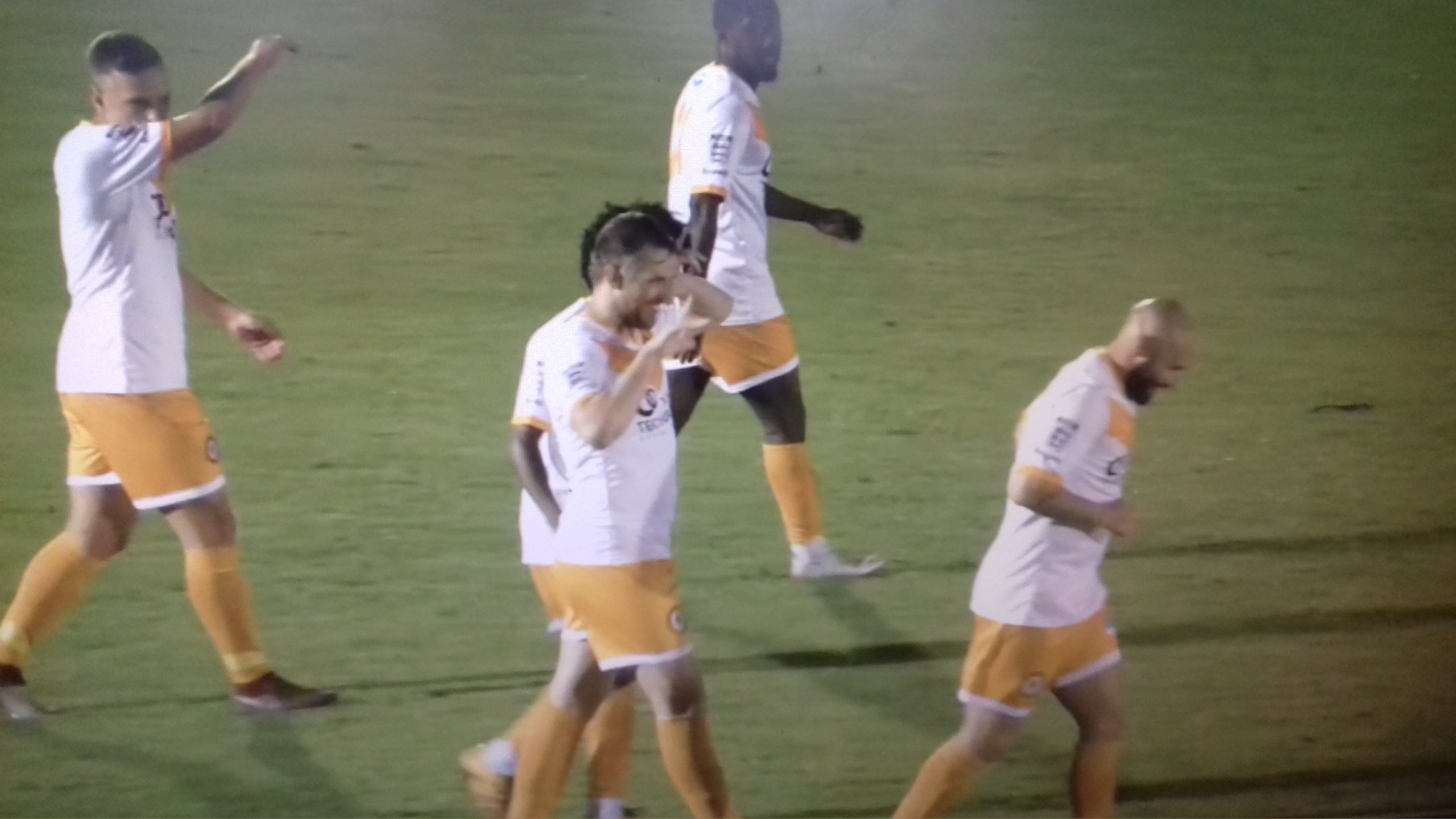 In the 54th minute Cray scored a fourth when Carey's pass upfield caught out the defence and Taylor strode onto the ball and made no mistake rolling the ball into the net.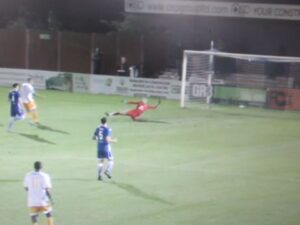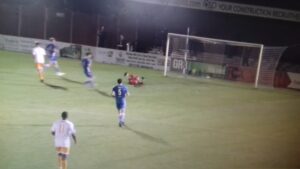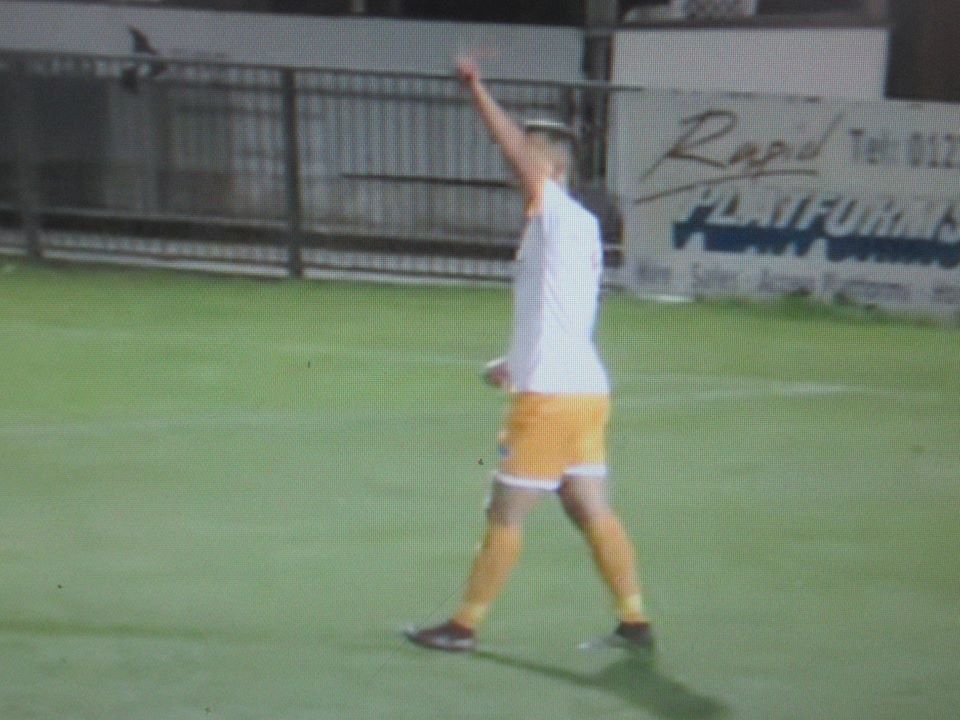 Then in the 67th minute, the Blues skipper Sam Robbins was sent off for hauling back Ben Mundele when clear on goal. Murphy punished in the offence in the best way possible firing home a great free kick from 20 yards and it was game over.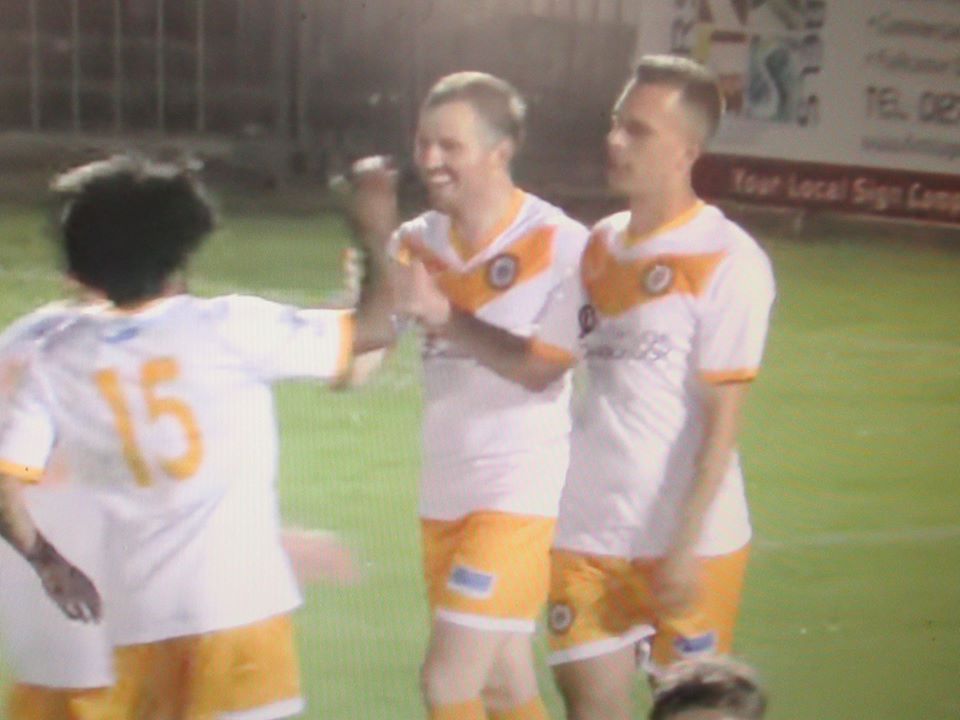 The only sour point was at the end of the game when Mitchell Nelson appeared to have received racial abuse from a home fan and throughout the season in football generally this was not a new phenomenon.
Cray had shown great quality away from home, under the lights and beaten a good side and beaten them well and so moved up to 8th in the table on 10 points.
Team: Lewis Carey, Barney Williams, Harry Hudson, Mitchell Nelson, Tom Carlse, Lee Lewis, Bradley Pritchard, Ben Mundele (Freddie Parker), Karl Dent (Charlie Allen), Tom Murphy (Jerome Federico), Joe Taylor
Att: 205
The thoughts of Tony Russell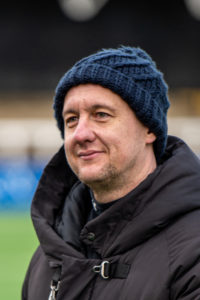 "I thought that perhaps with the exception of the opening game with Kingstonian every game we've played we've been unfortunate not to have won six and drawn one of the seven games. We've played well and not got what we deserved. Bishop's Stortford to be fair to them we talk about teams giving us respect, they didn't with the formation they set up and full marks to them. They came at us and by doing that they allowed us to come at them and it developed into a bit of a gunfight between us.
Even before we scored the first goal we should have scored two or three and to be fair the final score could have been 10-3. I thought we were brilliant without the ball as they were very direct with a big guy up front and the experienced Jamie Cureton but I thought young Harry and Mitch did brilliant to nullify that and every time we won the ball back it looked like we were going to score. For any punter that came to pay and watch that game you got your money's worth. Rightly so we were the better side and the scoreline reflected it but they never stopped coming at us and didn't allow us to control the game and they kept 3 men up so we had no choice to keep the game moving forward. Everything we do is a reaction to what other teams do to us and what they did to us was make us go forward. We've beaten a good side and it's a good springboard for us.
We've only lost one game we've just drawn to many and will do us a world of good. We've got a good side and still the likes of Jay, Tom Phipp and Andre to come back in so these are exciting times for the club. I've said this all along, we've done the hard yards for the first two years setting up everything, the youth teams, training facilities and we are starting to reap the benefits. You've seen another mature performance from Lee Lewis against Bishop's Stortford. We asked him to sit in front of the back four and he did it to a T.
(On Joe Taylor) He was superb, similar to the pre-season game with Sudbury they played the same tactical formation 3-5-2 and they left him isolated one on one. The big centre half had a good battle with him but JT won in the end it was a masterclass. We've been threatening that one with Lewis Carey and the ball over the top to him and Lewis was confident we would get it right.
(On the incident at the end of the game) We can't really sweep this sort of thing under the carpet it has been going on for too long. Racism has got no place in football and in all the time I've been in non-league football I've never heard it that blatant. It is horrible, No-one should have to put up with that and it was upsetting for Mitchell, Joe, Bradley and others. We are a good group, we don't go around kicking people and it just took the edge off the game. You just hope society is more educated than that and I like to think our educational system is better than producing wallies who shout racial insults at people. He hasn't spoilt our night though"
MIDWEEK RESULTS & LEAGUE TABLE