Cray Wanderers vs Horsham – Isthmian Premier – Saturday 25th March 
Cray Wanderers                                                  5
Nyren Clunis 3 mins, 51, Harrison Sodje 45+1
Freddie Carter 77, Dajon Golding 88
Horsham                                                             3
Lee Harding 43, Tom Day 66, 
Daniel Ajakaiye 79
Pics: Ben Keyes
Cray Wanderers made it four straight wins and scored five for the second successive home game to remain sixth in the Isthmian Premier after an eight goal thriller against eighth placed Horsham who played the second half with ten men at Hayes Lane.
In a game of high intensity and attacking verve Cray got off to a flyer with Nyren Clunis pouncing on a loose clearance from goalkeeper Taylor Seymour to finish clinically for his third goal of the season.  
Horsham perhaps edged the game after that but were reduced to ten men in the 38th minute when captain Jack Brivio was dismissed for an off the ball incident with Anthony Cook.  Despite being a man down Horsham drew level two minutes before half time when Lucas Rodrigues ball across from the right was bundled in by Lee Harding from a couple of yards out.
Cray though went straight back up the other end and re-took the lead in stoppage time with a rasping strike from Harrison Sodje from twenty yards for his first Cray Wanderers goal.
The Wands had a bit more extra pep at the start of the second half and increased their lead in the 51st minute when Dan Bassett's ball across led to hesitation at the back and seizing on a loose ball Clunis stroked home his second of the game and his third against Horsham this season.
Horsham are a good attacking side and pulled a goal back in the 66th minute when substitute Tom Day's ball in from the right towards goal found its way in at the far post with another substitute Jack Mazzone looking to apply a touch.
Cray though restored their two goal lead in the 77th minute when Clunis became provider and played a superb ball into the box which was latched onto by Freddie Carter with a sharp volley to also get off the mark for the Wands in great style.   The Wands couldn't relax as two minutes later it was 4-3 as Daniel Ajakaiye plundered another close range goal to make it tense last ten minutes.  
The game was sealed in the 88th minute when Seymour's clearance fell short and Dajon Golding strode forward, rounded the keeper and rolled the ball into the net to complete the scoring on a dramatic day.
Both sides came into the game unbeaten in three and Cray three points behind fifth placed Enfield Town and Horsham a point behind and always looked like being a game of high quality despite the high stakes of the match.
For the Wands there were two changes to the starting lineup that played at Brightlingsea Regent last Saturday which were both enforced with Liam Northwood in goal for the suspended Shaun Rowley and Freddie Carter came in for Jalen Jones who is on international duty for Guyana.  Horsham named an unchanged side to the one which beat Bowers & Pitsea last weekend.
Certainly if a newcomer to Non League football on Non League Day were to have attended today they would surely be hooked and want to come again as the pace was pretty unrelenting from the first whistle and the first half in particular seemed to go by in a flash.
The Wands took the lead in the 3rd minute when Taylor Seymour played a pass out from goal which found Nyren Clunis who still had a lot to do and took on a defender and from just outside the area simply clipped the ball wide of the keeper and into the net.
Horsham looked to work their way back into the game and a free kick from Tom Richards was played towards the near post and Northwood had to turn the ball behind for a corner. From the right wing corner from Richards to the far post where Jack Strange headed over. 
Cray had a chance from a free kick outside the area to the left and Anthony Cook's shot was on target and held by Seymour.
Horsham though were threatening and Richards cross to the far post for Bobby Price was met by a fine clearing header by Freddie Carter.  Then Jack Brivio's pass saw Daniel Ajakaiye show his pace down the right but Northwood did well to come out and clear the ball.  Then a corner from Lee Harding down the left swung towards the far post but just went away from goal and behind without getting a touch.
Cray came close to a second when following a corner down the left the ball came to Clunis who saw a shot blocked in a penalty area scramble and came out to Yahaya Bamba who also saw a drive blocked.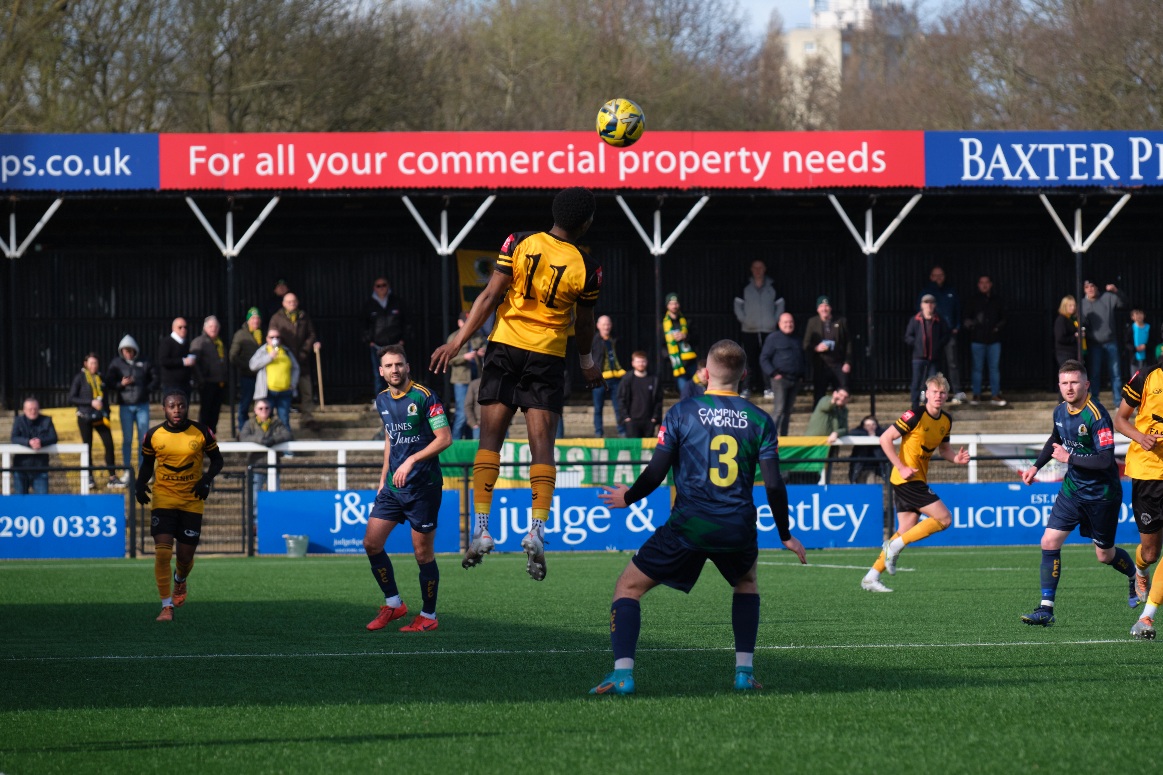 Still the game continued at a break neck speed and Horsham came close when a ball was played through to the lively Ajakaiye once again down the right but this time Northwood did well to block his attempted shot behind for a corner.  Then a cross from Lucas Rodrigues down the left was turned wide by Ajakaiye. 
The game had a pivotal moment in the 38th minute when Jack Brivio was sent off when he caught Cook off the ball and was deemed violent conduct and Horsham had to play the remainder of the match a man down.
Despite this setback Horsham drew level with a scrappy goal out of keeping with the game in the 43rd minute when down the right byline Rodrigues looked to get the ball across which Northwood got his hands too but Harding was on hand to poke the ball in from a couple of yards.
Yet there was still more drama as in the second minute of injury time Cray retook the lead with a goal out of nothing when a ball was played across midfield to Harrison Sodje who took aim twenty yards from goal to unleash a fine strike which passed Seymour into the left corner of the net for his first Wands goal.
HT:  2-1
If the first half packed in a lot then the second was even more full of excitement and Cray started on top and Dan Bassett whipped a ball across from the left with no takers in the box.
In the 48th minute a fine passing move saw Marcus Sablier and Bassett combine to set up Bamba who curled a shot fractionally wide of the right post.  A minute later though Horsham maybe should have been level again when Ajakaiye latched onto hesitation at the back and found space just inside the box but shot wide of the right post.
Two minutes later Cray scored a third goal as this time hesitation in the Horsham defence from Bassett's ball across found Clunis in space who with class and precision placed the ball into the net for his second goal of the afternoon.
From here Cray had a lot more of the game and Sodje fired over from distance and Bassett saw a flicked effort from Clunis' pass held by Seymour who then did well to push out a shot from Bassett from Cook's layoff.  Shortly after David Ijaha came on for Bamba and gave  a very strong performance in the ast half hour in the Wands midfield.
Horsham to their credit never threw the towel in and substitute Jack Mazzone was unlucky to see a shot crash back off the right post and out into play.
In the 66th minute Horsham pulled a goal back when another substitute Tom Day down the right played in a cross towards the far post that seemed to go all the way through into the net with Mazzone looking to apply a touch.
Shortly after Horsham came close to levelling when Harvey Sparks' free kick was headed over by Harding as the game continued to go from end to end.  Tom Derry was then brought on with twenty minutes to go in place of Marcus Sablier.
Cray came close to a fourth when Bassett's low shot was well held by Seymour before being replaced for the last quarter of an hour by Dajon Golding.
In the 77th minute Cray looked to have comfort in the game once more with a fourth goal which was well worked with Sam Wood, Clunis and Ijaha working to find space and the ball came back to Clunis out on the left and his ball into the box was met by a diving Freddie Carter on the volley and hit the back of the net.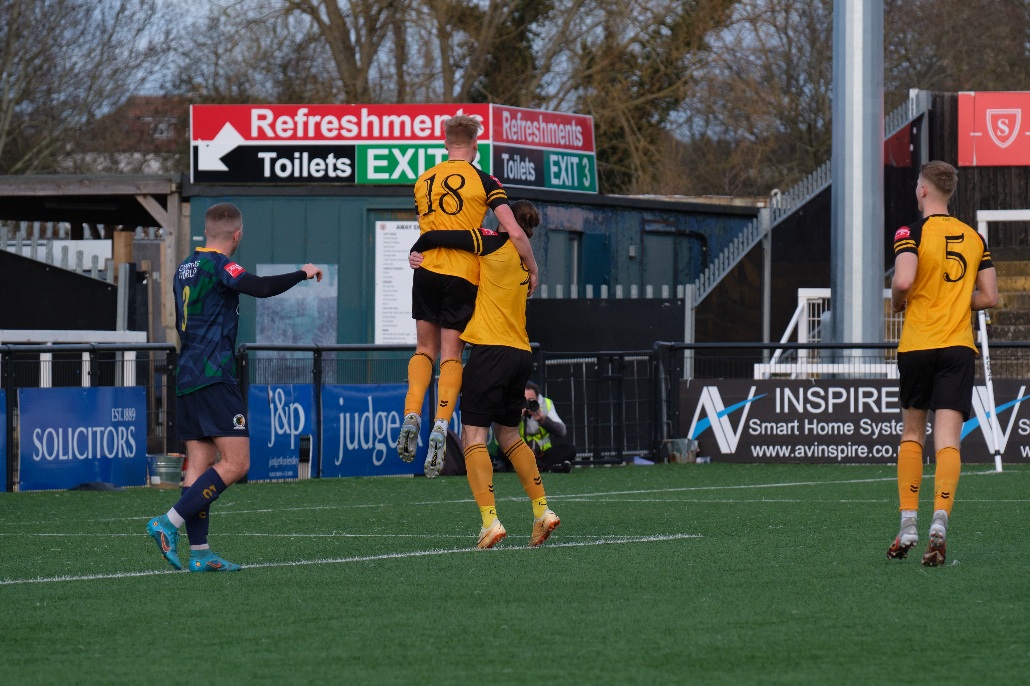 Horsham are a resilient side and pulled another goal back two minutes later when down the left, Sparks' ball across to the near post was eventually bundled in by Ajakaiye for a goal his performance deserved.
Cray though ended the game strongly and first Golding's cross into the box just skimmed off the head of Derry and went wide.   Then Golding was unlucky to see a fine strike pushed round the left post well by Seymour for a corner.
In the 88th minute the scoring was completed when Seymour looked to clear the ball forward but Golding nipped in and took the ball into the area, round the keeper and found a good angle to slot the ball into the net for his third goal for Cray.
There was still time for nearly another consolation goal for Horsham when Mazzone's sweet volley was pushed behind for a corner by Northwood.
The Wands though saw out the remaining minutes to pick up a huge three points against a fellow playoff contender and move on to 63 points after 37 games, level on points with Lewes and three behind Enfield Town in 5th place.  Enfield entertain leaders Hornchurch on Tuesday night then host the Wands on Saturday 2nd April in what will be a huge match.
On Non League Day this was a showcase of how great football at this level of the game can be, full of skill, endeavour, pace, commitment as six yellow cards and one red will testify and some great finishing.  Both sides in fairness should take credit for a terrific game of football and both in good nick going into the last month of the season.
Four wins out of four in March has seen Cray Wanderers move back into contention for promotion after looking like they had too much to do at the end of February and the next four weeks could yet see something special for the Wands but may just have to keep on winning. 
Cray Wanderers:  Liam Northwood, Jephte Tanga, Matt Weaire, Freddie Carter, Harrison Sodje, Sam Wood, Anthony Cook, Marcus Sablier (Tom Derry, 70), Nyren Clunis, Dan Bassett (Dajon Golding, 74), Yahaya Bamba (David Ijaha, 60):  Subs: Destiny Oladipo, Rio Campbell
Booked:  Sodje 45, Golding 82
Horsham: Taylor Seymour, Bobby Price, Harvey Sparks, Doug Tuck (Tom Kavanagh, 57), Jack Strange, Jack Brivio, Lucas Rodrigues (Tom Day, 62), Charlie Hestor-Cook, Lee Harding, Daniel Ajakaiye, Tom Richards (Jack Mazzone, 56):  Subs:  Alex Malins, Shamir Fenelon
Sent Off: Brivio 38
Booked: Ajakaiye 19, Strange 41, Rodrigues 56, Harding 67, Kavanagh 90
Att: 334
Referee: Joseph Turnpenny
Assistants: Ericsson Temu, William Donnelly.