Kent Senior Trophy Final 1993 Memories – An Interview with Sam Wright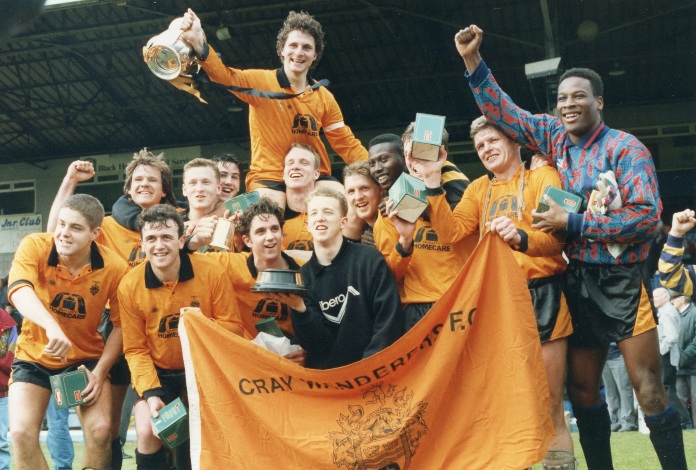 Colour photos:  Mike Floate
Two days after today's game with Kingstonian on 17th April will be the 30th Anniversary of Cray Wanderers winning the Kent Senior Trophy vs Whitstable Town at Gillingham in one of the Wands most unlikely final successes.  Club CEO Sam Wright played a huge part in the final scoring the winner and was unsure of his place in the team until before the game.  Here Sam looks back on the match, the build up and post game and how it helped rejuvenate Cray's precarious league position.
Hello Sam.  For our supporters who may not have been following the club at the time and wonder why this is such a big story, it was our only silverware between 1984-2003 and also we were huge underdogs going into the final.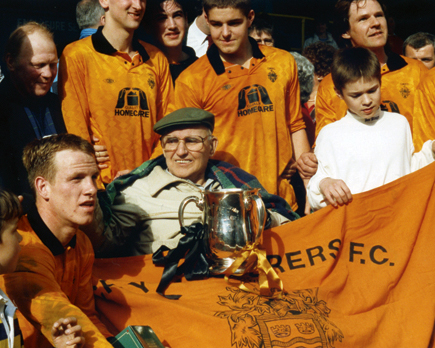 That's right it was a massive shock especially considering that we were dreadful at times that season in the league but for some reason for cup ties we just seemed to kick in as we also got past four rounds of the FA Vase. You know what it was! We were all honest players, we gave it all we could. We just weren't quite as good as some of the other teams in the Kent League and didn't have great depth either to the squad.  We did have a good core and those lads dug deep in those cup ties and that's how we managed to get to the final. Three or four of those games we were never due to win, especially the semi-final vs Deal Town which was massive but somehow got through.
Looking back to the road to Gillingham we beat Midland Bank away (2-0) where you scored, then Folkestone Invicta away (4-3), Thamesmead Town went to the wire after a 3-3 draw at home (Sean Cooney scored a hat-trick) we won the replay on penalties after a 1-1 draw. Then we beat Deal Town in the semi-final 3-2 after extra time at Oxford Road where I think it is fair to say the Jenko legend was born.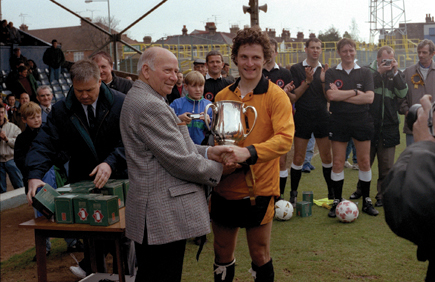 Jenko was unreal that game and scored two great goals. We had that game won and I think they scored a late equaliser and as a team near the bottom of the Kent League we could have gone under in extra time but we dug deep again to win and that was one of many great memories that season.
Personally, for me to score the winner in the final was a big thing but the team that got to the final had a strong core and we just managed to put it all together for the big games.
Looking back, we played a crucial league game at Danson Furness United three days before the final. Was Eddy's instructions to the team to forget about the final as it would have been natural to be excited so close and concentrate fully on beating Danson Furness?
I think because we were in a bit of bother we had a crazy end to the season. Eddy brought in Frank Murphy (a Barnet legend, pictured) who was just an incredible player and on a different level and someone you couldn't get your head around how good he was. He had a massive impact at the back end of the season and didn't play in the final but what he did for us in the league and the run he eventually got us on helped give us momentum going into the final and Frank scored in the Danson Furness game in a 2-0 win.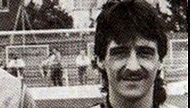 Prior to the final we had a couple of key injuries, Barrie Smith was gutted to miss out and was our skipper. In the team photo he is wearing his shell-suit at the end of the line. Jason Mummery who played a few games that season also missed the game with injury and players were beginning to drop like flies.  Personally I liked playing in midfield and I was in and out of the team at this stage of the season and then because Barrie got injured I ended up playing right back as that was his position.  
For the Danson game we had no other thoughts than just that match because it was a big game down the bottom and we needed to win it and we did.
Let's look back to the team that played in the final and also how you would have described yourself as a player.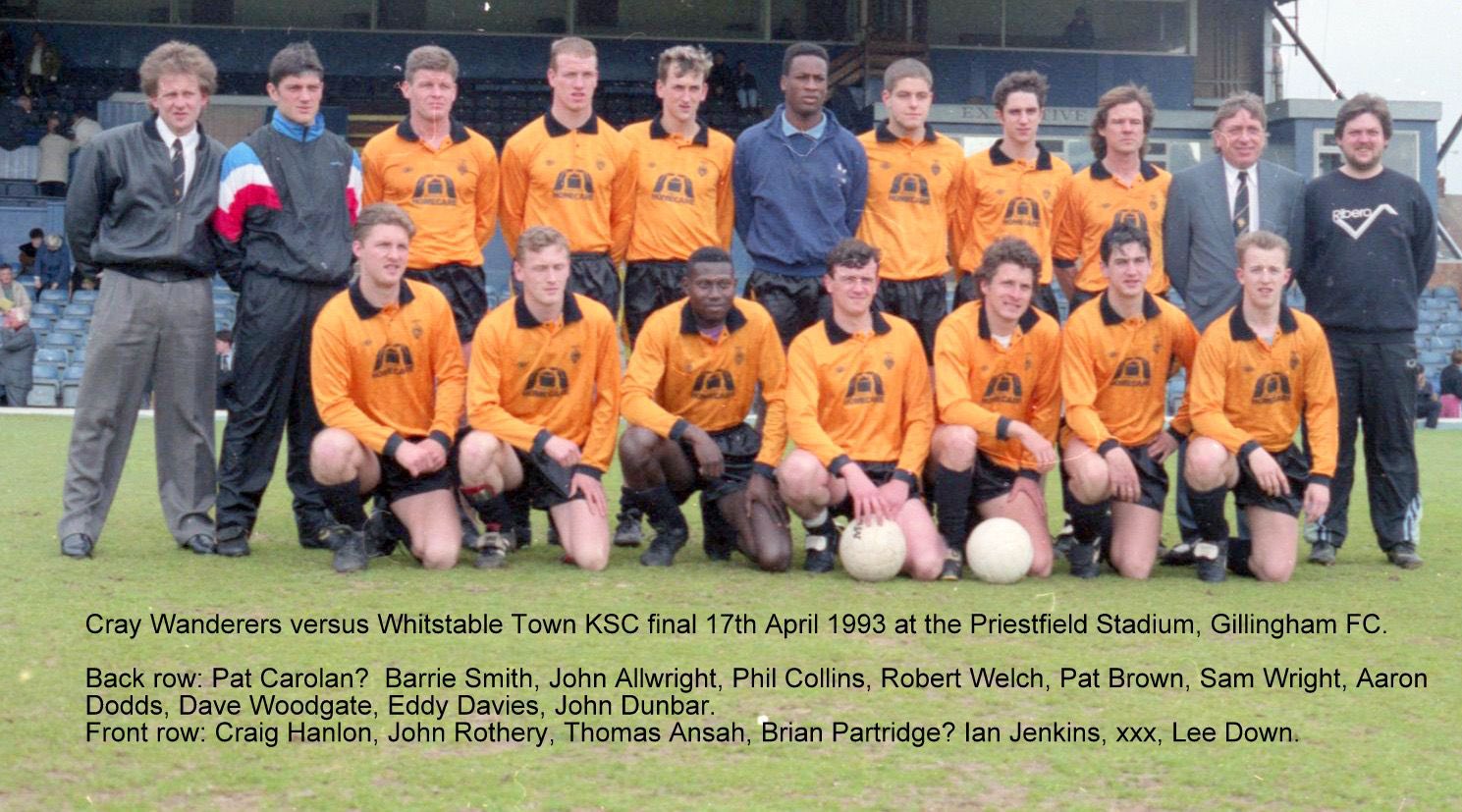 We had Pat Brown in goal who won player of the year that year and was certainly kept very busy that season.  As a player I gave everything, maybe a bit of a dirty player, I don't mind holding my hands up, I didn't mind getting stuck in. I was really the ultimate utility player so I would play anywhere but that doesn't do you any favours as you don't really cement yourself into a team or position. So probably played all over the pitch for Cray over the years including in goal. I had quite a steady season and did play a bit at right back but also played centre-midfield until Jenko came along and took that role. I wasn't the best technically but gave it everything and could pop up and score a goal.
Brian Partridge was left back who was a very solid player and we were both similar and would both get stuck in and get forward when we could. He had a good delivery with his left foot along with Arron Dodds down the left.
Robert Welch and John Allwright "Pecker" as centre-halves (both former Players of the Year). Welchy was at Fisher with me before coming to Cray with Eddy and has always played for his teams. He always had a bit of Beckenham Town in his heart and is down there these days. Pecker, a bit of a Cray legend, was a typical centre half who loved winning headers, maybe not so good on the deck. They were good honest lads across the back and had to do a lot of defending.  We were nearly always near the bottom end during the nineties until right near the end.
In midfield John Rothery (JJ) was wholehearted and worked his socks off, never stopped running.  He would get the ball and pass it to Jenko who would then show his quality from the centre of midfield.  JJ like all the lads, worked hard for the team.  We had Arron Dodds down the left wing, another who came from Fisher who had a lovely delivery and was able to beat a man.  Dave Woodgate was out on the right wing with a terrific mullett who didn't play that much but was another hard grafter up and down the wing.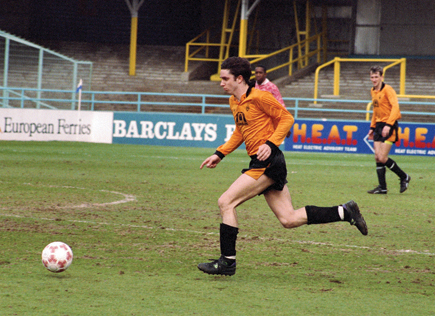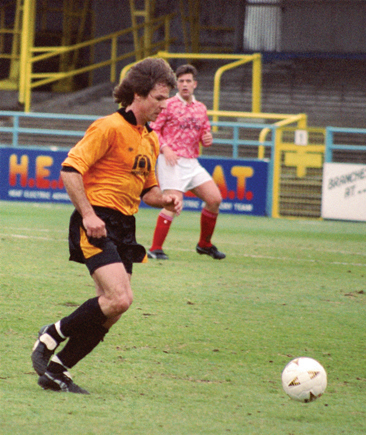 Aaron Dodds                                                                                                    Dave Woodgate
Up front we had Phil Collins who was our main man who scored a lot of goals (27 that season) for a team that was struggling and Craig Hanlon who was a sniffer in the box and another from Fisher.  We didn't have many options so went for Thomas Ansah and Lee Down on the bench so as I said didn't have a great deal of depth.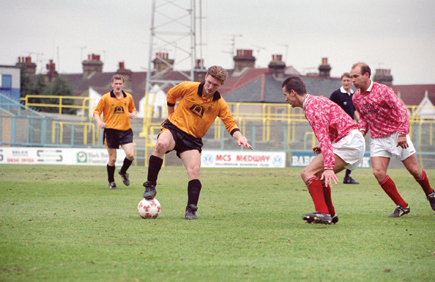 Craig Hanlon
Looking now to the final which was played at a football league ground.  Was there a lot of excitement the day before the game, perhaps some butterflies leading up to the big day?
There was a great buzz about it, I think because we were such underdogs.  I didn't have any butterflies mainly because no-one expected us to do anything on the day and all the talk was about Rashid Short who was the main man for them up front.  Whitstable Town were a good side, nearly always in the top few of the league but I think they did what so many teams do when favourites and underestimated us and thought they would turn up and win. 
So what can you remember about the match? I've read from reports and dispatches that it was fairly cagey for most of the game.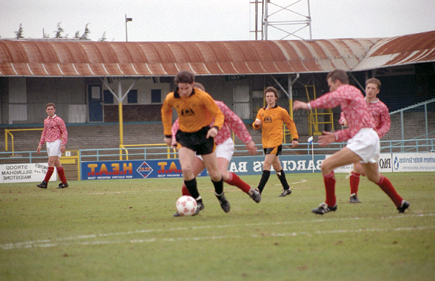 I think we had a bit of a shaky start and they put us under a bit of pressure, Pat Brown did well with a couple of good saves. It was a great day, a nice one for a cup final, the pitch was beautiful down at Gillingham. We got the coach down there and there was a good feel about the occasion. Eddy didn't really name the team so there were a few people, myself included, who didn't know if we would be starting or where but I worked out from the numbers we had that I was.
It was a tight game, there weren't much in it and not too many chances. They probably had slightly the better but it was not like they were battering us.  Then of course I popped up with fifteen minutes to go with the game getting even cagier.  A great ball in from Doddsy left footed inswinging and from the corner of my eye I saw the keeper (Nick Day) coming for the punch and I knew I was going to get to the ball and was just one of those moments where you are running in and then you think, he's not going to get that and I literally got my head to the ball and into the net. The best thing for me was they had a player called John Crabbe, a defensive midfielder with a lot of experience and I just remember seeing his face as the ball went flying in and it was such a good feeling especially to score in a cup final.  I didn't score many goals in my career and there was no celebration planned and I just ran towards the corner and all of a sudden Phil Collins has wiped me out and everyone is bundling me.  I do remember getting up and thinking, my legs are gone because of the excitement and needed to get them going again. It is an emotional moment (think Roger Osborne scoring for Ipswich Town in the 1978 FA Cup Final who had to go off after scoring the winner through mental exhaustion).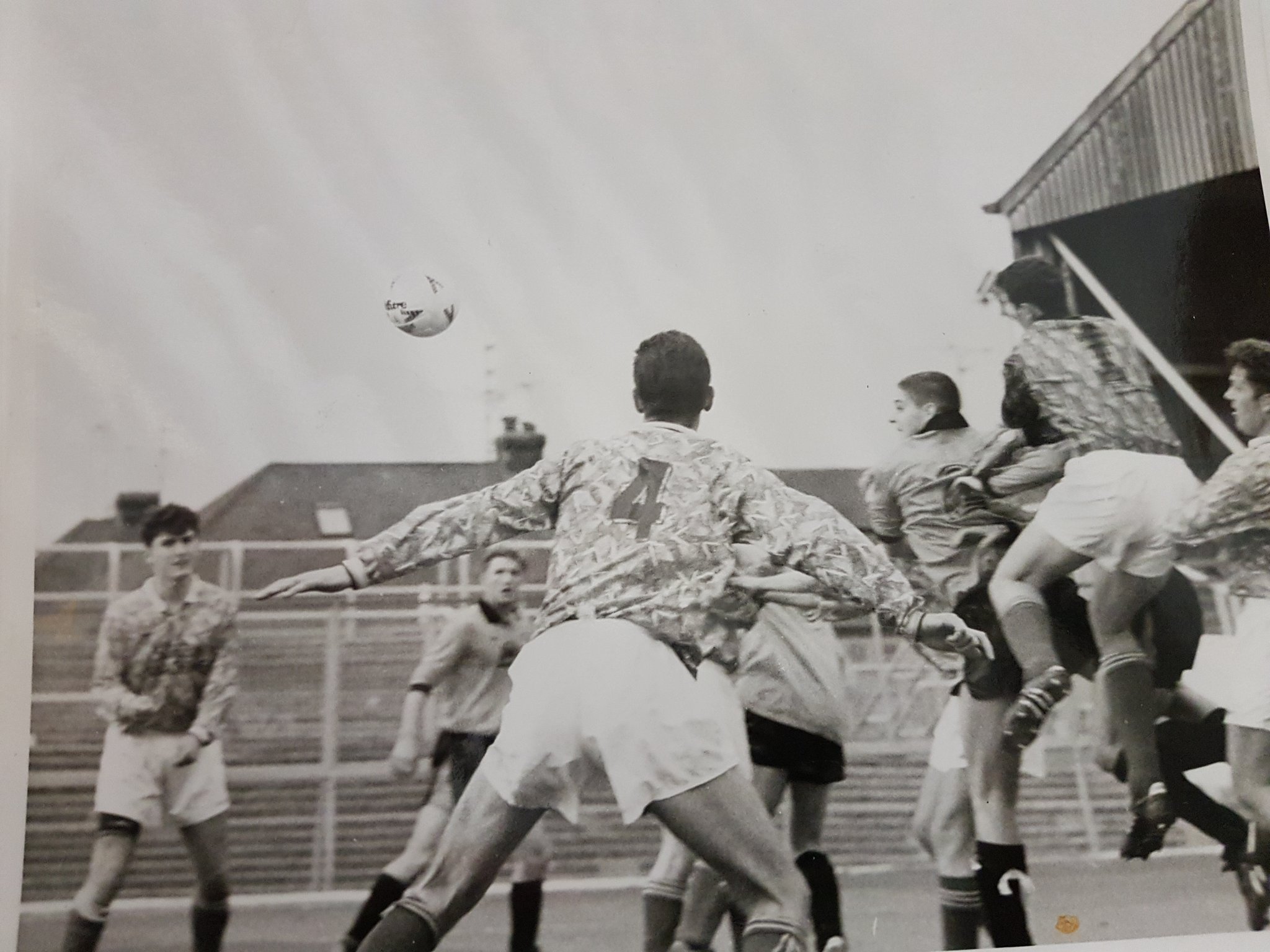 Then we are under a bit of pressure, we go 1-0 up and they would throw everything at us but we defended solidly and I ended up clearing off the line with five minutes to go and I remember tracking round the back of Browny as they attacked and the ball was lifted over him and I got it away.  That's why I was a bit annoyed that Pecker got man of the match after I scored and cleared one off the line but Pecker had Short in his back pocket and did well all game. 
It was a very great day and of course it got a bit boozy that evening back in the Cons Club at Oxford Road.
So victory here must definitely have rejuvenated the season for us. Three days later we played Herne Bay at home and beat them 2-1 and then went on a tear over the next few games winning four of the last six games including scoring five against Kent Police, seven against Ramsgate and six against Crockenhill at home to steer well clear of the drop.  You probably didn't want the season to end with that form.
Yes, it is mad isn't it how something like winning the cup can give you such a dose of confidence but we were really flying, the goals were raining in, Collins got a hat-trick against Kent Police as did Hanlon against Ramsgate, Collin, Hanlon and Woodgate two apiece against Crockenhill and with Frank Murphy pulling the strings we definitely ended on a high.  The next season we upgraded to the Kent Senior Cup and gave a good account of ourselves at Welling United who were a Conference club at the time which was a bit gutting as we couldn't defend the Trophy.
Finally, this is still to this day to those that were around the club at the time one of the most talked about cup finals the club has played probably because it was so unexpected and as it came in a fallow period for us success wise.
I think what you cannot forget and I get a bit of stick from the boys by keep banging on about it and the only time in my career I ever did anything but that season in the cups we had something about us and we were a good group of lads who would win together, lose together and we had good times and the final topped it off.
Please see here members of the team reunited on Saturday 15th April at Cray Wanderers game with Kingstonian.