A note for supporters that although the Cray Wanderers vs Folkestone Invicta league games originally scheduled for Wednesday 13th October has been re-arranged there will still be a game on at Hayes Lane as the Wands entertain Basildon United in a friendly game. Kick off is 7.45 pm. Supporters are welcome to attend and admission is £3.00 adults and £1.00 concessions with double sided team-sheet available with all admission on the gate with no online sales for this game.
Please see here a special interview with Danny Kedwell looking back on the last couple of games which has seen Cray pick up four points and get October off to a decent start.
Cray Wanderers vs Basildon United – The Pre-game thoughts of Danny Kedwell
Cray Wanderers ended a seven game losing run with a hard earned four points on the road from two tough trips to Carshalton Athletic and Haringey Borough in October. With a short break in league fixtures, the Wands face Basildon United on Wednesday night in a friendly at Hayes Lane. Here Danny Kedwell looks back on the last couple of games and the hope the team are starting to turn the corner after a tough September.
Well done Danny to you and the team for the last couple of games which saw four points gained from trips to Carshalton and Haringey. The team have shown good character in both matches and merited the points gained. What were your thoughts of the game at Haringey on Saturday especially as we went a goal down early and had injuries in the first half for Kasim Aidoo and Jack Hanson.
I agree I thought we deserved a point from the game as we did have to make changes after the first half. I think Dean Beckwith has gone back to his old self fitness wise. He was out for the first couple of games with injury, he came back in and got injured again and I don't think he was totally fit for the games he did play but I think the last two games he has been magnificent. We defended really well and that is all I've asked the last couple of weeks as I have been unsure about our defending, our ability to keep games tight and felt we were a bit open. That is why we've conceded too many goals but I think the last two games we've been harder to break down. Obviously, we conceded early on and we had Haringey watched and knew that they would be a threat from set pieces. They work well on corners and Andy Drury got blocked by Tyrese Owen and Scott Mitchell scored with a free header. I thought though second half we gave it a really good go and thought we could have nicked it at the end with the break when Jamie Yila went through and I thought he was going to shoot, give the eyes to the keeper and go across him and slot it in but the defender managed to get a toe to the ball which stopped the ball going across the box for a tap in.
Overall though I have been very pleased with the boys, they've stuck together, competed with and helped each other and that is all I've asked for.
I felt the team spirit has been very good the last couple of games and a bit of a shout out to Cameron Brodie who has been superb, very disciplined with his performances and Tom Hanfrey, a recent signing from Tonbridge who looks a real find at the back.
 Tom has been a very good acquisition for us and versatile as he can play left back or left centre-half. He struggled for about 10 minutes on Saturday when he had to switch to left back when Kasim went off but second half he was superb especially as he was on a yellow card so had to keep on his feet and not jump into too many tackles and for a 21 year old he played magnificently.
Haringey are very hard to break down defensively and it was going to take something special to break them down but we did with a great individual goal from Jamie Yila.
Yes, that is why I brought Jamie to the club and for the first two games was so hard to play against but he too got injured and has taken him a few games to get back to his best but that is the sort of thing he can do. Sometimes it looks like he may not be in a game but he has got the class to affect games and the goal he scored showed what he has in his locker and it was a great run and terrific finish. A really magnificent goal.
Another player in good form is Jack Turner who made some fine saves in the Carshalton game and made an important late stop against Haringey with the save on the line. The home side felt they were a bit hard done by and felt it was over the line.
I've seen the video and his hands were on the line, there is no way the whole of the ball has gone over the line, we've slowed down the video and definitely not a goal.
 Let's take it back to the Carshalton game. Before that we had lost seven games in a row and vital to stop the run but at Carshalton I thought it was the classic away day performance.
 That's what I said to the boys after the game on Saturday, these have possibly been the two toughest games you've had and you've come away with four points. That's football sometimes, we had been having a tough time with injuries and not playing with a settled team and we had a problem on Saturday with Marvin McCoy not being there but Freddy Barton has come in and done superbly and for a small lad he can jump really high. It is all about building a team, we've got a mixture of experience and youth so have that balance and it will be exciting to see the team once totally gelled. At the minute, we are ticking along, we are still a few players short of being a top side but we will get there and at Carshalton we showed glimpses of what we can do.
Now, this week we would have been preparing for two back to back home games vs Folkestone and Horsham but due to their cup runs have been moved to November. I know you've arranged a friendly for Wednesday night vs Basildon United before we go to Cheshunt on 23rd October. Does that give you a nice breather or would you prefer to be playing matches now?
I think it is a good time to have a break and keep the players fresh and that is why I was keen to play the Basildon game as there are players who haven't had a lot of minutes lately like Fjord Rogers and Jack Hanson and also Zakary Guerfi who I signed last week. It gives time to give him a game and to be fully fit. So it will be good to play the game v Basildon and there will still be players who have been playing lately getting a run out at some point especially some of the younger lads who I feel need to keep playing and in the way we want to play.
Going back to an earlier interview when I mentioned the importance of when you are a young, new manager going through a bad run to keep believing in yourself and the players and eventually it will come right. I could see the last couple of games and even against Wingate & Finchley when we almost got back in it from 4-1 down the belief in the side is starting to build momentum.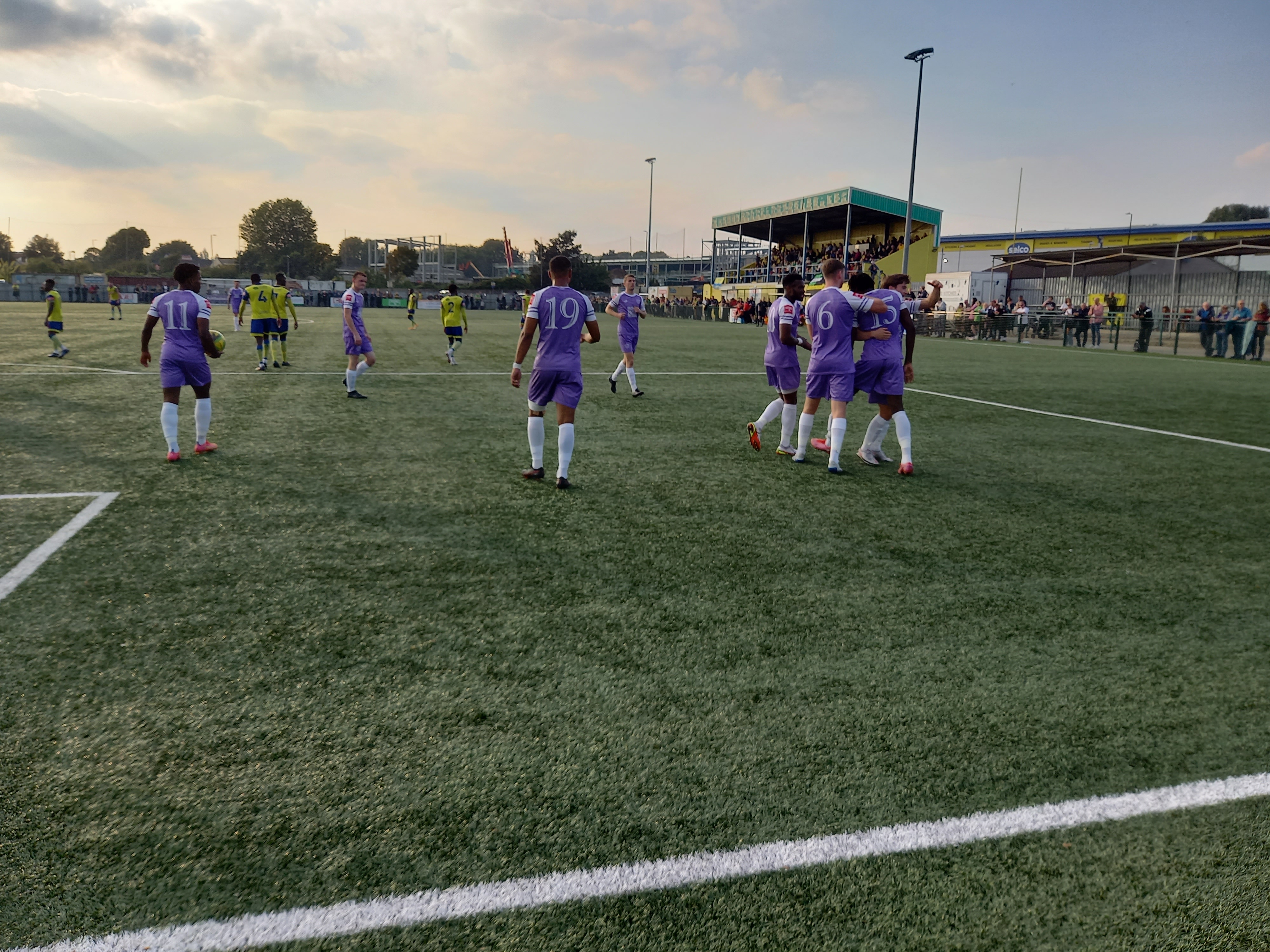 To be fair, I do believe in these boys. As a manager after a game when we lose you can see the hurt in the players eyes and I have to tell them at times we have been a bit hard done by, things weren't running for us, chances weren't going in, everything the other team were doing was being deflected in or was falling to one of their players. I had to remind them to keep going, keep working hard and things will change around and it has the last two games. You can see and feel the buzz in the changing room afterwards, the relief of turning things around and it purely down to them. I can only do my bit as they walk on to the pitch, I can only guide them and it is up to them and I believe in them and if I didn't they wouldn't be here. Now I am starting to get a more settled side and had two games where I haven't really had to change anything. It was a bit strange to be honest. We did have to make an adjustment with Marvin McCoy against Haringey and picked Jack Hanson ahead of Richard Afrane-Kesey as I thought they were going to play their really tricky winger but he didn't come on until the end. So I brought Jack in as he will backtrack more defensively than Richard who is more attack minded. I spoke to Richard at half time and what I wanted him to do proves these boys are listening as he was brilliant in the second half, tracking back and winning the ball. So he is learning as he was with the Charlton Academy for a long time and a lot of young players learn the academy way and not necessarily men's football and at Haringey all the young lads showed they had the grit and determination to tackle and it is not always about being on the ball and being able to play off the ball and they did it brilliantly.
 As fans we have been encouraged by the last couple of games and just grateful we have a team we can watch and support and we came in good numbers on Saturday. Also after the Carshalton game a few fans came up to us and said well done on the win and we deserved it which doesn't always happen after games.
 I think that was the same with me with managers after a game who have told me what a good side you are and when you get it right you will be hard to beat. So it is more frustrating for me as I know we have a good side and the run of defeats was frustrating when you have people saying that to you. Aside from Sutton Common and Corinthian Casuals games where we deserved to lose those, I thought we played well in all the other games but didn't take our chances and they did and that can happen in this league.