Cray Wanderers go into a crucial final four matches of the season on Sunday 10th April as Hornchurch are the visitors to Hayes Lane in a game with implications at both ends of the Isthmian Premier league table.  Kick off 3pm.
The match pits two former Tottenham Hotspur youth and Gillingham players in the dugouts with Neil Smith and Mark Stimson looking for points for differing reasons.  Cray will be looking to end a three game losing run which coupled with good form from East Thurrock United and Leatherhead in recent weeks have seen Cray move into the bottom two in the table. Hornchurch meanwhile have been in great form and have won 17 out of the last 22 league games which has seen the Urchins in 4th place in the table. They still require a few more points in a battle with Bishop's Stortford, Enfield Town, Lewes, Folkestone Invicta and Cheshunt to secure a playoff semi-final.
Last Saturday, Cray looked to be moving up the table after going ahead through Ethan Kasier's header at Leatherhead but a nervy last ten minutes saw the home side come back to win with a last minute goal and after yesterday's draw at Wingate & Finchley this leaves Leatherhead level on points with Cray who are 21st on 32 points.  Merstham are 20th on 33 points, East Thurrock United up one place to 19th on 34 after a draw at Bognor Regis. Brightlingsea though gave themselves some breathing space with a dramatic 2-1 win against promotion contenders Enfield Town and have 36 points.  Cray do have a better goal difference so could act as an extra point if the teams remain level.
Certainly Cray are going to have to achieve safety the hard way with a Good Friday trip to Enfield Town to follow and the final home game is against East Thurrock United on Wednesday 20th April and finishing off with a visit to 2nd placed Bishop's Stortford.
Injuries in the run up to the game last week affected the defence with Joe Wright out for the season, Freddy Barton was injured and Kasim Aidoo before kick off and with Cameron Brodie out so not the easiest preparation for such a big match. Jedd Smith came in and played well as did Max Huxter, Denzel Williams and Kyel Reid and looked comfortable until the game had a late sting in its tail.
At least Cray have had a free midweek to prepare for what will be a tough game against a Hornchurch side who won 2-1 at an in form Cheshunt on Tuesday night with goals from Tom Wraight and an own goal which put the Urchins on 75 points putting them eight points clear of Lewes and Folkestone Invicta and ten clear of Cheshunt. Hornchurch have a chance to move up to 3rd with a win after Enfield Town's defeat at Brightlingsea Regent.  After Sunday, Hornchurch are at home to Brightlingsea Regent on Good Friday, are away to Bowers & Pitsea on Easter Monday and finish at home to Wingate & Finchley.
Cray did produce one of their finest performances of the season to win at Hornchurch on 21st August as goals from Jamie Yila and Ejiro Okosieme saw Cray come from behind to win 2-1 against last season's FA Trophy winners.  The Wands Chris Dickson played for Hornchurch that day and was part of their FA Trophy success last season. The last time the sides met at Hayes Lane was on 15th January 2020 and finished in a 1-1 draw with Ben Mundele scoring for Cray after an own goal put Hornchurch ahead.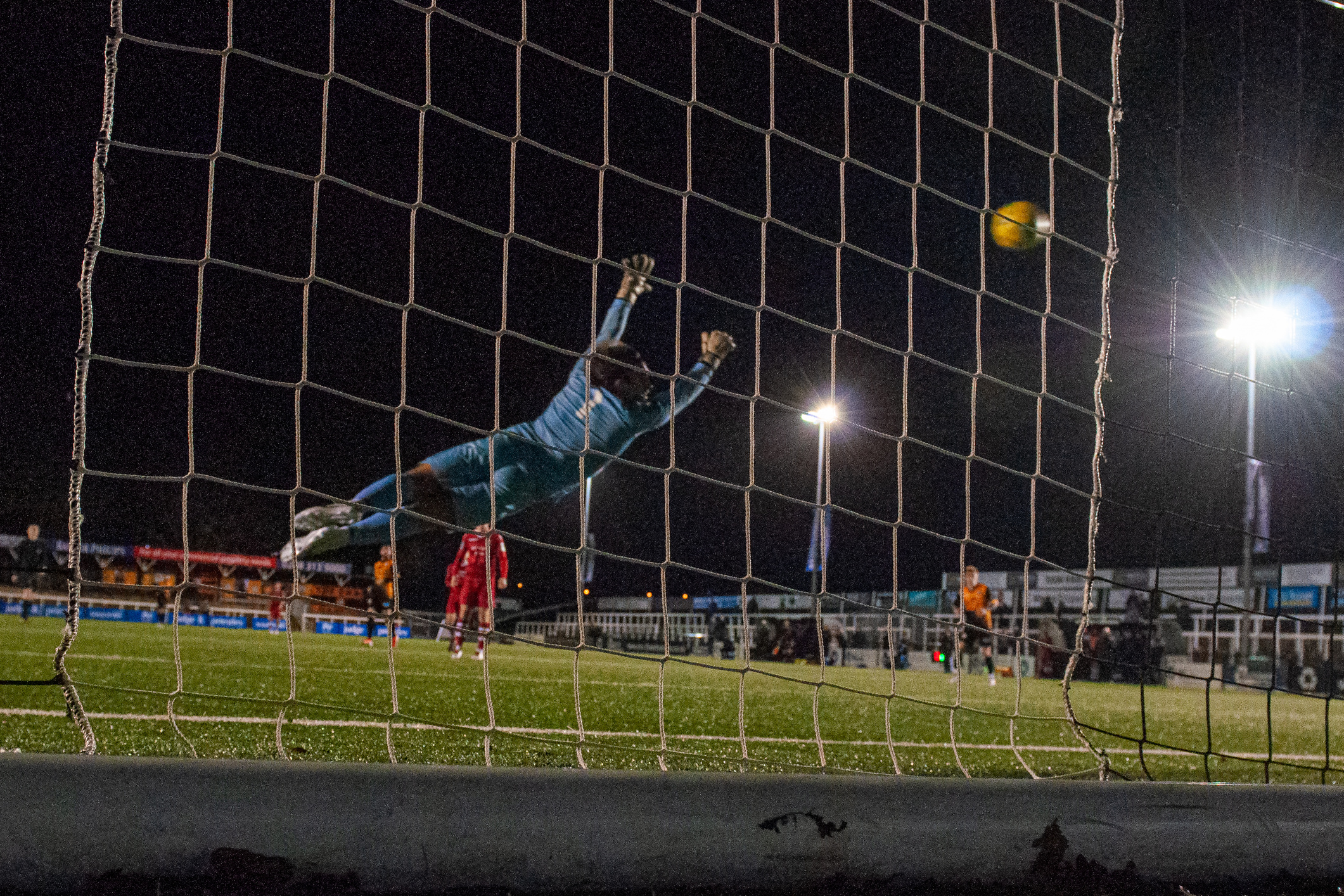 Ben Mundele from distance levels for Cray in a 1-1 draw in January 2020.  Pic. Jon Hilliger/www.hilligerpix.com
Hornchurch's form has been consistent apart from a mini blip in October with three league defeats out of four and cup exits to Bowers & Pitsea and Wingate & Finchley respectively but since November 23rd have only lost twice and both to Enfield Town.  Away from home Hornchurch have won at Horsham (2-0), Lewes (3-1), Bognor Regis Town (2-1 ) , Wingate & Finchley (2-1), Brightlingsea Regent (5-1), Margate (3-0), Leatherhead (2-0), Potters Bar Town (2-1), Merstham (3-1), Carshalton Athletic (5-0) and Cheshunt (2-1). Hornchurch drew at Folkestone Invicta (0-0), Worthing (1-1) and Haringey Borough (3-3 ) and were beaten at Kingstonian (0-2), Bishop's Stortford (0-1), East Thurrock United (3-4) and Enfield Town (1-2).  At home Hornchurch beat Potters Bar Town (4-0), Margate (2-1), Merstham (1-0), Haringey Borough (3-0), Kingstonian (2-1), Bowers & Pitsea (1-0), Bishop's Stortford (2-0), Horsham (2-0), Lewes (3-1), Folkestone Invicta (4-1), East  Thurrock United (6-0) and Corinthian Casuals (2-0). They drew with Leatherhead, Carshalton Athletic and Bognor Regis Town and lost to Cray Wanderers, Cheshunt, Worthing and Enfield Town. Leading scorer is Liam Nash who scored in the game in August on 20 goals.
The Wands require a sterling effort in the next three weeks with so much at stake but have raised their game against the top sides this season and will look to do so again.
Admission £10 adults, £5 concessions, U16s, pay on gate (cash only) or online at www.cray-wanderers.com/tickets