Cray Wanderers vs. Hornchurch
The Pre-Match thoughts of Tony Russell
Cray Wanderers move into 2020 with a three game unbeaten start and picked up a big three points on Saturday at Bowers & Pitsea keeping Cray on the edge of the playoffs.  Here Tony Russell in the first of a double header this week looks back on the game, a bit more about Rhys Murrell-Williamson, a look back to our last home game with Wingate & Finchley and also a look ahead to the challenge that Hornchurch will present this evening.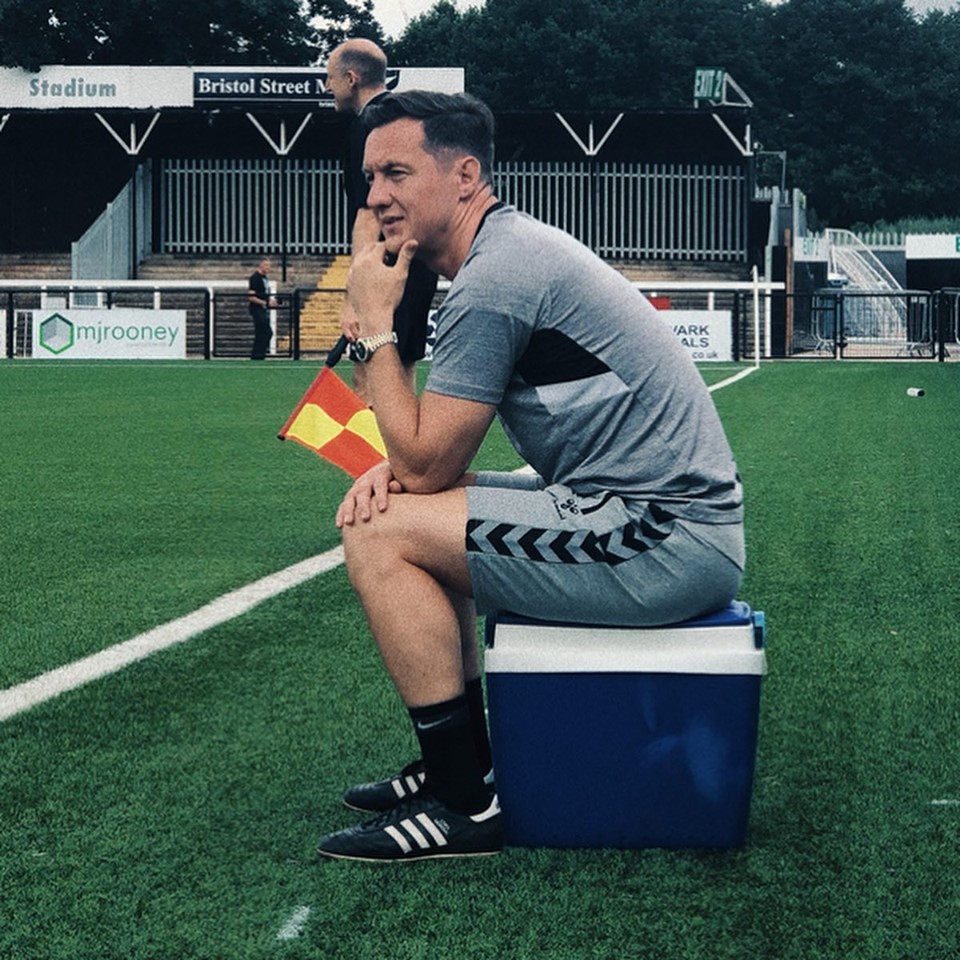 Well done Tony to you and the team for the win at Bowers & Pitsea on Saturday. That was an excellent win that the players, committee and supporters all enjoyed and you must have been very pleased at the end of the game.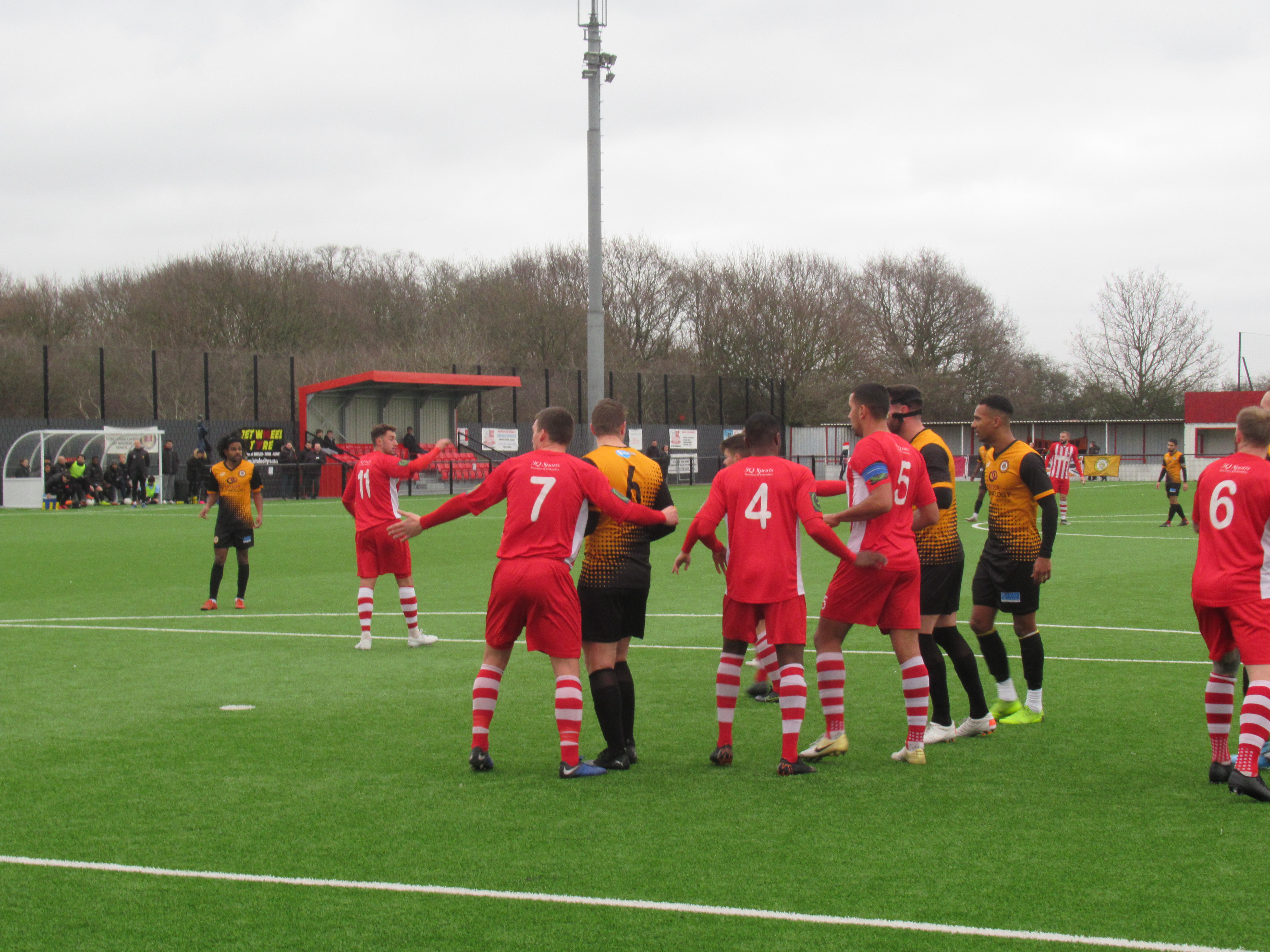 It was a hard game, credit to Bowers & Pitsea. We had them watched in the buildup and completely changed their formation which took us a little while to get used to. It's a tough place to go, they are a very together side who have been together a long time. They work hard for each other, very vocal, and can be easy to get under your skin.  We spoke to the players before the game about that and to fall behind in the match makes it tricky. They are uncomplicated in what they do, they've got the big player, Lewis Manor up front who they hit the ball forward to especially in the first half.  I've watched the video and we've had a lot of the ball and they've set up to counterattack on us.  To be honest, we didn't play great first half, it was a scrappy affair and in the final third we couldn't get going.  I got them in at half time, had a good chat with them and said to them to be patient as we felt Bowers & Pitsea were working so hard that there was no way they could keep that up and would be impossible to maintain. We thought the best the best thing to do was move their players about and they set up a block for us to try and break down.
We spoke about switching the play, getting into the fullbacks and sending it back over and getting to the point where we were wearing them out, gaps would appear and as the game went on the no 7 (Max Cornhill) started cramping up as did Ade Osfiuwa, as well and our equaliser has come from switching out and Ben Mundele has come in and normally where the man was standing he hadn't made it across and went to JT and bang! Goal. His goal was top drawer, the run, the finish it was class. I thought against Margate and Bowers & Pitsea he led the line like a classic centre-forward/no 9 and he has taken his game to a new level. You felt there was only going to be one winner after that. They did have one chance when Warner went through and was denied by a great save from Lewis Carey but then Rhys Murrell-Williamson who didn't particularly have a great game and he would be the first to admit that but does what he does well which is score goals and that is what we had been missing.  The ball has come in to his feet, he's flicked it round the corner and Ade can't get there and once he had seen off the centre-half there was only going to be one outcome.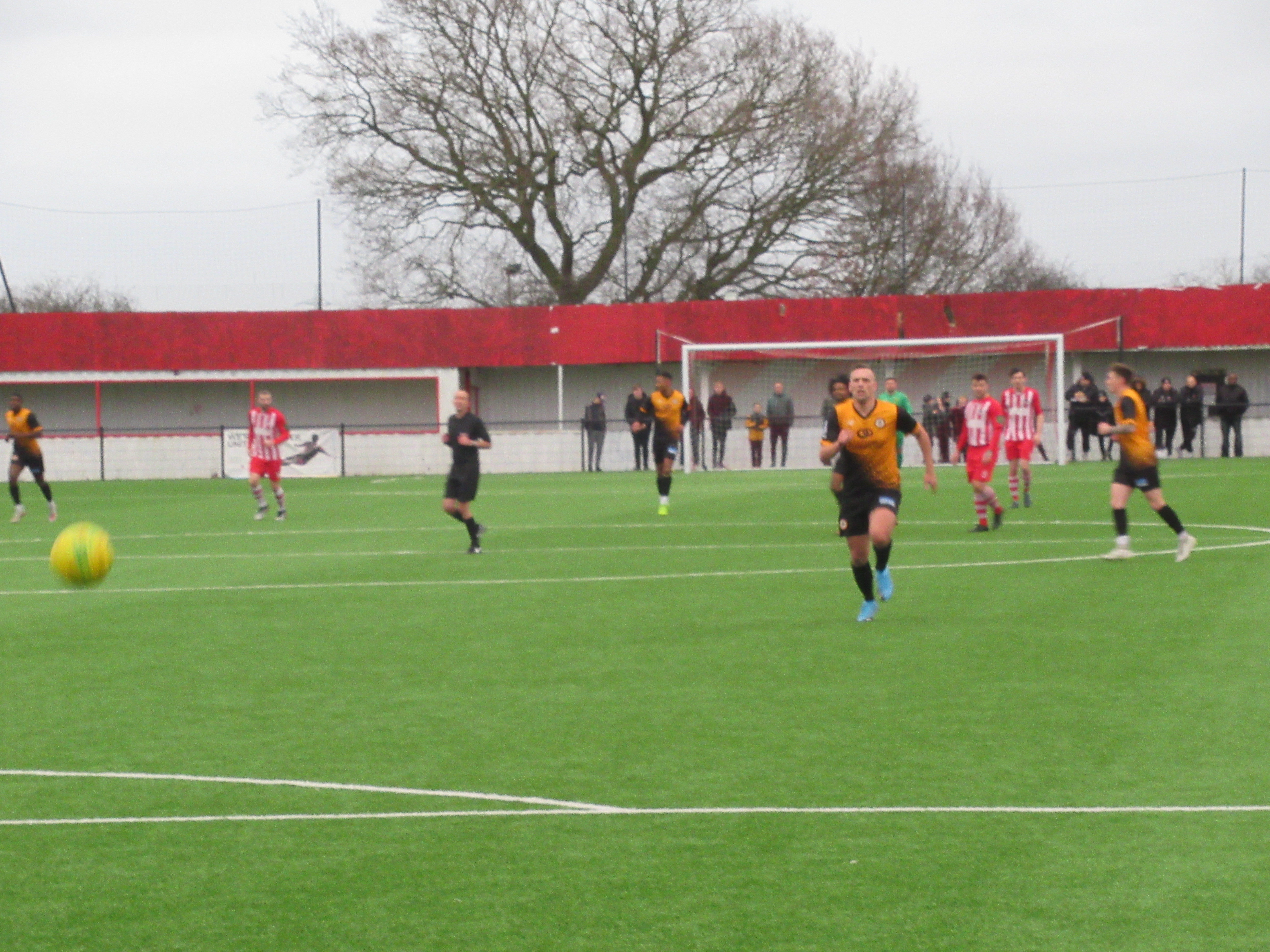 It's a hard place to go and someone said to me before the game that they were second in the form table, their tails are up, and we've gone a goal down at halftime to a form side.  I was really pleased with our patience, how we softened them up and hit them at the end. I was pleased on a tactical viewpoint and got our reward and an important win.  When we first come up the club were keen for us to make sure we maintain playing at this level of football and anything after that we can have a free dart at it. We think we have enough points now (41) for the second half of the season for us to be going for wins and roll the dice a little.  Gary Hillman was speaking to us in the summer and what was expected of us etc.  He wasn't being negative about it but the minimum requirement is to make sure we are in the Premier when we move to the new ground.  Anything after that, the boys can have their fun with it.  We've tick boxed the Director's box and the minimum level expected and now it's a case of let's see.
Tell us a little more about Rhys as I know he has been on your radar for a couple of years and what you feel he can bring to the team.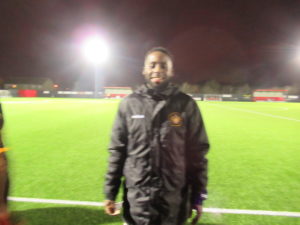 I've watched Rhys for a long time and he is a great finisher.  He does for us what Junior Dadson did for us last year, maybe sometimes inconsistent with his performances but you could never label Junior as someone who couldn't finish. Anyone from Director level will tell you that there are normally 3-4 names that I always bang on about and who I want long-term.  We have to be realistic the club has to live within its means and there are certain players you watch that you want and can never get them.  If you ever speak to Joe Taylor and say when, did Tony first speak to you, he would say about 2 years before he arrived.  I had already identified him as someone to aim for if Shaggy ever left us and he was a younger version of him.  We have a player profile that we are looking for, we want a mould of player, we've identified the skill set we need in those positions and he was the next in line.  We were looking for a wide player who could go past people and score goals.  Rhys has been on my radar for the last 2 years but he had done very well, a big money move to Billericay and went there with lots of other players but opportunities were limited, lost a bit of confidence, then went back to St. Albans City then to Braintree but we got a nice message from him, "if you are still willing to have me as I need a change" and I said of course I would. We were a bit hush-hush about it as I think there were a few other clubs interested at a higher level.  I met and had a good chat and spoke about the way we play and the way we are as a club and previously he has chased a level and a pound note and hasn't really worked for him so what he wants to do now is enjoy his football and play for a team that plays a certain brand of football.  So these are the key things as to why we have got him.
It's going to take time for him, what we mustn't do is pre-judge him as this is a lot different to anything he has done before.  If you look at Joe Taylor's record when he first arrived and to where he is now and also Tom Carlse from last season to this season. It takes players a little time to get used to what we want them to do.  For Rhys' it's not about the money here. There is a perception around non-league football that if a club is doing well it's because they are spending loads of money and if a team signs a good player it's because the club is giving him loads of money. If you are a manager and you are winning the league it's only because of money. I remember when I was at VCD we had players on maybe £30/£40 a week when we won the league and other teams players were saying I hear he is £400.00 a week and I used to play along with it and said yes he is because then no-one wants to buy your players. Then sometimes if you look at Rhys, he is a lovely bloke, he's bounced around, club to club to club and he's chased levels and money in the past and now he is sick of it and knows Mitchell Nelson well as they were at Dulwich together.  Mitch was the same, before he came to us he had eight clubs in two years and bounced around and has told Rhys this place is where you need to be, you settle in, great changing room and a club that is trying to play really good football.  We are a club on the move with a real buzz about it on and off the field.
It's the same thing with me. There have been jobs come up at Dartford, Welling United and others and people have said why don't you go. Why would I! There aren't many clubs doing what we do. I honestly think I came here and the first two years, it wasn't a mess but things weren't great and wasn't set up to succeed.  We've all worked so hard to put things in place, why cash in our chips now, we've got great training facilities, we've got owners who buy into our ideas and let me get on with them while they are building a new ground and have real solid foundations to build from.
Let's look back to the last home game which was against Wingate & Finchley on 4th January. A good game for a 0-0 draw but was this game a missed opportunity to maintain a winning run or do we give credit to Wingate & Finchley.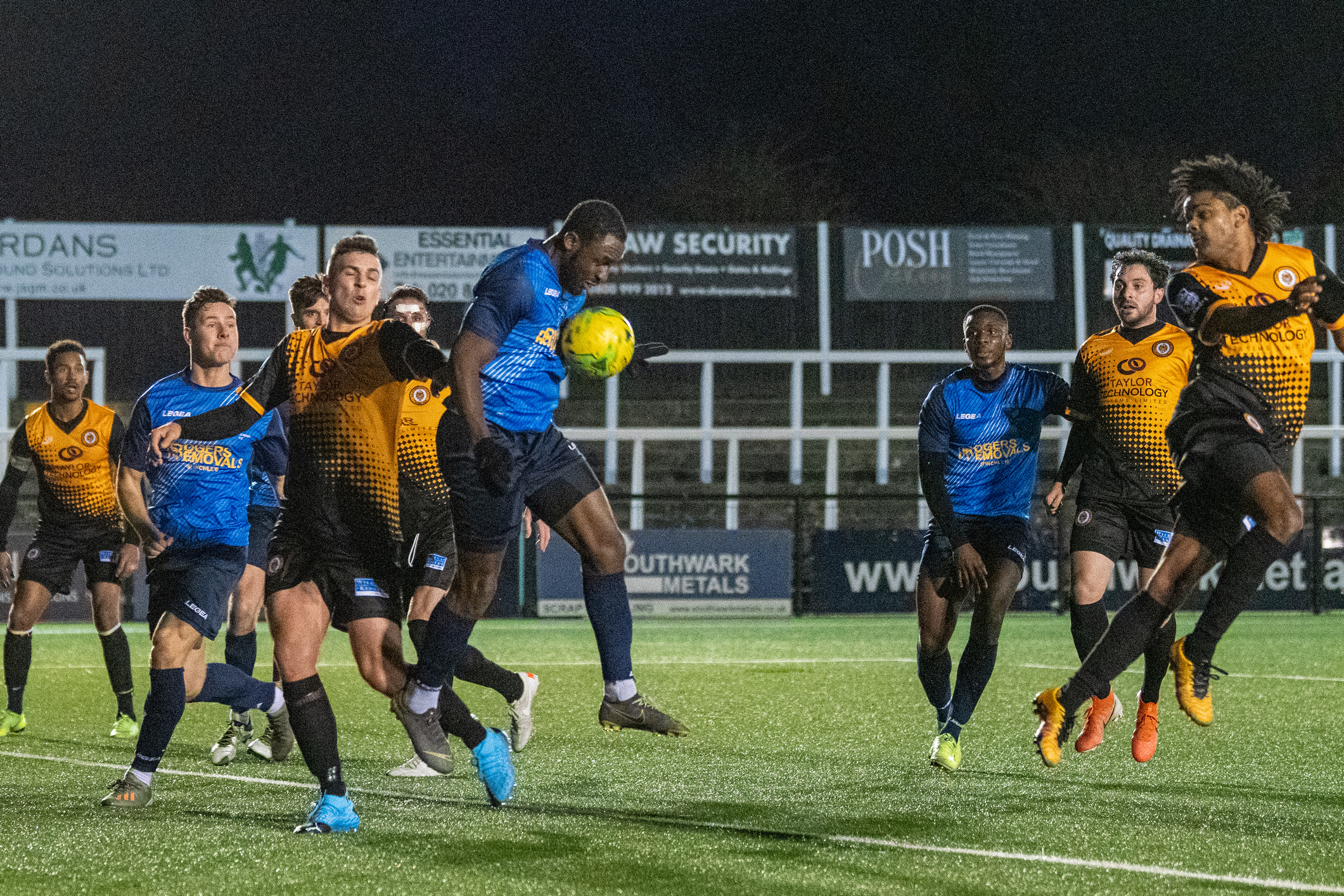 I think it is easy to look at their league position and that we are at home and say we should win but I think you also have to assess the game for what it was and I felt Wingate & Finchley fully deserved something out of the game. I find if frustrating sometimes when you see deluded clubs and managers say they should have won. They had some really good opportunities to score and we did too. We were off our game, we had a game three days earlier, we looked leggy and the ball was too slow. We weren't great and I don't know why. My team selection, I decided to put Barney Williams straight in and Phippsy played three days earlier and we wanted to get minutes for them. Maybe it backfired a little bit. We will get games like that though, if you remember last season there were games like against Three Bridges at home where we were poor and looked flat and then took a moment of brilliance from Archie Johnson who hits a cracker from 25 yards and we win 1-0.  I said to the players afterwards we are just lacking someone who can go past people and score a goal out of nothing. That was what we were missing and that is what Rhys did for us the following Saturday.
Let's look ahead to the game against Hornchurch, the only team we haven't played in the league this season. I know you rate the Urchins very highly and felt when we spoke before they are the best team in the division. Is this an opinion you still have?
Yes, I've seen them 3 or 4 times and what I would say about them is they are the best equipped side to win this league. They have all bases covered, they have pace, some big players so can mix it up, can be aggressive and be strong in the air but can also mix it by playing it on the floor.  They have some very good players and their manager Mark Stimson has managed at all levels including professional and knows his stuff.  I honestly think if you finish above them you are winning the league.  It will be a hard, hard game and I told the boys on Saturday this will be the toughest test you'll face and it is one of them we will be asked a lot of questions and we need to work out how to cope with that. This season is really all about, we'll have a good go of it but if we don't we will come back stronger next year and I just need to know why or where we are short and where to rectify it. At the moment I haven't got any answers for it as we have had half a season with players injured so hard to judge but a test like Wednesday will tell me where we are at as the squad is starting to come back together as we aim for the finishing line. I think the second half of the season is going to be interesting and the Hornchurch game will be a great match, a real ding-dong and as much as I respect Stimo for what he has done and his team there is no fear there from us whatsoever and we only know one way and that is forward.