Cray Wanderers vs. Horsham – Isthmian Premier, Saturday 25th March 
The pre-game thoughts/Programme notes of Neil Smith  
Pics:  Ozay Booth/Jon Hilliger
Cray Wanderers entertain Horsham this afternoon in a match between two playoff contenders.  Here Neil Smith looks back to last Saturday's win at Brightlingsea Regent which made it three wins out of three in March and his thoughts on the challenge Horsham will provide today.
Hello Neil.  When I spoke to you and Tosh after the Hornchurch game at the end of February you both felt the next three games had to be won to keep in touch with the playoff places. We did that so you must be pleased with the nine points.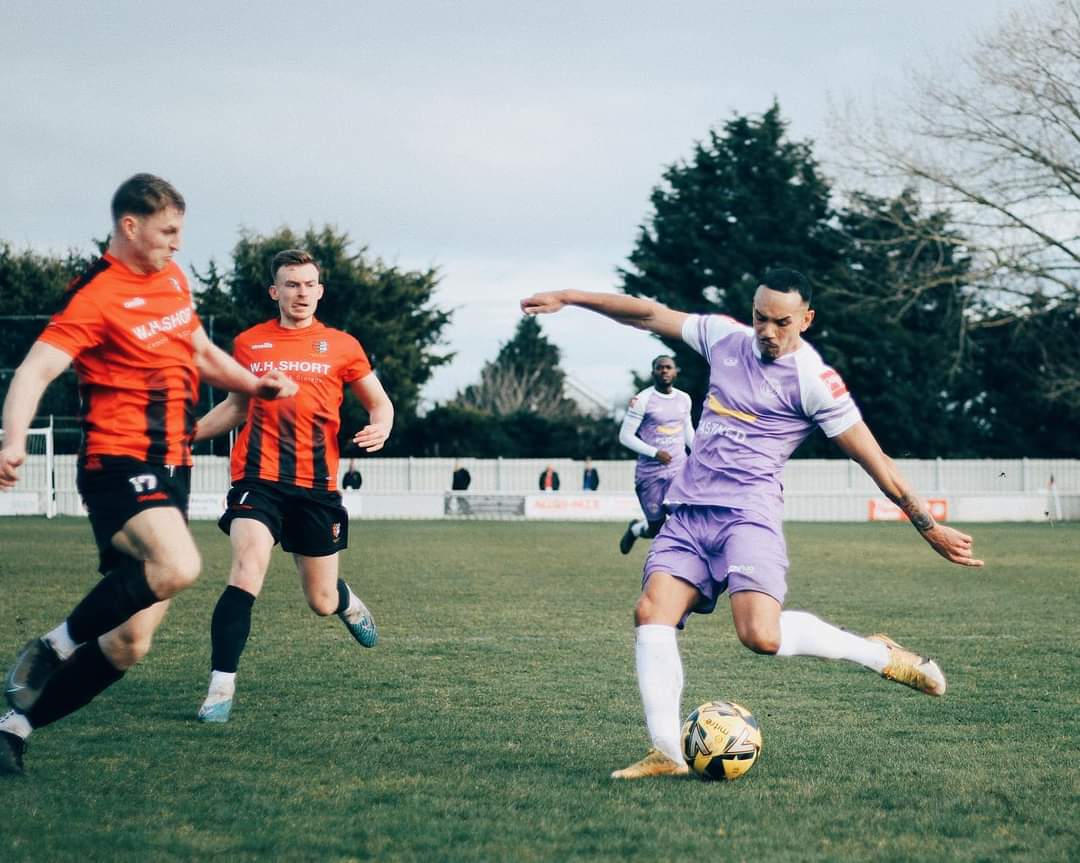 Yes, totally and very happy we got the nine points. We got the late winner at Bowers & Pitsea, beating Potters Bar Town well at home and another late winner at Brightlingsea shows the boys are determined to stick to our guns and keep going right to the end. What I said at the beginning of the season was I hoped at this stage we still had something to play for so those three wins hopefully gives us momentum going into the next two games against Horsham and Enfield Town which will be very difficult.
The playoff places are so tight that one defeat can knock you down two or three places can't it as happened to Carshalton Athletic last Saturday.
Yes, it is difficult because we are still waiting for a couple of other teams to get to the same amount of games to show where you are actually at. So it is one of those where you are having to watch results on a Tuesday night but once everyone has played the same amount of games then it really is game on.
Let's look back to the game at Brightlingsea. I could hear at half time that perhaps you weren't quite happy with the performance to that point. Are those the times that manager's really earn their corn during the half time interval.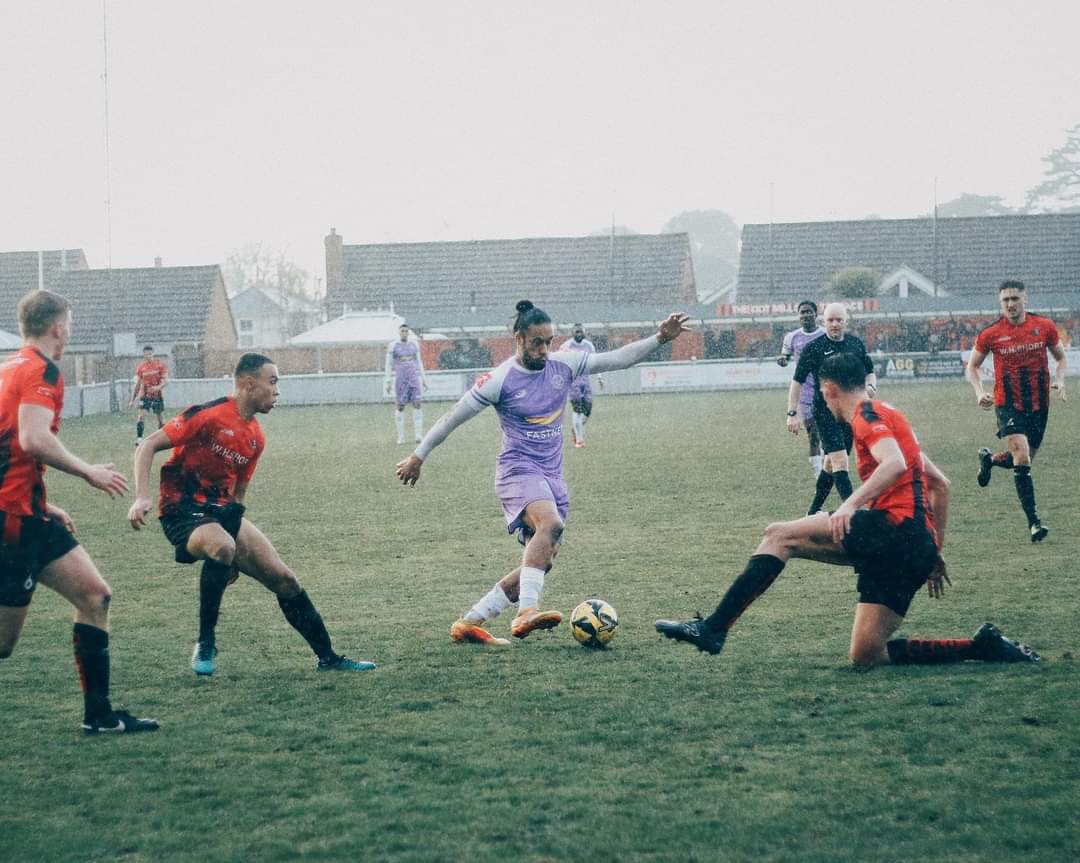 What it was, we had had a long trip to get to the game by coach and I just thought the whole atmosphere was a little bit slack and in my opinion that was how we started the game and through the first half. Even though we created enough chances, Tom Derry and Yahaya Bamba perhaps could have done better in front of goal but I felt we were a couple of yards off it. All I asked of the boys was to keep the momentum going and the consistency and I don't think we were consistent compared to the week before albeit being on a softer pitch, the weather and all the conditions  but it seemed we were just a yard away from it.  So sometimes you have to gee the boys up however that is to get them going and get them in the right frame of mind and that showed in the second half. We tweaked the formation a little bit because we knew how important it was to win. We knew it was going to be difficult don't get me wrong but just thought we just didn't commit to it the way we did against Potters Bar Town.
The winner came from Destiny Oladipo who has scored twice now in two games off the bench. He has the potential to become a cult hero with the fans and has certainly hit the ground running.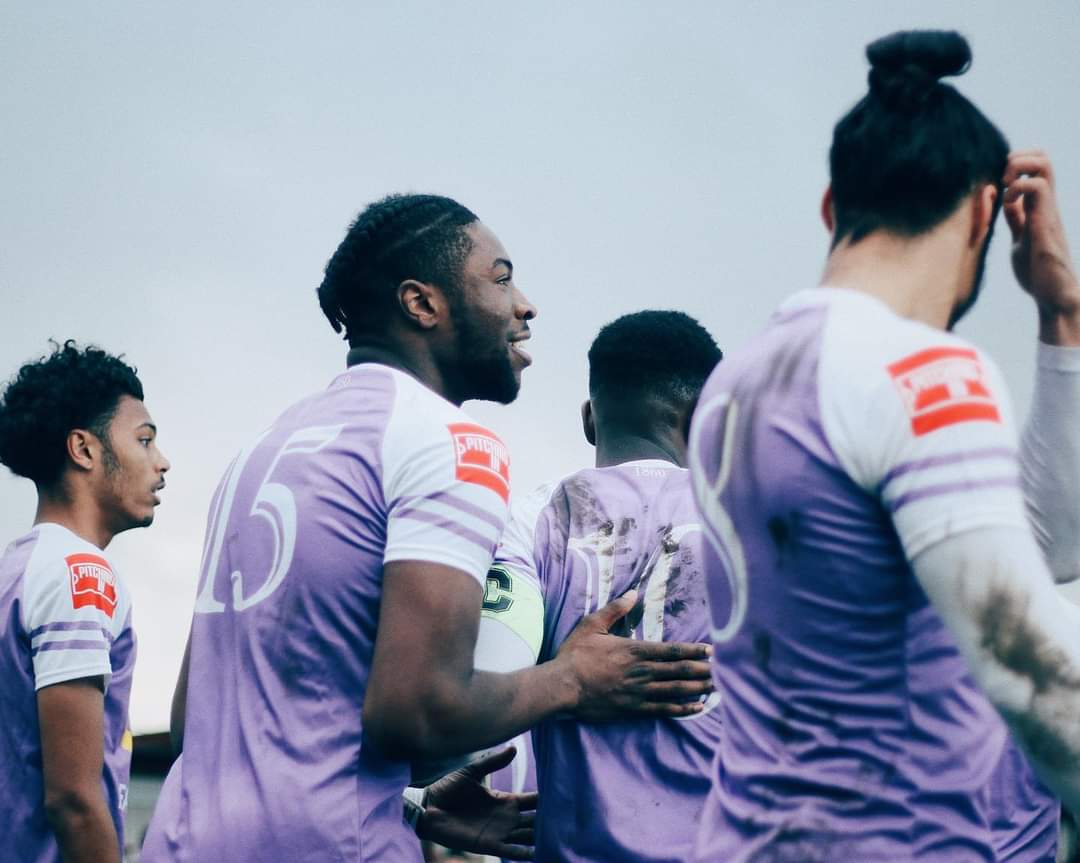 Yes, I thought all the subs who came on gave us a bit of impetus. Marcus Sablier when he came on he got on the ball and moved it well. Dajon Golding was making good runs into the box and Destiny again coming off the bench and sealing the win for us. It is not just about the starting eleven and never has been, it is about the squad and the ability of players to come on and give us what we need and that is what happened Saturday when we just needed to freshen things up and helped us get over the line.
Obviously a little bit edgy at the end when Shaun Rowley was sent off which ends his 100% record in goal for this weekend. We have though signed Liam Northwood haven't we as cover for the final weeks of the season and a big game today against Horsham.
Yes we have, it was just the circumstances there is just a minute to go, the centre-half has the ball, we play it back and just put ourselves under a bit of pressure needlessly. We should really have been able to see the game out better than what we did.  Shaun then goes off, Cookie goes in goal who is actually a very good goalkeeper who can look after himself. So for 30/40 seconds we put ourselves under pressure and gave away a free kick and a corner and we didn't have to do that but managed to scrape through it at the end. We have signed Liam Northwood who is an extremely talented young goalkeeper who has had a lot of people talking about him so obviously will get his chance.  He has the pedigree and we have brought him in to push Shaun a bit with some quality on the bench and I feel confident with him going in goal and has looked good in the couple of sessions we have had with him.  His dad Steve has played for Cray so you have that going in his favour. 
We now go into a game with Horsham who will be very difficult opponents. We had a tough match against them down there in November and grabbed a point and both sides could have nicked a winner at the end. So everything is set up to be a very good encounter.
Horsham were one of my tips to reach the playoffs this season and are a very good side, we both came up from the Isthmian South-East together and have been very settled and can be a handful for any team.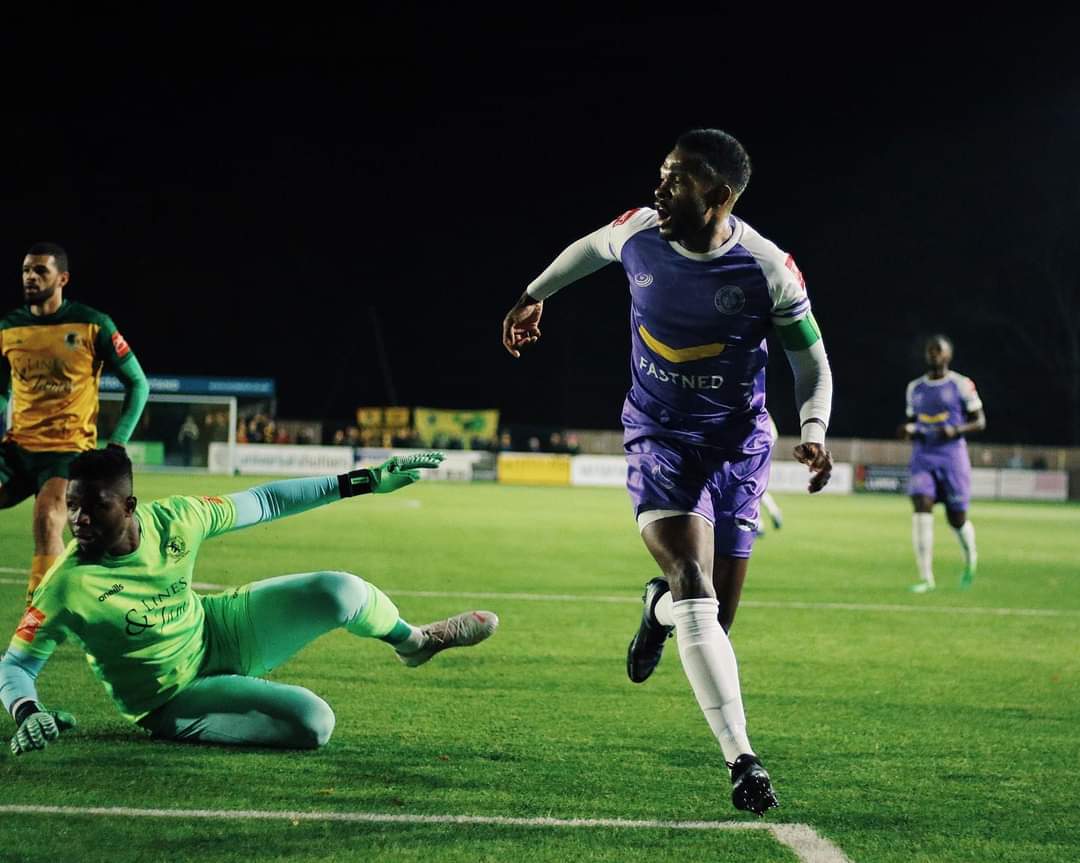 That's right we had them watched at the weekend.  Daniel Ajakaiye came through the Academy team at Bromley when I was there before going on to Whyteleafe so I know what he can do.  It should be a great game as they are a good footballing side but we have proved over the last few games at home that we are. 
Just finally, as our readers will discover later in the programme our interview about the Academy team's success, since then the team have won their final match to end with a 100% record which is a great story for the club.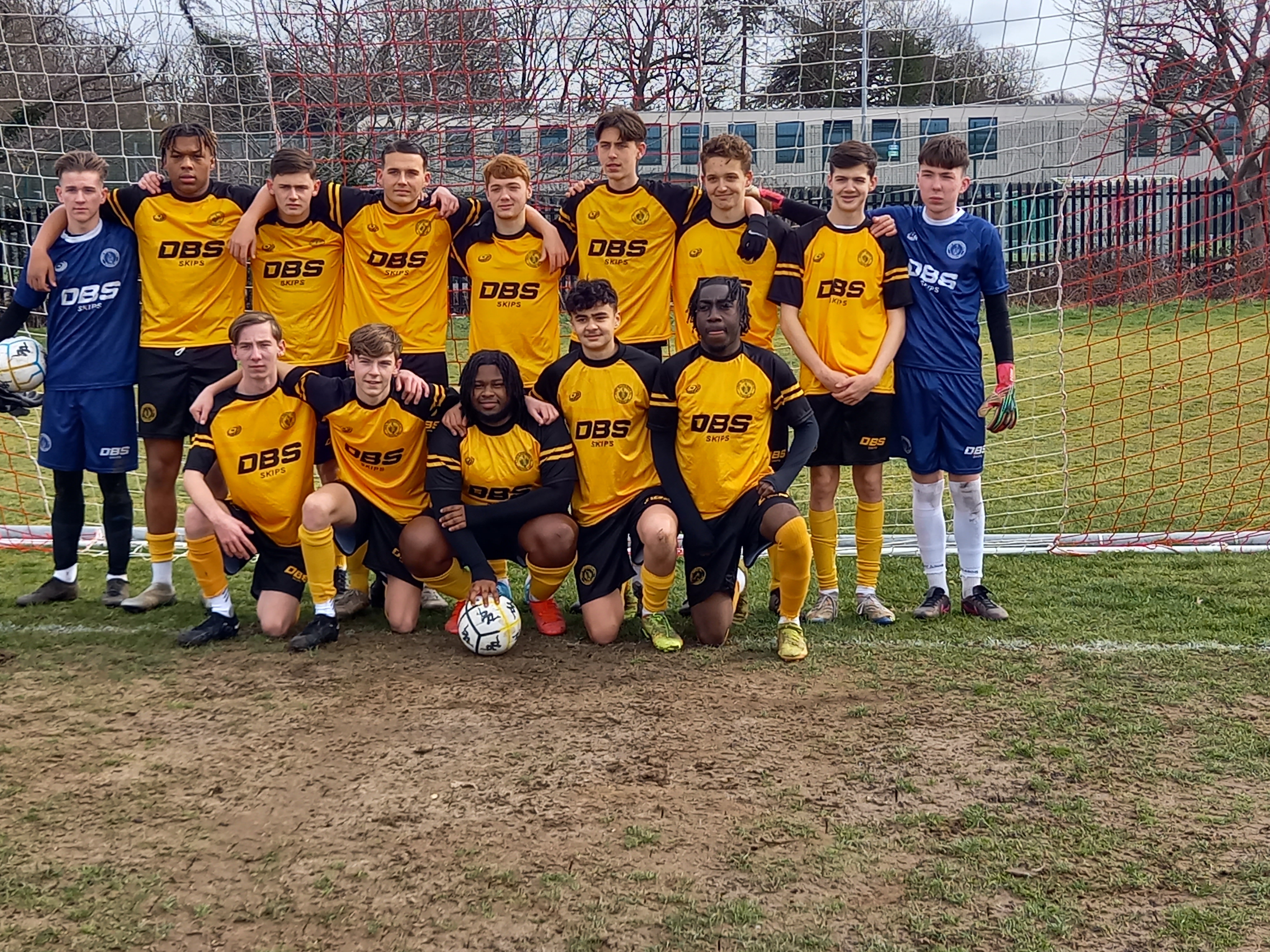 Yes, they won 6-0 in their final game last Friday. Again it was a difficult first half against opposition who put up a great fight but full marks to the boys who played and through the season. In any division and at any level to win ten out of ten is a massive achievement but to do when we have only just set up and the trials that go with that. So we couldn't ask for any more in that respect and we just hope now the important thing is that they get their grades for their education as well and top off a fantastic year for a start up Academy.