Cray Wanderers vs. Kingstonian – The Pre-Match thoughts of Tony Russell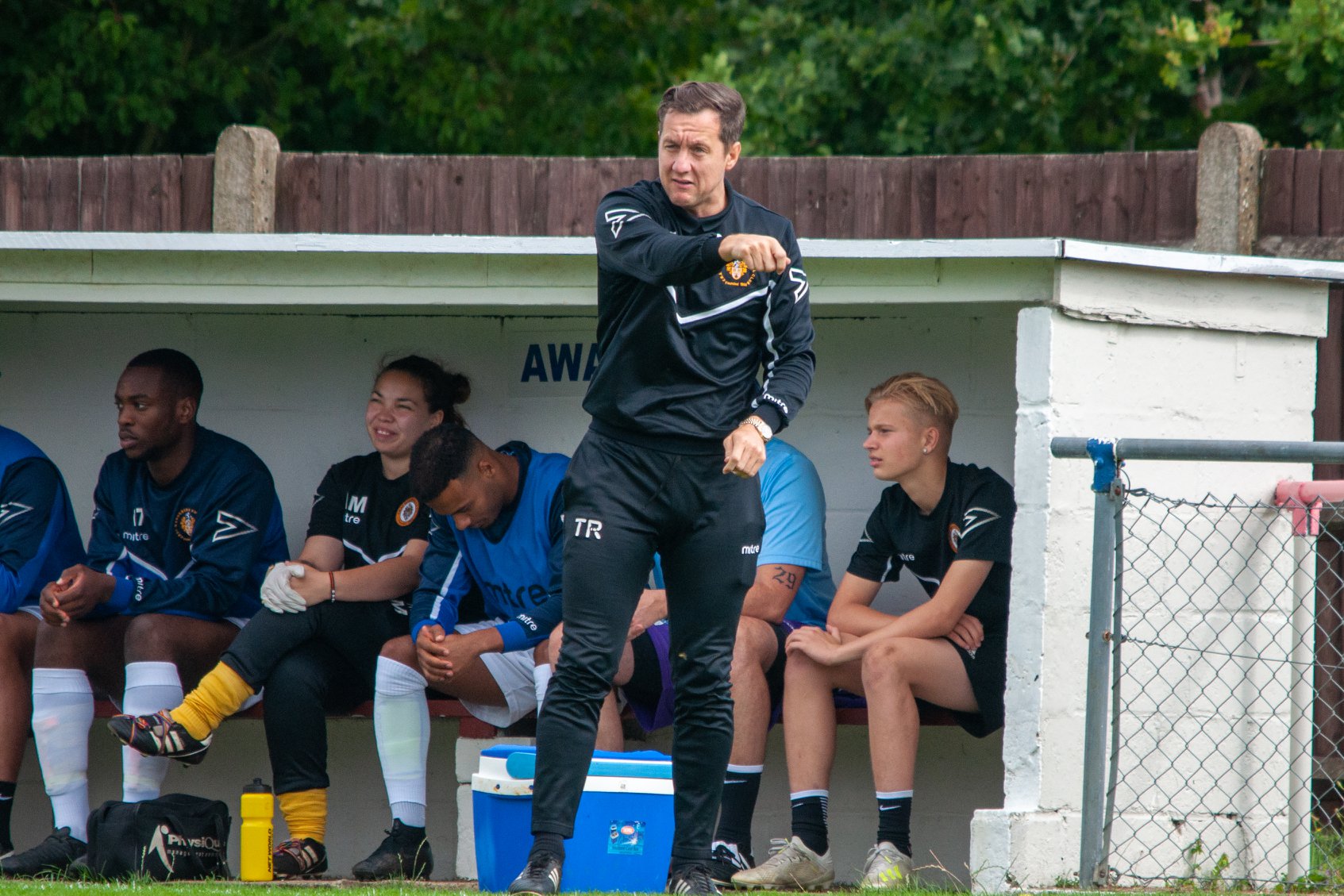 Cray Wanderers made it 8 unbeaten in 2020 on Saturday with a tremendous win at league leaders Worthing.  This followed on from a resilient 10 man win at home to Horsham.  Here Tony looks back at those wins, welcomes a new addition to the squad, and a look ahead to the challenge of Kingstonian.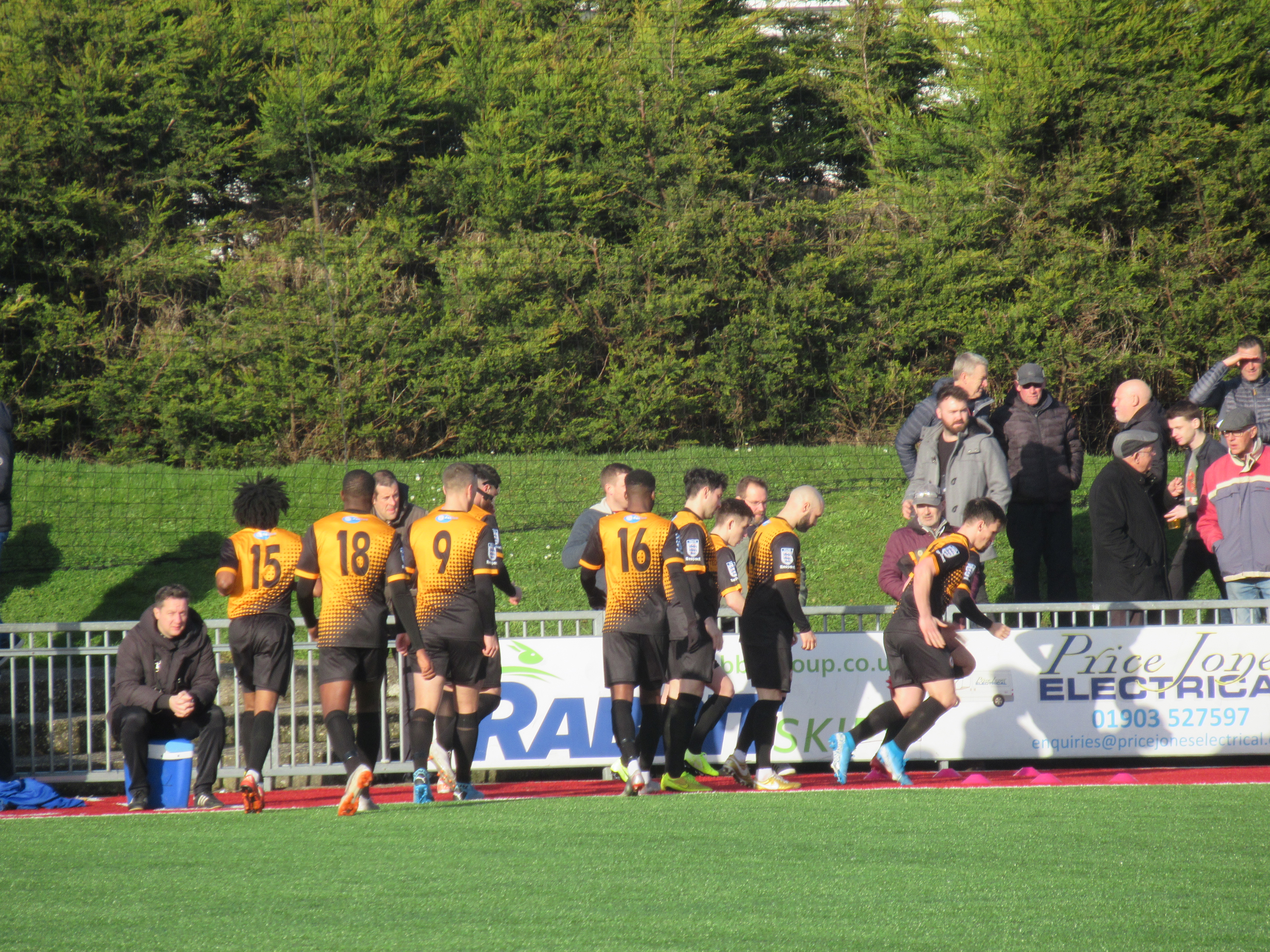 Well done Tony to the team for an excellent win at Worthing on Saturday.  Even by the standards of our season so far these three points possibly outdid everything to date.  For those that weren't there set the scene for us as it wasn't a straight forward buildup to the game and the first half in particular!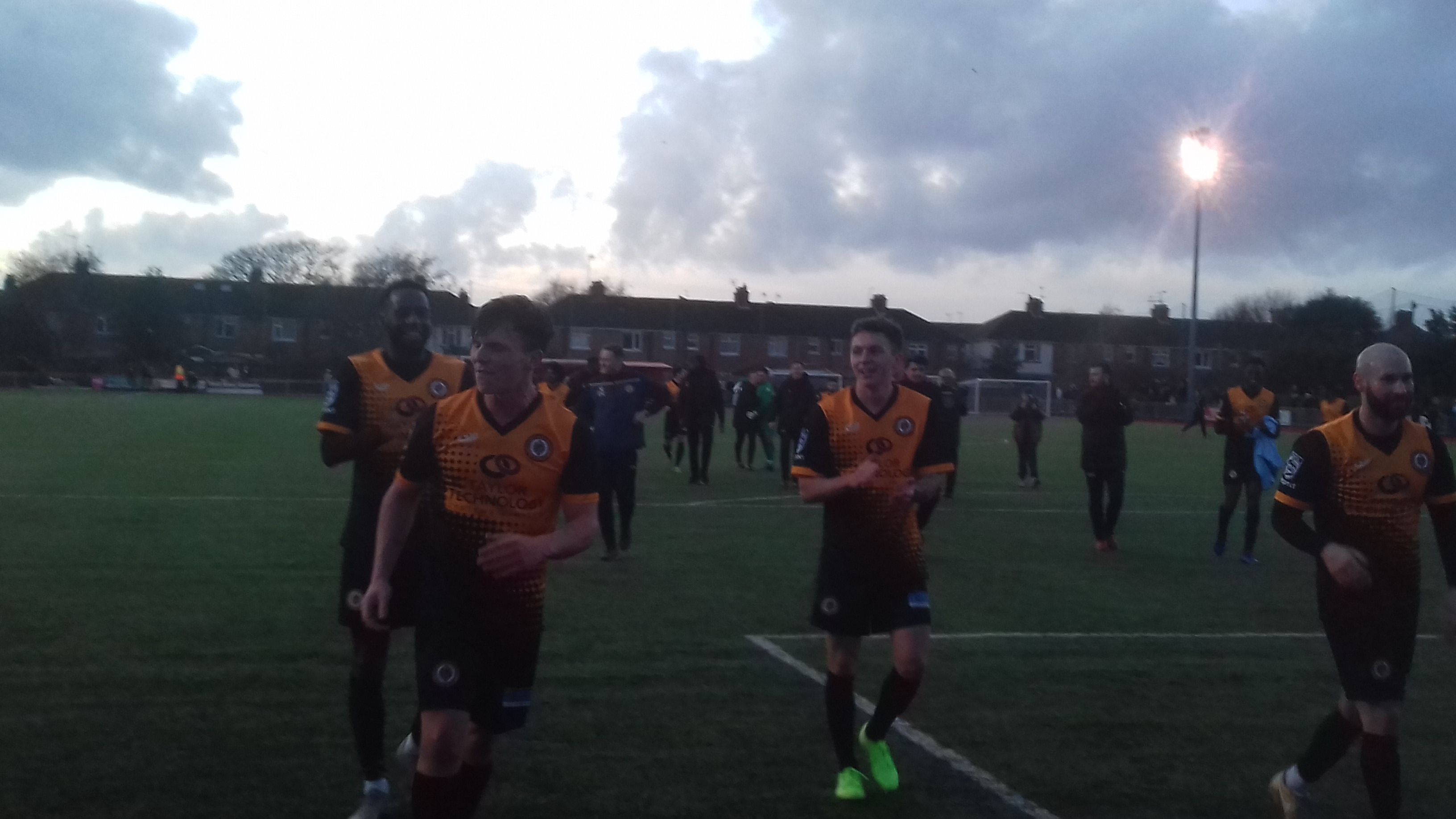 It was a great win. They've had an excellent season Worthing so to go there to a team unbeaten in 4 months was always going to be hard away from home. Obviously we've gone there with Ben Mundele suspended, Mitchell Nelson away with work and Tom Phipp injured so with three players out made it even more difficult.  It was a really weird day, it felt like everything that could go wrong, did go wrong and that it was us vs everyone.  We've got a good bond with the players and Geofrey Okonkwo has come in as centre half for Mitch and pulls his groin and goes off and young Martin Onoabhagbe comes on for his debut, and then we are disappointed because we video the games and we've watched it back and Jay Leader has headed the ball away and the no 4 has elbowed him in the head and that was poor.  We went to the ref at half time as Jay has had a very deep cut and had to have 10 stitches in his head.  So to lose both your centre-halves in the first half was tough for us to say the least.  Everyone knows Bradley Pritchard, he is a lovely guy and he was fuming, he didn't hear the team talk at half time he sat in the shower as he was so wound up by what happened to Jay.  We bring Lee Lewis on who has just come back from illness and he gets a knock on his hip and has had to come off, so we've had to make three changes, gone in one nil down although possibly we could have scored one possibly two, Rhys Murrell-Williamson has hit the post and come back out and JT has gone clean through and the keeper has made a great save with his legs and also Joel Rollinson when he's flashed one across goal after getting in front of the centre-half.
It was a good game of football, they are a good side so going into half time emotions are running high. So tactically we changed it, we brought on young Femi (Stefan) Abatan on from the U18s whose just turned 17 for his debut so if you looked at our back four for the second half we had a 17 year old youth team player making his debut, an 18 year old centre-half making his debut, Charlie Allen a central midfielder playing centre-half and Tom Carlse playing his first game for six weeks following a broken toe so it wasn't ideal and you are panicking.  Arguably one of the best sides in the league who will go very, very close this year but our half time team talk what had gone on it just galvanised us. You will have to wait until Hendy posts his video but in the dressing room I said, "what if we win this game 2-1, visualise that we can't feel sorry for ourselves". We were disappointed with the elbow and we came out second half and thought they were fantastic. Barney Williams was played in centre-midfield to try and negate one of the problems they were giving us.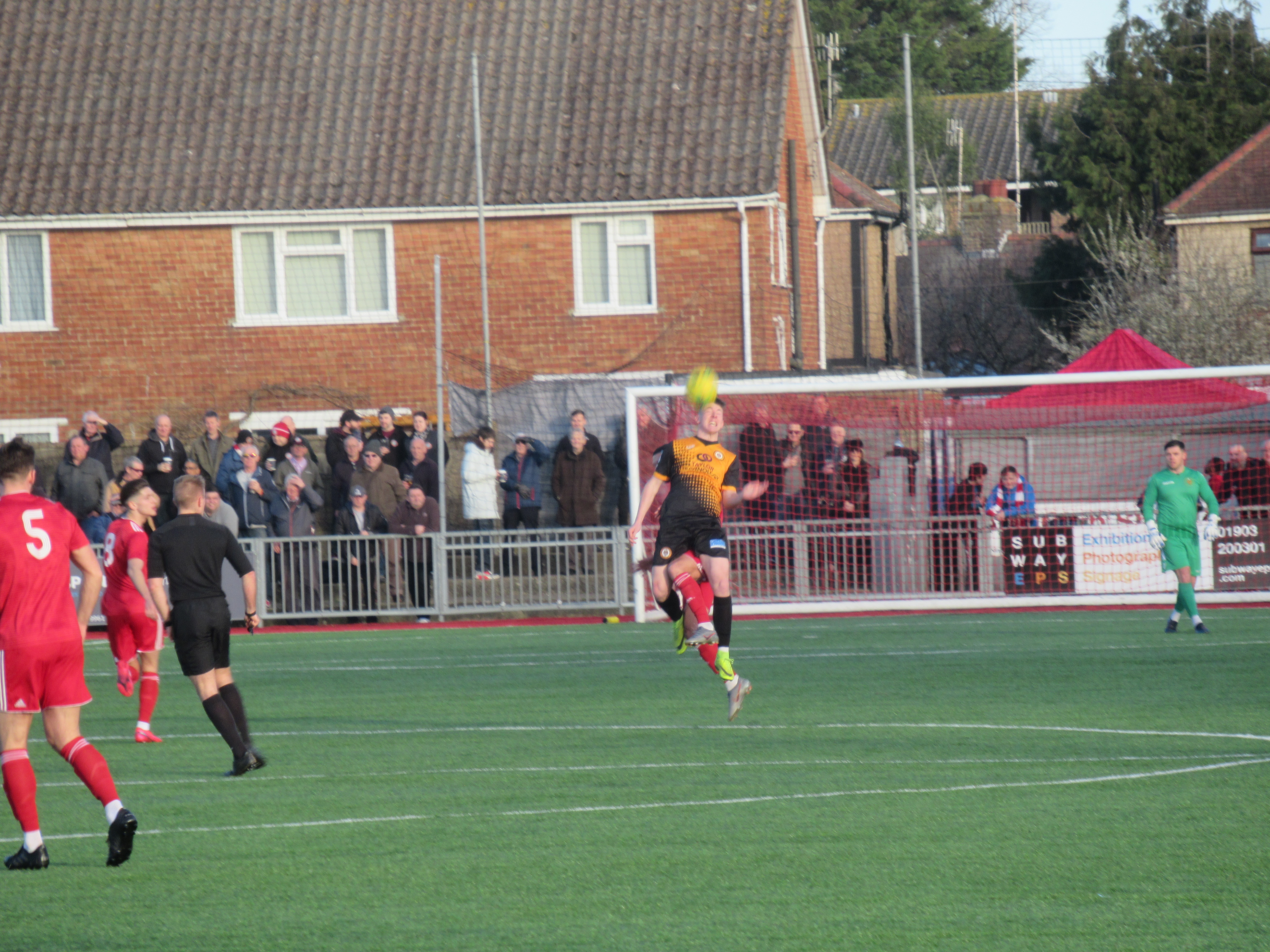 I felt we won the midfield battle in the second half and Reece Myles-Meekums and Ricky Aguiar who gave us a lot of problems in the first half didn't have as  much of an influence in the second.
That was the tactical change we made we felt they were getting into these little pockets, just off the centre half, the three boys up there and the two from out wide were coming in so what we did we had Barney in those pockets to come into and he would latch onto it and negate what they were doing.  Worthing had a good 10 -15 minute spell in the second half where we had to ride our luck a bit, Lewis Carey had to make a couple of really good saves and hit the post and missed a couple of chances but we then we started to come again and had some good chances ourselves.  Then the Worthing no 11 has two footed Barney which was a shocking tackle, I've seen the highlights and it was only about 10 minutes late and was given a red card and we just kept on coming forward.   We speak every week about this, why do we score so many late goals, it's because we keep on coming.  To be fair Worthing did well in the first half pressing us but they had such high energy doing it it is hard to maintain it and felt they came off it a bit in the second.  I felt we came into the game and the longer it was going on and they hadn't scored a second we were coming.  Then quick thinking by Lewis, he could see they were high and put JT through who does what he does best and scores.  Then of course we get stronger as the game went on and got the winner through Joel in the last minute.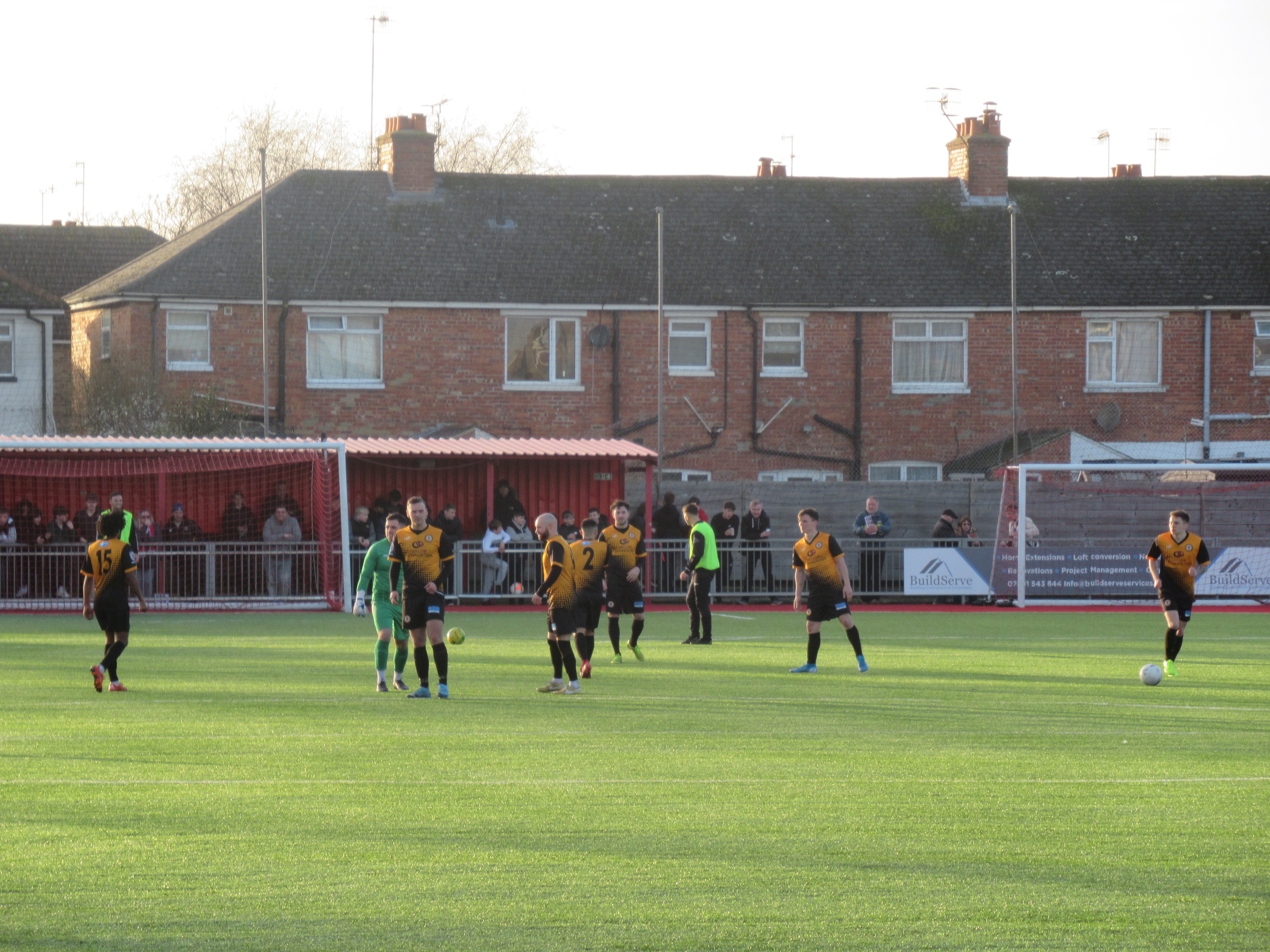 I thought it was a great game which could have gone either way but if you look at the back four we had out in the second half and the injuries it was a remarkable victory.  We can't get too carried away and they are still nine points in front of us and deserve that respect and the total of points they've got.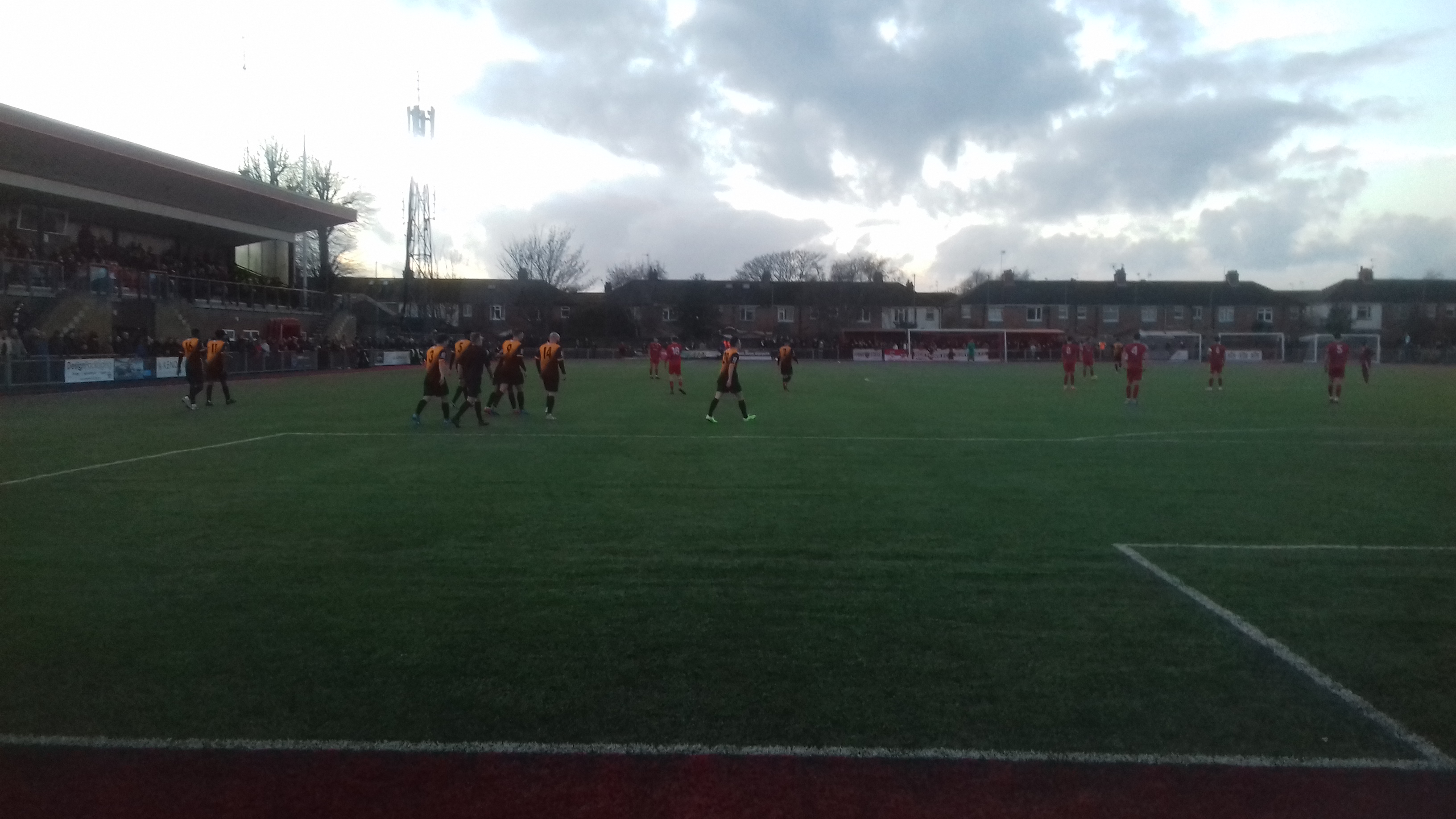 It wasn't hostile but it was a good test for our youngsters, it made us even closer as a group because after what had gone on in the first half, they were so upset it refocused them.  You could see when we scored the winning goal the celebrations that went into that and was massive.  That showed our togetherness as a group and the last three weeks the club has been crazy. We've had Worthing, Horsham the previous Saturday and down to ten men for 80 minutes and went to Enfield Town and won 3-2 with two goals in the last eight minutes.
From the perspective this season has been one of my favourites, it has been unbelievable.  We've had so many injuries and if you look at it, we had Jay Leader out for the first part of the season with a broken nose, Tom Carlse out for 6 weeks with a broken toe, we had Barney Williams out for 6 weeks with a broken rib and Tom Phipp for 12 weeks with a pulled hamstring.  It has been crazy as all at the same time and to have those guys back and to see what we've done is amazing.  I said to Vinesey on the way home on Saturday what if we didn't have those injuries what the season could have been. We deal with what we've got we are super proud of them and told them this was the best victory I've ever been involved in considering the quality of the team we were playing and in front of a large crowd of close to a thousand people. It was tense and feisty but we've enjoyed it.  Considering the circumstances as an individual victory that one felt like one I've never felt before.  Usually at the end of a game I've got a lot to say and can word what I need to say but I was struggling as I was just blown away and couldn't put into words how proud I was of them.  It was one we can look back at the end of the season and whatever happens it will never be forgotten.
The club has bounced back well hasn't it since the Bognor Regis Town defeat and we are on a good run now?
We've got to understand that when you go up a level, you go up a level and there's a reason why because the other sides are better.  At that time we were going through a bit of a bad patch, we had a few injuries and at Bognor we tried Geofrey at right-back and didn't work and we got our pants pulled down. You can go two ways with that, you can feel sorry for yourselves, the season peters out and you start to get beaten and drift into mid-table and say what a great year it was or you front up.  One thing we have got at this football club is a group of players who all are in it for each other and all buy into it.  I put us, if we get dragged down into the trenches then I fancy us every time.  doesn't bother me because sometimes you get dragged into games like that and either you buckle or unite as one and we didn't shy away from it.
Tell us a little bit about Femi Abatan and Martin Onoabhagbe as they came on during the game for their debuts and were excellent?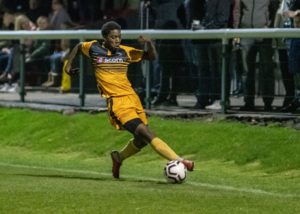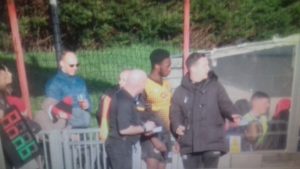 Femi has come through the U18s and is one of the quiet ones of the team and was a bit taken aback at the end with what went on but he is a very good player.  Martin is someone who has been training with us since the problems at Greenwich Borough where they have folded up and he's come with us, been training and we've tried to find him a move but as we had injuries I said to him did he want to join the squad for Saturday so before you know he was playing and I thought he did well.
You look at the back four in that game, Tom Carlse was out on his feet as he hasn't played for six weeks, a central midfielder as centre-half and an 18 and a 17 year old playing against the league leaders and we didn't concede a goal in the second half.  That's what made that result so special, if we had gone there with a full strength team and beat them would it have been a surprise. Not really as I back us to beat anyone in a one off game but with the team we had and to win and it was no smash and grab, their goalie has had a good game and it was an even match.
Let's go back to the previous Saturday and the 2-1 win at home to Horsham.  A couple of our supporters said to me before the Worthing game that the defensive performance from the team second half was as good as any they can remember and had been watching Cray for years.  As you and Joe were both centre-halves you must have been purring at the display of the defence that day?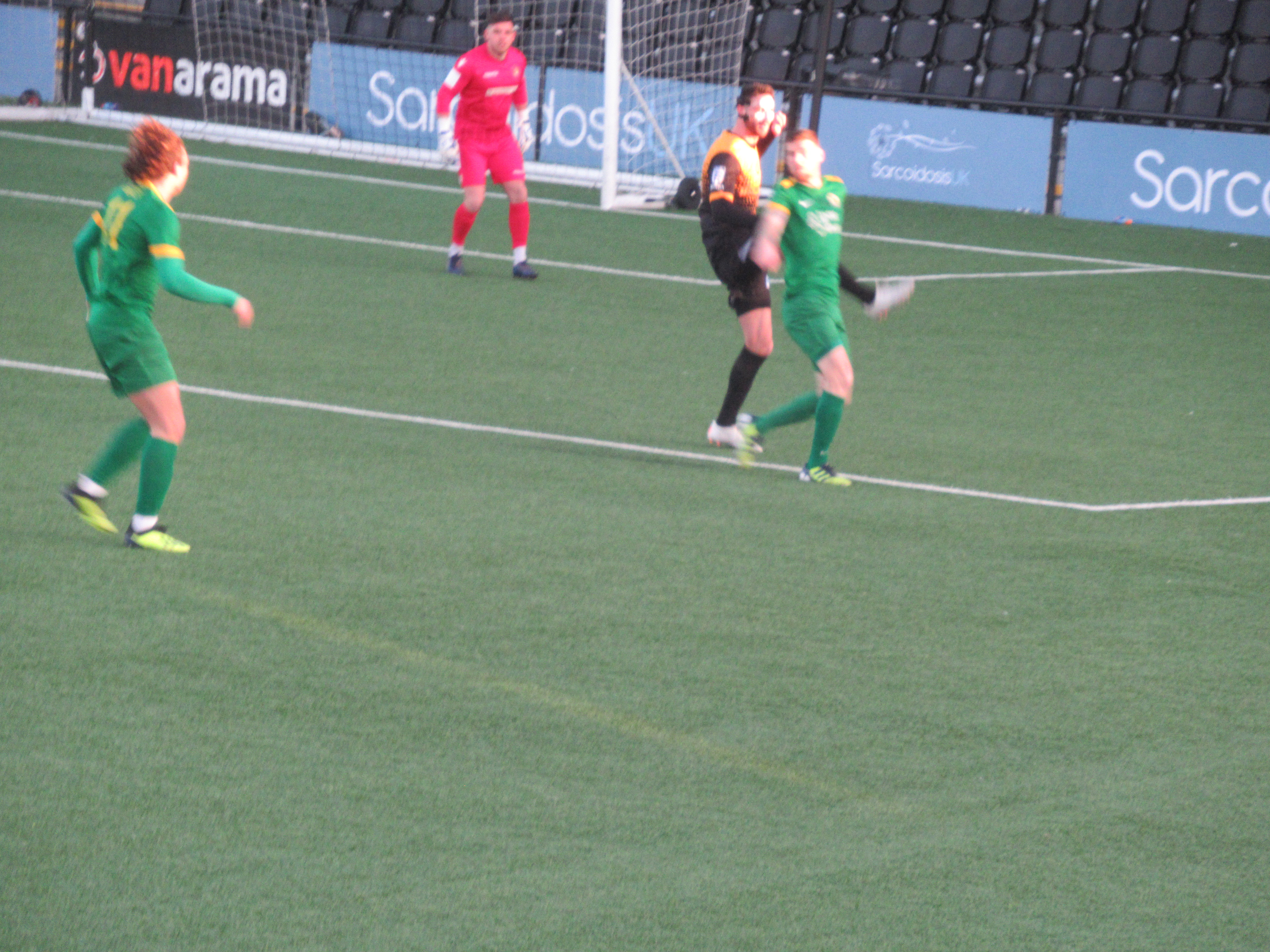 Me and Joe look it as we are still learning our trade, looking to get better and learn from our mistakes we've made in the past.  We took ourselves back to the playoff semi-final against Walton Casuals in 2018 and then we were 2-1 up at half time and down to ten men.  For Horsham when it was 0-0 we went into a diamond into midfield and with one up front and we broke on them like that. Obviously we got our two goals and then Charlie Allen went to right back and made a mistake for them to score. That's all well and good but when you are asking players to shuffle over so much very similar to what teams do to us, you'll stop getting over and then that is when you get picked off at the end of games like when we come on strong at the end.  We just had a different idea that we didn't have to score another goal.  Let's bring Geofrey on, go three at the back, put wingbacks in, three in midfield and what will tell them is you three are in there, defend the middle of the goal, draw a line in the sand and then they don't come through us and they were ready to go to work.  We almost encouraged it, we let them have the ball at the back and on the sides of our box.  I thought they were outstanding.  You are running out of superlatives for this team at the moment. They can't keep doing this to me, I'm running out of things to say in the huddle.  I said to them obviously I would like us to be putting teams away and don't want to go to the well too often as that can only take you so far.  Mine and Joe's job becomes easier when we draw what we want out of them and let them deal with it.  You're firing up players who are for each other, one for all and so close.
Horsham are a good side, I like Dom the manager and it was a fantastic win.  It was very much not us to let the opposition to have the ball so much but we had to show a different side to our game.  We've now got a different side to our game, we're not just pretty on the eye, we haven't just got a plan A and we can't pass it round you, we have got a bit more steel about us especially this year. If you look at JT's goal at Worthing and the Charlie Allen goal at Enfield we scored through balls over the top. We are surprising teams as we are going short and then suddenly the surprise ball will come. We are trying to evolve our game all the time and constantly compete against the teams we are playing against and they are all good sides.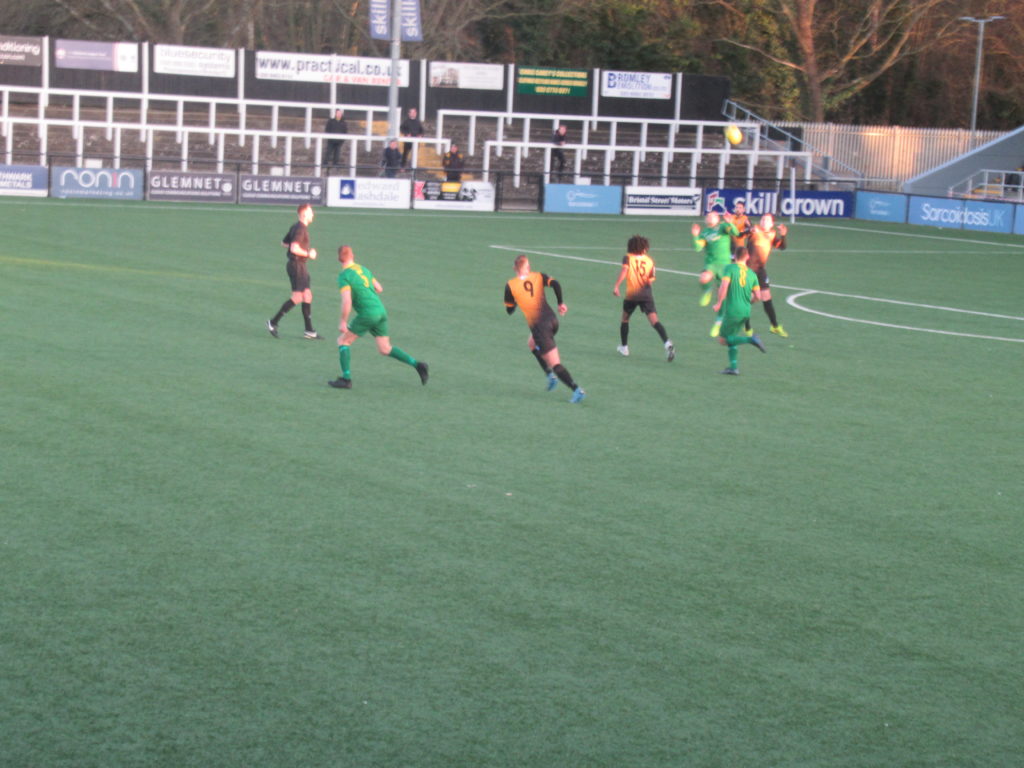 Against Horsham at first we thought this is going to be a long half when it started but the longer it went on and I mean this with the greatest respect to Horsham, they didn't really look like scoring and were beginning to run out of ideas.  Lea Dawson has gone down for the penalty which I didn't think was.  We had a bit of a falling out, but I love Daws probably one of my favourite players I have ever worked with so we've sorted everything out since then.  He just wants to do what's best for his football club and I probably took that a little too personally but I apologised to him afterwards. He is a class player on and off the pitch and if I was putting together an all-time XI of all the players I have managed he would be in there, not just for his ability on the pitch but what he brings as a person. We had a phonecall after the game, good chat and had a laugh about it and we moved on.
The boys were outstanding against a good Horsham side, not long ago they were 10 points in front of us so shows how far we've come.  There  aren't many times that I miss playing football, I got a few injuries near the end and stopped enjoying it if I'm honest but I was sitting on my box and me and  Vinesy just looked at each other and I said that I would have loved to have been out there that day.  The balls were just coming into the box, it's like centre-half porn that.  Having played there, you know they are not coming through, you're putting your body on the line.
Lewis Carey showed for me why he is the best goalkeeper in the league. We have hardly spoken about the gap left when Nick Blue left who was a terrific keeper and that shows how class Lew has been and made a great penalty save and a couple of other stops too.  I was so proud after the Horsham game, we found out about one or two players and normally we don't have to do that, the boys were working so hard.  JT, when I first signed him that was one of the negatives from the research was that he didn't work hard enough but a good player, lovely lad.  He sacrifices so much for us week in week out and works tirelessly he is so bought into us it is a joke. We say to him, you work hard for us we will put chances on a plate for you and he buys into that.  It is easy to give the credit to the boys at the back but he was up there on his own second half.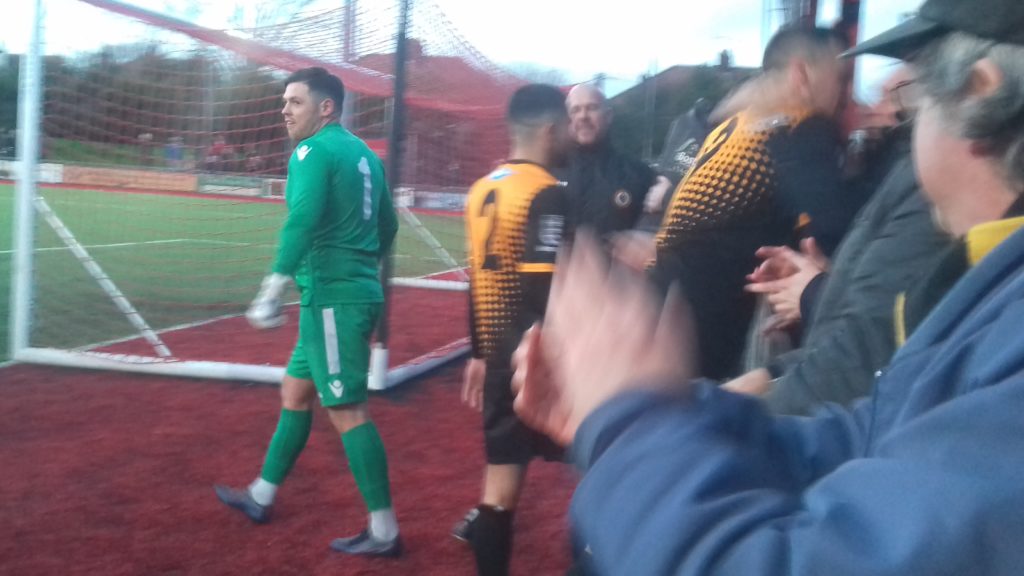 Rhys Murrell-Williamson continued his great form since coming to the club in January and scored an outstanding goal against Horsham.  Players of his quality just lift changing rooms don't they?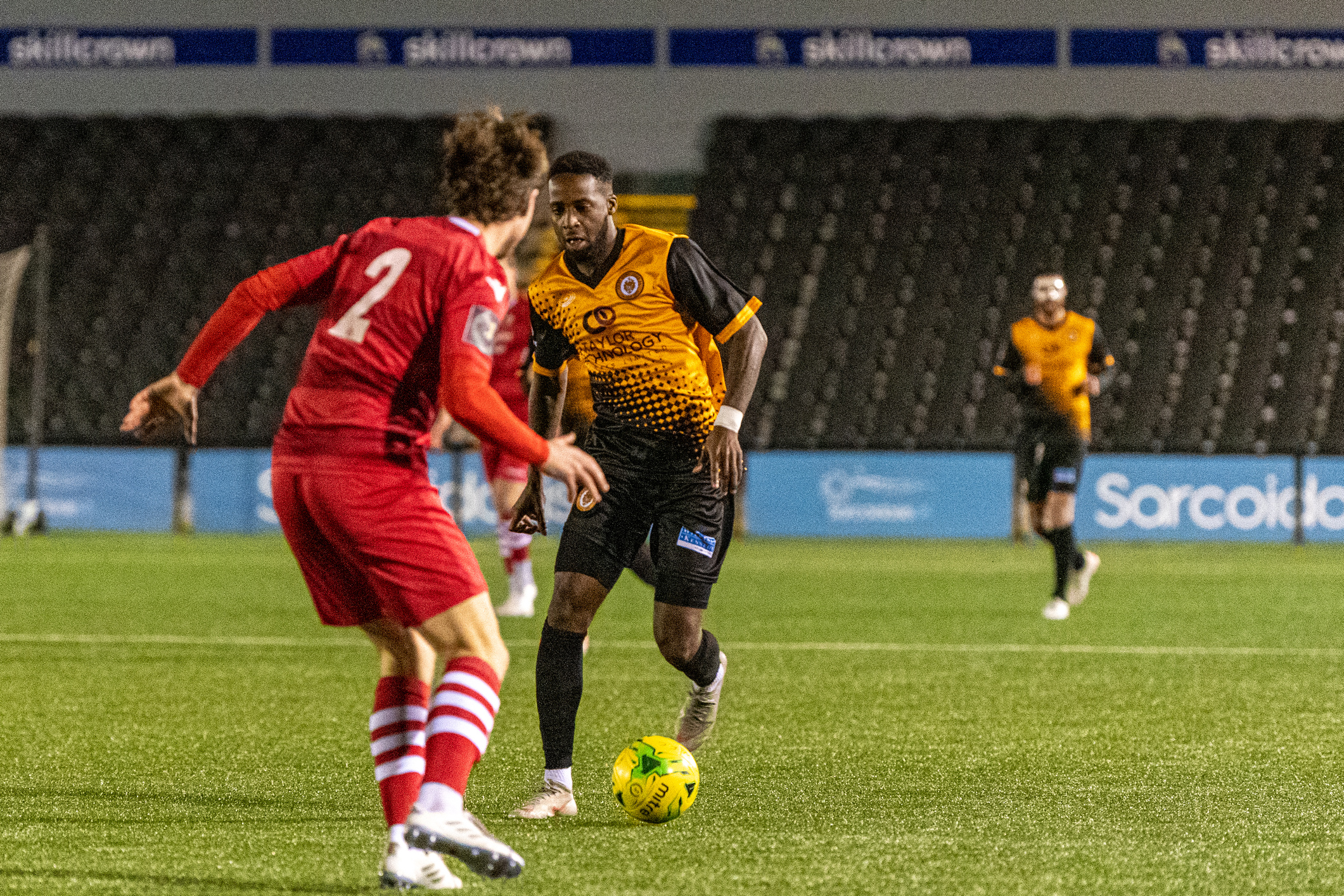 When he first come in, his first couple of games he struggled a bit, I know he scored against Bowers & Pitsea but was really quiet and the following game against Hornchurch but since then from Enfield Town he has found his feet and been unbelievable, a real threat and looks a fantastic player and a great signing. I was speaking to his old manager and he also said he doesn't work that hard but I put him as left wing back against Horsham and he ran back 60 yards to make a tackle.  When you come into our group you don't get away with being lazy as they pull you up on it but he loves it with us. The reason why we got him in the first place was as he has shifted around from club to club and wanted to settle down but every time I see him I see these big white teeth and always smiling and said at training he is loving it here.
Also Joel Rollinson has extended his loan spell with the club. He certainly didn't show no lack of composure with that late winner at Worthing?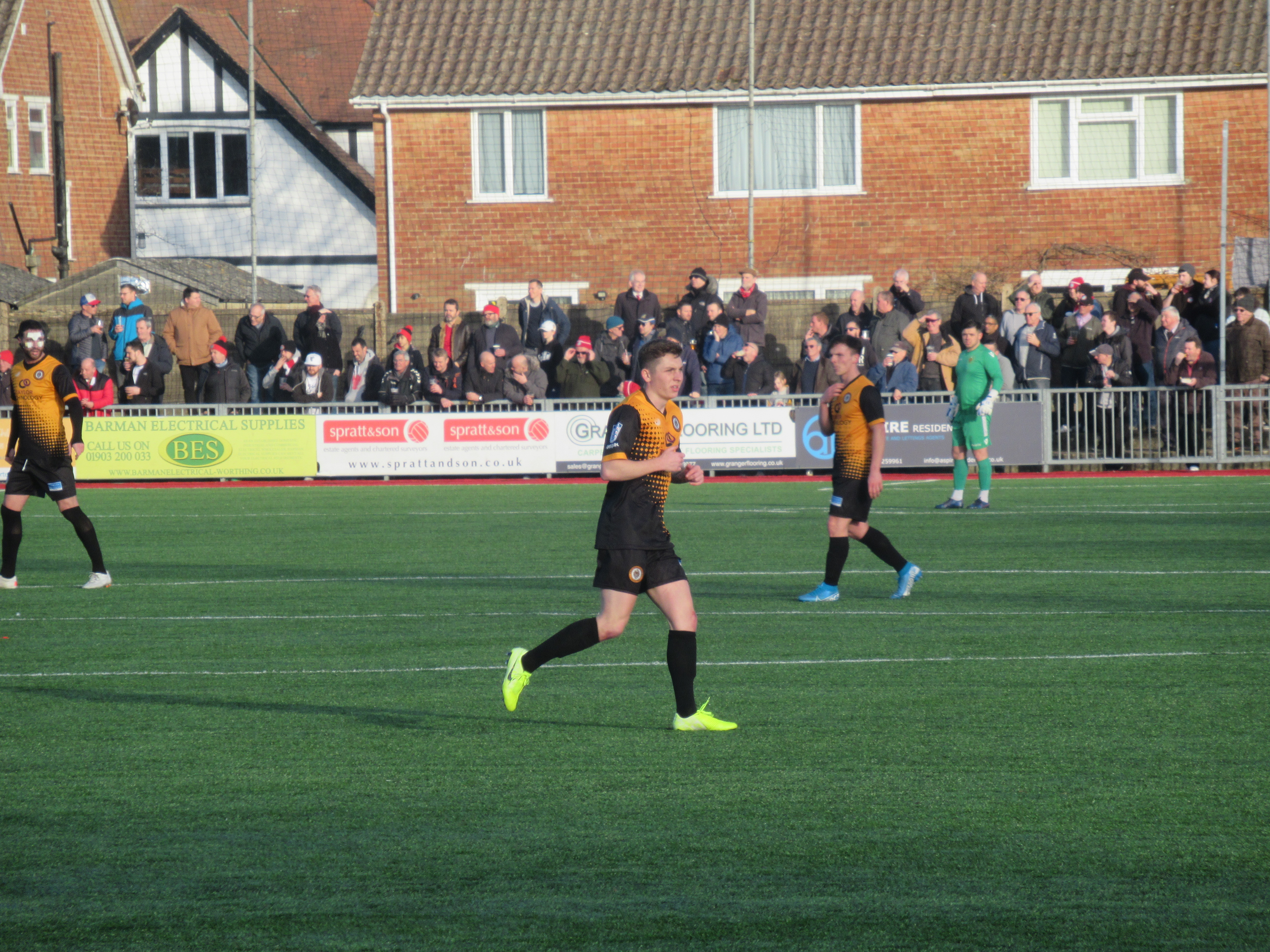 Joel is a lovely kid but very, very quiet.  When we spoke to Stevenage he had gone there from Reading and said he rarely speaks, very subdued person.  Just the last few weeks he has started to come out of his shell more and his loan was up and he was going to go back and they were going to loan him to a side in the league above. We felt that was fine and what was right for Joel but he turned round and said he really wants to stay, he enjoys it and love all the players.  So we spoke to Stevenage, and said that is what he wants to do, let's do it. It was his decision to be honest and Stevenage said ok.  We need to get him in more advance areas where he can make an impact as he was doing too much work outside the box but when we do shooting drills he is absolutely lethal so not surprised about the Worthing finish one bit.  The shooting drills we do and the work we do with the wide players coming inside and shooting, he is the best at it.
With the Folkestone Invicta game to be rearranged for 10th March has that come at a good time with the injuries?
At first I wasn't too happy hearing the game was called off but looking at it now, Jay Leader will not be able to play for a couple of weeks with his stitches, Tom Phipp is probably about 2 weeks away, Geofrey has to be assessed but looks about 3-4 weeks so we are back to square one a little. We do get Ben and Mitch back for Kingstonian.  At the moment there is so much belief in the group, I mean, JT's missus goes into labour, Charlie Allen steps in, you'll do a fine job, bang, bang he scored two.  Femi, I know you're 17, they're top of the league and he comes on and makes an impact. We have training tomorrow, poor Ally is going to be busy again, that is what she does and she will use her magic hands and see what she can do. Although we are confident probably best for us at the moment not to have to play the Folkestone game on the 18th February.
Let's look ahead to the Kingstonian game on Saturday.  We picked up a really gritty point there on the first game of the season but they've had an interesting season, good runs in both cups and although 11th in the league it is a bit of a false position as they are a good side aren't they?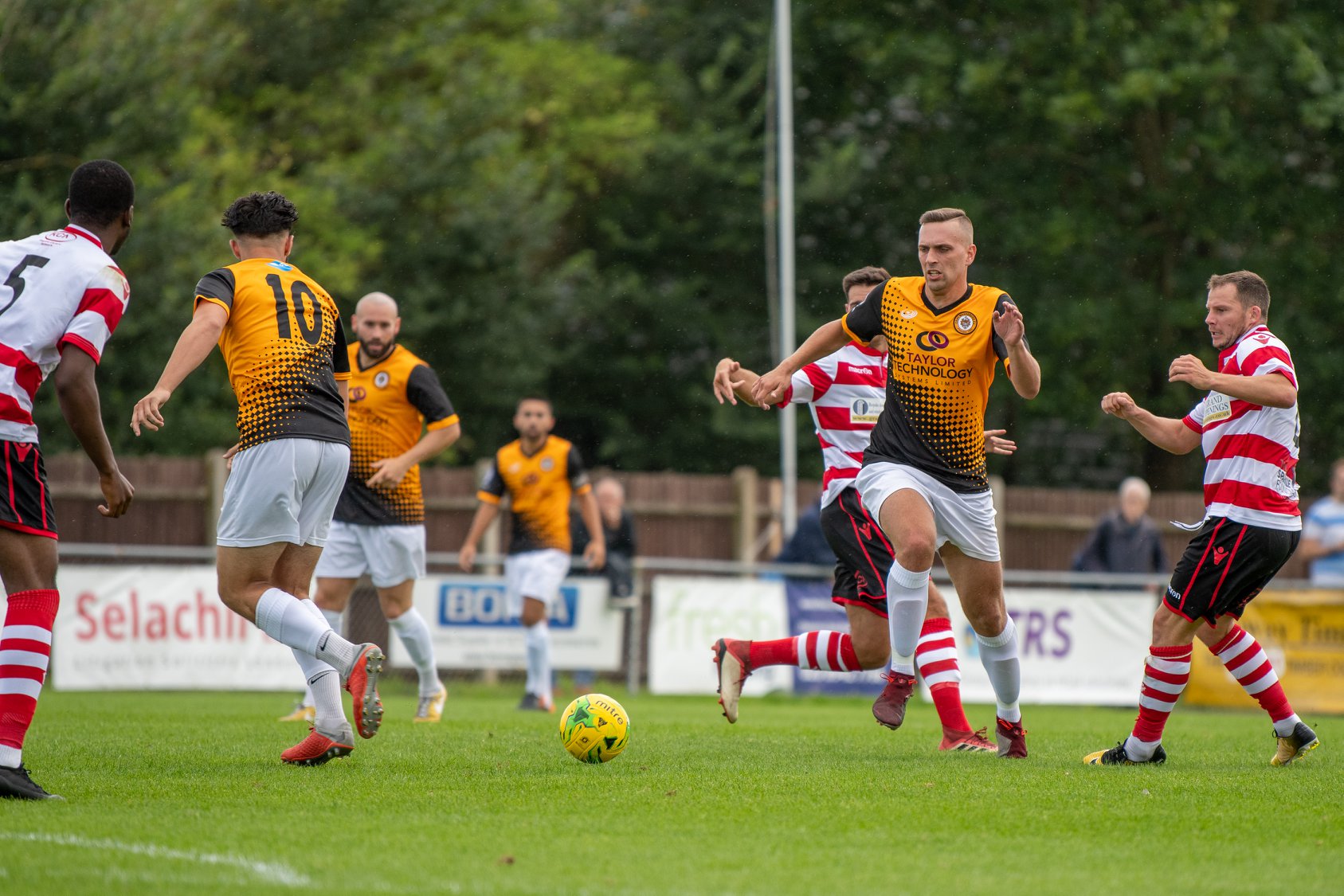 100 %, that is what I said to the boys, I know we've played a few teams who are in and around us at the top but Kingstonian will be as hard a test we will face this year.  Hayden Bird is probably one of the few managers who I speak to on the phone, not regularly but I've got to know him over a period of time. He likes our work, the way we play and they set up in a similar way. To give you an example of what Hayden is like, when we lost to Bognor Regis Town 7-2 away, the next day he phoned me and said when he was at Merstham and they first went up they got beat 6-2 or 7-2 twice that season. Sometimes when you play in a particular way you will occasionally get it wrong and you get your pants pulled down but a year later, they finished in the playoff final. Keep your head up, and keep going you've got a good side.  That is the sort of guy he is and is class. I spoke to him only the other day, he was shocked how we got Rhys and having a bit of a laugh about it and earlier, Andre Coker and asked where do you keep pulling them out from.  Kingstonian have had so many chances in games and drawn a lot of matches and many they shouldn't have but sometimes styles makes fights and our style on our pitch suits them so it will make for a really good game. They've got pace up front and it will be a testing game and we will have to play really well to get anything out of it.  I enjoy seeing Hayden and is one of the good guys as a person so like to do battle with him.  We will talk to the boys during the week building up and tell them ignore the league table they are a dangerous side.  I will go to watch them play Leatherhead this week but I'm pretty sure I know what I will be walking into and will be another good game.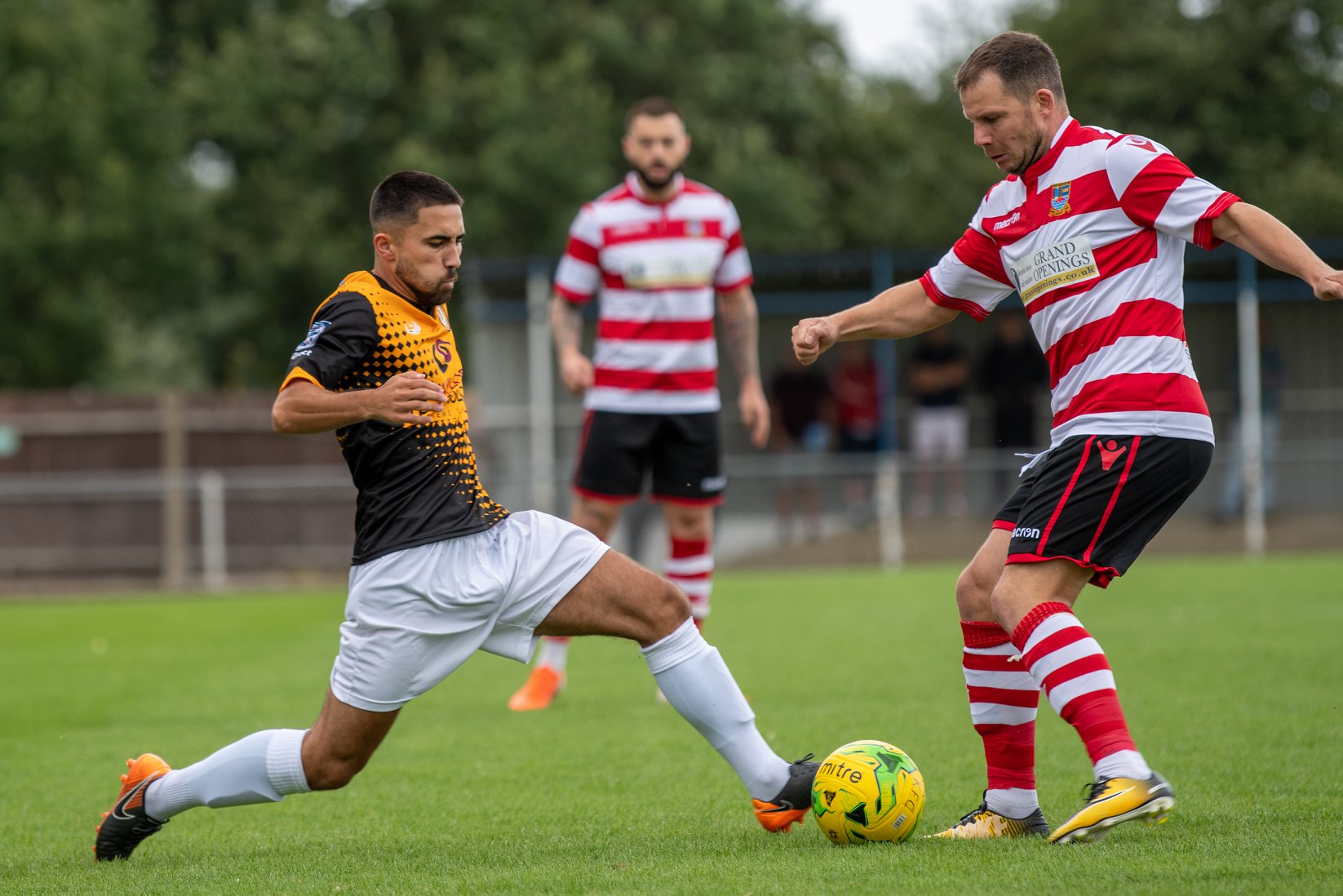 For us since the turn of the year we've really found our feet now and after patching up earlier this season. To be honest it wasn't a surprise in football that we beat Worthing as they knew it would be a hard game for them but we've got a good side.  I tell the players in the league we are in if you don't play well you will get beaten, if you play really well you can still get beaten. I've said to the players what you are doing is breaking new ground, when I turned up the club was in a bit of a mess and was celebrating avoiding relegation from the Isthmian North. Cray Wanderers should never be near the foot of Division One and turn it around.
I've sat down along with Joe with the owners and Sam Wright and had a really positive meeting regarding the ground, where they see us in the future and we are all on board so everyone is really happy.  We've 13 games left, let's see where it is going to take us, it could be another unbelievable season.  I'm usually chilled out during games but the last few games I've been like a cat on a hot tin roof and so into the game and just want to sit on my cool box and have a nice easy 4-0 but these are great times for us and hopefully the fans continue to enjoy it as we know they are loving it at the moment.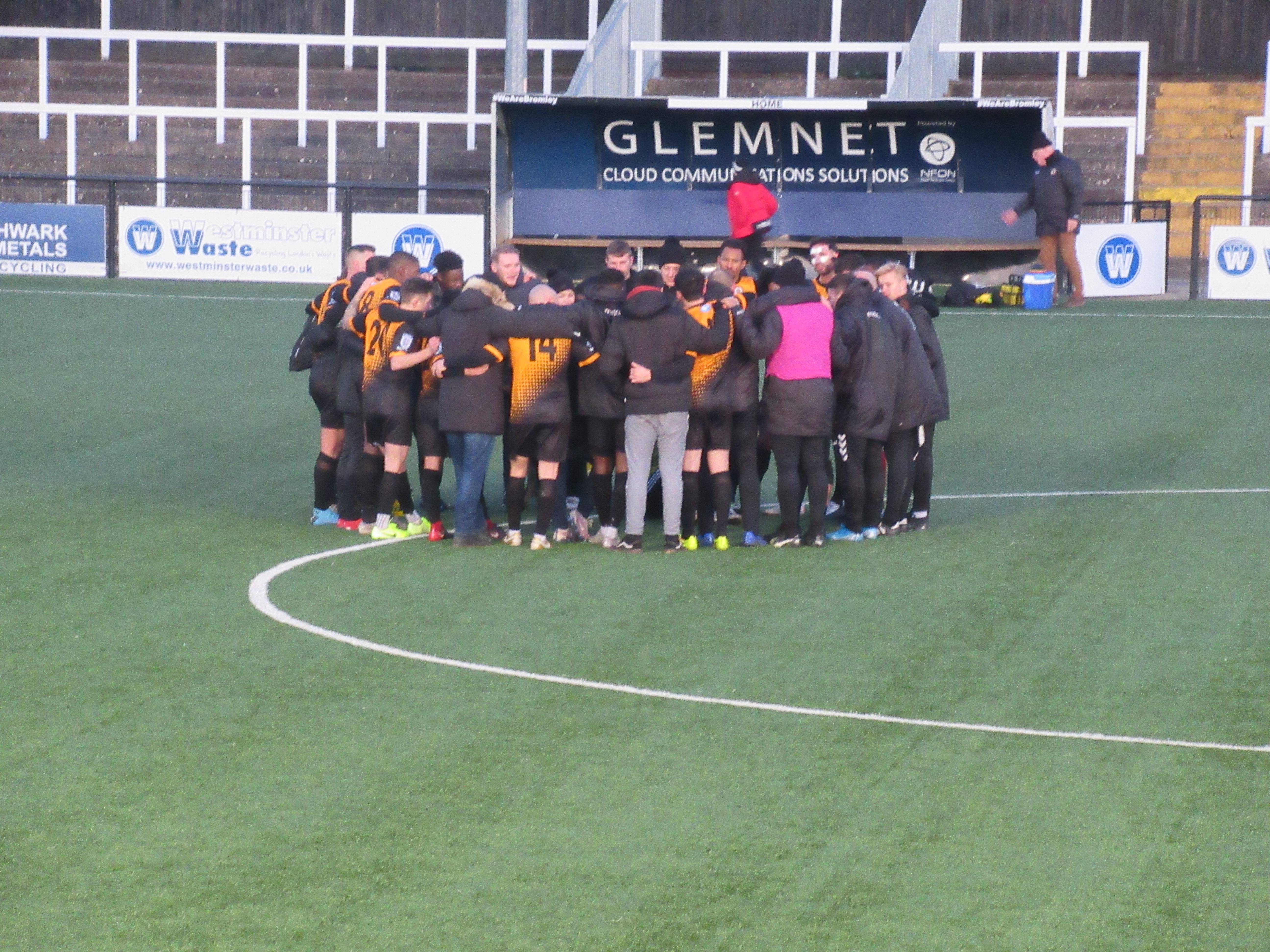 Tony Russell's comments appear in all matchday home programmes. These are available every home game along with back copies and also available on request. The matchday programme costs £2.00