Phoenix Sports vs Cray Wanderers
Kent Senior Cup 1st Round – Tuesday 26th September – Match Report
Pics:  Ozay Booth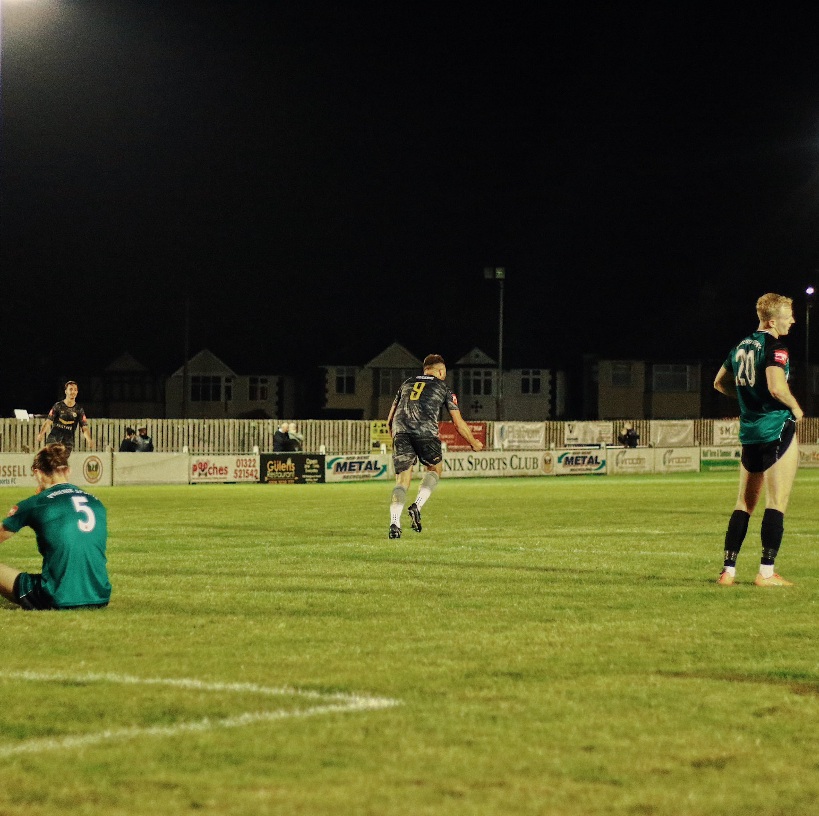 Phoenix Sports                                      2
Eldridge 53, Thompson 70
Cray Wanderers                                     3
Cook 34 pen, Black 67, Lockyer 90+2
Cray Wanderers advanced into the 2nd round of the Kent Senior Cup with their first win in the competition for five seasons with an injury time winner from Gary Lockyer at Phoenix Sports to earn a trip to National League Ebbsfleet United.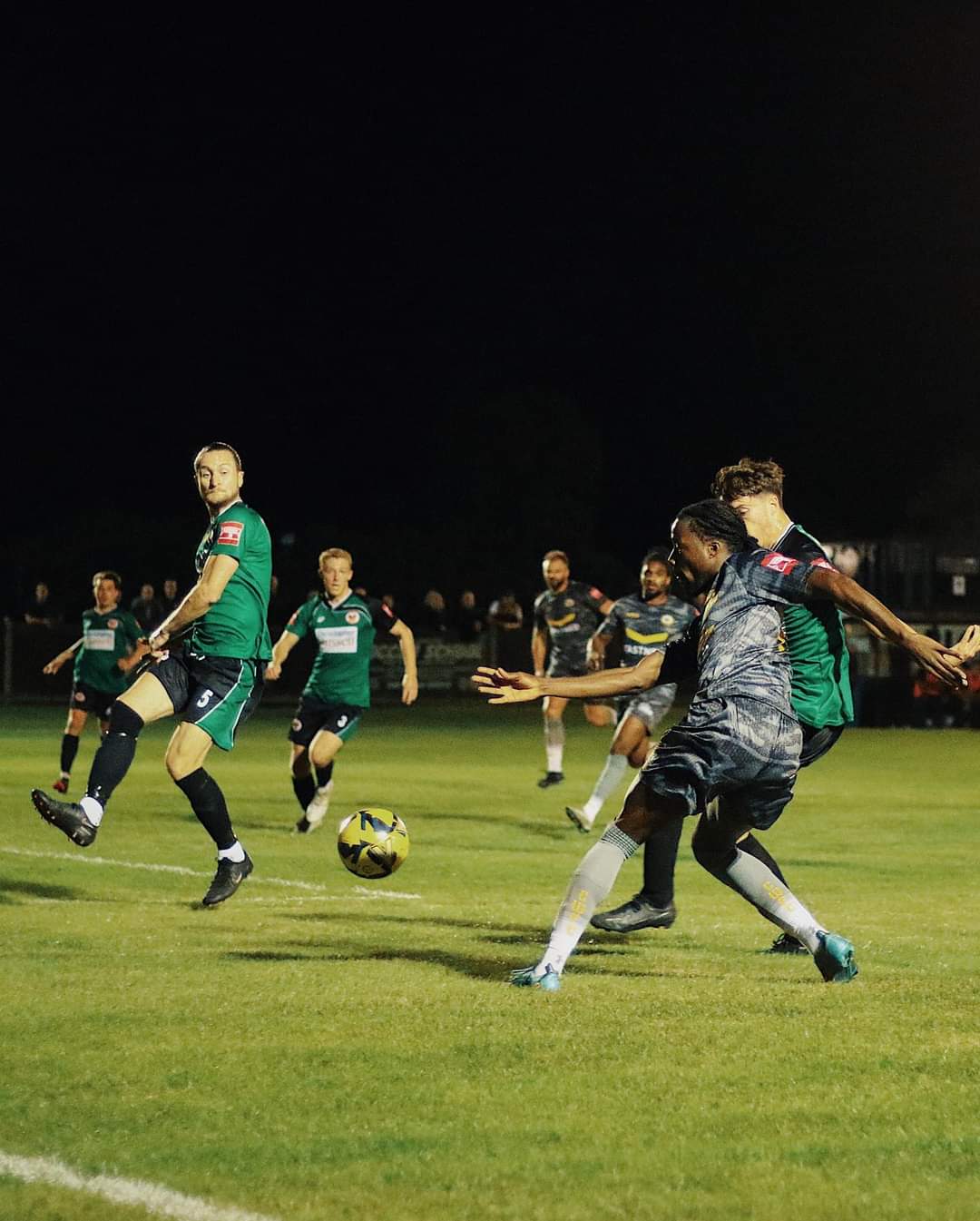 The Wands had led at the break courtesy of an Anthony Cook penalty who was playing in his 100th game for the club before Alfie Eldridge equalised for Phoenix in the 53rd minute.  Cameron Black restored Cray's lead with a firm header from a corner in the 67th minute but Isaac Thompson levelled again for the home side three minutes later.  However with the game looking like going to penalties the Wands had other ideas and Lockyer was on hand to pounce from a left wing cross from substitute George Brooke two minutes into injury time.
For Cray there was a fairly strong starting lineup which included Sam Wood, Jamie Mascoll, Anthony Cook and Yahya Bamba with Liam Northwood in goal for Shaun Rowley  Reggie Rye in midfield for David Ijaha and Archy Taylor for Lee Lewis.  On the bench were five U18s players, Michael Ihedi, George Brooke, Cameron McQueen-Hinckley, Lennie Rye and goalkeeper Tom King.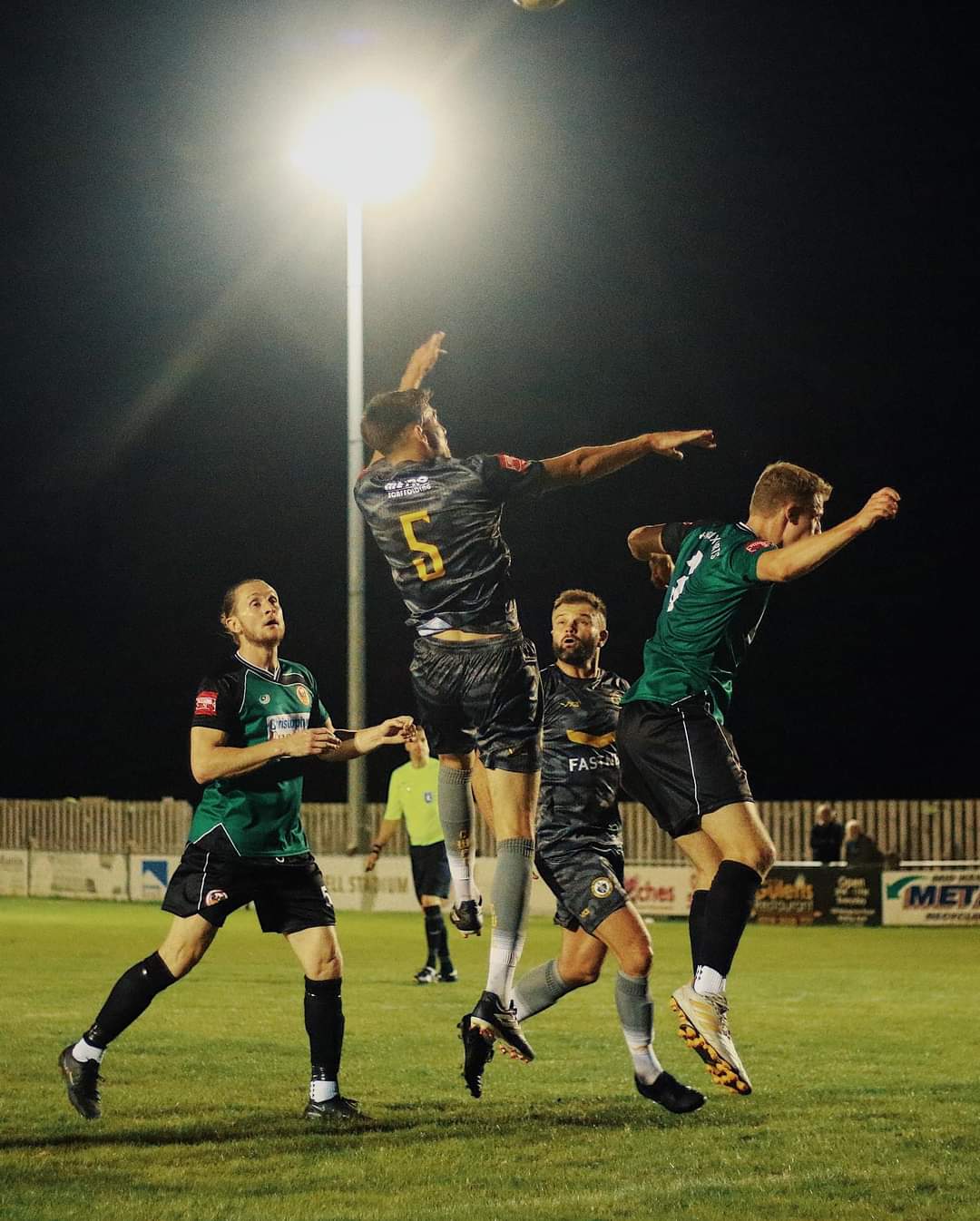 The game took a bit of a while to get going with Phoenix having to make an early change with Tom O'Connor replaced by Isaac Thompson and also an injury to Assistant Referee Thomas Amber held up play for some time.
For Cray, the first real opening fell to Bamba who couldn't control his shot and went over the bar.  
In the 25th minute, Gary Lockyer found space to get in a shot which ex-Wands keeper Andy Walker got down to save.
Phoenix though had a good spell in and around the half hour mark.  Firstly, Michael Sarpong saw a shot saved by Liam Northwood and then Ashdon Day looped a header over the bar.
Then, Alfie Eldridge came close when he took the ball round Northwood but his goalbound shot was cleared off the line by Archy Taylor and then Sarpong was denied by Jamie Mascoll, also off the line.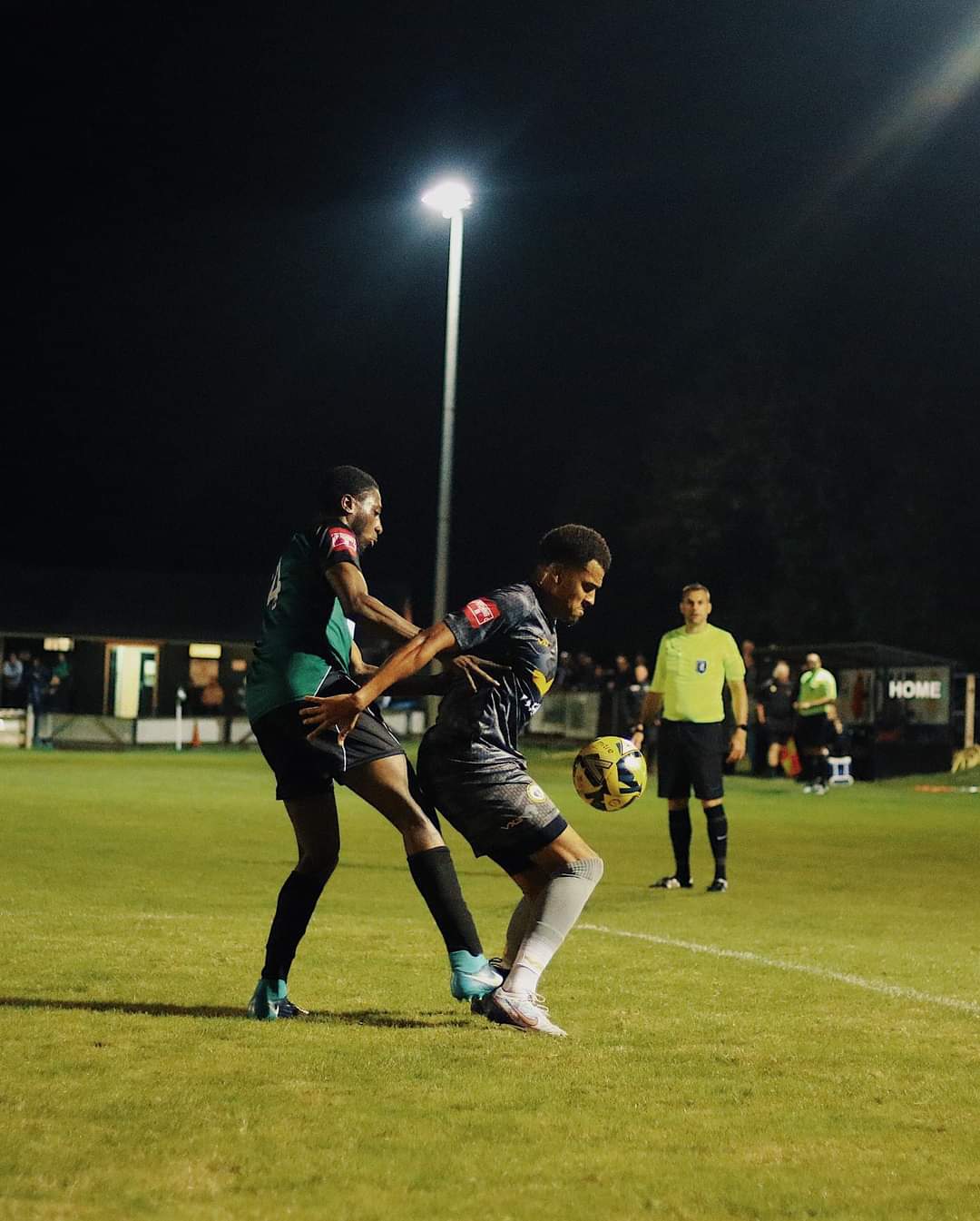 Cray withstood that spell and Cameron Black headed wide from a free kick but in the 34th minute the Wands were awarded a penalty when a cross from Mascoll down the left to the far post was adjudged to have hit the arm of Lewis Clark.  From the spot, Anthony Cook confidently slotted home his second goal of the season.  
The Wands had much more of the ball in the later stages of a half that had ten minutes added on for stoppages but Phoenix looked to get back into it and Day's shot was deflected through to Northwood.
H/T:  0-1
The second half had much more flow to the game and Phoenix started the second half well and Sarpong saw a shot blocked while for Cray Reggie Rye's cross just missed the onrushing Gary Lockyer.
In the 53rd minute Phoenix got the goal they had been threatening when Sarpong made a positive run forward and his cross found Eldridge who fired into the net for a goal his performance deserved.
The game was going from end to end from here and a fine volley from Alfie Evans was well blocked by Northwood.  Then for Cray, after a patient build up Mascoll set up Lockyer for a half hit shot claimed by Walker.  This was followed by Rye seeing a shot go agonisingly past the right post from the edge of the area.
However, in the 67th minute Cray went back in front when from a right wing corner from Sam Wood played into the box was met by an emphatic header from Cameron Black which hit the top left corner.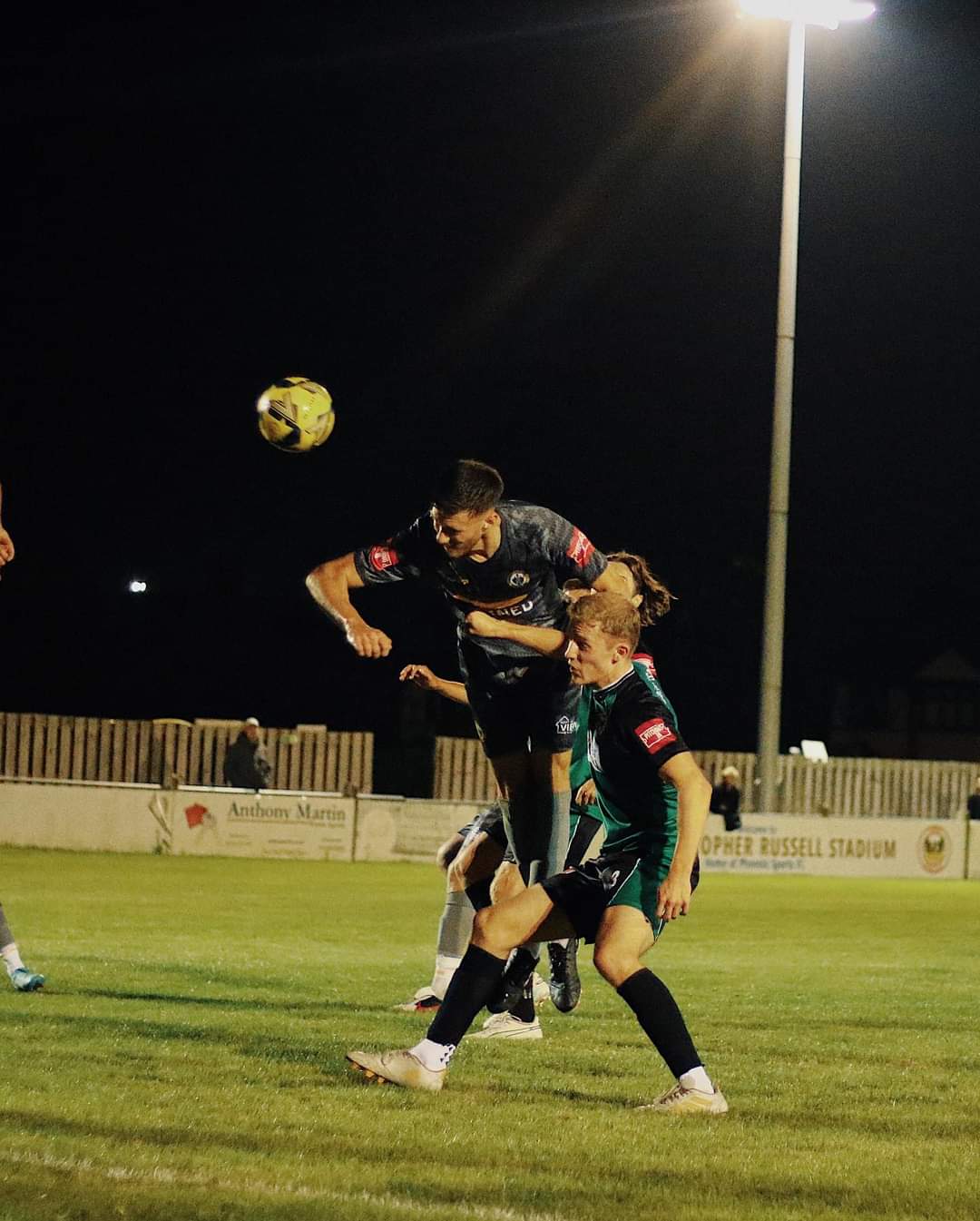 Three minutes later though Phoenix were back level again when a left wing cross to the far post was volleyed into the net by Isaac Thompson.
Cray brought on Michael Ihiedi and George Brooke on in the second half and both made a positive impact but especially Brooke down the left and looks a major talent in the making.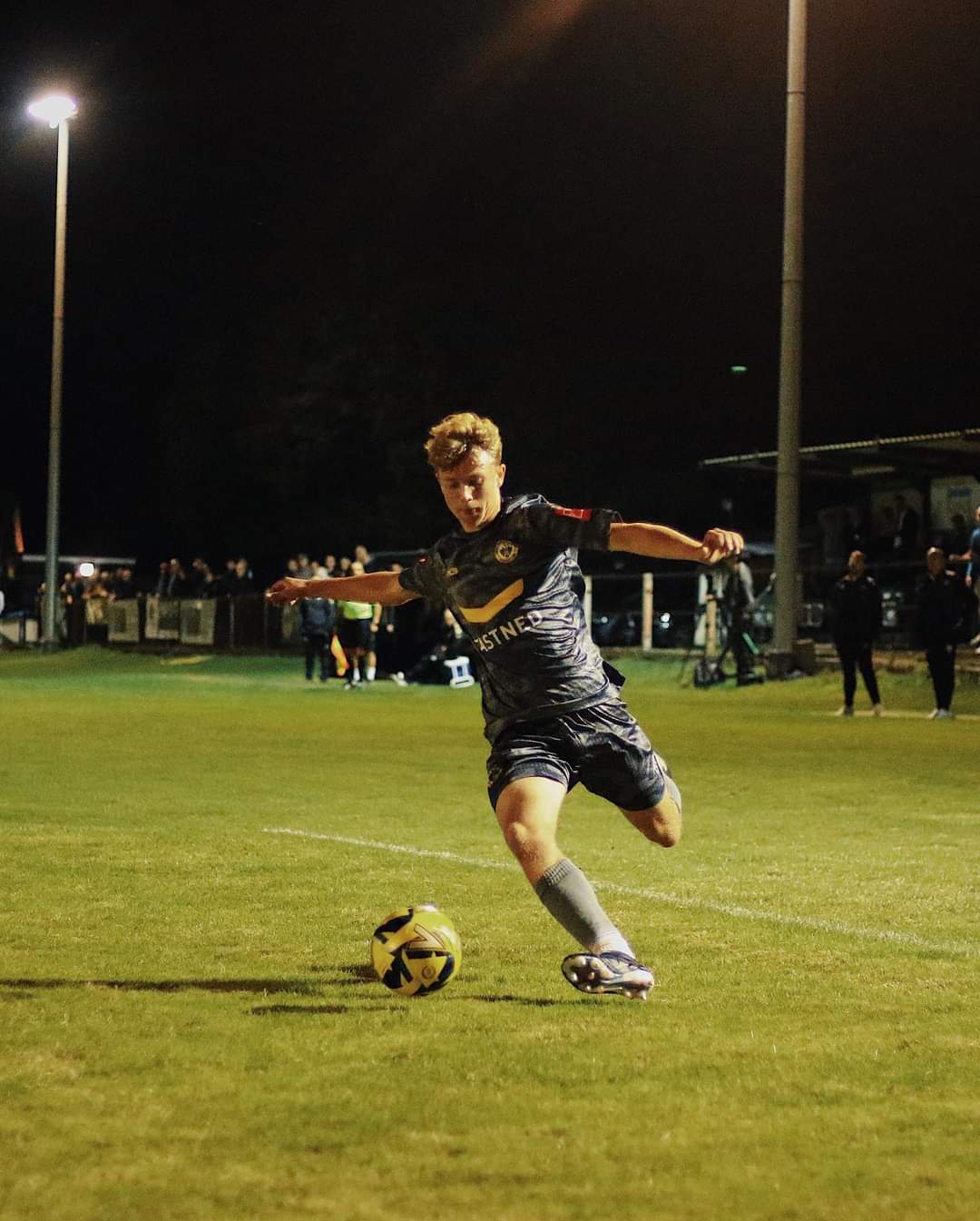 The Wands put on pressure in the latter stages and Cook almost scored his second but was denied by a good block from Walker.
Then from another corner Black was unlucky not to score again with a header wide.  This was followed in the 88th minute by Mascoll being set up by Wood but fired just wide of the right post.
With penalties seemingly looming there was a sting in the tail and Cray grabbed a winner when the ball was played out to Brooke down the left who took on two defenders, swept into the box and laid the ball across when Lockyer placed an unerring finish into the top right hand corner for his first goal since his return to the club.
Despite late pressure from Phoenix, Cray held out for the win in what was a game where both teams deserve credit and in respect to the competition a very good cup tie with some good tackles and blocks going in and plenty of positive attacking play.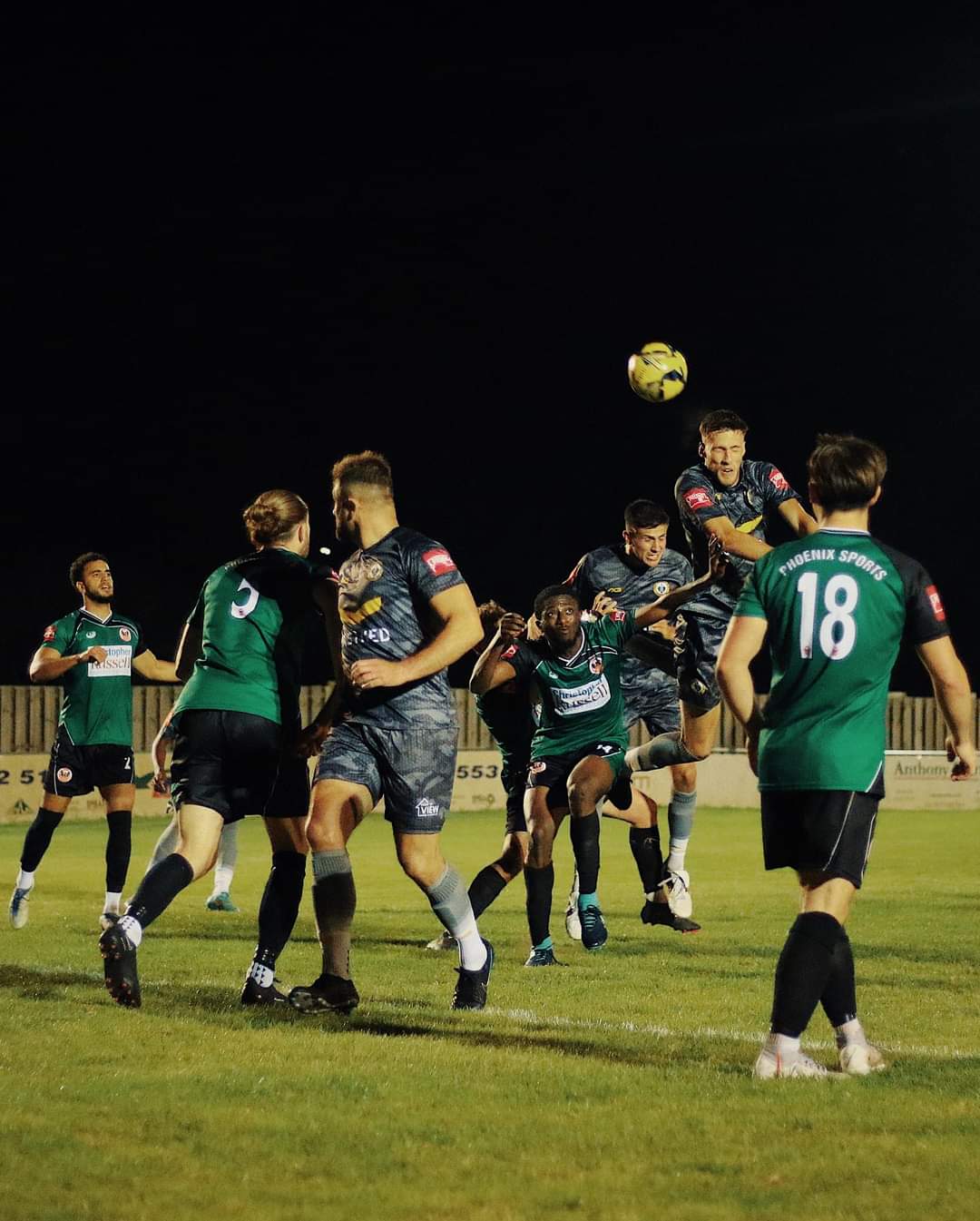 Cray, who play the next three games away from home return to league action on Saturday with a trip to Mitcham to face Kingstonian looking to build more momentum and move up the table.
Phoenix Sports:
Andy Walker, Spike Steggall, Tom O'Connor (Isaac Thompson, 12), Ryan Sawyer, Lewis Clark, Lee Bird (Bertie Valler, 70), Kieran King (Henry Douglas, H/T), Michael Sarpong, Ashdon Day, Alfie Evans, Alfie Eldridge:  Subs:  Ryan Hayes, Micky Dalton
Cray Wanderers:
Liam Northwood, Archy Taylor, Cameron Black, Tom Penfold, Jamie Mascoll, Sam Wood, Anthony Cook, Reggie Rye (Cameron McQueen-Hinckley, 90+5), Cameron Thompson (George Brooke, 77), Yahya Bamba (Michael Ihiedi, 63), Gary Lockyer:  Subs:  Lennie Rye, Tom King
Referee: Steven Goldup
Assistants: Thomas Amber, Stuart Beadle
Att:  65